Iowa Football: Deacon Hill Builds Confidence in Hawkeye Victory Over Illinois
A week ago, confidence in this Iowa Hawkeyes team was waning. The offense was stuck in a rut at the bottom of the NCAA rankings ocean and there was no sign of a boost incoming.
Then the Hawkeyes "exploded" for 402 yards of total offense and 22 points against Rutgers. It wasn't a huge day by normal standards, but in the context of a historically bad offense, it was a great day.
Deacon Hill was a big part of that, completing 65% of his passes while throwing for 223 yards with one TD and one INT. Both were highs for an Iowa QB this season. The result was the first game that looked truly complementary with the offense chewing up both yardage and clock while a rested defense slowly squeezed their grip tighter and tighter around the Knights.
Coming off of the best performance of the season, it should be no surprise then that nearly 60% of Hawkeye fans feel Hill earned back some trust a week ago.
Perhaps more than Hill, though, Brian Ferentz may deserve some acknowledgement. For the first time since Hill was thrust into the spotlight against Michigan State, we saw Brian actually lean in on the play-action passing game for the majority of the gameplan. There was diversity and creativity in the looks with bootlegs, rollouts and most importantly, rhythm throws that were makeable.
The encouraging part is those are all replicable. There's no reason Brian can't go back to the well time and again and there's nothing to indicate Hill can't make the throws. His struggles have largely come when he's gotten off-rhythm or forced to move through several progressions. Those are plays that will inevitably creep up in a game, but can be limited.
If Brian can learn from his successes, and his failures, to lean into the good and avoid the bad. History seems to indicate that's not terribly likely, but the Hawkeyes have managed to get to 8-2 in spite of the offense and any signs of life deserve some optimism at this point.
Perhaps that's what's driving the outlook for Hawkeye fans for this week's showdown with Illinois. In this week's Reacts poll, 75% of respondents picked the Hawkeyes to win outright vs the Illini.
That's up 1% from our preseason poll and importantly, the vast majority of results came in after we learned Iowa would be playing this week without star cornerback Cooper DeJean.
The Hawkeyes are favored by 3-points in the matchup according to DraftKings Sportsbook, so perhaps the optimism is warranted. Admittedly, though, optimism feels a bit strange for the fanbase at this stage of the season. Especially after the ending we saw a year ago.
Iowa is set to close out their home slate against Illinois on senior day Saturday before traveling to Lincoln to face off with the Nebraska Cornhuskers on Black Friday. Today's matchup kicks off at 2:30pm CT and will be broadcast on FS1.

Illini throw Garden party, beat No. 11 Florida Atlantic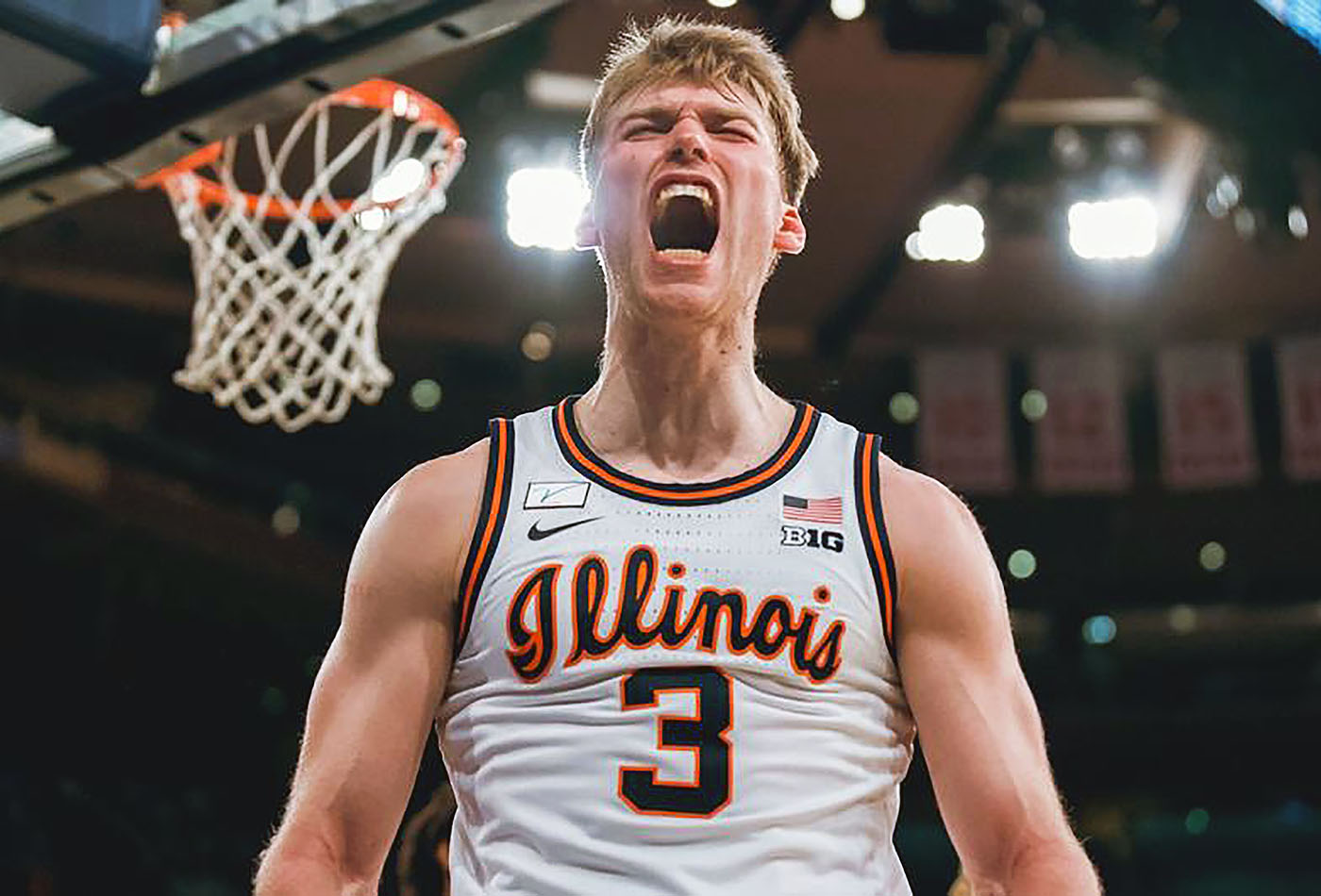 NEW YORK – Monday night was a good night for breakouts – two of them.
Illinois' Marcus Domask and Terrence Shannon Jr. each scored 33 points, a career high for both, and led No. 20 Illinois to a 98-89 victory over No. 11 Florida Atlantic in the Jimmy V Classic at Madison Square Garden.
Illinois scraps plan for building migrant winter camp due to toxic soil risk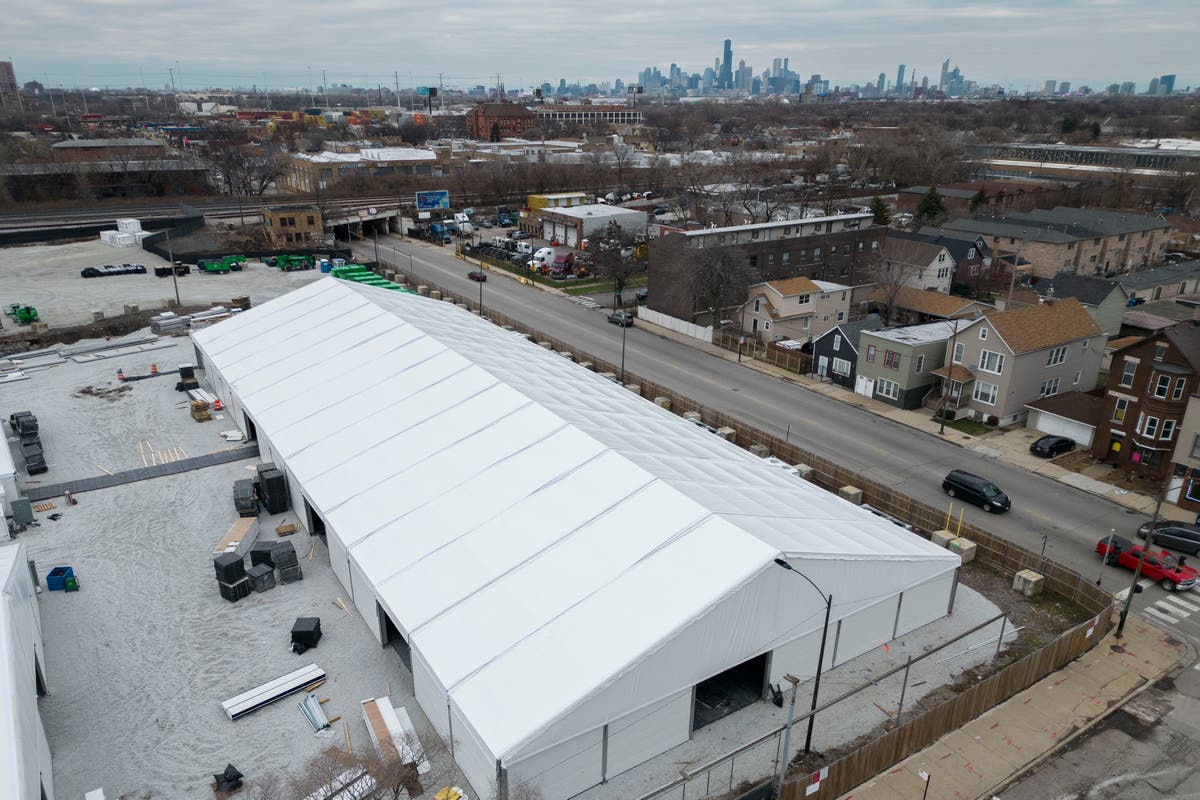 Gov. J.B. Pritzker's administration announced Tuesday that it is scrapping plans for a temporary winter camp for migrants in Chicago, citing the risk of contaminants at the former industrial site.
The setback comes as Chicago struggles to house more than 24,000 migrants arriving from the border with Mexico since August of last year, most in buses sent by Texas Gov. Greg Abbott, according to city data released Tuesday. With the coldest weather looming — and despite a partnership with religious leaders to provide temporary housing — hundreds of asylum-seekers still await placement at airports and police stations, some of them still camped on sidewalks outside precinct buildings.
Responding to the urgent need, the state put up $65 million for a tent camp in Brighton Park designed to hold 2,000, and for permanent structures at a 200-bed site in the Little Village neighborhood giving priority to families and people with disabilities.
Construction at the Brighton Park site began last week despite residents' protests that the 9-acre (3.6-hectare) property is polluted and would risk the health of any migrants housed there. According to an environmental report released Friday that identified contaminants, the site was previously home to a railyard with tanks and oil houses, a zinc smelter and truck trailer parking.
The city released a study late Friday from consultant Terracon that detailed the discovery and removal of sections of soil from the Brighton Park site that contained higher-than-expected levels of mercury and other contaminants.
Mayor Brandon Johnson's office gave assurances Monday, based on Terracon's findings, that the shelter site was safe for temporary residential use. That was before Pritzker's office pulled the plug on it after the Illinois Environmental Protection Agency reviewed the nearly 800-page environmental report. By then, several large white tents outfitted with HVAC units had already been erected there.
"My administration is committed to keeping asylum seekers safe as we work to help them achieve independence," Pritzker said in a statement. "We will not proceed with housing families on a site where serious environmental concerns are still present."
The Illinois Environmental Protection Agency concluded that more testing was needed to ensure the site was safe.
"The well-being of residents and workers at the site is our highest priority, and current and planned site conditions do not adequately reduce risks of human exposure to known and potential environmental conditions," said Illinois EPA Director John J. Kim.
Alderwoman Julia Ramirez, the City Council representative for the ward hosting the site, opposed the project over safety concerns.
"I am glad that the Governor's office decided not to continue using this lot for shelter and made sure that we are stepping up to the responsibility of caring for the health of immigrant families and residents," she said, adding the search for safe shelter must continue.
Construction was halted Monday while the state's environmental agency evaluated the report, which compiled laboratory results assessing the site's soil, groundwater, and soil gas.
An analysis found excess levels of mercury, four metals, DEHP — a chemical present in plastic products — and two semivolatile organic compounds (SVOCs), which can be found in pesticides, oil-based products, and fire retardants.
The soil surrounding the flagged samples was excavated and disposed offsite, and a barrier was constructed to limit access to that soil, according to the report.
Mayor Brandon Johnson's office said in a statement Monday that with such safeguards, the site was safe for temporary housing. After the project was canceled Tuesday, Johnson told reporters "the mission is still very much alive" to find shelter for immigrants sleeping outdoors.
City officials did not immediately respond to an inquiry as to whether alternative sites were being considered.
Yimara Pajaro, a Venezuelan seamstress, said she and her partner camped outside a South Side police station for two months before being moved into a church for temporary shelter last week.
Sleeping outside in Chicago, after several snowfalls and subfreezing nights this fall, left them in bad shape, said Pajaro. She suffered three asthma attacks worsened by the cold.
Pajaro said she wouldn't want to move to a shelter designed to hold thousands, like the one planned for Brighton Park. And if the site is polluted, "they should not bring anyone there," she said. "We will get sick. It seems like our health doesn't matter to them."
Mayors of Chicago, Denver, Houston, Los Angeles and New York have been pressing for more federal aid to accommodate the new arrivals. Migrants have been arriving in the Democrat-led cities on buses funded by the Republican governors of Texas and Florida. Critics initially decried that as a political stunt, but more than a year later, the cities are struggling to cope with the influx amid dwindling resources.
___
Savage is a corps member for the Associated Press/Report for America Statehouse News Initiative. Report for America is a nonprofit national service program that places journalists in local newsrooms to report on undercovered issues.
16 IL Hospitals Named Among 'Best' For Maternity Care In New Report
ILLINOIS — Sixteen hospitals in Illinois made the grade in a new ranking of the Best Hospitals for Maternity Care for 2023-24 released Tuesday by U.S. News & World Report.
The ranking of 680 hospitals nationwide is a guide for parents making one of the most important decisions of their lives — where their baby will be born. Each hospital participating in the U.S. News survey received a scorecard describing their performance on a checklist of items parents look for when choosing where to have their baby.
Jennifer Winston, a health data scientist for U.S. News, said the top hospitals in the survey are those with a "high performing" designation for care given to patients with uncomplicated pregnancies. These hospitals had Cesarean Section rates of 26 percent or lower and newborn complication rates of 37 percent or lower, Winston explained in a news release.
Of the 26 Illinois hospitals that participated in the U.S. News maternity services survey, the following received the high-performing designation:
Advocate Good Shepherd Hospital, Barrington
Advocate Illinois Masonic Medical Center, Chicago
Advocate Lutheran General Hospital, Park Ridge
Advocate Sherman Hospital, Elgin
Advocate South Suburban Hospital, Hazel Crest
Memorial Hospital of Carbondale
Northshore University Health System-Metro Chicago
Northwest Community Hospital, Arlington Heights
Northwestern Medicine Delnor Hospital, Geneva
Northwestern Medicine Kishwaukee Hospital, DeKalb
Northwestern Medicine Lake Forest Hospital
Northwestern Medicine-McHenry, Huntley, Woodstock Hospitals
Northwestern Memorial Hospital, Chicago
Rush Copley Medical Center, Aurora
Sarah Bush Lincoln Health Center, Mattoon
New to the rankings this year is the inaugural "Maternity Care Access Hospitals" list, which highlights 73 hospitals providing services in what otherwise would be maternity care deserts that have "left millions of people without local access to maternity care" in some parts of the country, Winston said.
In Illinois Maternity Care Access Hospitals are:
Sarah Bush Lincoln Health Center
Northwestern Medicine Kishwaukee Hospital
Northwestern Medicine McHenry, Huntley, Woodstock Hospitals
Other Illinois hospitals that completed the U.S. News survey, but did not rank as "high performing" were:
Advocate Christ Medical Center
Advocate Condell Medical Center
Advocate Good Samaritan Hospital
Advocate Trinity Hospital
Alton Memorial Hospital
Memorial Hospital, Belleville
Northwestern Medicine Palos Hospital
Rush University Medical Saturday
University of Chicago Medical Center
University of Illinois Hospital
The hospitals are ranked on objective measures of quality. Including C-section rate, lower-risk pregnancies, newborn complication rates, exclusive breast milk feeding rates, early elective delivery rates, birthing-friendly practices and transparency on racial/ethnic disparities, among other measures. Read more about the methodology.