Golfers topple porta-potty to dump suspected car thief after wild police chase caught on video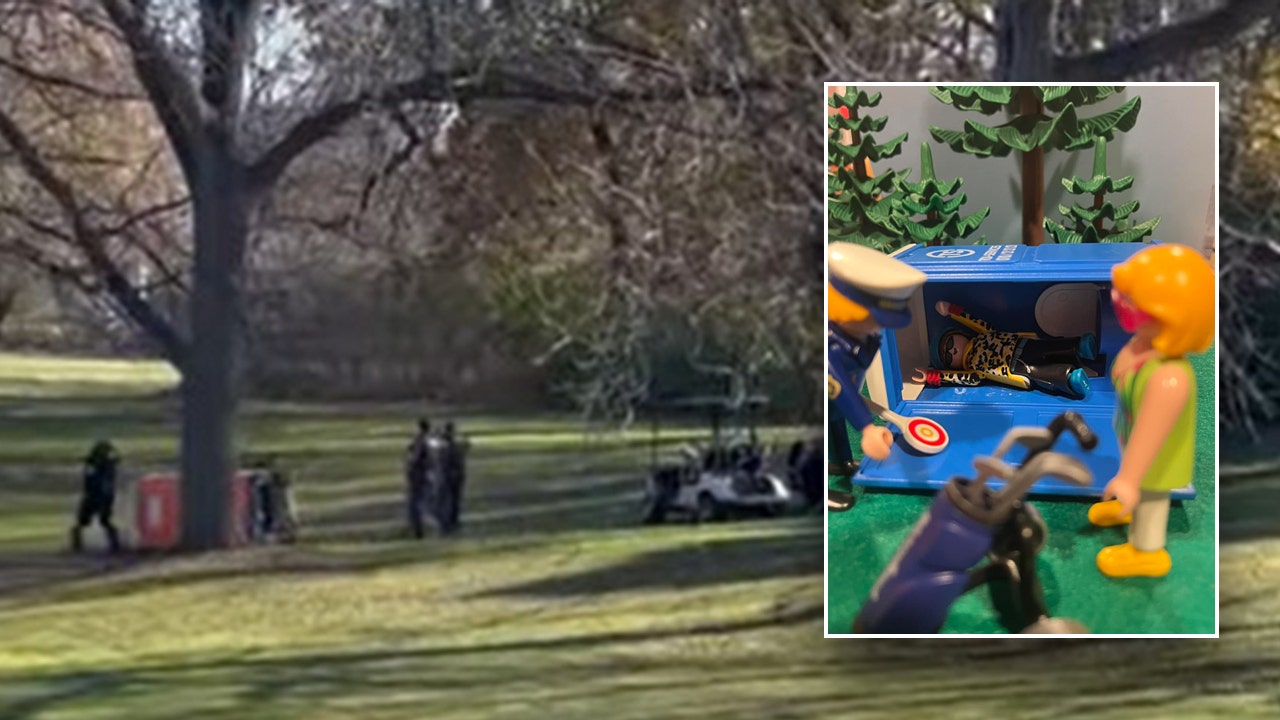 A wild police chase ended with a messy arrest when one of the suspects hid in a porta-potty, which bystanders toppled.
Police in Glendale, Wisconsin, chased a stolen car on Interstate 43 that crossed the Minnesota-Wisconsin state line and sped into oncoming traffic, according to police. 
The driver crashed into two other vehicles on Port Washington Road, rammed through traffic barrels and swerved into the guardrail. Four suspects fled on foot. 
One hid in a porta-potty, but quickly thinking golfers on a nearby course beat the suspect at hide-and-seek and tipped the porta-potty on its side so responding officers could cuff him. 
SHOOTINGS AROUND COLLEGE CAMPUSES LEAVE STUDENTS, FAMILIES ON EDGE: 'EVERYONE IS AT RISK'
One of the golfers, Ilissa Boland, told WBAY.com, "I'm thinking there's no way he's going to go in there."
Another golfer, Adam Westermayer, told WTMJ-TV 4 Milwaukee, "When we realized they were being chased and that kid was in the porta-potty, we tried to tell the police officer.
"(The police officer) went off to chase the other (suspect), and I just made a rash decision to go push the porta-potty down."
MISSING POLICE CHIEF'S BODY FINDING DETAILED IN STOMACH-TURNING COMPLAINT AGAINST GIRLFRIEND: DOCS
The orange porta-potty was knocked on its side in a video recorded by Boland, who shared it with Fox News Digital. 
The suspect is seen climbing out and surrendering to officers closing in with guns drawn. 
"Adam said that once he pushed it over, it was really smelly, and he could hear the sloshing, so I can just imagine the stench," Boland told local news outlet WBAY.com.
The local story went viral and was depicted by Julie Olson's funny Playmobil scene on her Facebook page called "Mommy Plays Playmobil" with the caption, "Play stupid games, win stupid prizes."
WATCH POLICE CLOSE IN ON THE SUSPECTED CAR THIEF IN THE PORTA-POTTY
Glendale police arrested two of the four suspects, and their investigation is ongoing. 
The drivers of the two other vehicles involved in the crash were taken to local hospitals with non-life-threatening injuries, police said. 
Fox News Digital's Emily Robertson contributed to this report.
Read the full article from Here

Trump once again gets off the hook at the latest GOP presidential debate, despite one candidate's best efforts
TUSCALOOSA, Ala. – The smallest debate stage to date in the 2024 Republican presidential nomination race had some of the biggest fireworks.
Much of the verbal crossfire at Wednesday's showdown at the University of Alabama was directed at former ambassador to the United Nations and former South Carolina Gov. Nikki Haley, who has enjoyed plenty of momentum this autumn.
But despite the best efforts of former New Jersey Gov. Chris Christie — who repeatedly chastised his rivals for failing to verbally confront former President Donald Trump — the commanding Republican 2024 front-runner came away from the fourth debate relatively unscathed as he once again skipped taking the stage.
"We're 17 minutes into this debate… we've had these three acting as if the race is between the four of us," Christie said as he pointed to Haley, Florida Gov. Ron DeSantis and biotech entrepreneur Vivek Ramaswamy.
RNC CHAIR MCDANIEL DEFENDS THE INCREDIBLE SHRINKING GOP 2024 FIELD
Trump made history earlier this year as the first former or current president to be indicted for a crime, but his four indictments — including in federal court in Washington, D.C., and in Fulton County court in Georgia on charges he tried to overturn his 2020 presidential election loss — have only fueled his support among Republican voters.
Christie charged that it was "ridiculous" that his debate rivals wouldn't discuss Trump. "I'm in this race because the truth needs to be spoken… He is unfit to be president."
But Christie's jabs at Trump drew boos a couple of times during the debate, including in his closing comments when he predicted that Trump would be convicted and would be unable to vote for himself. 
TRUMP CAMPAIGN PREVIEWS 'EXTREMELY AGRESSIVE' PUSH IN IOWA 
"If we deny reality as a party we're gonna have four more years of Joe Biden," Christie warned.
But Christie's scolding of his rivals mostly fell on deaf ears, as they mostly avoided direct criticism of Trump even when the moderators asked a series of questions regarding the former president.
While Trump stayed out of the crossfire, Haley wasn't nearly as lucky.
DeSantis repeatedly fired shots at Haley, including accusing her of not supporting a ban on gender-affirming procedures for transgender youth, which she denied. 
And he claimed that Haley "caves anytime the left comes after her."
Haley fired back, arguing that "Ron continues to lie because he's losing."
DESANTIS STOPS IN ALL OF IOWA'S 99 COUNTIES, BUT WILL IT HELP HIM CLOSE THE GAP WITH TRUMP?
Ramaswamy renewed his attacks on Haley for her support from top dollar Wall Street donors and her service on the board of the Boeing Company.
"It adds up to the fact that you are corrupt," he charged as he held up a note pad. The words "Nikki = corrupt" were written on the pad.
Given the chance by the moderators to respond, Haley emphasized "it is not worth my time responding to him."
Christie vehemently defended Haley from Ramaswamy's broadsides — calling the first time candidate an "obnoxious blowhard."
And in the spin room after the showdown, he charged that Ramaswamy "does have a woman problem."
But he also took aim during the debate at his fellow former Republican governor, telling reporters later that "my criticism of Nikki is very clear. You can't be everything to everybody."
GAME ON IN IOWA WITH THE CAUCUSES CLOSING IN 
The debate, the last to be held this year, came with less than six weeks to go until the Jan 15. Iowa caucuses kick off the GOP presidential nominating calendar.
Haley, who has risen in the polls in recent months, thanks in part to well-received performances in the first three GOP presidential primary debates, has leapfrogged DeSantis for second place in New Hampshire, which holds the first primary and votes second in the Republican nominating schedule, and her home state, which holds the first southern contest.
She aims to make a fight of it in Iowa, where she is pulling even with DeSantis in some of the latest polls.
"Nikki was drawing the most fire because she's had the juice, the momentum," noted longtime Republican strategist David Kochel.
At one point, Haley turned to her three rivals and said "I love all the attention, fellas, thank you for that."
Kochel, a veteran of numerous GOP presidential campaigns and statewide campaigns in Iowa, said that "Trump is not central to these debates because what the candidates on the stage are trying to do is get an opportunity to take him on one-on-one."
And Kochel emphasized that the debate "clarified what the race is about. It's about who's going to face Trump, and it's DeSantis or Haley…. Someone's going to win that argument and when they do it's going to be Trump versus that person."
Get the latest updates from the 2024 campaign trail, exclusive interviews and more at our Fox News Digital election hub.
Read the full article from Here
Seven crazy statistics from San Jose Sharks' comeback win in Detroit
The San Jose Sharks' second-period comeback against the Detroit Red Wings on Thursday — scoring four unanswered goals to tie the game after trailing by four — had local statistician Darin Stephens reaching for the team's record book.
It wouldn't be the only Stephens' research skills came in handy.
The Sharks and Red Wings would establish a handful of new marks in what became a 6-5 overtime by San Jose at Little Caesars Arena. Mikael Granlund scored 37 seconds into the extra session as the Sharks won for the fifth time in seven games.
The Sharks (8-17-2) now have a couple of days off before they face the Vegas Golden Knights on Sunday, hoping to finish off what's been a 3-2-0 road trip so far on a positive note.
Here are a few stats noted by Stephens and others from Thursday's game.
Per Stephens, the Sharks win marked the first time in their history that they've rallied to win consecutive games after trailing by three or more goals in each.
The Sharks have scored 22 goals in their last four games, as they beat the New Jersey Devils 6-3, the New York Islanders 5-4, and the Red Wings, with a 6-5 loss to the New York Rangers mixed in.
Per Stephens, this is the third time in Sharks history that they've scored 22 or more goals in a span of four road games. They had two such spans in Dec. 2018 in which they scored 23 in each. Four consecutive games, home, road, or a mix, with five or more goals in each ties the San Jose record.
Per Stephens, Sportsnet Stats and the NHL, when the Sharks and Red Wings combined to score six goals in a 3:01 in the second period, it was the second-fastest six goals scored in NHL history. The Quebec Nordiques and Washington Capitals scored six goals in exactly three minutes on February 22, 1981.
Per SportRadar, the Sharks are the first NHL team to win back-to-back games, both on the road, after trailing by three or more goals in each since the Los Angeles Kings did so on January 24-26, 1981.
Per Stephens, Hertl is tied for the Sharks' all-time lead in career game-tying goals in the final two minutes of regulation with five. Hertl scored to tie Thursday's game with 89 seconds left, and also scored with 90 seconds left against the New York Islanders. He shared the team record with Patrick Marleau.
Per Sharks team president Jonathan Becher, Thursday's game was the first in NHL history to be tied, then have one team take a 4-goal lead, and then be tied again all within the same period.
Per Stephens, this was the second time the Sharks in their history — and the first time in the regular season — that they rallied from a four-goal deficit to win a game. The other time it happened was Game 3 of the 2011 Western Conference quarterfinals in Los Angeles. That night, the Sharks trailed the Kings 4-0 before they won 6-5, with Devin Setoguchi scoring the overtime winner.
Community Leader of the Year: Tim Sheehy made huge impact as president of MMAC