While thrifting in L.A. with my teenage son, I found what my mother missed
My 13-year-old son has entered his thrifting era. It started with an off-chance trip to Goodwill over the summer while he was skating through Glendale with a friend two grades ahead. He came home with a decent pair of Nikes and some questionable acid-wash jeans. The purchase totaled $26. The Nikes haven't left his closet, and the jeans never had a chance.
Still, thrifting has become the new, more expensive and less accessible trip to the corner store. He went a few more times and acquired two random hoodies, one for a 2017 Kendrick Lamar album release, and the other for the Washington Huskies team he's never seen play. Then he started inviting me along. I know my wallet and wheels offer obvious appeal, but I've also flattered myself into believing he wants me to thrift with him because he trusts my taste in clothing. Not that I am holding down any FashionTok feeds, but I've spent a good chunk of my life studying what to wear and how to afford it.
On a pupil-free Monday in mid-September, we made a plan to hit up a few spots. I discovered curated resale stores like Crossroads Trading Co. a few years ago when I sold two bagfuls of clothes to stretch my own irreconcilable shopping budget. Call it Middle Age Mom Math.
We hit the store in Silver Lake first, splitting lanes in the entranceway. He veered toward men's jeans and I went to browse dresses and skirts. I pulled an $18 white cotton midi skirt, wondering if it could pass for a replica of the $200 Doen Sebastiane piece I coveted. My son found a pair of many-sizes-too-big dark-wash Levi's and nodded to me to come check them out. We studied our findings. We were both just trying to see what fit.
I started thrifting when I was a teenager too. Back in the early '90s, Aardvarks on Melrose Avenue was a resale closet full of dreams. I used to go with my mom, who allowed me to scour each row of jeans and sweaters until I found a treasure or two. I focused as much on the other shoppers as I did the racks of clothes. If someone cool examined a blouse, I moved to that section. If she held out a dress, I swooped in to give it a second look.
Aardvarks was like my imaginary mother's glamorous closet, open for me to play dress-up. It wasn't Koala Blue, the destination store down the street owned by Olivia Newton John. When my mom bounced a check there a few months earlier when trying to buy me a logo sweatshirt and herself a dress, the Xanadu singer herself wrote a note graciously forgiving the oversight. It also wasn't Betsy Johnson, an upscale boutique with a femininity and price point still inaccessible to me.
Sometimes my mom browsed beside me at Aardvarks, nudging me toward a babydoll dress or a cardigan she liked. Usually, she just waited outside smoking cigarettes, returning to meet me in the checkout line where I stood with treasures draped over my arm. She'd join me in a waft of nicotine and say, "This place stinks." Before we hit the register, she counted wadded-up bills to make sure we had enough for my purchases and could still afford lunch at Johnny Rockets before we headed home to sneak the shopping bags past my grandmother, who unwittingly funded these excursions.
Those Saturday afternoons on Melrose were the last of our mother-daughter shopping days, before she crashed her hatchback Honda Civic, the one with no radio that we'd drive to shop across town. Before I was in high school, when my friends asked why she wore stained dresses or took the bus in her housecoat. Before she stopped caring what either of us wore, or ate, or did on a weekend afternoon. She kept trying on different combinations of psychiatrists, lithium, diet pills, but none of them seemed to fit.
My mom passed away while I was pregnant with my first son, just as I was trying on motherhood myself. I've rummaged through a lot of grief, looking for pieces of her to take with me as I mother teenagers and weather middle age. I've rediscovered her here, thrifting with my son the way she thrifted with me.
As my son and I stood in the checkout line at Crossroads with a pair of Levi's I know he wished were 501s, he inched close enough to me to rest his chin on my shoulder. I reached up to tussle his disheveled blond hair that is just like my mom's, when I noticed a young 20-something sales clerk sneaking a glance at our tender moment. She offered a quick smile and darted her eyes to a stubborn tag on a pair of trousers.
Next in line, we approached her with our scores and as she draped them across the counter, she looked at me and said, "You two are really sweet."
I glanced at my son, aware that any response could tip off an ever-looming embarrassment. "Thanks," I said, trying to show my gratitude with a smile in my eyes.
"It makes me miss my mom," she admitted. I took in the chestnut brown hair that swept down just past her shoulders, and the delicate cluster of moles sprinkled across one of her cheeks.
"Trust me," I told her. "She misses you more."

'The Challenge' is understanding why this 'Squid Game' game show was green-lit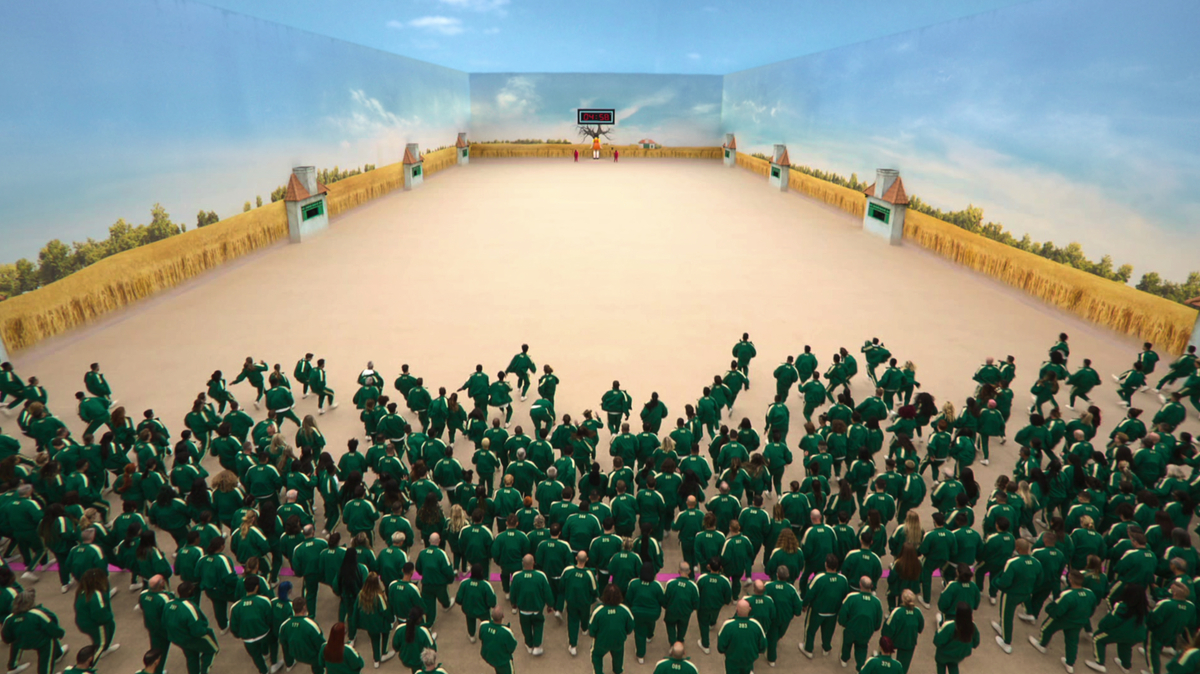 It is one thing to extend a successful television series in a way that drains its meaning and dilutes its impact. It is another to drown it in greed and to gleefully embrace what it diagnoses as economically and spiritually catastrophic.
Squid Game, the South Korean drama series that was a sensation on Netflix in September 2021, is a work of despair. In it, hundreds of players who are deeply in debt are invited to participate in a secretive competition with an enormous cash prize for those who successfully complete a series of games. What they don't realize until the first game is underway is that as they are eliminated from each game, they will be murdered.
The first episode, "Red Light Green Light," finds 456 people in an enormous open space playing the childhood game in which, if you are caught moving after you're told to freeze, you are out. But in this case, when you are out, you are shot dead by enormous guns embedded in the walls. Shot in the head, the neck, the back. As the group realizes what's happening, many panic and run for the exit, but of course, this violates the rules as well, so they are massacred as they try to escape. They end as a pile of dead bodies against the doors, their identical green sweatsuits drenched in blood. Those who survive, owing to their desperate circumstances, eventually play on. How inhuman it is to conduct this game, to have to play it, and especially to watch it, those are the things that give the scene and the series such weight.
At some point, some person, some fool, somewhere, in some office, flush with the success of the series both critically and commercially, decided it would be entertaining to create a game show — a real game show — that imitated this scenario as closely as possible without actually murdering anyone. And so you have Squid Game: The Challenge.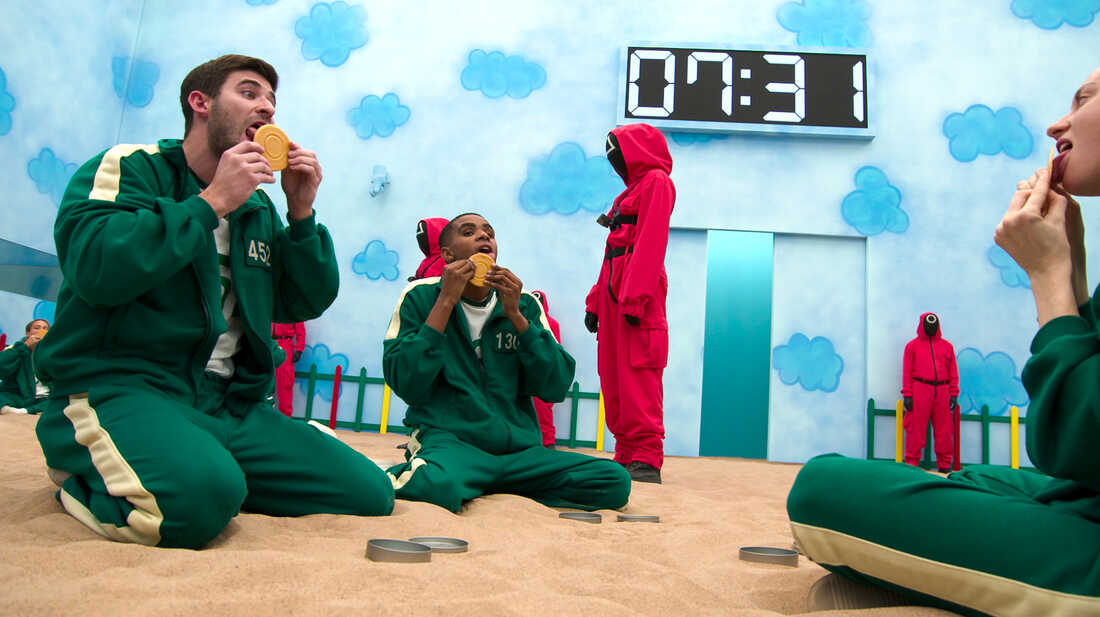 It brings 456 real people to a vast dormitory designed to look as much as possible like the one in the show. And it begins, too, with the game of "Red Light Green Light." It would have been easy to design The Challenge such that if you are caught moving, your number is called and you are simply out of the game. Had they stopped there, this effort would be empty and pointless, but perhaps only that. Instead, when a player is caught moving, a squib inside their shirt explodes, splattering their chest and neck with black fluid, and they fall over and play dead. It is meant to look as much like a true massacre by gunfire as they could manage, although someone seems to have drawn the line at fake red blood in a meaningless gesture toward, one can only assume, some simulacrum of good taste.
The original Squid Game indicts, above all, anyone who would find such a competition entertaining. The villains are the people who watch, who plan, and who enjoy this spectacle. So what makes The Challenge so creatively misbegotten is that it suggests at best (or worst?) a cynical effort to exploit the most superficial elements of Squid Game while entirely missing its point, and at worst (or best?) an ignorant failure to understand what the show is even supposed to be about. These games are not particularly exciting, in and of themselves. The murders are the story; the brutality is the one thing that makes it compelling. And the only reason the fictional game has been designed by its evil creators is that they want to watch people scramble to save their very lives. The deaths are not a decoration; they are the fabric of the thing.
And so what makes The Challenge so bad is that outside of the simulated killings and their shock value, it's dull. There are too many contestants to get to know and no central characters to grab onto like the ones in Squid Game.
What makes The Challenge feel wrong is that a competition where the first episode is a whimsical game of "mass shooting and panic," complete with squibs, complete with splatter, should never have made it past the very first meeting. That nobody said no, that nobody said "there's an excellent chance that we will be dropping these episodes in the aftermath of a real mass shooting, and simulating one for entertainment will seem like an extraordinary violation of bare-bones decency" is an indictment of everyone involved. Someone — everyone — has lost the plot. (Not to mention what some contestants claim were, in real life, apparently atrocious conditions.)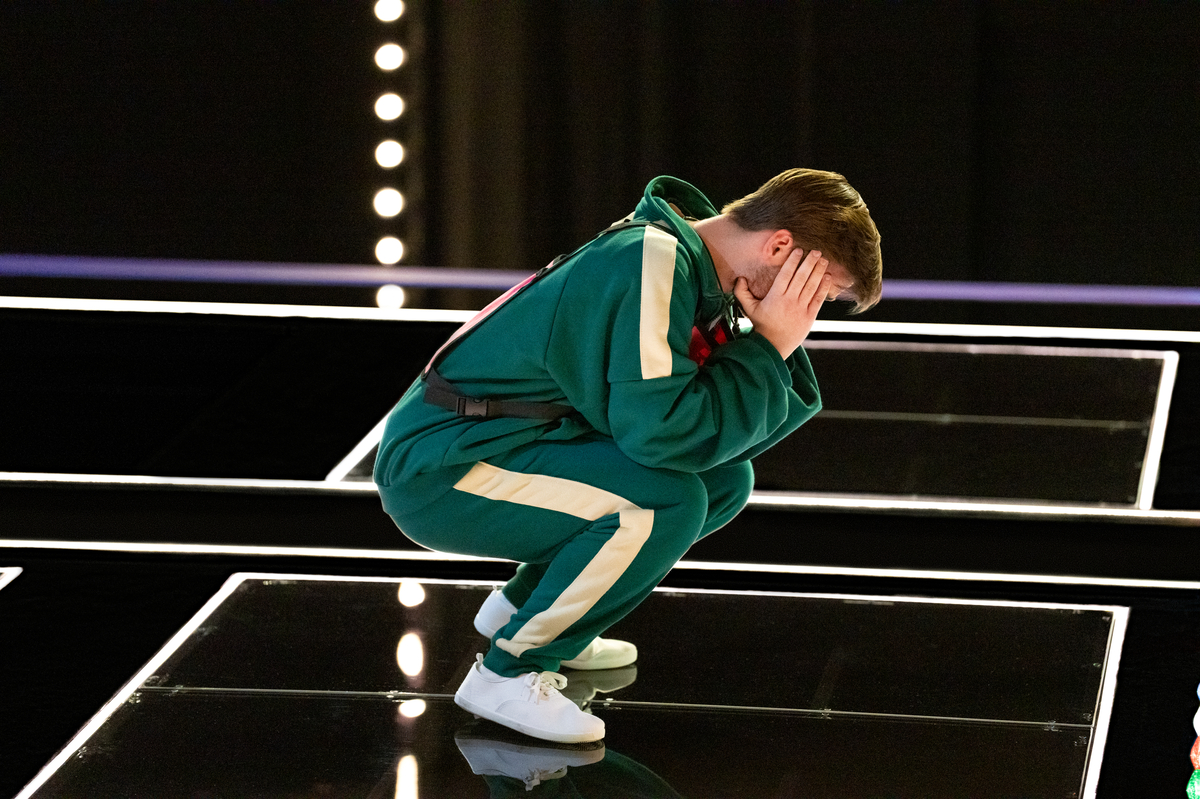 In a media environment in which creative people manage, against all odds, to do work that is daring and interesting — like Squid Game was — it is brutal to see the same company that drove that work's success turn around and treat it so carelessly. It's not the first time Netflix has tried to have its cake and eat it too; recent seasons of Black Mirror that aired on Netflix have skewered formats and practices straight out of the service's own playbook, to the point where a Netflix clone called Streamberry was one of the primary villains of the sixth season. But at least in that one, as far as we know, nobody got hurt.
This piece also appeared in NPR's Pop Culture Happy Hour newsletter. Sign up for the newsletter so you don't miss the next one, plus get weekly recommendations about what's making us happy.
Listen to Pop Culture Happy Hour on Apple Podcasts and Spotify.
Jonathan Taylor Thomas Surfaces Publicly for First Time in 2 Years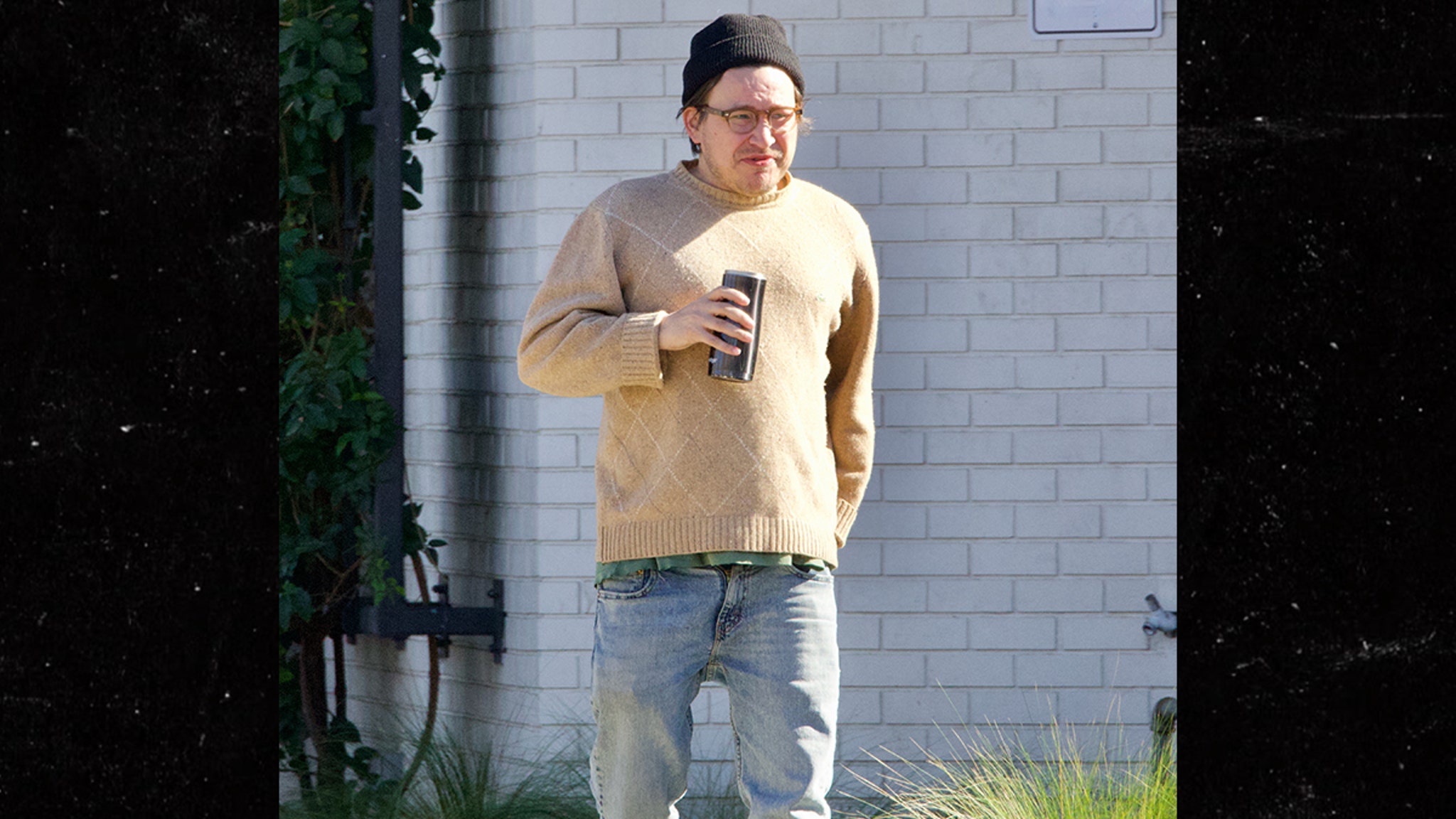 Jonathan Taylor Thomas said he'd be home for Christmas, and after disappearing from public life for a long time … he's here to make good on his promise.
The elusive ex-child star — who vanished from the big show ten years ago — surfaced earlier this week in SoCal … where he was apparently out running errands near his home. As many people have noted, the dude looks almost unrecognizable compared to his childhood.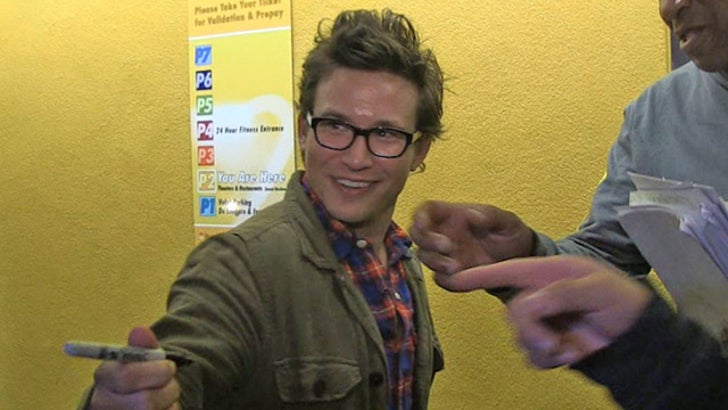 8/15/13

TMZ.com
Nothing all that remarkable in the pic itself … it's just a guy who's left Hollywood behind minding his business. But considering how big a star he once was — it is eye-popping.
Remember, the last time we saw JTT making the rounds and signing autographs was way back in 2013, and at the time … he was very much doing the A-lister thing, embracing cameras, questions and fans. Now, though, it's quite clear — he wants none of that.
It was around this same time that he opened up to People Mag about why he'd decided to step away … saying he'd been working since he was a young kid and wanted a break. He also said he didn't want fame to define him, and simply didn't care much about it.
The last time Jon was out in public was during COVID — when he was spotted walking his dog and laying low. Now, two years later, we're seeing him again … sans any pooch.
Here's hoping he's enjoying himself in whatever it is he's up to these days. And since it's that time of the year … no better time than to peep his classic holiday flick, not to mention all his other treasures from the '90s. 'Lion King,' 'Home Improvement' … true legend, indeed.
Kiss performs its final concert. But has the band truly reached the 'End of the Road'?
Charles Sykes/Invision/AP
In the 50 years since Kiss first kicked and thrashed its way onto the New York rock scene, the band has given the world sing-and-shout-along hits like "Detroit Rock City," "Crazy Crazy Nights" and "Beth," and live performances replete with blood-spattering, fire-breathing, pyrotechnics and gobs of cartoonish stage makeup.
"Their schtick lifted them up to the absolute top," music writer Joel Selvin, the author of numerous books about rock musicians including Linda Ronstadt, the Grateful Dead and Sly and the Family Stone, told NPR.
On Saturday, the memorable stagecraft that made Kiss one of the biggest selling hard rock bands in the world will come to an end, as its members perform what they are touting as their final show of their aptly titled, four-year-long "End of the Road World Tour" — at Madison Square Garden in New York. The concert will be available to watch live on Pay-Per-View.
"It has nothing to do with personalities in the band or tensions or a difference of opinion or musicality. It's purely practical," said Kiss co-founder, rhythm guitarist and vocalist Paul Stanley in an interview with the music publication Ultimate Classic Rock of the band's reasons for bringing five decades of Kiss to an end. "You can play beat the clock, but ultimately the clock wins."
The city has apparently gone Kiss-crazy in the days leading up to the occasion, with the appearance of Kiss-themed taxis, Metro cards and pizza boxes. On Wednesday, the New York Rangers hosted KISS Game Night, featuring Kiss-related activities and "limited-edition KISS x Rangers merchandise." Band members also made an appearance at an Empire State Building lighting ceremony on Thursday. Staged in honor of Kiss' swan song, Empire State emitted the colored lights associated with the band — silver, red, purple, green and blue.
Despite all the hooplah, this may not in fact be Kiss' goodbye kiss. The band undertook a previous "farewell tour" more than 20 years ago. After a brief hiatus, it started touring again on and off in 2003. Live shows and album releases flowed on from there.
In interviews, band members have spoken about continuing on after Saturday's Madison Square Garden performance in one way or another. Both Stanley and co-frontman Gene Simmons have their own bands and say they aim at the very least to continue making appearances in those formats.
"Nobody ever really says goodbye," said rock critic Selvin, citing comebacks over the years by the likes of Cher, Steve Miller and the Grateful Dead. "It's a show business strategy. You take a bow. But there's always an encore."
Selvin said artists often reappear after retiring because they can make a lot of money owing to fans' pent-up demand. For example, the pop-punk band Blink-182 is earning four times as much on its current reunion tour than it did when it last re-united in 2009, according to Far Out magazine. (The band issued a statement in 2005 saying it was going on "indefinite hiatus," only to reunite four years later.)
"Personal life interferes, you want to disappear into the woodwork for a while and then demand builds and you go back to it," Selvin said. "Steve Miller took his band apart in '99. He was just tired. And he was out for six years. And then in 2005, he put his band back together and suddenly his price was up, and there was more interest in seeing him."
Meanwhile, some musical acts simply never retire. The Rolling Stones, for instance, are embarking on yet another North America tour in 2024. The band just announced additional dates.
Selvin doesn't think we've heard the last of Kiss.
"The rule of the farewell tour is that you have to say goodbye to every hall, and sometimes you have to say goodbye twice," Selvin said. "I do not expect this to be the last time that Kiss performs, any more than 'Fare Thee Well' was the last time The Grateful Dead performed."