The headlines claim 'Baggy Fashion Is In.' Next time, listen to Street Grandma
This story is part of Image issue 21, "Image Makers," our third annual celebration of the homegrown fashion luminaries who are designing a global fashion future built from the L.A. that was. Read the whole issue here. You can purchase the issue in print here.
Street Grandma. Noun; adjective; verb.
Someone whose style is born from the female gaze.
A mix between the strength of streetwear and the deep comfort of flowing silhouettes, mixing the masculine with the feminine.
A girlish sense of play, inspired by childhood friendships and the things you liked when you were a preteen.
Taking up literal space with clothing that pushes away from your body instead of cinching in; wide, structured, holding shape.
Unbound.
For the brand's founders, Andrea Cheung and Devin Perry, a pair of friends since middle school from El Monte and Alhambra, respectively, Street Grandma carries all these definitions and about a million more. A physical manifestation of their bond, their memories, their experiences and aesthetic overlaps, the clothes speak to a generation of people who find an effortless confidence in wearing oversized clothing — layering an ankle-length gingham dress over a pair of super wide, pleated denim pants with Asics sneakers. It's rooted in the celebration of outsized shapes, the bigger the better, and doing away with formulaic dressing. Street Grandma asks: What if you didn't have to adhere to the little top, big pants/big top, little pants recipe? What if, instead, you were swimming in your clothes from head to toe? What if you too could sit comfortably with your legs spread open at the coffee shop and feel like that girl?
"It's a mix of traditional streetwear picked from the men's section with the grandma part, which felt like this sort of unsexualized wise woman who is practical and loves f—ing gingham," says Perry. The designs are driven by this idea of feeling like you can grow and change and move around in clothing. That exact feeling when you take off a tight dress and throw on an XL tee at the end of the day, except you skip the tight dress part. "I noticed a lot of times that people would be like, 'I feel so good right now,'" Perry says. "The right balance of masculinity and femininity fit the way that their spirit felt in that moment. How do we identify why that feeling happened? How do we [replicate] that feeling? For us, most of the time, it's because it leaned more masculine and it had its feminine elements. We were taking up space, taking attention and being expressive."
Over summer, Street Grandma released its fifth collection, consisting of its cornerstone ankle-length gingham dress in a blue and brown colorway; two pleated skirts with ribbons attached in denim and plaid; two work shirts in both pink linen and blue plaid; the pleated pants in khaki; and shants — not jorts, but ankle-grazing shants: a mix between pants and shorts — in denim and khaki. The collection was made using all deadstock, organic materials and sustainable practices — a touchstone of the brand — and true to form, everything is made with space in mind. The clothes, taken together, are like a sculpture, the kind of thing that has curves, edges and angles while standing alone. On a body, these pieces become like an extra appendage. "There is something about wearing the clothes that feels a little bit like armor," says Perry.
Since 2022, Vogue headlines have been claiming that "Baggy Fashion Is In." But for Street Grandma, oversized is a lifestyle, not a trend.
The dynamic between Cheung and Perry, both 29, feels like what happens when you see your sixth-grade bestie after a long time: In some ways, you revert back to the person you were then; the same things make you laugh, you get excited in a way you haven't in years. This is someone you can't play pretend with. They've known you since the jump — survived your aggressively side-swept bangs while you made duck lips and threw peace signs at the camera. Sitting at Twohey's in South Pasadena, a place Cheung and Perry came to regularly in middle school (the restaurant relocated from Alhambra in 2020), they regularly bust out in song, melodizing ordinary sentences while a constant stream of inside jokes seems like they're speaking in a coded language. They met at a Christian middle school in San Gabriel when they connected over the idea that "Family Guy" was a work of high art in the lunch line.
They kept in touch over the years but became less close in college and after — Perry had moved to New York after studying theater at a Texas school, and Cheung was in grad school in Santa Barbara, getting her master's in environmental science. During the pandemic, they both found themselves back in the SGV. Cheung remembers seeing an Instagram post from Perry asking, "Does anyone know how to sew?" Cheung was interested in starting a brand with a focus on sustainability. "I had been thinking about it for a while," she says. "I wanted to see if I could do this fashion thing and really understand the process and how polluting it is, how wasteful it is." She pitched Perry the idea. When they met up a few weeks later at a brewery in Pasadena, Perry had an entire Google Docs presentation ready with a combination of different styles she resonated with. When she was in New York, she started the @streetgrandma Instagram, which back then read more like a blog documenting looks that inspired her — a through line of what Street Grandma is today. "I wanted to focus on this piece of fashion that I have had to pull together by going to multiple stores — it'd be cool to see how you can encompass this maybe in one store, but also in one item," Perry says.
They came up with a list of non-negotiables together. On Cheung's list, the low-impact part of the brand was necessary. "I always felt like if we weren't trying for low-impact, we weren't trying hard enough." (Along with the organic and deadstock materials, everything is made in Los Angeles by a small seamstress and cutter team.) On Perry's list was the shape of the clothing — she wanted to ensure that these oversized pieces would center women, taking into account the proportions of the waist and leg.
Both of them agreed that they wanted the brand to carry the same playfulness and levity they felt with each other when they were just girls in the lunch line. To feel like little kids again, forming their identities everyday.
Street Grandma designs clothes you can run around in, garments that evoke a childhood in San Gabriel in the early 2000s or the pages of Fruits magazine, the '90s Japanese streetwear publication where oversized silhouettes were king. One Street Grandma piece, inspired by a vintage Champion tee from the 1970s, features a trompe l'oeil image of blue overalls over a capacious, heavyweight, white cotton tee. The different iterations of the Street Grandma work shirt are an everyday kind of piece that becomes more interesting because of its boxy form. The shants are a take on the staple long shorts they saw growing up in Northeast L.A. "[These are] silhouettes people have been doing forever. … You just want to revisit the things that you saw growing up and find your way to refine it," says Perry.
Perry, who works full time as the director of people and operations for an interior design firm and retail shop handles most of the creative direction and design for the brand while Cheung, who works in digital marketing full-time, takes on production, operations and design. But each of them has a hand in everything, Perry says. It's a constant conversation, a sustained exchange of ideas for the roughly four months it takes to finish a collection. Neither of them had significant fashion experience when they started — so they turned to Reddit. Since then, everything has been learned together and has sharpened with each collection, both in process and design. While its first lookbooks veered on the more serious side (models posed earnestly in turtlenecks and work coats), this latest offering feels like a more accurate reflection of Cheung and Perry's sensibilities and sense of humor. The campaign was photographed in an old, messy office space — very cubicle-core with a twist — and featured models in the pink linen work shirt and extra wide khaki pants holding up a binder that said "Street Grandma Mega Corp." A framed photo of Cheung and Perry when they were tweens was propped in the background. "This is who we are, this is who we want to be, this is what our friendship always was," says Perry. "You start to relax into it."
Back at Twohey's, between bites of a sundae, Cheung pulls out a relic. It's a scrapbook she made for Perry on her 16th birthday, documenting the timeline of their friendship all the way back to middle school. Perry found the scrapbook in a box of her old stuff after moving back to L.A. during the pandemic. There are photos of them at camp and at school dances, as well as drawings and letters Cheung made for Perry over the years. "I want to thank you for everything you've done for me," Cheung writes in one. "I really appreciate it. And I want to let you know that I'll always be here for you 24/7. Whenever. We're going to stick together forever. … Let's grow old together. I love you."
Perry, years later, wrote her reply in the back: "There really is no one else I could run a business with other than you. … Thank you for being chic and funny and real. And my best friend in this life."
Lettering by Jake Garcia / For The Times

'Wait Wait' for September 30, 2023: Live in LA with Bob and Erin Odenkirk!
This week's show was recorded at the Greek Theater in Los Angeles, with host Peter Sagal, official judge and scorekeeper Bill Kurtis, Not My Job guests Bob and Erin Odenkirk and panelists Jess Klein, Karen Chee, and Maz Jobrani. Click the audio link above to hear the whole show.
Bob Odenkirk/LEDE Company
Who's Bill This Time
NFL: Taylor's Version, All That Glitters, Three Strikes
Panel Questions
A Spy By Any Other Name
Bluff The Listener
Our panelists tell us three stories of the origin of a name, only one of which is true.
Not My Job: We quiz Bob and Erin Odenkirk on Kirkland Brand products
Bob Odenkirk is a comedy legend and his daughter Erin might be even funnier. They join us to talk about Zilot, their new book of poetry for kids, and to answer our three questions about Kirkland, Costco's house brand
Panel Questions
Who's A Bad Boy, Lose Your Voice
Limericks
Bill Kurtis reads three news-related limericks: Identical Dental, Uninvited Guests, Walk Upon A Star
Lightning Fill In The Blank
All the news we couldn't fit anywhere else
Predictions
Our panelists predict who will go on strike next.
Jada Pinkett Smith Responds to Arrest in Tupac Murder Case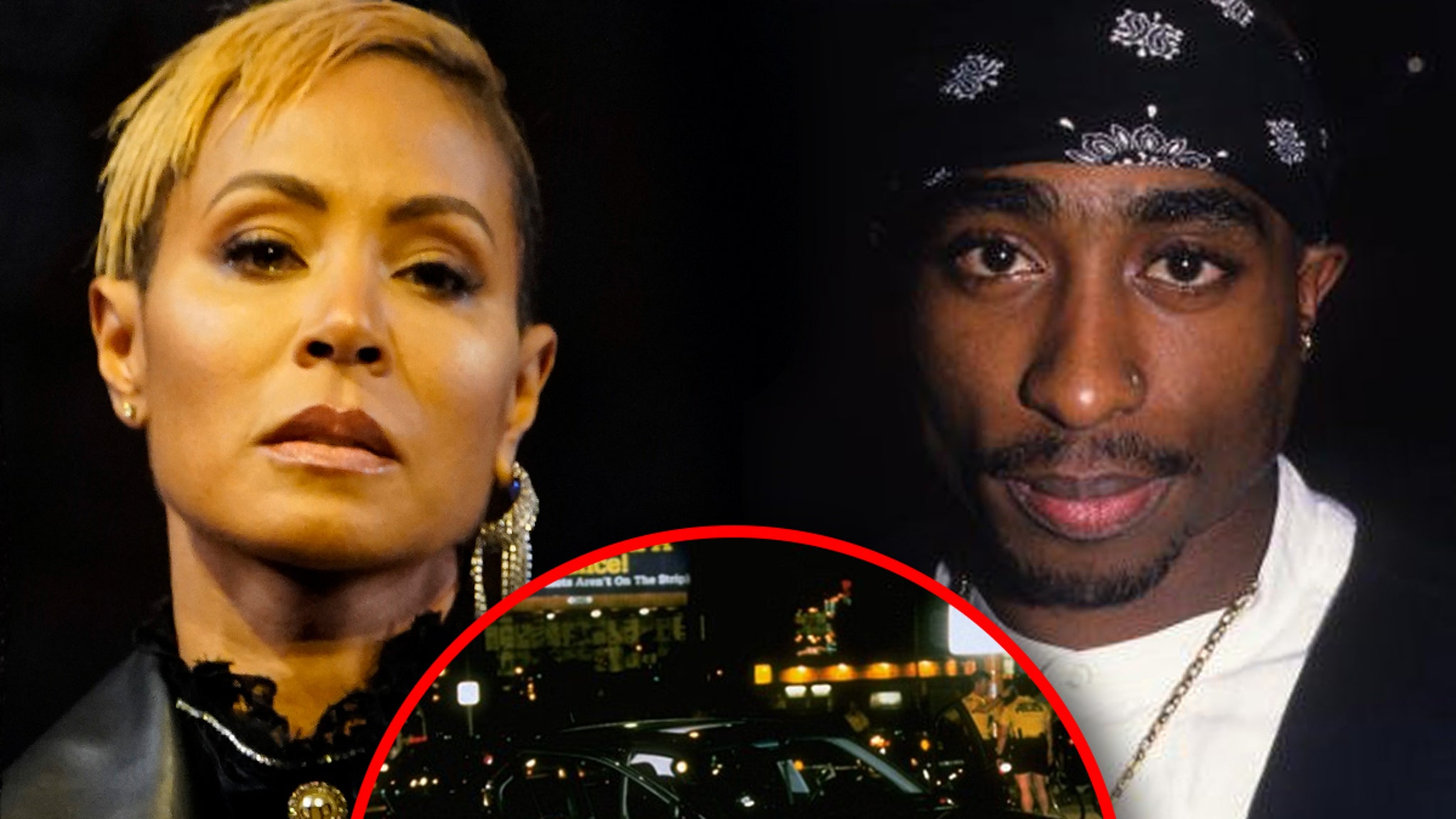 Jada Pinkett Smith is one of many who are happy to have somebody being held to account over the murder of Tupac Shakur — and she made it known to her millions of followers.
The actress took to Instagram Friday night with a short but concise reaction to the Pac news — namely, the fact that Duane 'Keefe D' Davis was arrested and charged with murder in connection to the open case out of Las Vegas … which had seemingly gone cold for years.
JPS writes, "Now I hope we can get some answers and have some closure. R.I.P. Pac."
Like we said … a fairly simple message on her part, but it's quite meaningful considering how much Tupac meant to Jada — and how often she references him, even today.
Many are familiar with Jada's history with Pac … they go way back, and were very close friends back in the '80s and '90s when they grew up together and mingled into adulthood.
Jada has long insisted they were never romantic, but some speculate that might not be the case … again, she's spoken at length about him and has reminisced about their relationship publicly, to the point some have raised an eyebrow in retrospect — especially post-slap.
That's neither here nor there … point is, Tupac obviously means a lot to Jada — and she seems relieved this chapter might be coming to a close after years of mystery/intrigue.
As we reported … Keefe D was indicted on an open murder charge this week, just a couple months after law enforcement raided his Vegas-area home upon executing a search warrant.
His involvement in the murder has been out there for years now, based on his own words — dude's done countless interviews and even published a book … all of which seem to see him detailing the blow-by-blow of the shooting. Now, he'll have to answer for it in court.
Nevada grand jury indicts witness in killing of Tupac Shakur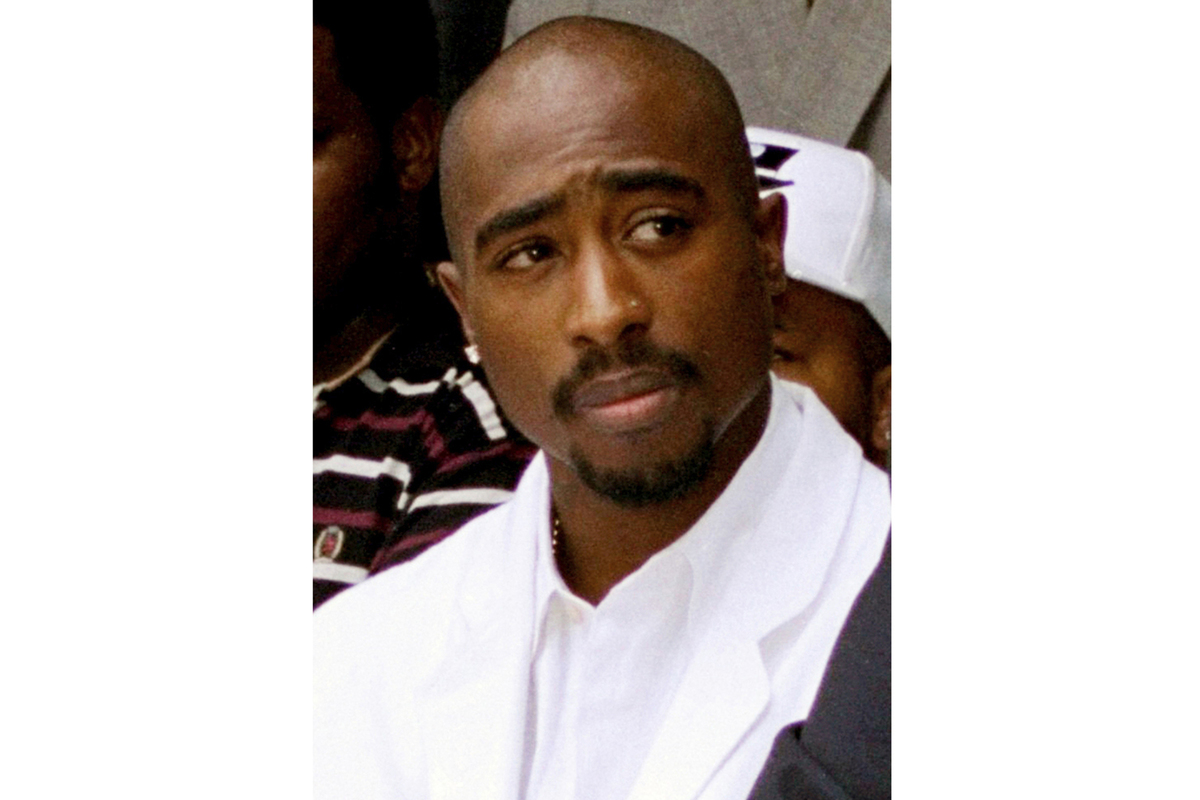 LAS VEGAS — One of the last living witnesses to the fatal drive-by shooting of rapper Tupac Shakur in Las Vegas was charged with murder with use of a deadly weapon Friday in the 1996 killing, a long-awaited breakthrough in a case that has frustrated investigators and fascinated the public ever since the hip-hop icon was gunned down 27 years ago.
A Nevada grand jury indicted Duane "Keffe D" Davis in the killing, prosecutors announced in court Friday. Chief Deputy District Attorney Marc DiGiacomo said a grand jury had been seated in the case for "several months." DiGiacomo described Davis as the "on-ground, on-site commander" who "ordered the death" of Shakur.
The charges were revealed hours after Davis, 60, was arrested this morning while on a walk near his home, according to DiGiacomo.
Davis has long been known to investigators and has himself admitted in interviews and in his 2019 tell-all memoir, "Compton Street Legend," that he was in the Cadillac from which the gunfire erupted during the September 1996 drive-by shooting. Shakur was 25 when he was killed.
Las Vegas police raided a home in mid-July in the Las Vegas suburb of Henderson that is tied to Davis. Police were looking for items "concerning the murder of Tupac Shakur," according to the search warrant. They collected multiple computers, a cellphone and hard drive, a Vibe magazine that featured Shakur, several .40-caliber bullets, two "tubs containing photographs" and a copy of Davis' memoir.
Clark County District Judge Jerry Wiese denied Davis bail.
It wasn't immediately clear if Davis has an attorney who can comment on his behalf. Davis hasn't responded to multiple phone and text messages from The Associated Press seeking comment or an interview in the more than two months since the house raid.
Shakur was in a BMW driven by Death Row Records founder Marion "Suge" Knight in a convoy of about 10 cars. They were waiting at a red light when a white Cadillac pulled up next to them and gunfire erupted. Shakur was shot multiple times and died a week later at the age of 25.

The rapper's death came as his fourth solo album, "All Eyez on Me," remained on the charts, with some 5 million copies sold. Nominated six times for a Grammy Award, Shakur is still largely considered one of the most influential and versatile rappers of all time.
In his memoir, Davis said he was in the front passenger seat of the Cadillac and had slipped the gun used in the killing into the backseat, from where he said the shots were fired.
Davis implicated his nephew, Orlando "Baby Lane" Anderson, saying he was one of two people in the backseat. Anderson, a known rival of Shakur, had been involved in a casino brawl with the rapper shortly before the shooting.
After the casino brawl, "Mr. Davis formulated a plan to exact revenge upon Mr. Knight and Mr. Shakur" in his nephew's defense, DiGiacomo said.
Anderson died two years later. He denied any involved in Shakur's death.
Davis revealed in his memoir that he first broke his silence in 2010 during a closed-door meeting with federal and local authorities. At the time, he was 46 and facing life in prison on drug charges when he agreed to speak with them about Tupac's killing, as well as the fatal shooting six months later of Tupac's rap rival, Biggie Smalls, also known as the Notorious B.I.G.,
"They offered to let me go for running a 'criminal enterprise' and numerous alleged murders for the truth about the Tupac and Biggie murders," he wrote. "They promised they would shred the indictment and stop the grand jury if I helped them out."
Shakur was feuding at the time with rap rival Biggie Smalls, who was fatally shot in March 1997. At the time, both rappers were in the middle of an East Coast-West Coast rivalry that primarily defined the hip-hop scene during the mid-1990s.
Greg Kading, a retired Los Angeles police detective who spent years investigating the Shakur killing and wrote a book about it, said he's not surprised by Davis' arrest.
The former Los Angeles police detective said he believed the investigation gained new momentum in recent years following Davis' public descriptions of his role in the killing, including his 2019 memoir.
"It's those events that have given Las Vegas the ammunition and the leverage to move forward," Kading said. "Prior to Keffe D's public declarations, the cases were unprosecutable as they stood."