The Academy is replacing Hattie McDaniel's Oscar that has been missing for 50 years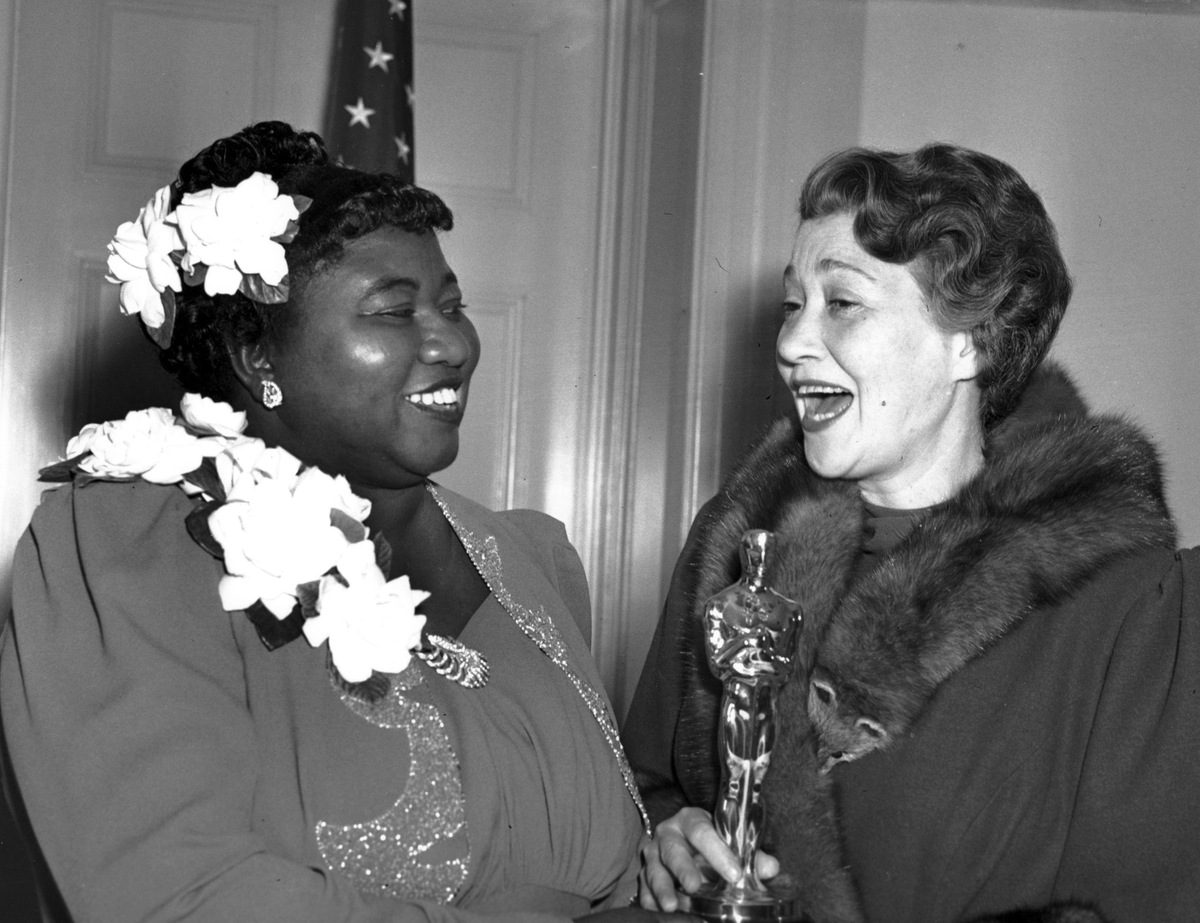 The Academy of Motion Picture Arts and Sciences is sending Howard University a replacement Oscar for the groundbreaking actress Hattie McDaniel, whose original award has been missing for at least 50 years.
McDaniel was the first Black person to be nominated for and win an Oscar for her supporting role as Mammy in the 1939 film Gone With the Wind.
She went on to act in more than 300 movies, and shortly before her death from breast cancer in 1952, she asked that the Oscar be moved from her home to Howard University in Washington.
But the plaque, which preceded the gold statuettes and was given to supporting winners from 1936 to 1942, suddenly disappeared from the school's fine arts building.
"Hattie McDaniel was a groundbreaking artist who changed the course of cinema and impacted generations of performers who followed her," Academy Museum Director Jacqueline Stewart and Academy CEO Bill Kramer said in a Tuesday statement. "We are thrilled to present a replacement of Hattie McDaniel's Academy Award to Howard University."
Thomas Battle, the former director of the Moorland-Spingarn Research Center at Howard, told NPR in 2009 that he believes the award went missing in the late 1960s or early 1970s, possibly during a period of student unrest.
"But unfortunately all of the principals who would have been involved at the university at that time — administrators and others — are no longer with us, and we have not been able to get the kind of direct information that we would like to be able to pursue this investigation further."
Denise Randle, who tracked the university's inventory of artifacts beginning in 1972, first said she thought it was thrown away. Then, she thought it must have been misplaced. Actress Karla Burns, who portrayed McDaniel in the one-woman show Hi-Hat, thought the plaque was stolen.
Nevertheless, the new, gifted plaque will be housed in Howard's Chadwick A. Boseman College of Fine Arts and be accompanied by a ceremony on Oct. 1, titled "Hattie's Come Home," honoring McDaniel's life and career.
"When I was a student in the College of Fine Arts at Howard University, in what was then called the Department of Drama, I would often sit and gaze in wonder at the Academy Award that had been presented to Ms. Hattie McDaniel," said Phylicia Rashad, the dean of the fine arts school and a Tony Award-winning actress. "I am overjoyed that this Academy Award is returning to what is now the Chadwick A. Boseman College of Fine Arts at Howard University."

Gary Oldman had 'free rein' in spy thriller 'Slow Horses' — now back for Season 3
The hapless spies and their boorish leader are back.
The third season of the Apple TV+ drama Slow Horses, based on Mick Herron's Slough House novels, debuts Nov. 29.
Gary Oldman plays Jackson Lamb, the comically unpleasant leader of a gang of dejected British spies. He smokes and drinks on the job, needs a shower, eats junk and has flatulence issues which he seems to use strategically.
Lamb's band of spooks became Slow Horses, as they're called, after messing up their careers in a variety of mishaps, including botching a surveillance operation and leaving a top secret file on a train. They've messed up good and Lamb never lets them forget it.
"Working with you has been the lowest point in a disappointing career," he tells them in a supposed pep talk.
"Despicable characters are more interesting to write about than kind, humane characters," says Herron.
Lamb "has a lot of unpleasant habits, very poor personal hygiene and a tendency to be as rude as he possibly can to his subordinates," Herron explains, "What we don't know is how much of this he actually means."
Oldman is a 'constant wonder'
Herron says Gary Oldman called him before they started shooting the first season which debuted in the spring of 2022.
"He wanted to talk about what I could tell him about Lamb that wasn't in the books," Herron recalls. "And the fact is … anything that's not in the books hasn't happened as far as I'm concerned. So Gary in many ways had free rein to add his own bits of history to the character.
"He likes to know what a character has in his fridge. He likes to know where characters went to school and what sort of childhood they had. And I've never written about any of that sort of thing. But Gary thinks about it when he's delivering his performance, and it's all part of the perfectly rounded spectacle that he brings to the screen."
"He's a constant wonder to me," says Slow Horses writer and executive producer Will Smith of Gary Oldman.
Smith says Herron's take on the spy genre is refreshing — and a natural for TV — because his characters are so believable.
"People struggling with kind of relatable issues everyone goes through: divorce, grief, feeling they're not in the right place in their careers. They hate their boss," says Smith.
Critics have raved about Slow Horses. The first two seasons were so successful, Apple TV+ ordered two more.
'Surrounded by losers, misfits and boozers'
Another high-profile fan of the books is Mick Jagger who co-wrote the theme song. "I really enjoyed creating the theme track for Slow Horses with Daniel Pemberton," Jagger writes on Instagram. "I've read a lot of the books and was familiar with some of the more dark and unsavoury characters and knew the direction I wanted to take it…hope you enjoy it!"
Season 3 is based on Real Tigers, Herron's third novel in the Slough House series. The villains are different but Lamb and his spies are still very much the underdogs.
"Fiction is full of heroes," says Herron. "I'm not averse to adding to their number but with Lamb, I'm more interested in his failings than I am in his virtues."
Lamb isn't all bluster. Herron adds that he might not have "a heart of gold" but he "does have a moral code."
This story was edited for audio and digital by Rose Friedman.
Maturity is reflected in how you dress — and stylist Tess Herbert never under-dresses
For stylist Tess Herbert, the ideal backdrop to her personal style is Palace Costume — a vintage rental store nestled on Melrose Ave. where she spends most of her time when she's in L.A. "It's a magical labyrinth and it's so weird and old school L.A.," she says. "That's my happy place — in the moth balls."
Herbert's chosen outfits embody the chic, draped silhouette she developed while living in London. "The [brands] I gravitated towards depended on whether their clothes made me feel confident or sexy or cool," she explains. Adorning herself in her close friends' brands, Nadine Moss and Selasi, along with vintage Japanese designers Issey Miyake, Junya Watanabe and Comme des Garçons, Herbert exhibits a subtle luxury.
From assisting for Vogue to working with Victor Barragán to designing clothes for indie short films, Herbert's repertoire expands across artistic and editorial spaces — worlds which she has effortlessly straddled.
Herbert, who grew up in Melbourne, Australia, studied textile history at New York University and worked at the Museum of the City of New York, where she worked under renowned costume curator Phyllis Magnuson researching and ensuring donated items were sufficiently steeped in NYC history. Herbert's fashion history degree and self-described obsession with Renaissance history leaks through in our conversation of her love for numerology, tarot cards and human design — revealing her appreciation for archetypes and how they help her understand herself. In fact, if she'd had it her way, her dissertation would have covered clothing representations on tarot cards.
"Everyone's expressing who they are through their dress, even if they're not conscious of it," Herbert says. "It's a culmination of who you are as a human."
Sophia Haydon-Khan: How would you describe your personal style?
Tess Herbert: Right now I'm in my chic era. I've grown up a bit. I mainly wear vintage designers from the '90s or early millennium — that's my favorite time in fashion. I never wear dresses; I just wear tops and bottoms or skirts and tops. I like to be comfortable and contemporary and go from day to night. I'm probably a little more on the dressed-up end of things. I'll never under-dress.
SHK: How would you describe the day to night shift? What does that mean to you?
TH: I often wear an outfit that is probably too dressed up for the day and good for the night so I can transition. You can also really change an outfit with a bag and a shoe — put a casual shoe on and it's a casual outfit, or you can dress it up with a shoe and a tiny fab bag. It's a totally different look. When I was living in New York, I used to have to go from day to night every day, so I just got used to dressing like that. But if no one sees me, I'm in Brandy Melville. My L.A. life is very Brandy Melville.
SHK: You said that you used to have more playful looks and you've moved into something more chic. Has that mirrored anything that has evolved in your own life?
TH: I moved to London last year and I've mainly been there since then. I think, wherever you go, your style changes and I got into some London vibe that made me want to seem more put together and more interested in shapes. I used to have a New York sensibility where I'd have an element of irony to my outfit, which I don't really have anymore. Now I'm in my 30s and out of my 20s and experiencing a shift that comes with maturity that is reflected in how you dress.
SHK: Tell me about your styling for celebrity artists like Phoebe Bridgers, Olivia Rodrigo and Teyana Taylor. I noticed you tend to lean away from their typical styling and put them in looks they haven't been styled in — is that intentional?
TH: I try to push as much as I can with artists. I have a vision for all my artists based on their music, their attitude and the aesthetic they've already presented to the world. With Phoebe I said, 'she should be all in black, Junya Watanabe, let's do her f—ed up, using Japanese designers that make it almost cutesy but evil. With Olivia, when I would style her, it made me think of what I wanted to wear at 13. I would put her in the stuff I was wearing back then and imagine myself as a teen.
SHK: Does that push and dissonance elicit something new from these celebrities?
TH: I think it puts them in that power. People can teach you the way that you want to dress — especially with Phoebe, I exposed her to more high fashion, believing she could still be herself and pull off these ultra glamorous or ultra fashionable looks. I think it really empowered her and gave something more to her editorials and to her press. But I think with celebrities it is hard because you're never going to fully be able to express yourself as a stylist because they have their own idea. It's hard to find the best situation where you're working with artists that speak the exact same language.
SHK: I'm interested in the short film, "Salacia," by artist and activist Tourmaline, that you designed costumes for and that ended up in MoMA's collection. Could you tell me a little bit about the design that went into those costumes?
TH: It was a play on 17th-century attire so I was able to be creative with that. The film had so many lives of its own — MoMA acquired it, the Tate acquired it, it was in the Venice Biennale, it blew up. There were a few years where I was doing a lot of art projects with artists who were my friends. That was fun for me to live out my costume design fantasies because I'm really interested in historical dress. I nerded out on references and used all these elements that I didn't have the opportunity to [use] before. But art styling is such a small field, so it was a time and a place where I was really immersed in that.
SHK: As a speculative piece, what creative liberties did you take with the subject matter and with the costumes?
TH: I took a lot of liberties because I was told by Tourmaline to do whatever I wanted and that it didn't have to be historically accurate. Because there was an element of ancestral magic in the film and for the main character, I tied other fairytale costume concepts within her 17th century linen and lace look. There were elements that were fantastical and based on the Renaissance period. I tried to give her costume those elements, whether it be magic, like a pouch on her waist.
SHK: Among the clients you style a lot of them are artists and writers. Do you view styling as an artistic or intellectual pursuit?
TH: Artistic and intellectual. Everyone's expressing who they are through their dress, even if they're not conscious of it. It's a culmination of who you are as a human. Even if you're not into fashion, it still is. Because it's such a prominent thing on us. It takes up so much space, we're constantly confronted with it from everyone.
SHK: Tell me about your work with Barragán. What drew you to their avant-garde style?
TH: I think it was during his first collection or his second collection that I approached him and said, 'I really want to shoot your collection as a campaign.' It was about underwater creatures, and it was so beautiful — nothing like I'd ever seen. From that point onwards, I started working with the brand and styling the collections for many years. With my fashion background and [Barragán's] architecture background, we collaborated really nicely.
We did lots of guerilla shooting. It was such a big 'f— you' — it's so gorgeous and beautifully done but there was this anti-establishment energy. Rebelling against white supremacy and how unfair the fashion industry can be and how it doesn't always value people who are the most talented.
SHK: What makes you most inspired to create?
TH: I still have a deep desire to know as much as I can about fashion. Everything that's going on with it right now and everything that's gone on with it in the past. My first thought is always to observe how people are dressed around me and what access to clothes different cities have. It's a desire that does not burn out.
Sophia Haydon-Khan was a 2023 intern with Image magazine at the Los Angeles Times. She studies government at Smith College, where she writes for Smith's student newspaper, the Sophian, and serves as arts and culture co-editor. She has also written for Northeastern University's the Huntington News and Tastemakers Magazine.
A judge awards Aretha Franklin's properties to her sons, citing a handwritten will
DETROIT — A judge overseeing the estate of Aretha Franklin awarded real estate to the late star's sons, citing a handwritten will from 2014 that was found between couch cushions.
The decision Monday came four months after a Detroit-area jury said the document was a valid will under Michigan law, despite scribbles and many hard-to-read passages. Franklin had signed it and put a smiley face in the letter "A."
The papers will override a handwritten will from 2010 that was found at Franklin's suburban Detroit home around the same time in 2019, the judge said.
One of her sons, Kecalf Franklin, will get that property, which was valued at $1.1 million in 2018, but is now worth more. A lawyer described it as the "crown jewel" before trial last July.
Another son, Ted White II, who had favored the 2010 will, was given a house in Detroit, though it was sold by the estate for $300,000 before the dueling wills had emerged.
"Teddy is requesting the sale proceeds," Charles McKelvie, an attorney for Kecalf Franklin, said Tuesday.
Judge Jennifer Callaghan awarded a third son, Edward Franklin, another property under the 2014 will.
Aretha Franklin had four homes when she died of pancreatic cancer in 2018. The discovery of the two handwritten wills months after her death led to a dispute between the sons over what their mother wanted to do with her real estate and other assets.
One of the properties, worth more than $1 million, will likely be sold and the proceeds shared by four sons. The judge said the 2014 will didn't clearly state who should get it.
"This was a significant step forward. We've narrowed the remaining issues," McKelvie said of the estate saga.
There's still a dispute over how to handle Aretha Franklin's music assets, though the will appears to indicate that the sons would share any income. A status conference with the judge is set for January.
Franklin was a global star for decades, known especially for hits in the late 1960s like "Think," "I Say a Little Prayer" and "Respect."