'That's Why I Picked a Younger Man'
The day after Thanksgiving, my mother called, worried I was going to die. I had mistakenly told her that I had heartburn, so she left a long voice mail reminding me of how my father had heartburn before he died of a heart attack at 50 while playing racquetball.
She pleaded with me to get a checkup, to get my blood work done. "Did you know you've been gaining weight lately?" she said.
I knew.
Her voice started to break by the end of the message. I was her only son, and the men in her life tended to drop dead without warning, explanation or goodbye.
The day after my mother's 80th birthday, her partner of more than 35 years, a man named Bing (who came after my father) died on a trip to Palm Springs with his friends, drowning alone in a hot tub at night with hypertension and alcohol as contributing factors.
Bing was like a father to me, yet he never imposed himself like stepfathers on TV. Even after he moved in when I was 5, he never disciplined me or gave fatherly lectures. Rather, he taught me how to fish on California's Kern River and built me a huge treehouse in the backyard.
After Bing's military burial by Marine veterans on a low hill outside of Bakersfield, my mother asked me to take her to Hawaii to visit her older sister who lives there with her daughter.
She had made a similar journey after my father died, a trip to paradise to get away from home and yet be close to the people who knew her partners and had stories to tell.
When my mother had explained Bing's death to her neighbors of over 40 years, the husband said, "Isn't that the second one you've lost?"
"He wasn't supposed to die first!" she told me before our flight. "That's why I picked a younger man; he wouldn't do to me what your father did."
This wasn't the plan, for her or for me. Bing, just 73 when he died, was supposed to take care of her, keep the house in good shape and take out the trash.
In the 1960s, my mother and her sisters immigrated to Los Angeles after their home country of Indonesia fell into brutal conflict following Dutch decolonization. My mother had been raised with the belief that a woman's job was to marry well and raise children. After my father died, she would often say, "No one taught me what to do if my husband kicked the bucket."
As the only man left in her life, I flew her to Hawaii to heal her pain, and I used promises of beaches and snorkeling to persuade my husband to come too. I told him a vacation is what we need after all the sadness, and he sweetly agreed.
My aunt lives with my cousin and my cousin's husband on the rainy Hilo side of the Big Island, where all the good hotels were booked, so the three of us ended up sharing one room in a motel with two beds and a struggling air-conditioner. It rained every day. When we weren't visiting my relatives, we sat in bed eating takeout and watching TV.
My husband tried to stay cheerful, but the rain, my grieving mother and cramped quarters were a bit much. At night, my mother would cry out for Bing in her dreams.
I was desperate to make things better. My chest felt tight, but I ignored it. I wanted the healing to begin; this was Hawaii, after all. So we cut the visit to Hilo short, and I booked a condo on the sunny side of the island in Waikoloa.
As we drove over the crest of ancient volcanoes, the sun emerged, making the ocean glitter below. Our condo had two bedrooms and enough space to hide from each other, and it was on a golf course where wild turkeys roamed. That night, we fed them from our hands and felt some of the Hawaiian magic we had been looking for.
The next day, when we finally found ourselves on a white sandy beach, strange clouds began drifting overhead. They were dark and low and made me want to get somewhere safe.
Turns out a wildfire had broken out and strong winds were pushing the smoke our way. It became difficult to breathe, so we hunkered indoors watching the Tokyo Olympics.
"I didn't come to Hawaii to watch TV," my husband said on day two of the wildfire. We started arguing. My mother was grieving, and I felt like I couldn't leave her alone. Yet I knew the trip was not turning out as promised.
Suddenly, all three of our phones blared an emergency message. Waikoloa Village, 15 minutes away by car, was being evacuated. We were told to prepare for possible evacuation too.
"Am I being punished by God?" my mother said, looking at the smoke. "Where do we evacuate to? The beach?" She sighed and went back to the TV, turning up the volume.
My husband marched into our bedroom and shut the door. He said that he was going out for a walk, that he didn't care about the smoke, and that I better figure out something to do that wasn't watching canoe races or horse jumps.
After he left, the tightness in my chest that I'd been trying to ignore sharpened and moved into my neck and jaw. I'd felt something like it before, but since Bing's death, the pain had gotten worse. I thought it was my heart, but I couldn't tell anyone. I was there to heal my mother and give my husband a romantic Hawaiian adventure.
I laid down on the bedroom carpet and covered my eyes with the palms of my hands. I focused on big slow breaths until finally the pain subsided and I could stand and join my mother on the couch.
She kept a running commentary on which Olympic athletes she liked and which were showoffs. It was a familiar rhythm that I remembered from childhood, just the two of us watching TV, talking about everything and nothing. Then she said, "Bing wasn't your father, but he loved you like a son. He took care of us the best he could."
"I know, Mom," I said. "I know."
The next day the firefighters got the upper hand and evacuation orders were lifted. We salvaged what we could of our final days and were grateful to go home.
Weeks later, I went to my doctor. He told me my chest pains were mini-panic attacks but that my heart was OK. "You need to manage your stress better," he said. "Take more walks, get better sleep, maybe try losing some weight."
I left wondering if he and my mother were talking about me. I thought about my father and Bing, both gone. My father's fate had always hung over me like a warning. Now Bing's fate warned me not to waste a single minute.
It had been sunny and warm at Bing's funeral. I remembered sweating as a group of us carried his coffin from the hearse. Even though my mother was supposed to go back to her seat, she remained by Bing's coffin after she went up to kiss it.
Bing had a world of friends at the funeral who we didn't know — fishing buddies, high school classmates and service members. Without prompting, my mother embraced every mourner as they came to pay their respects, as if she knew them.
I went to stand next to her as she did this, feeling like I was intruding on some other family's grief, and I was amazed by how my mother let it all out, crying and talking to so many strangers. This wasn't a part of the plan, either. My mother had just done it, surprising herself as much as the rest of us.
"I don't know why I'm standing here," she said as she held hands with one of Bing's friends. "We all loved him so much, and now he's gone, but our love is still here."
Only looking back did I realize that my panic attacks were borne from my need to control life's calamities and the feeling that I was failing to fix what couldn't be fixed.
I loved Bing; I was grieving, too, and I had kept the grief at bay by trying to heal the heartache of those around me. But the pain had to come out, and it would be mixed with love, confusion and anger, and that was OK.
Having lost the second love of her life, my mother was awash with pain. Yet there she was, teaching us how to grieve. And I had almost missed the lesson.

Priced Out of the City, They Bought a Tiny Suburban Home. Now What?
Much has been written about "good enough" marriages, but what of "good enough" houses in "I guess we have to live somewhere" neighborhoods?
This is the story of a family who began with low expectations and then fell in love.
In 2016, Amanda and Alain de Beaufort were renting an apartment with a garden in Sunset Park, Brooklyn, where they had access to a new school with a Spanish/English program for their two children. (Mr. de Beaufort, 49, is from Colombia.) The family had achieved urban-suburban balance in a community they treasured. They were happy.
Then one day, their landlord sold the building for cash and gave them a month to pack up and move out.
"OK, we'll just buy something in Sunset Park," Ms. de Beaufort, 46, recalled saying, before making the cruel discovery that no affordable properties remained in the neighborhood. The couple cast their eyes on nearby Bay Ridge, Brooklyn. They flirted with Westchester County.
They did not consider New Jersey. "It wasn't cool," Ms. de Beaufort said.
Soon, she was sleeping on the sofas of friends as she house-hunted, while her husband and children bunked at her parents' home in New Hampshire. In this precarious state, they succumbed to a campaign waged by a friend in Maplewood, N.J., who described that township, about 20 miles west of New York City, as a cross-Hudson-River extension of Brooklyn. (At least one newspaper article has made the same comparison.)
The couple bought a small house on a pretty, tree-lined street in Maplewood and declared it their not-forever home.
If they were going to move to the suburbs, they thought, they might at least enjoy ample space. But the 1923 colonial was roughly 900 square feet, with three tiny bedrooms and a sliver of backyard — smaller than New York City apartments they had occupied. Furthermore, its previous owner, whom Ms. de Beaufort described as "a DIY guy," had a fondness for murky colors and copious, awkwardly placed storage nooks.
"It was endearing what he did," she said. "But it wasn't done right."
Ms. de Beaufort, who is the director of communications for the architect Daniel Libeskind, could sense the virtues lurking beneath the most regrettable surfaces. Although the house was not overflowing with suburban amenities, its small yard and windowed basement were useful for her side hustle as a botanical dyer. (She imprints items like socks and tea towels with blossoms, and she and Mr. de Beaufort sell them through a company called ADB Botanical Color.)
More to the point, the house had been listed for $265,000 — $100,000 below the family's budget — so they could afford to give it a face-lift.
Ms. de Beaufort began in the kitchen, which had damaged black-tile counters and jury-rigged wiring that looked ominous. She replaced the misaligned Home Depot cabinets with custom Shaker-style ones, maple plywood for the top set and painted wood for the bottom. (The paint color is the Farrow & Ball pink notoriously called Dead Salmon.) Beneath the wood-patterned linoleum flooring, she found and refinished actual wood. For the new counters, she went with a quartz that resembled terrazzo. By the time she finished, she had spent about $36,000.
In the living room and primary bedroom, she repainted the drab walls white to make the spaces look bigger.
But what to do with the children's quarters, which were effectively shoe boxes, subdivided from what had once been a single, small room?
As the lockdown made this question more urgent, Ms. de Beaufort consulted a local interior designer named Hollie Velten. Ms. Velten is schooled in the travails of urban expats. Many of her clients are former renters who "are a little overwhelmed with a new acquisition of real estate," the designer said. "Or they are suddenly second-guessing their decision to move to the boring suburbs and want to make it their own."
She worked closely with Henry, now 13, and Adela, now 11, on picking the colors and features for their miniature domains.
Henry's room — so small that he had to climb over the bed to get into it; so small that the tax assessor declined to count it as a bedroom — became a pumpkin-orange cabin with lemon molding and accent patches of sage.
Partly inspired by the opening sequence of "An American in Paris," where Gene Kelly rearranges furniture and pulls objects out of closets simply to sit down to breakfast in his Left Bank studio, Ms. Velten installed low-key plywood bookcases and shelves that provided storage without calling attention to the crying need for it. On one wall, plywood panels radiate warmth on their own, but also open to reveal a closet and a study nook.
The previous owner had broken through Henry's ceiling to create overhead storage. Ms. Velten replaced the fixed ladder with a library model that could move aside, allowing access to the closet. Climbing the ladder, one finds a compact loft with a window, where Henry likes to lounge and listen to his collection of vinyl LPs.
"They're going to be, like, smoking weed up there at some point," Ms. de Beaufort said.
In Adela's shoe box, Ms. Velten turned a niche that was formerly a play space into a sleeping area painted the color of purple cauliflower. The niche and surrounding areas include cubbies and inconspicuous storage drawers. In between shelves are flashes of wallpaper from the British company Common Room, patterned with snakes, moons, oysters, coral and clover.
Adela's "whole idea was to have this mermaid-cottage vibe here," Ms. de Beaufort said. But she is grateful that her interpretation was sophisticated enough to allow the room to be used for guests once she grows up and leaves home.
Because the couple are now planning to hang around.
They are enjoying the renovated bathroom that Ms. Velten redid with square, sage-green floor tiles and chrome fixtures for an apothecary look. (The total cost for renovating the bathroom and remaking the children's bedrooms: about $75,000.) They have planted perennials — including indigo — in the backyard for Ms. de Beaufort's botanical dyeing adventures. And they love Maplewood.
Now that they have put so much thought into the house, "it's like it's been customized," Ms. de Beaufort said. "I don't want to get rid of it and start again."
---
Living Small is a biweekly column exploring what it takes to lead a simpler, more sustainable or more compact life.
For weekly email updates on residential real estate news, sign up here.
Danny Bonaduce Having Brain Surgery After Serious Health Scare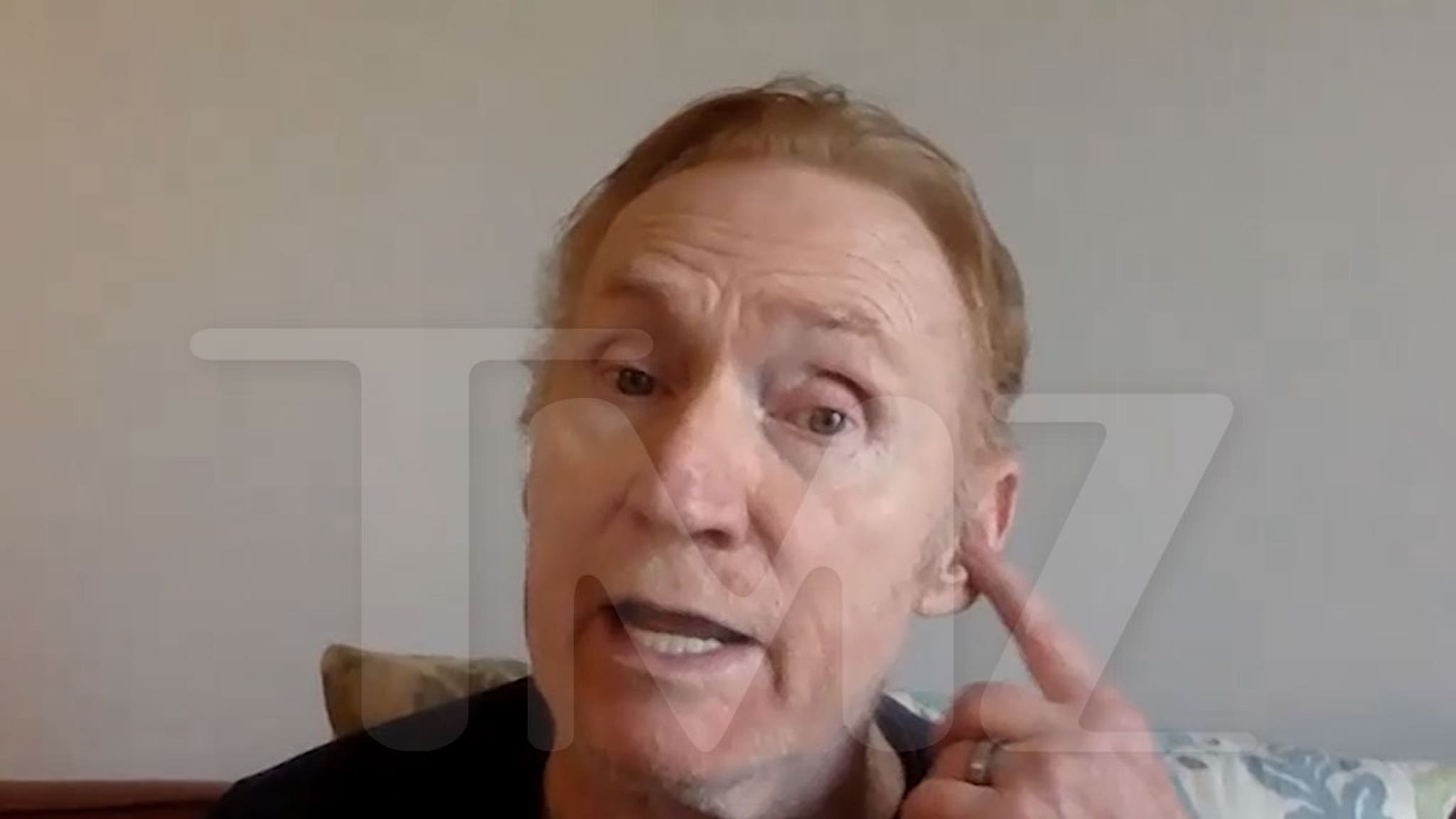 Danny Bonaduce is going under the knife … set for brain surgery in the wake of a serious health scare that's left him unable to walk or balance.
The actor and radio host tells TMZ … after seeing hundreds of doctors for a mystery illness, in March he was finally diagnosed with hydrocephalus … a neurological disorder caused by a buildup of liquid in the brain.
Waiting for your permission to load the Instagram Media.
Surgery is set for Monday, and the hope is it can alleviate the symptoms.
Last April, "The Partridge Family" star began battling the mystery illness after his wife noticed his speech was off and he lost the ability to walk or balance. He was hospitalized for 5 days and underwent a battery of tests. Doctors ruled out a stroke, but couldn't come up with a diagnosis.
While Danny says no one knows for sure how he got in such bad shape, he wonders if it's related to all the wear and tear he's put his head through over the years … like taking guitars to the face and boxing Jose Canseco.
Danny says the surgery will drain the liquid from his brain through a shunt.
In the meantime, Danny's been doing his radio show from home.
Of course, Danny acknowledges there's always a chance the surgery won't fix everything … but it sounds like he's going into the operating room with the right frame of mind.
From Fairly Low Expectations, a Wonderful Surprise
Over the course of their relationship, Ms. Carter Altman and Dr. Uhrich became close with each other's families. When Ms. Carter Altman's father, Robert Altman, died in February 2021 from complications of a medical procedure, Dr. Uhrich became an important support system for the family.
"He was there, holding us up, taking off work to help us manage those first few days," Lynda Carter Altman said. "His strength of character was remarkable. I don't know what we would have done without him during that time."
Carolyn Uhrich, Dr. Uhrich's mother, said that the challenges her son and Ms. Carter Altman have gone through together as a couple have built a deep, solid foundation for their future. "They have been through more as a young couple the past five years than most married people in their first five years of marriage," she said. "It has strengthened their relationship, and it has made them learn in a real world way how to lean on each other."
In June 2022, Ms. Carter Altman and Dr. Uhrich went on a four-week vacation in Europe, traveling through London, Venice, Mallorca, Spain, and other places.
One evening, in Montalcino, Italy, as Ms. Carter Altman was getting ready for dinner, she suggested that instead of going to a restaurant, they order in. "He was like, no, no, no, we should really go downstairs," she said.
With an engagement ring in his pocket, Dr. Uhrich led the way to Castello del Drago to watch the sunset. It was hot and humid, and bugs were flying through the air. When Ms. Carter Altman brushed a fern, she thought it was a huge insect and screamed. One of her rings flew off her finger. By the time they reached the top of the castle, she assumed that if Dr. Uhrich had planned a secret proposal, he had already abandoned the idea.