Taylor Swift, Travis Kelce Full Steam Ahead With Holiday Plans, Talking Christmas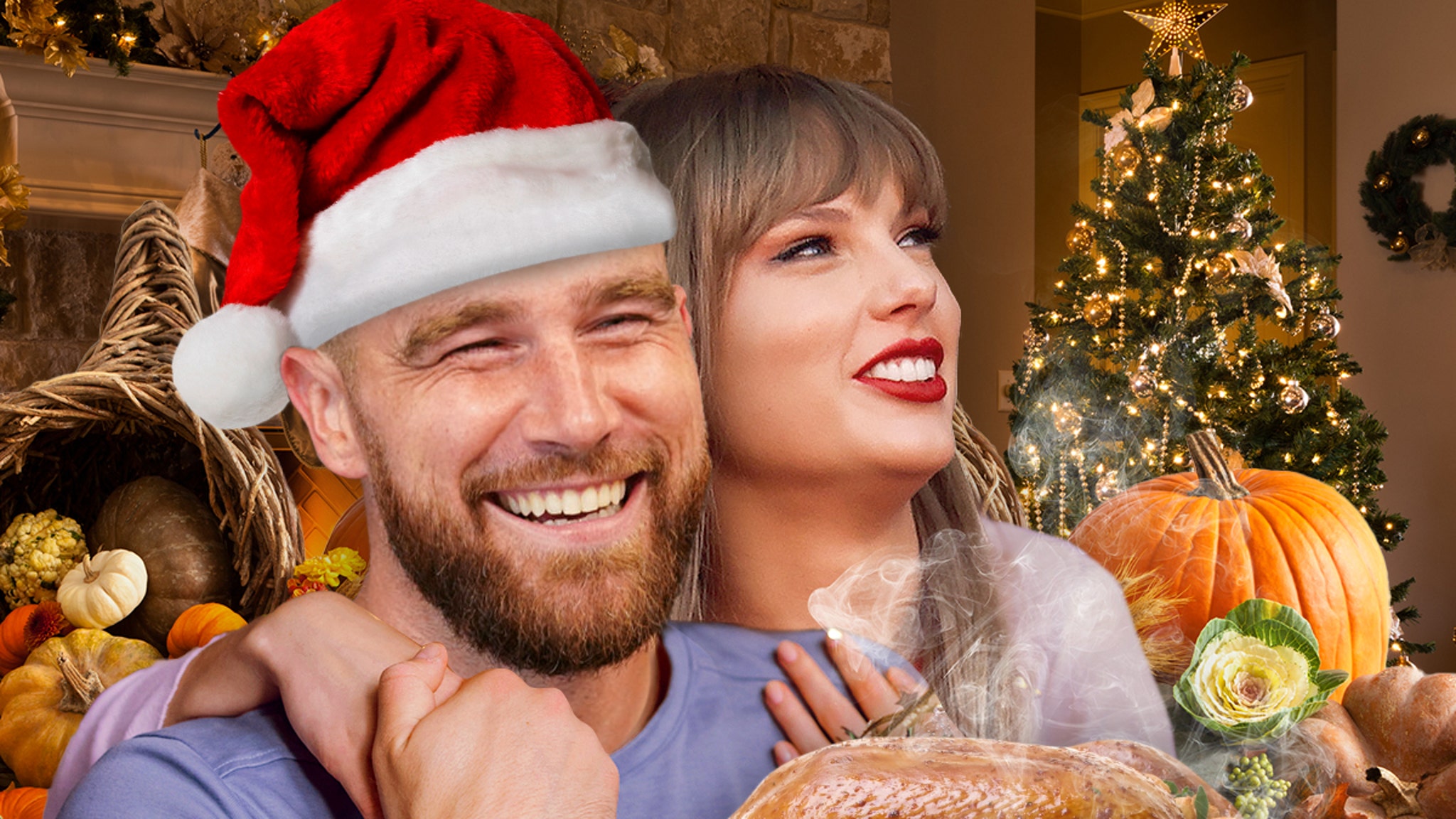 Taylor Swift and Travis Kelce are looking to get into the Christmas spirit as a couple … we're told they're moving forward with plans to be together for the holidays.
Sources close to the couple tell TMZ … Taylor and Travis are trying to work out their schedules to make sure they set aside as much time together as possible.
We're told Thanksgiving with the 2 families could go down in Kansas City … Travis and his fam will already be in town Monday for his game against the Eagles. Here's the thing everyone knows … Thanksgiving with 2 fams is a BIG step.
As we reported, Travis picked up a sweet $6 million K.C. home … which is a lot more secluded than his old place … so he could easily host everyone with room to spare.
It's unclear where they'll spend Christmas, but they've already told folks close to them they've been chatting about it. Our sources say the couple REALLY wants to be together this holiday season.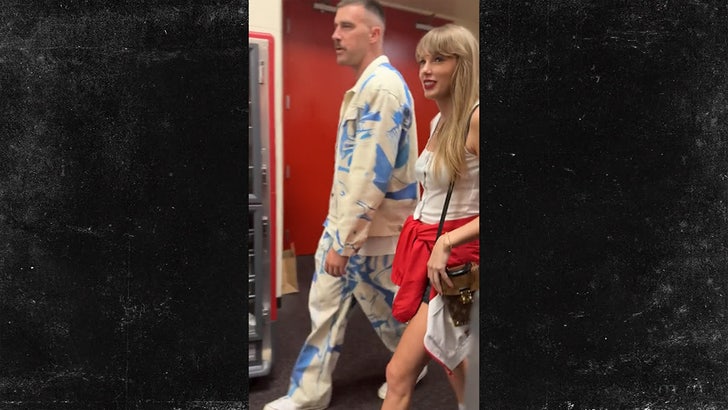 9/24/23

X/@paytonsun
It's not going to be easy for T&T to continue what we're told is a serious relationship … she's going to be all over the world next year and, of course, he's got his own obligations. But, our sources say as of now, they're both committing to making it work.

Emma Stone comes alive in the imaginative 'Poor Things' : Pop Culture Happy Hour
In the wild and wonderful new film Poor Things, Emma Stone plays a woman brought back to life from the brink of death. She's a clean slate, unconcerned with the bonds a repressive society tries to put on her. The film reunites Stone with director Yorgos Lanthimos (The Favorite) and shares that film's darkly comedic sensibility, but it's even weirder.
Subscribe to Pop Culture Happy Hour Plus at plus.npr.org/happyhour, or donate to your local NPR station at donate.npr.org/happy
How to exist in many worlds at once, with Yendry
At the tail end of a long studio session in preparation for her first full-length album, the L.A.-based artist known by her monomial Yendry is reminiscing on Zoom. "A lot of things have been happening to me," she says of her electric rise as a singer and performer over the last few years. "And I always think, Well, I'm just a girl from D.R., from Santo Domingo. I grew up in the countryside in Italy. There weren't big expectations at all in the way I was raised — in a very humble way, with a crazy work ethic. I didn't know that these things could happen."
It's these dualities of Yendry that connect with a growing fan base all over the world. The artist doesn't explain who she is, she just shows it in her work — whether it's releasing an infectious, electronic-tinged bachata track in the same breath as a deeply felt ballad about her late grandfather, or rapping in both English and Spanish on a hip-hop beat. Yendry has experience with letting the rest of the world catch on in their own time.
This has always been her way. The Dominican-born, Italian-raised artist exists in many worlds at once. She speaks (and sings in) three different languages. Her musical inspirations span the sounds of her homeland, 2000s-era Timbaland productions or Massive Attack. There is something about Yendry, who prefers to be barefoot when she performs, that makes the rest of the world lean into her. On recordings or when onstage — she just wrapped up a tour in Europe — she's entrancing. Her music feels self-actualized in its range — bold and free-spirited. It's no wonder she's a Leo sun.
Her upcoming album — due out next year — is a traveler's journey from her roots to where she is now: an acceptance and integration of all of her cultures, eras and versions along the way. In Yendry's world, no parts of herself are shunned. "There's a resolution of, 'You know what? I'm both,'" she says of the theme of the album. "This is what came out it, now that I'm comfortable with all of my cultures. I would say it's a brave project, but at the same time I couldn't do this if I didn't want to [take a] risk."
Yendry: When I started singing jazz, that was when I actually fell in love with performing. The way people reacted to my voice, or I would feel it so much that I will cry sometimes onstage. It's something that comes natural.
Julissa James: Almost like a portal.
Yendry: I always say that I didn't choose this. It kind of came to me.
JJ: Do you have memories of the first time — I don't know if you were a child — where you had a feeling of: "OK, maybe I should try to do this."
Yendry: As a baby, I was so out of tune [laughs]. I would dance all the time. I grew up with MTV, of course, I would watch Mariah Carey, Whitney Houston and Destiny's Child, these people. But it's during your teenage era you start discovering your voice. You start growing up and asking yourself these deep questions: What is music? Why do you feel this way?
JJ: I'm so curious what you were like as a teenager. You had so many of the same musical influences I had. Whether it was Aphex Twin, Massive Attack, Radiohead …
Yendry: I grew up in Turin, which is in the north of Italy — it's a very industrial city. There's a lot of electronic music, there's an underground scene. We have one of the best electronic festivals here in Europe, so that was amazing. But before, I was really [into] 2000s pop. I was obsessed with Timbaland productions. Nelly Furtado. Gwen Stefani. Sean Paul. I actually learned English by translating lyrics. I would go to AZLyrics with the dictionary in Italian. "Good Girl Gone Bad" by Rihanna? I translated the whole thing. I was really into pop music. And then at some point, it switched. I started to listen to indie music. Daughters, the XX. Then I discovered James Blake and Frank Ocean and Massive Attack. My taste went into something different. It has been a journey. That's what I love about music: I will never stop learning.
JJ: Curiosity is so important in general, but especially when it comes to music. I want to talk to you about why you decided to study philosophy in university. What kind of answers were you seeking at the time, and to what questions?
Yendry: I realized that philosophy would allow me to be curious about anything I could. I found out that I could apply it to our ordinary life and it would give me a different perspective on everything. I always can see both sides. I'm always like, "Oh, what if?" It helped me a lot to open up my mind.
JJ: In your personal life and in your professional life, you kind of have found a way to exist between genres. Was it a conscious decision?
Yendry: It came in a very natural way. Because I'm curious, I had the same approach in the studio, which is: "Oh, let's try." I always say, "Guys, we're making music. We're not doctors. We don't have books. We can lead the way." I could just sample my cough and make a beat. I can't see limits. My strength since the start is that I don't have limits in the studio. I just make things I'm literally happy about. And then once it's there and I listen to the song on a loop, I want to share it. And that should be the process. That reflects my life. I've never been just Dominican. Never been just Italian. I speak three languages. I have families in three different places — my dad lives in New York. It has been chaos since I was born. It's very hard for me to be like, "Hey, I'm just going to make bachata." No, bro. I'm going to make bachata whenever I feel like, but I'm also gonna have a hip-hop song.
JJ: I'm curious how you got to that point where you are very comfortable being like, "Yo, I am like 15 different things and it's all good."
Yendry: It's been hard, obviously, because at the start, people are just so confused. Even if you're sure about what you are, they are confused about who you are. But I also don't feel like I need to be validated. … I'm an artist. I'm also Latin, which I'm proud of. And I'm also Italian. But I'm an artist. I'm proud to be a Latin artist. I just don't want that to be a limit. There was a point where people were associating Latin music with just reggaeton. But we have cumbia. We have bachata. We have boleros. We have meringue. We have mambo. Why would we just stick to one thing?
JJ: I'm so curious how language plays into how you think about music because you have a song like "You" with Damian Marley, in which you're singing in English. And then you have a song like "Herrera," you're singing and rapping in Spanish, and then you have a song like "El Diablo" where you're singing and rapping in English and Spanish.
Yendry: Some songs, they were just born in a certain language. If I tried to translate, it wouldn't be the same song. It's about the moment. I was there in the studio at 5 a.m., jamming with Damian Marley, and he's jamming in English. So it's natural for me to jam in English. If I'm making bachata and I'm getting myself into that mode, then it's very easy for me to start it in Spanish. And sometimes it's both languages — like that melody comes out in Spanish and that other melody comes out in English. Which is going to be a nightmare for people that have to market the music. But that's their job, no? [Laughs.]
JJ: In so many of your big songs, whether it's "Nena" or "Ya," there does feel a really deep connection to the [Dominican] side of you. "Ya" was on Barack Obama's playlist one year.
Yendry: I didn't expect "Nena" to get that much love, especially from Dominican people. I thought they were going to be like, "She lives in Italy, why does she want to be Dominican?" You never know. [But] I also feel like if you do things in a very honest way, and if you're not pretending or faking it, it's gonna be fine. But it is validating, of course, when you're on Obama's list. We still have jokes about it: Sometimes I'm like, "Let me call my friend Barack."
JJ: In your Colors and NPR Tiny Desk performances, I noticed you were barefoot. It felt very grounded.
Yendry: I love being barefoot all the time. If I was not living in a city and I didn't need to use shoes, I would be barefoot all the time. I do feel like it keeps me connected to the ground. And I feel like it gives me more support for singing. Even for this tour, I have an amazing friend that's finding a lot of cool clothes for me and I'm like, I don't want to use shoes.
JJ: Tell me more about your philosophy around performing. You mentioned that you want it to feel honest. You want it to feel sensual. You want it to feel connected. When you go up there on stage, do you enter one of those states where you're just in flow?
Yendry: Once I start singing the first song, I'm in another world. You do not have an idea of what happened once you get off stage. It's a trance. I'm so focused on singing and the way I want to project my voice and the way I want to interpret my songs that I don't even think too much about the movements that I want to make. It's not very thought out.
JJ: You're performing in L.A., which is your new home. How has it been?
Yendry: The city gives me that thing that I never had in Turin: being able to go to shows every night. I'm just finding this crazy scene. I love it. But at the same time it's a very peaceful place. I also fell in love with this man, which is amazing. We moved here together. We've been dating for a while now and and I have all the freedom that I love. It's good to have a healthy relationship.
JJ: So it's a new chapter for you. And you're preparing to release your first full album. How are you feeling about it?
Yendry: I didn't experience the whole album thing in a very positive way at first because it's my first one. So you put that pressure on yourself when you take it that seriously. But at the same time, I feel like this moment of my life where things are aligning.
JJ: The two singles you've released so far that are connected with the album are "Herrera" which is your version of a bachata that has this electronic overtone to it. And "La Puerta," which is about losing your grandfather. I hear that song almost as being about portals, a ballad that is so rooted in sentimentality. You're already presenting us with two wildly different emotions, energies. I would love for you to talk to me about where the rest of this album is taking us as the listener?
Yendry: I have these two sides. I think my whole life has been an analogy of this. Yendry in D.R. is very different from Yendry in Italy. In D.R., I'm more tough because I have to be. Soy mas de calle — more street. While in Italy, I can see myself as more intellectual. I go to museums. I would say that my album really reflects those two different sides. There's some dembow-ish kind of rapping, a person that wants to feel sexy and feels good about it. And on the other side, there is also this melancholic girl that's very open about her feelings and super melodic. I'm still trying to find the balance between those two different worlds.
Model Yendry
Makeup Matthew Fishman
Hair Adrian Arredondo
Photo assistant Andrew Nunez
Styling Assistant Claire Casto
Location Vasquez Rocks Natural Area and Nature Center
'Anselm' documentary is a thrilling portrait of an artist at work
Every now and then you come across an artist — Aretha Franklin, say, or Marlon Brando — who radiate such raw, undeniable force that they feel as immense as the Amazon. One of them is the painter and sculptor Anselm Kiefer. The first time I saw his work in person, its sheer power all but knocked me back against the far wall.
Kiefer is the subject of Anselm, a new movie by Wim Wenders, a filmmaker who's almost his exact contemporary: They were born a few months apart in the war-ravaged Germany of 1945. Because Wenders is himself a figure of considerable gifts — he's won the top prize at Cannes, Venice and Berlin — this documentary is not a traditional "great artist" doc.
Shot in an astonishingly vivid 6K 3D — which captures art with dazzling clarity — Anselm offers both a thrilling portrait of the artist at work and, with the aid of terrific archival footage, lets us see what infuses his work with such intensity.
The movie begins with a long, gorgeous sequence at La Ribaute, Kiefer's studio/art installation in the southern French town of Barjac. Wenders' camera moves through, around and above mysterious white plaster statues of what appear to be brides — the heads are made of metal or vegetation — that are set out among trees and strangely formed buildings. Just as you fear that Wenders may be indulging his sweet tooth for beautiful imagery, the film begins exploring what gives Kiefer's art its wallop.
Kiefer was born into a country buried beneath post-World War II rubble, fostering a lifelong awareness of destruction. This helps explain why his paintings so often include actual burnt vegetation, shards of metal, hunks of earth, fragments of clothing.
In fascinating scenes, Wenders shows how the cocky, black-clad, elegantly grizzled 78-year-old artist creates his trademark effects — be it charring straw with flame throwers like the hero in a Tarantino movie or fastidiously pouring molten metal onto canvases with an elaborate contraption operated by an assistant.
Yet if Kiefer was shaped by ruin, even more decisive was his country's wilful amnesia. He grew up grasping that Germany and its artists weren't confronting the national past that led to World War II and the mass murder of the Holocaust.
Starting in the 1960s, Kiefer set about rectifying that failure, from his early photos in which he sardonically shot himself doing the Nazi salute in various European countries, to paintings that deconstruct mythic German heroes, to his staggeringly strong visions of what feel like the interior rooms of the death camps.
At once abstract and concrete, his work is all about remembering — and re-examining — a German tradition filled with pro-Nazi geniuses like Martin Heidegger and heroic witnesses like Paul Celan, whose Holocaust poem "Death Fugue" Kiefer takes as a touchstone.
This didn't exactly endear him to other Germans, who didn't like the way he was dredging up the past.
Now, Wenders has made many acclaimed fiction features — most famously Paris, Texas and Wings of Desire — yet he's also been a generous celebrant of those he admires. He's made documentaries about everyone from the aging Cuban musicians of the Buena Vista Social Club to choreographer Pina Bausch and Pope Francis. His appreciation of Kiefer feels especially personal. Wenders knows that Kiefer's work has tackled head-on subjects that he himself has ignored or only approached at very oblique angles.
Focusing on the artist, not the man, the film makes us feel Kiefer's art in all its beauty, bleakness and moral weight. Wenders doesn't get into stuff like Kiefer's marriages or discuss how, thanks to the craziness of the art market, his net worth is estimated at more than $100 million dollars and he can afford to buy tracts of land to build and display his art. He does occasionally dramatize moments from Kiefer's life and these re-creations are the film's one flaw. Not a calamitous one, but hokey and unnecessary.
What has always made Kiefer's art necessary is his sure instinct for what's essential. In what he calls his "protest against forgetting" of Germany's dark history, he got in early on the themes that people continue to explore in films like the upcoming The Zone of Interest, about a family who live happily outside the barbed wire fences of Auschwitz. If you know Kiefer's work, Wenders will show you his artistry in a way you've never before seen it, and if you don't know it, Anselm will make it clear why you should.