Las Vegas and Its Big, Big Ambitions
It's just past dusk on the Las Vegas Strip and traffic has come to a standstill. That's usual for a weekend night, but this is Monday.
Round-the-clock construction makes every excursion a dice roll with traffic, and these days everyone seems a loser. I turn right on Sands Avenue, just before the golden tower of the Wynn Las Vegas, and am so stunned by what I see that I join three dozen other cars illegally parked next to the crowded sidewalk. Some people are sitting on the concrete divider to gawk, camera phones pointed toward an otherworldly spectacle: a colossal eye seemingly the size of the Death Star staring down the street at us. The eye is so large and glaring that the neon-lit hotels and casinos are mere shadows.
And then it blinks.
This is the Sphere, Vegas's newest epic attraction. A round, 360-foot-tall amphitheater clad in 1.2 million ashtray-size LED screens, the Sphere has, since July 4, been beaming fireworks displays, rotating globes, spiraling geometric designs and other images on its 580,000-square-foot surface, bringing traffic to a standstill.
"The Sphere will define Vegas architecture," said Brian Alvarez, who goes by Paco, a former city cultural commissioner and tour guide. "It's not a themed building like some of the other spots on the Strip. It's on par with the Sydney Opera House or the Eiffel Tower for becoming a unique city icon."
The Sphere isn't the only big newcomer in the neighborhood.
A close inspection of the Strip's surface reveals a fresh layer of tarmac so countertop-smooth that a half-dozen skateboarders jump a street barrier in front of the Bellagio hotel's fountain to glide right past me through the traffic.
This is racecar tarmac. It runs along the Strip, then veers onto side streets, hairpins around a new grandstand that stretches the length of three football fields, circles the Sphere's parking lot, and merges back onto the Strip to complete a 3.8-mile Formula 1 Grand Prix track. The first race, planned for Nov. 18, will see cars spinning 50 laps at speeds of up to 213 miles per hour.
Spectacles and sports
Las Vegas, a city that has recreated itself numerous times, is in the middle of yet another reinvention. A tiny railroad crossing in the middle of the desert at the start of the 1900s, it became a legalized gambling destination in the '30s that, over the ensuing years, drew mobsters and other deep-pocketed investors who turned Vegas into Sin City, replete with showgirls and the Rat Pack. Starting in the '80s, competition from other legalized gambling spots like Atlantic City inspired Vegas operators to transform the city into a family mega-resort destination, with kid-friendly spectacles like a volcano and pirate battles.
Then came the economic downturn followed by the pandemic, spurring the city to its current diversification into sports and big, splashy shows.
The strategy is working. In 2022 the city boasted 38.8 million visitors, making it the sixth largest destination in the United States, outranking Boston or Chicago — impressive for a place where the summer weather regularly tops 105 degrees.
A recent series of cyberattacks against the city's hotels that may have resulted in data breaches for more than 10 million guests seems only to have been a speed bump for the Las Vegas juggernaut, though the city's hotels are also facing the threat of a strike by hospitality workers, who voted to authorize one on Tuesday.
The sudden rise of the mega-venues has shifted the city's center of gravity from the relative privacy of casino floors to spectacles as glaringly public as the Sphere after dusk.
"This reminds me a lot of Dubai," said Bridgette Casellas, 24, an actress visiting from Los Angeles. "When I was there, it was all stadium building and bright lights. But they have so many restrictions on how you can behave. This promises to be more fun."
"I'm having trouble describing what's happening in this city right now," said Mr. Alvarez, the former city cultural commissioner. "It's Vegas 2 point 023. I can't even keep track of it."
There's much to keep track of: Allegiant Stadium, which now rises a block west of the Strip will host Super Bowl LVIII on Feb. 11, 2024. The $1.9 billion stadium is home to the Raiders football team, snatched from Oakland, Calif., just four years ago.
On the other side of the Strip, the Tropicana Hotel will soon be replaced by a $1.5 billion, 30,000-seat baseball stadium to house the Athletics baseball team that Las Vegas is trying to snatch, again from Oakland.
The city already has the Golden Knights National Hockey League team, winner of the 2023 Stanley Cup Championship. With the successful acquisition of the Oakland A's, the city will have completed the impressive hat trick of scoring three big-league U.S. teams within seven years, making it a year-round sports destination. Add a 10-year Formula 1 contract, and Vegas is arguably one of the world's most compelling destinations to watch sports, with the Sphere as the asteroid-size cherry on top.
With all the changes, it's little wonder that as you drive into Las Vegas from the desert, cranes pepper the skyline like a metal forest. Builders even had to import a special 580-foot crane from Belgium to construct the Sphere.
"Maybe a quarter of the travel market doesn't like Las Vegas," said Steve Hill, 64, the president of the Las Vegas Convention and Visitors Authority, and a major force behind the city's transformation. "What sports and entertainment do is give these people a new reason to come here."
"The success of Allegiant stadium has informed a lot of what's going on," he continued. "When we built it, we projected 450,000 annual visitors to come to town to attend an event there. Last year the stadium attracted 800,000 incremental visitors. Sports and light entertainment are increasingly important to extending the Las Vegas brand into the future."
Vibrating seats, wind technology and $1,240 seats
The Sphere opens on Friday, Sept. 29, with the Irish rock band U2 playing its 1991 album "Achtung Baby." The concert was supposed to be played two years ago, on the 30th anniversary of the album, but the pandemic delayed the Sphere's construction. The band is booked for 25 shows in the 17,600-seat, bubble-shaped auditorium where audiences will be surrounded by a 160,000-square-foot LED media plane and 167,000 speakers. Other immersion techniques include vibrating seats and scent, temperature and wind technology.
The Sphere may stop traffic, but can it be filled? U2 will be playing in the venue until Dec. 16; tickets recently ranged from $268 to $1,240. But Live Nation, which is handling ticket sales for the Sphere, was still selling tickets to Friday's premiere as of Monday. Seats for many subsequent shows are still available, and tickets at resellers like StubHub are going far below face value, fueling doubts as to whether this is really going to be a blockbuster. (A spokeswoman for Sphere Entertainment Company did not return a request for comment.)
Between U2 concerts, the filmmaker Darren Aronofsky ("The Whale"), will take his turn at the Sphere with the Oct. 6 premiere of "Postcard from Earth." Mr. Aronofsky describes the movie, filmed on seven continents with high-resolution "Big Sky" cameras designed specifically for the Sphere, as a "love letter to mother earth." A short clip on his Instagram page shows a towering elephant treading above audience seats on the domed auditorium screen. Tickets range from $49 to $199.
They will need to sell a lot of them. The cost overruns on the Sphere are already more than a billion dollars. Earlier this year, New York-based MSG Entertainment, which owns the Sphere, split in two, renaming the venue's holding company Sphere Entertainment Company in order to insulate MSG Entertainment's core holdings and protect existing shareholders.
A racetrack on the Strip
The Formula 1 race will be centered around a newly constructed, $480 million, 300,000-square-foot paddock — the pit stop for the racing cars — topped by two stories of luxury boxes, restaurants and rooftop grandstands.
This is not the first time that F1 has come to Vegas. In the early 1980s a Grand Prix course was constructed behind Caesars Palace, but the event fell flat and only two races of a five-year contract were run before it was canceled.
Renee Wilm, the chief executive of Las Vegas Grand Prix, said this time it will be different. "That was on a parking lot," she said. "Now it's on the Strip itself at night with all those lights. There's not going to be a bigger or more glamorous sporting event on the planet."
With F1's popularity in the United States accelerating, thanks to media coverage and shows like Netflix's "Formula 1: Drive to Survive," Las Vegas is now the latest of a dozen or so venues Formula 1 has had in the United States. The whole city seems to be jumping onto the speed wagon. All along the route, terraces, bleachers, spotlights and banners are turning the open desert streets into a race trench. Entertainment will be provided by Blue Man Group, the singer J Balvin and Cirque du Soleil around the track. In front of the Bellagio and the Mirage hotels, grandstands and viewing boxes are being erected and food will be catered by star chefs like David Chang and Jean-George Vongerichten.
Many of the other big resorts are racing to create the biggest over-the-top experiences for deep-pocketed guests, but the priciest is likely Nobu Hotel's $5 million "Emperor Package," replete with a chauffeured Rolls-Royce, a private dinner cooked by the chef Nobu Matsuhisa, five nights accommodations in the three-bedroom, 10,300-square-foot Nobu Sky Villa and private race events for 12 guests. Otherwise, the lowest three-day-pass still available on the F1 website is $2,000.
Hotels and restaurants far from the track are ramping up room prices and putting together themed meals. For $395 a person, "we've created our own Race Week Menu," said Domenico Ferraro, the executive chef at the long-running Italian restaurant Ferraro's, two blocks east of the Strip.
Mr. Hill of the convention bureau believes that Formula 1 will have a long-term upside for Las Vegas's business. "Formula 1 is going to bring around 120,000 people from outside of Vegas during what is traditionally our second slowest weekend of the year," he said. "That alone is at least 60,000 additional rooms sold. Ultimately it broadens us into an upscale and international market."
Not everyone is happy with these changes.
"We're very addicted to shiny things here in Las Vegas, but this isn't the holistic way for city planning," said Dayvid Figler, 56, a defense lawyer who doubles as one of the city's most popular podcasters and cultural commentators.
"Traffic has been disrupted for years. On the Strip, 25-year-old shade trees have been cut down to make room for a two-day race," he said. "Most of the people who live here will be paying for something they weren't necessarily invited to."
"I'm not coming back until the construction is over," said Ms. Casellas, the visitor from Los Angeles, as she waded through hundreds of pedestrians moving at a zombie pace around yet another grandstand building site. "This is way too much of a hassle."
Before I left, I decided to take one last pass at the Sphere, having finally discovered a great vantage point and parking on a frontage road called Manhattan Street. The enormous orb was morphing from a giant basketball to a jellyfish struggling in the water to an astronaut running in space.

Spotify to cut 17% of staff in the latest round of tech layoffs
Toru Yamanaka/AFP via Getty Images
The music streaming giant Spotify has announced it's cutting 17% of its workforce in a dramatic move aimed at slashing costs.
In a memo addressed to staff, CEO Daniel Ek said it was critical that the company "rightsize" its financial situation after hiring too many people in 2020 and 2021, when capital was cheaper.
"The Spotify of tomorrow must be defined by being relentlessly resourceful in the ways we operate, innovate, and tackle problems," Ek wrote. "This kind of resourcefulness transcends the basic definition — it's about preparing for our next phase, where being lean is not just an option but a necessity."

This latest round of cuts — the third this year — equates to about 1,500 jobs, according to a CNBC source that said the Swedish company currently employs about 9,000 people across more than 40 global office locations.
Across the tech industry, tens of thousands of positions have been cut in the last year as a pandemic-era boon continues to fade. According to the tech job tracker layoffs.fyi, more than 250,000 tech workers have been laid off since the start of the year.
Still, the size of the Spotify cuts may feel "surprisingly large" for the moment, Ek wrote.
The company posted $34 million in operating income during its third-quarter earnings call, its first quarterly profit since 2021. Lower personnel costs, driven by two smaller rounds of cuts, was one of the factors cited for saving costs.
The company cut 6% of its workforce, about 600 employees, in January. It laid off another 2% of staff, roughly 200 roles, in June.
At the same time, Spotify raised prices on its subscription plans and set a lofty goal to reach a billion users by 2023. It currently has over 570 million of them — a little less than double the number of listeners the platform attracted in 2020.
The company has also shared its vision to go beyond music and expand in audiobooks and podcasting, a space that's feeling a financial strain and steep competition for both listeners and advertisers.
Since 2019, Spotify has spent close to a billion dollars buying up podcasting studios, signing exclusive deals with celebrity hosts and, most recently, investing in generative AI for ad creation.
But all this investment has come with high-profile headaches — and still failed to turn a profit. The company's layoffs in June were specifically focused on downsizing its podcast division.
As of 8:30 a.m. on Monday, Spotify's shares were up about 5% in premarket trading.
Departing employees will be offered approximately five months of severance pay plus healthcare coverage, vacation pay, immigration support and two months' worth of career-search assistance, according to Ek's statement.
20-year-old Iraqi arrested for alleged plot to attack Hanover Christmas market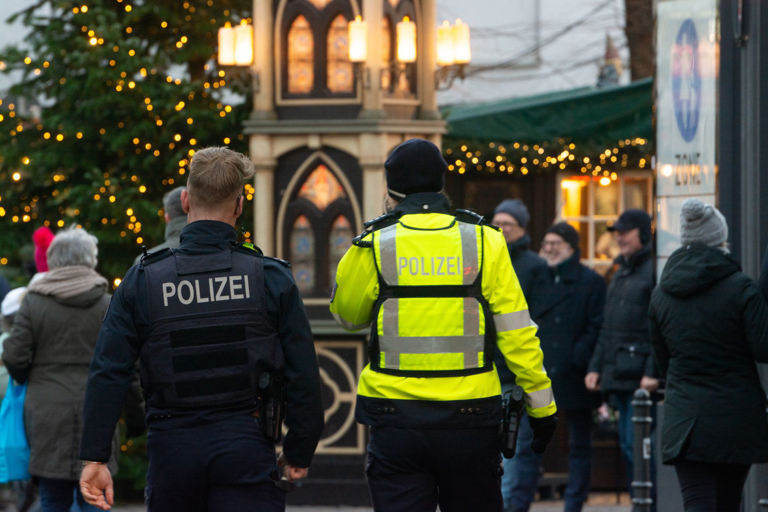 A 20-year-old Iraqi, suspected of planning a terrorist attack, was arrested by law enforcement authorities in Lower Saxony. The target was allegedly the Hanover Christmas market, with two other individuals also suspected of plotting to create an explosion at the market. Daniela Behrens, Lower Saxony's Interior Minister, revealed on a NDR program on…
Longtime 'Fresh Air' contributor Dave Davies signs off (sort of)
After 22 years of interviews, longtime Fresh Air contributor and fill-in host Dave Davies is cutting back on his workload.
For years Davies has contributed at least one interview a week to Fresh Air, and oftentimes more — especially when the topics concern sports, investigative journalism or history. Davies is always thinking about the experience of the listener.
"If … something isn't clear because the guest is using shorthand for something or it's just not quite working, you have to intervene in some way to make sure the audience stays with it," he says. "The audience is always in your mind."
A native of Lubbock, Texas, Davies grew up in Corpus Christi and moved to Philadelphia in 1975, where he initially worked as a taxi driver and a welder. In 1982, he found his way to the WHYY newsroom, covering local politics and government. He left in 1986 for stints at KYW Newsradio and the Philadelphia Daily News, but returned to public radio doing free-lance gigs, including Fresh Air interviews, beginning in 2001.
Though Davies occasionally hears a Philly accent creep into his speech, you're unlikely to find a trace of Texas in his voice — either on-air or in real life.
"I remember in junior high and high school being aware that the people on television, like the newscasters, spoke this standard English," Davies says. "And I kind of I just decided to do that."
Davies is not signing off completely from WHYY. You'll still hear him interviewing guests on Fresh Air — just less frequently. And, of course, he'll continue to bring his A-game to the listeners.
"The one thing that I've done from the beginning is to really prepare very, very thoroughly for every interview because there's a standard here, right?" he says. "The thorough preparation is really, I think, in some ways one of the things that defines the show."
Click on the audio link above to hear clips of some of Davies' most compelling interviews, including conversations with Frank Calabrese Jr. (2011); novelist Kate Christensen (2013); biographer Robert Caro (2019); and sports announcer Joe Buck (2017).
Heidi Saman and Seth Kelley produced and edited this interview for broadcast, with assistance from Roberta Shorrock. Bridget Bentz, Molly Seavy-Nesper and Beth Novey adapted it for the web.