A Northern California tribe works to protect traditions in a warming world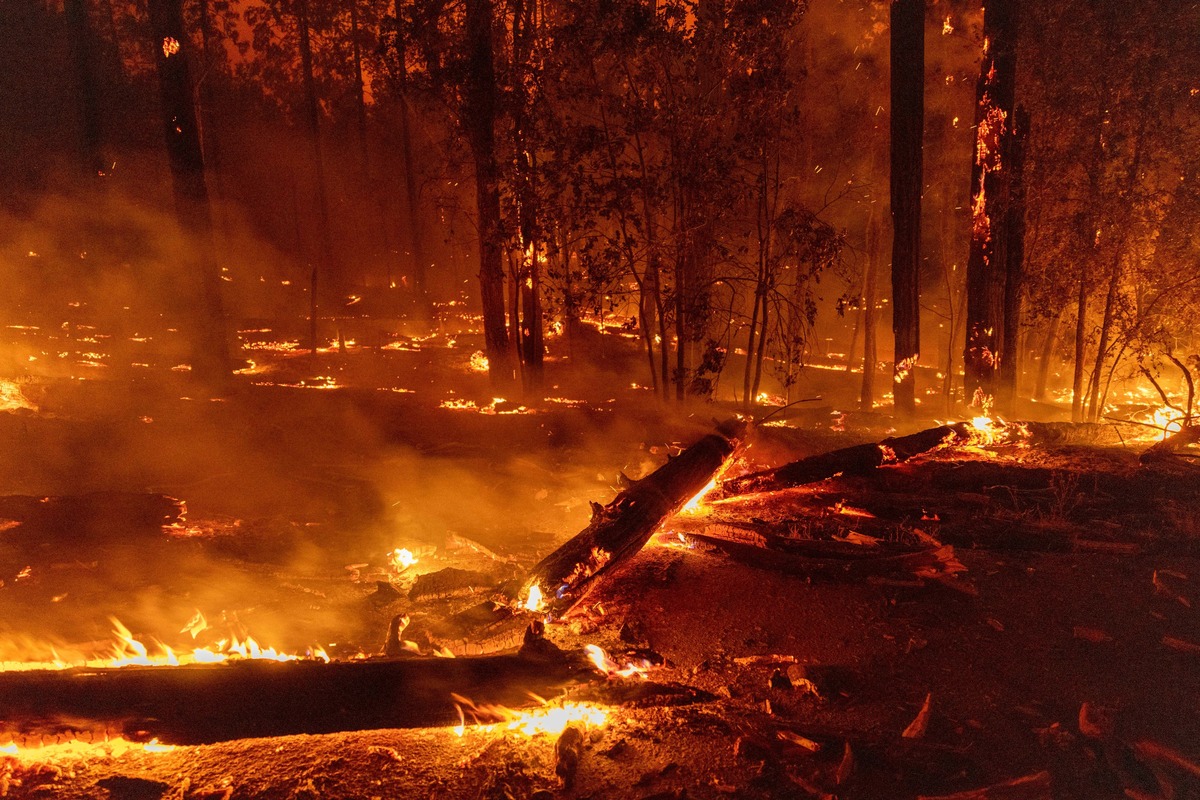 David McNew/AFP via Getty Images
The Oak Fire, which burned roughly 20,000 acres west of Yosemite National Park last summer, was devastating to the area's Indigenous tribes — including the Southern Sierra Miwuk Nation. The tribe is headquartered in Mariposa, California, a small town in the Sierra Nevada foothills close to the national park.
"It really hit our community hard," said Tara Fouch-Moore, a member of the Southern Sierra Miwuk's tribal council. "We lost 127 households."
The Oak Fire destroyed much more than property.
"These super fires, they burn so hot," said Jazzmyn Gegere Brochini, the tribe's cultural resource preservation manager. "The Oak Fire disintegrated absolutely everything in its path."
Climate change brought on by the burning of fossil fuels has exacerbated, in part, the frequency and the intensity of wildfires. Such catastrophic fires have decimated culturally significant sites and treasures, raising questions about how to best protect them for the future.
It's something the Southern Sierra Miwuk have had to grapple with.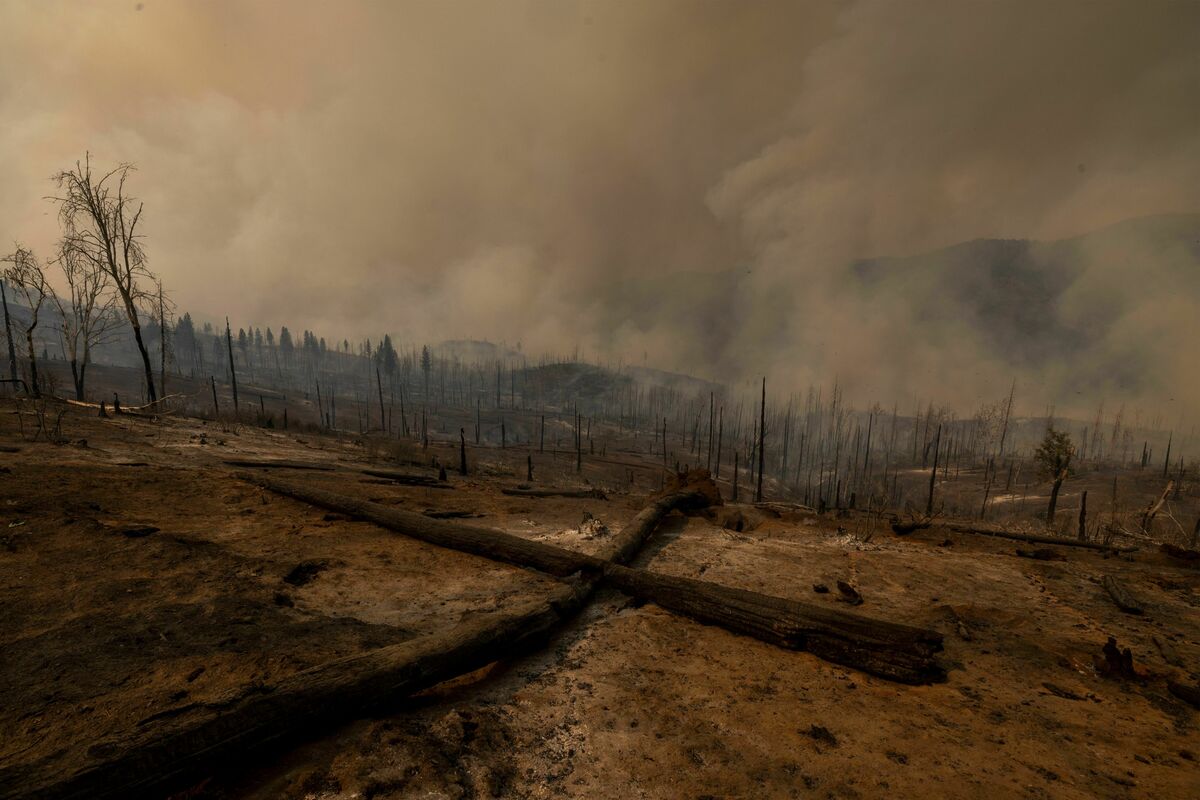 David McNew/AFP via Getty Images
Gegere Brochini and Fouch-Moore said traditional plants like elderberry, deergrass and sedge used in native cooking, medicine and basket-making were destroyed by the Oak Fire — along with more permanent physical structures, such as the many milling stations carved into the bedrock by ancestors.
The Miwuk people have used these indentations in the rocks to grind traditional medicines and foods like acorns for thousands of years.
"And to think that something that has withstood the test of time for millennia can be destroyed by one fire sweeping through, is a sign that something is changing, and something devastating is happening," said Fouch-Moore.
Cultural heritage and climate change closely intertwined
Indigenous communities have long understood cultural heritage encompasses more than historic buildings and museum artifacts.
"It's also the knowledge of how to find food and how to survive or make art," said Fouch-Moore.
"It's how we coexist with the land and manage it," said Aanthony Lerma, the Southern Sierra Miwuk's stewardship coordinator. "It's the native way of life."
The tribe's firsthand experience of the impact of climate change on cultural traditions has been compounded by displacement.
The Yosemite Valley used to be populated by Indigenous peoples, including the Southern Sierra Miwuk. "In the middle of the 1800s, as Yosemite started to be 'discovered' by settlers, they began to push the Indigenous tribes out," said Cicely Muldoon, the superintendent of Yosemite National Park.
The federal government designated the area as a national park in 1890 to protect its natural treasures. But the cultural ones didn't fare so well: Muldoon said the few remaining Indigenous homes were razed in 1969.
"That was the last permanent occupation by the first people of Yosemite still living in their ancestral homelands," she said.
Loss of place, loss of culture
With the loss of their homelands came the loss of their cultural heritage, such as the long tradition of managing forest fires.
"One of the first things the government outlawed was cultural burning," said the Southern Sierra Miwuk's Lerma.
State officials made this tribal practice of igniting small fires illegal in 1850. The years of fire suppression that followed have made wildfires worse.
"'Smokey the Bear' all over the place," said Fouch-Moore. "And now our forests are overgrown and in bad health. And they're like, 'Oh wait, maybe we should let the Indians do their thing.'"
In recent years, the National Park Service and the California Department of Forestry and Fire Protection (CAL FIRE) have started to collaborate with Indigenous communities to return traditional burning to the land.
Members of local tribes have helped to set prescribed burns in Yosemite National Park, among other wooded areas. The process involves rubbing pieces of wood together to generate sparks instead of using modern drip torches.
"Tribal representatives help us identify and protect important cultural sites during a wildfire," said Gregg Bratcher, deputy chief of CAL FIRE'S prescribed fire program. The agency worked with the Southern Sierra Miwuk and other tribes on the cleanup effort after last year's Oak Fire. "We work with them to ensure these sites are not damaged by fire-fighting or other equipment," he said.

Yosemite National Park via
YouTube

Bratcher said his agency is trying to build trust with tribal communities. Gegere Brochini with the Miwuk Nation said she is glad the state's fire department and other agencies are now actively engaging Indigenous people to clean up after wildfires burn through. She was involved in the cleanup effort after the Oak Fire. "I did a cultural resource spot check to make sure the remains of ancient village sites were protected from the dozers," said Gegere Brochini. "Otherwise they doze everything."
But Tara Fouch-Moore said the removal of Indigenous peoples from their lands makes it hard for traditions like cultural burning to thrive, because out of context, these practices lose their meaning.
Southern Sierra Miwuk Nation
"Yes, we can share our songs despite climate change, and yes, we can learn how to process acorn," she said. "But it needs to be whole and within the landscape to really, truly understand."
That's why the Southern Sierra Miwuk Nation has been working for years with the National Park Service to rebuild Wahhoga, a village tribal ancestors once occupied in the Yosemite Valley. "We're building our umachas, which are the bark houses. We are building our roundhouse and we're going to have that area to do our ceremonies and our cultural events," said Fouch-Moore. She expects the project to be completed within the next few years.
Fouch-Moore said Wahhoga will enable her people to tell their own stories.
"That's how you preserve cultural heritage," she said. "By making sure people are still living it."

'Wait Wait' for September 30, 2023: Live in LA with Bob and Erin Odenkirk!
This week's show was recorded at the Greek Theater in Los Angeles, with host Peter Sagal, official judge and scorekeeper Bill Kurtis, Not My Job guests Bob and Erin Odenkirk and panelists Jess Klein, Karen Chee, and Maz Jobrani. Click the audio link above to hear the whole show.
Bob Odenkirk/LEDE Company
Who's Bill This Time
NFL: Taylor's Version, All That Glitters, Three Strikes
Panel Questions
A Spy By Any Other Name
Bluff The Listener
Our panelists tell us three stories of the origin of a name, only one of which is true.
Not My Job: We quiz Bob and Erin Odenkirk on Kirkland Brand products
Bob Odenkirk is a comedy legend and his daughter Erin might be even funnier. They join us to talk about Zilot, their new book of poetry for kids, and to answer our three questions about Kirkland, Costco's house brand
Panel Questions
Who's A Bad Boy, Lose Your Voice
Limericks
Bill Kurtis reads three news-related limericks: Identical Dental, Uninvited Guests, Walk Upon A Star
Lightning Fill In The Blank
All the news we couldn't fit anywhere else
Predictions
Our panelists predict who will go on strike next.
Jada Pinkett Smith Responds to Arrest in Tupac Murder Case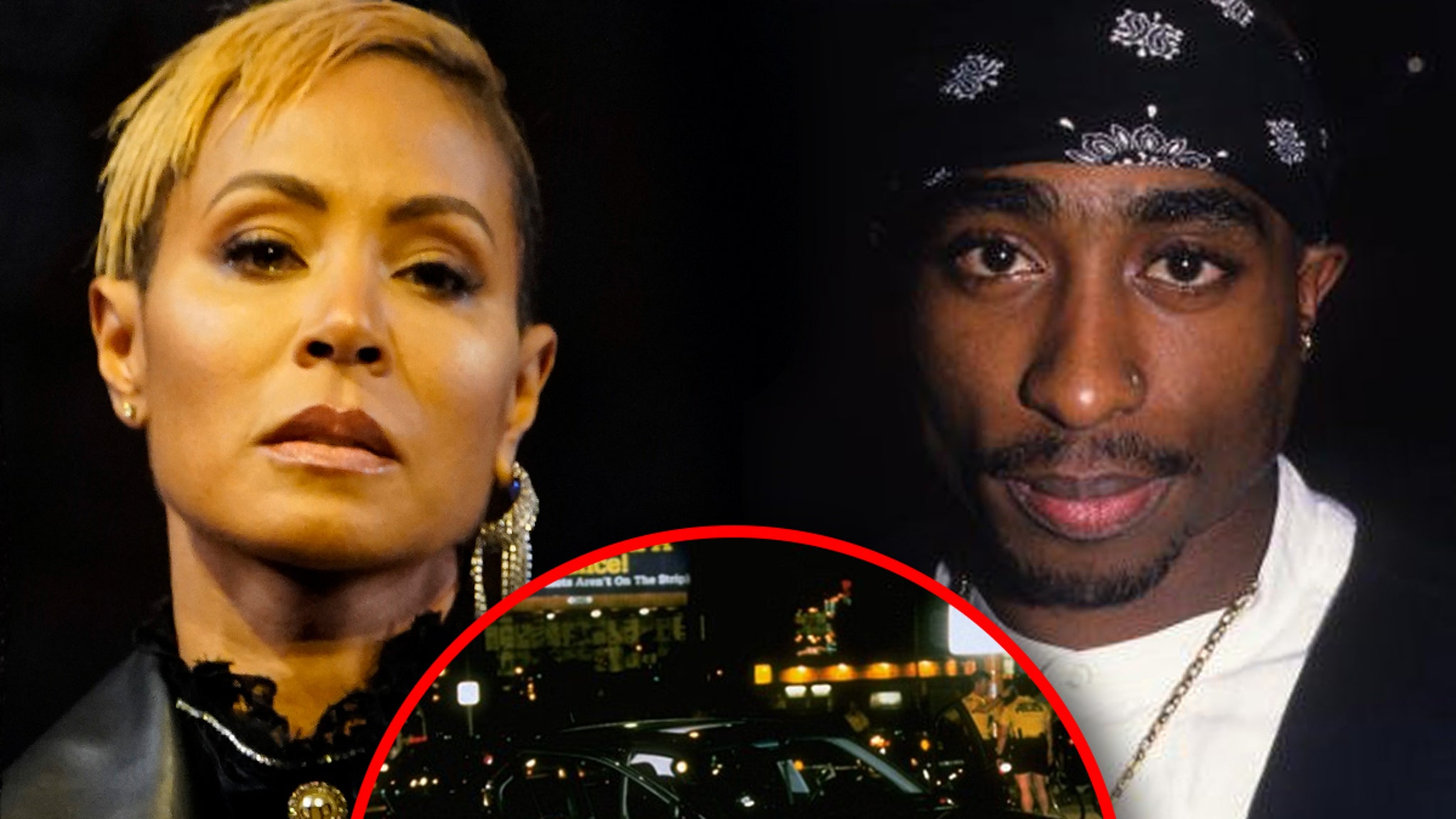 Jada Pinkett Smith is one of many who are happy to have somebody being held to account over the murder of Tupac Shakur — and she made it known to her millions of followers.
The actress took to Instagram Friday night with a short but concise reaction to the Pac news — namely, the fact that Duane 'Keefe D' Davis was arrested and charged with murder in connection to the open case out of Las Vegas … which had seemingly gone cold for years.
JPS writes, "Now I hope we can get some answers and have some closure. R.I.P. Pac."
Like we said … a fairly simple message on her part, but it's quite meaningful considering how much Tupac meant to Jada — and how often she references him, even today.
Many are familiar with Jada's history with Pac … they go way back, and were very close friends back in the '80s and '90s when they grew up together and mingled into adulthood.
Jada has long insisted they were never romantic, but some speculate that might not be the case … again, she's spoken at length about him and has reminisced about their relationship publicly, to the point some have raised an eyebrow in retrospect — especially post-slap.
That's neither here nor there … point is, Tupac obviously means a lot to Jada — and she seems relieved this chapter might be coming to a close after years of mystery/intrigue.
As we reported … Keefe D was indicted on an open murder charge this week, just a couple months after law enforcement raided his Vegas-area home upon executing a search warrant.
His involvement in the murder has been out there for years now, based on his own words — dude's done countless interviews and even published a book … all of which seem to see him detailing the blow-by-blow of the shooting. Now, he'll have to answer for it in court.
Nevada grand jury indicts witness in killing of Tupac Shakur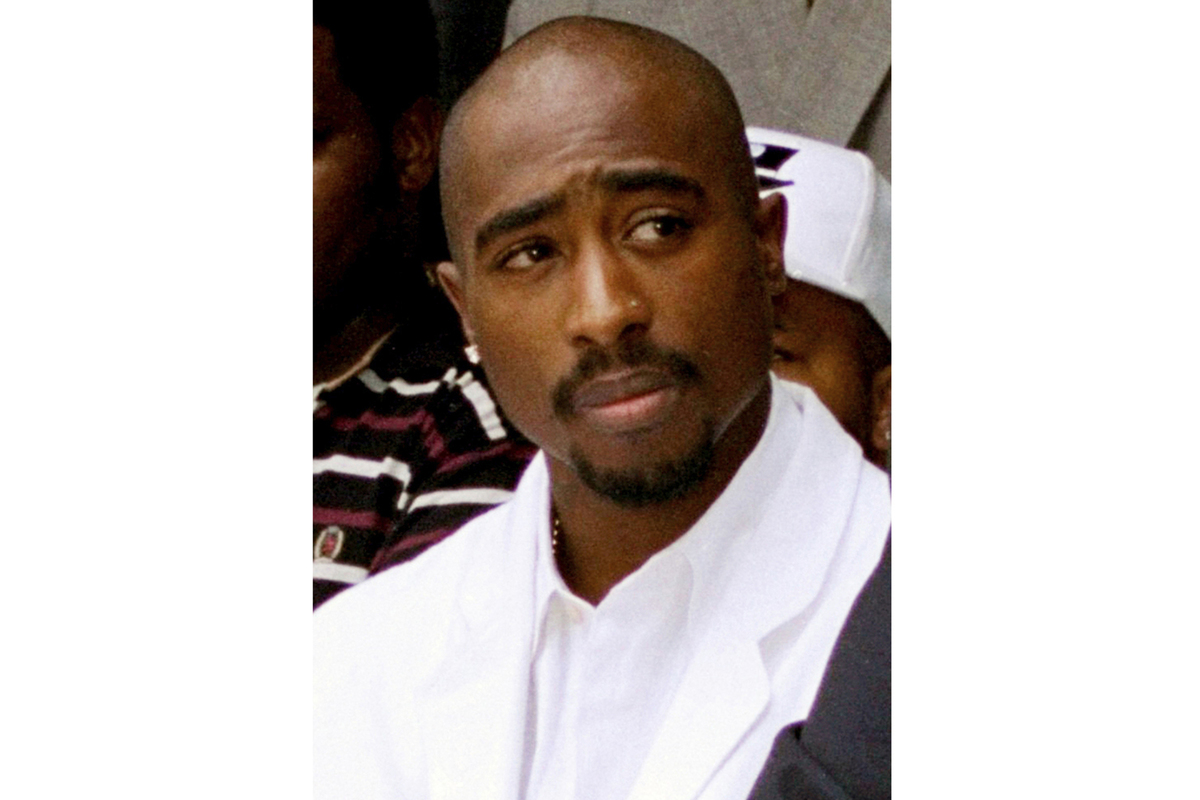 LAS VEGAS — One of the last living witnesses to the fatal drive-by shooting of rapper Tupac Shakur in Las Vegas was charged with murder with use of a deadly weapon Friday in the 1996 killing, a long-awaited breakthrough in a case that has frustrated investigators and fascinated the public ever since the hip-hop icon was gunned down 27 years ago.
A Nevada grand jury indicted Duane "Keffe D" Davis in the killing, prosecutors announced in court Friday. Chief Deputy District Attorney Marc DiGiacomo said a grand jury had been seated in the case for "several months." DiGiacomo described Davis as the "on-ground, on-site commander" who "ordered the death" of Shakur.
The charges were revealed hours after Davis, 60, was arrested this morning while on a walk near his home, according to DiGiacomo.
Davis has long been known to investigators and has himself admitted in interviews and in his 2019 tell-all memoir, "Compton Street Legend," that he was in the Cadillac from which the gunfire erupted during the September 1996 drive-by shooting. Shakur was 25 when he was killed.
Las Vegas police raided a home in mid-July in the Las Vegas suburb of Henderson that is tied to Davis. Police were looking for items "concerning the murder of Tupac Shakur," according to the search warrant. They collected multiple computers, a cellphone and hard drive, a Vibe magazine that featured Shakur, several .40-caliber bullets, two "tubs containing photographs" and a copy of Davis' memoir.
Clark County District Judge Jerry Wiese denied Davis bail.
It wasn't immediately clear if Davis has an attorney who can comment on his behalf. Davis hasn't responded to multiple phone and text messages from The Associated Press seeking comment or an interview in the more than two months since the house raid.
Shakur was in a BMW driven by Death Row Records founder Marion "Suge" Knight in a convoy of about 10 cars. They were waiting at a red light when a white Cadillac pulled up next to them and gunfire erupted. Shakur was shot multiple times and died a week later at the age of 25.

The rapper's death came as his fourth solo album, "All Eyez on Me," remained on the charts, with some 5 million copies sold. Nominated six times for a Grammy Award, Shakur is still largely considered one of the most influential and versatile rappers of all time.
In his memoir, Davis said he was in the front passenger seat of the Cadillac and had slipped the gun used in the killing into the backseat, from where he said the shots were fired.
Davis implicated his nephew, Orlando "Baby Lane" Anderson, saying he was one of two people in the backseat. Anderson, a known rival of Shakur, had been involved in a casino brawl with the rapper shortly before the shooting.
After the casino brawl, "Mr. Davis formulated a plan to exact revenge upon Mr. Knight and Mr. Shakur" in his nephew's defense, DiGiacomo said.
Anderson died two years later. He denied any involved in Shakur's death.
Davis revealed in his memoir that he first broke his silence in 2010 during a closed-door meeting with federal and local authorities. At the time, he was 46 and facing life in prison on drug charges when he agreed to speak with them about Tupac's killing, as well as the fatal shooting six months later of Tupac's rap rival, Biggie Smalls, also known as the Notorious B.I.G.,
"They offered to let me go for running a 'criminal enterprise' and numerous alleged murders for the truth about the Tupac and Biggie murders," he wrote. "They promised they would shred the indictment and stop the grand jury if I helped them out."
Shakur was feuding at the time with rap rival Biggie Smalls, who was fatally shot in March 1997. At the time, both rappers were in the middle of an East Coast-West Coast rivalry that primarily defined the hip-hop scene during the mid-1990s.
Greg Kading, a retired Los Angeles police detective who spent years investigating the Shakur killing and wrote a book about it, said he's not surprised by Davis' arrest.
The former Los Angeles police detective said he believed the investigation gained new momentum in recent years following Davis' public descriptions of his role in the killing, including his 2019 memoir.
"It's those events that have given Las Vegas the ammunition and the leverage to move forward," Kading said. "Prior to Keffe D's public declarations, the cases were unprosecutable as they stood."