Unleashing a New Weapon on the Mosquito: A Mosquito
In a laboratory in downtown Medellín, Colombia, it is lunchtime: A technician in a white coat carries a loaded tray into a steamy nursery. She walks between rows of white mesh cages, each the size of a mini-fridge, and slides a thin tray of blood into every one. In response, her charges, all 100,000 of them, begin to whir and emit an excited hum.
This is a mosquito factory. Each week it churns out more than 30 million adult Aedes aegypti mosquitoes, with their distinctive white polka dots on their wiry black legs. The brood stock of females is fed on discarded blood blank donations, and horse blood. Eventually, some of their progeny will be released into Medellín, Cali and cities and towns in Colombia's verdant river valleys. Other insects will be chilled into a stupor for a journey up to Honduras.
Inside the World Mosquito Program lab.
Anggy Aldana working at the World Mosquito Program lab in Medellín, Colombia.
The elaborate effort is part of an experiment that is making encouraging progress in the long fight against mosquito-borne disease.
Aedes aegypti spreads arboviruses, including dengue and yellow fever, which can severely sicken or kill people. But these are special Aedes aegyptis: They carry a type of bacteria that can neutralize those deadly viruses.
Five decades ago, entomologists confronting the many kinds of suffering that mosquitoes inflict on humans began to consider a new idea: What if, instead of killing the mosquitoes (a losing proposition in most places), you could disarm them? Even if you couldn't keep them from biting people, what if you could block them from passing on disease? What if, in fact, you could use one infectious microbe to stop another?
These scientists began to consider a parasitic bacteria called Wolbachia, which lives quietly in all kinds of insect species. A female mosquito with Wolbachia passes it on in her eggs to all of her offspring, who eventually pass it on to the next generation.
But Wolbachia isn't naturally found in the mosquito species that cause humans the most problems — the Aedes aegypti, the virus carrier, and the Anopheles subspecies, which carry malaria. If it were, it might eventually render those species essentially harmless.
So how do you infect a mosquito with Wolbachia?
Researchers found, after painstaking trial and error, that they could insert the bacteria into mosquito eggs using minute needles. The mosquitoes that grew from those eggs were infected.
How mosquito eggs are injected with Wolbachia
A looping video showing a thin needle injecting fluid into a row of black mosquito eggs. Each egg is oblong and about half a millimeter long.
Source: World Mosquito Program
Eleanor Lutz
The Aedes aegypti mosquitoes that hatched and lived with Wolbachia did just fine. And as hoped, the Wolbachia mostly blocked the viruses: The mosquito who bit someone with dengue, and picked up the virus, didn't pass it on to the next person it bit.
That got the researchers thinking: If they could infect all the mosquitoes in a village or city, they might stop the disease. Unlike truckloads of insecticides, sprayed down every street and running off into water systems, this method would not harm the ecosystem.
But how do you get Wolbachia into all the mosquitoes in a city the size of Medellín?
How Wolbachia spreads among wild mosquitoes
A series of three illustrations showing the outcomes of breeding between wild mosquitoes and mosquitoes infected with Wolbachia. When a Wolbachia-infected male and a wild female mate, no offspring will hatch. When a wild male and a Wolbachia-infected female mate, all offspring will carry Wolbachia. And when two Wolbachia-infected mosquitoes mate, all offspring will also carry Wolbachia.
All offspring
carry Wolbachia
All offspring
carry Wolbachia
All offspring
carry Wolbachia
All offspring
carry Wolbachia
Source: World Mosquito Program
Eleanor Lutz
Once they were confident they could infect generations of mosquitoes in the lab, the scientists needed to know if their theory would work in the wild. The method was first tested in small towns in northern Australia, where females with Wolbachia released in the field mated with wild males and did, indeed, spread Wolbachia through the mosquito population.
A team led by an Australian entomologist named Scott O'Neill next tried some towns in Vietnam, and then a small city in Indonesia. There, after three years, areas where Wolbachia had been released had 77 percent fewer cases of dengue reported, and 86 percent fewer hospitalizations.
Those results were stunning — a delight for a population used to miserable dengue seasons, and a huge relief for the public health system. Dengue causes intense suffering in even "mild" cases — it's commonly called "breakbone fever" — and 5 percent of cases progress to the hemorrhagic form of the disease, with uncontrolled bleeding. Half of the people who develop hemorrhagic dengue die if they do not have access to treatment to control the bleeding. There are no antiviral drugs to kill the dengue virus, and the search for a safe and effective vaccine has been long and fraught.
Dengue already sickens 400 million people around the world each year, and kills 20,000, and it's spreading fast. In places such as Indonesia, where the virus is endemic, every outbreak season, dengue overwhelms hospitals the way Covid-19 did in different places during the height of the pandemic.
Because of climate change, aegypti is broadening its range, bringing dengue with it: France had its first endemic dengue outbreak last year. The virus is in Florida and Texas. The worst dengue outbreak ever recorded was last year in Brazil — 2.3 million cases and nearly 1,000 deaths.
The countries and territories reporting dengue as of 2018
A map of the world, showing countries with recent dengue transmission highlighted in orange. About 110 countries or territories are included in this group, including most countries in the Americas and a large portion of African and Southeast Asian countries.
Americas
2 U.S. states and
45 countries or territories
Oceania
11 countries
or territories
Americas
2 U.S. states and
45 countries or
territories
Oceania
11 countries
or territories
Americas
2 U.S. states and
45 countries
or territories
Oceania
11 countries
or territories
Source: Leta et al., International Journal of Infectious Diseases
Note: Data in the United States is shown at the state level. All other areas are shown at the country level. Countries only reporting travel-related dengue infections are not highlighted.
Eleanor Lutz
Mosquitoes are increasingly resistant to insecticides. But the Wolbachia trial results in Indonesia suggested that if the Wolbachia-carrying mosquitoes supplanted the local population, then the bacteria might be established for good — and no further mosquito control would be needed.
From Indonesia, Dr. O'Neill's group took their testing to Brazil. Another group, called WolBloc and run by the University of Glasgow entomologist Steven Sinkins and his colleagues, began a trial in a neighborhood of Kuala Lumpur, the capital of Malaysia, using a different strain of Wolbachia.
And Medellín, population three million, is the biggest test to date.
One of the neighborhoods in Medellín, Colombia.
For a mosquito showdown in a city this size, you need a lot of mosquitoes. Millions and millions of them.
Dr. O'Neill's group — now calling themselves the World Mosquito Program — set up the production process. It's tricky work, creating the conditions to maximize mosquito reproduction.
In the factory, females feast from the blood trays at the top of the cages, then fly down to the bottom where they lay eggs on filter paper placed in little cups of water. Technicians pluck out the paper, speckled with hundreds of tiny eggs. Some of those eggs are placed in large tubs of nutrient-enriched water, and after nine or 10 days they hatch into squirming larvae that resemble tiny worms.
From there they become pupae. Hours before they are due to transition to adulthood, they are poured through a strainer that sorts them by sex (females are bigger) and moved into mesh cages.
Mosquito pupae in a tray of water.
Mosquito pupae mill about inside a shallow tray full of water.
Some females are kept to breed — like battery hens — but hundreds of thousands of the adults are boxed up to be sent out into the world. They are released into neighborhoods by program staff members on foot or riding on the backs of motorbikes. In the city of Cali, researchers are using a large blue drone that spits out 150 mosquitoes every 50 meters, skimming over rooftops and between high-rises.
The other group of eggs are packaged into capsules that are only a bit bigger than a vitamin, along with the nutrients they need to mature. These are given out to people in the community, who can drop them in a cup of water and grow dengue-proof mosquitoes on their patios.
The World Mosquito Program released two million Wolbachia-infected mosquitoes over three months in its first target area in Medellín.
Then researchers waited: would they successfully mate with locals? And pass on Wolbachia to their progeny?
After four weeks of releases, the program began to collect mosquitoes in traps through the neighborhood to check. Back in the lab, they ground the insects up and tested for the presence of Wolbachia RNA. Over the ensuing months, more and more of the samples had it.
A drawing of mosquito's anatomy on a dry erase board inside the lab.
Eventually, the program found Wolbachia in about two-thirds of the mosquitoes — enough that it could consider the bacteria established in the trial neighborhood — so staff members fanned out over the entire city, gradually blanketing it in Wolbachia mosquitoes.
A few years ago the project expanded to Cali, where the rates of dengue and chikungunya were surging. In the neighborhood of Siloé, which climbs over a hill above the city, Marlon Victoria, 33, had a case of chikungunya in 2018. He was feverish and aching, unable to get out of bed. "I couldn't work for two months, and that had a big effect on our family economically," he said.
Marlon Victoria and family.
Marlon Victoria with his family.
So when the researchers came looking for help, Mr. Victoria signed up. He hung boxes of mosquito eggs in the trees, and he reassured skeptics that this would help with the dengue cases that were sending their kids to the hospital. "We explained to people that we were going to be bringing more mosquitoes, but good ones," he said.
Did it work? It's a tricky thing, measuring dengue rates: Outbreaks of the disease typically arrive in cycles of four, five or six years, and the Covid pandemic — during which people stayed away from public transportation, markets and schools, all major transmission sites — also complicates the numbers.
But Colombia's national dengue monitoring system recorded the lowest dengue rates in Medellín in more than two decades in 2021 — which should have been a peak dengue year.
Dengue infections in Medellín
A graphic showing recurring peaks in dengue infections, and a missing peak in 2021 after mosquito releases began in 2017.
120 monthly
dengue cases
per 100,000
Mosquito releases
began August 2017
2021 was
expected to be
a peak year
120 monthly dengue cases
per 100,000
Mosquito releases
began August 2017
2021 was
expected to be
a peak year
Source: Medellín Health Secretariat and the World Mosquito Program
Eleanor Lutz
Enthusiasts such as Dr. O'Neill say the experience of Colombia, combined with that of Indonesia, should be all the evidence it takes to show that Wolbachia mosquitoes should be released everywhere that has an arbovirus problem. But that is no small proposition.
It's not cheap to mass produce mosquitoes, and disperse them all over a city or a country. The Colombian program has a bustling technical operation and a vast staff. It took seven years for the mosquito factory there to be able to produce over a million insects a week. Personnel is the main cost; automatization, like using the drone to manage the releases that Mr. Victoria did by hand, helps streamline the process.
A World Mosquito Program drone taking off from an empty parking lot.
A World Mosquito Program drone.
The World Mosquito Program estimates it has cost $2 to $3 per person to implement Wolbachia in Medellín. Outside estimates put the cost of a mosquito-control-through-release program at closer to $15 per person. But the program says the project will pay for itself in seven years, in reduced health care costs, in reduced spending on insecticide spraying and other control methods and in regained wages.
Racks of mosquito eggs and a tray of chilled mosquitoes.
Mosquito eggs and a tray of chilled mosquitoes at the World Mosquito Program lab.
Will it work everywhere? That's not clear. The World Mosquito Program mosquitoes didn't establish themselves in some areas in which they were released in Vietnam; Dr. O'Neill says they don't know why. It's also taken longer to establish the insects in different parts of Medellín than in others. The Wolbachia strain being used in Malaysia seems to do better at higher temperatures and could be better suited for some countries.
Laura Harrington, a professor of entomology at Cornell University who is an expert on mosquito mating (What goes into a successful mosquito hookup?), says her decades of research have found that lab-reared mosquitoes don't compete as well against wild ones for mates, in any climate zone. "They're not as sexy," she says. So while the potential for Wolbachia is exciting, it's much too soon to put a price tag or a timeline on using it for dengue control, she said, because it's unclear how many mosquitoes a city program would actually need to release.
Then there is the matter of the evolutionary battle underway inside every infected mosquito: The arboviruses need to spread to survive, so they're trying to find a way to overcome the ability of Wolbachia to disarm them. Likely, they eventually will, Dr. O'Neill said, but he predicts it won't be soon.
"It might happen on an evolutionary timescale, maybe decades, maybe more like 10,000 years," he said. "But I'd be content with a few decades, to allow other technologies to develop, until we have a better tool set."
If the arboviruses move into other mosquito species, that's a separate problem. But Wolbachia could move into other species, too: The WolBloc team has had some early success in preventing malaria transmission by mosquitoes infected with Wolbachia. That holds enormous promise for countries such as those in West Africa that have heavy burdens of both arboviruses and malaria.
In Medellin, mosquitoes have shifted from menace to irritant. "You don't hear people talk much about dengue these days," Mr. Victoria said. "If people can just forget about it — that would be a tremendous thing."

Cases of COVID variant BA.2.86 have tripled in 2 weeks, says CDC report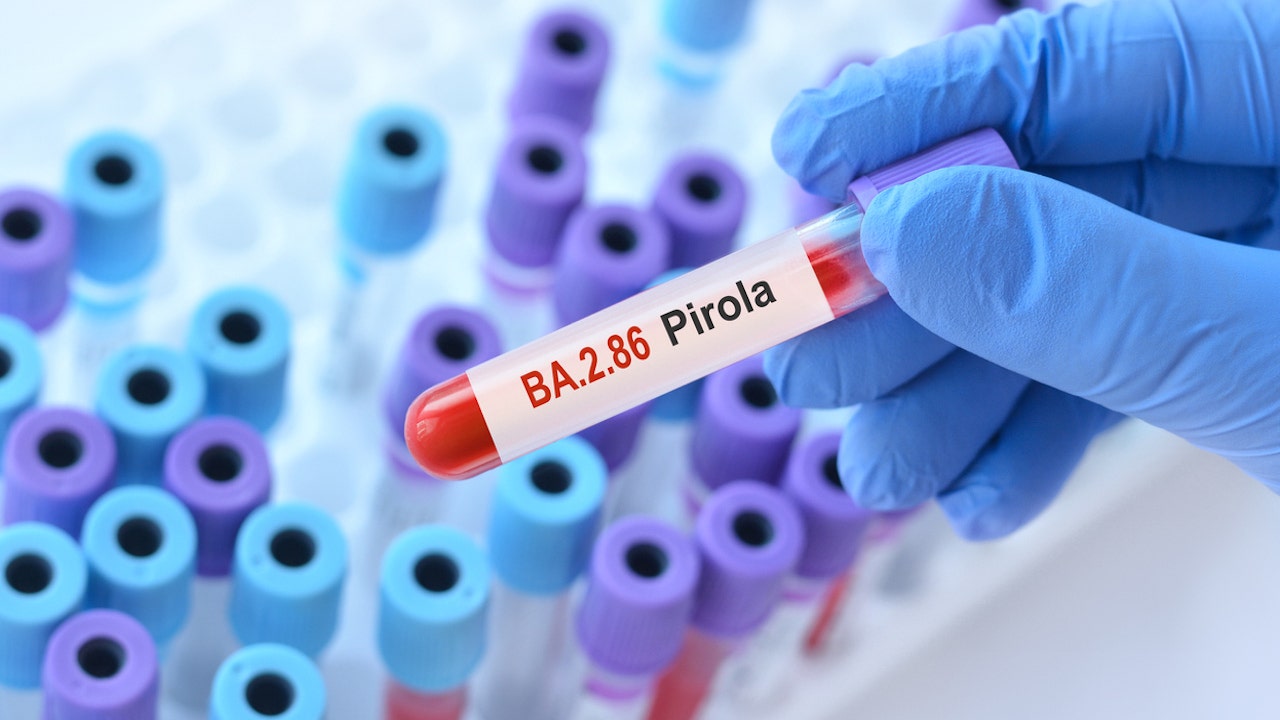 Cases of the COVID-19 variant Omicron BA.2.86, also known as Pirola, have tripled in two weeks, comprising between 5% and 15% of all infections, according to the Centers for Disease Control and Prevention (CDC).
The COVID-19 variant Omicron BA.2.86 — as well as its offshoots, including JN.1 — has been reclassified as a "variant of interest" by the World Health Organization (WHO).
Despite its prevalence, BA.2.86 "does not appear to be driving increases in infections or hospitalizations in the United States," the CDC stated in its report.
OVER HALF THE PEOPLE WHO GET COVID HAVE LINGERING SYMPTOMS AFTER 3 YEARS, NEW STUDY FINDS
Both the CDC and WHO agree that "the public health risk posed by this variant is low compared with other circulating variants."
The updated COVID-19 vaccines that were approved by the FDA in September are believed to "increase protection against BA.2.86, as they do for other variants," the CDC noted.
"To date, existing vaccines have been very effective in protecting people, particularly those who have been boosted multiple times through a vaccine or natural infection, not only from symptomatic infection, but importantly from severe disease, hospitalization and death," said Richard Reithinger, PhD, a distinguished research fellow in the Global Health Division at International Development Group in Washington, D.C., in a statement to Fox News Digital.
COVID IS NOT A CONCERN FOR AMERICANS HEADING INTO CHRISTMAS, OTHER HOLIDAYS, SAYS SURVEY: 'JUST ANOTHER VIRUS'
The CDC said it is not clear whether BA.2.86 causes different symptoms — but noted that most variants produce similar effects.
"The types of symptoms and how severe they are usually depend more on a person's immunity than which variant causes the infection," the statement said.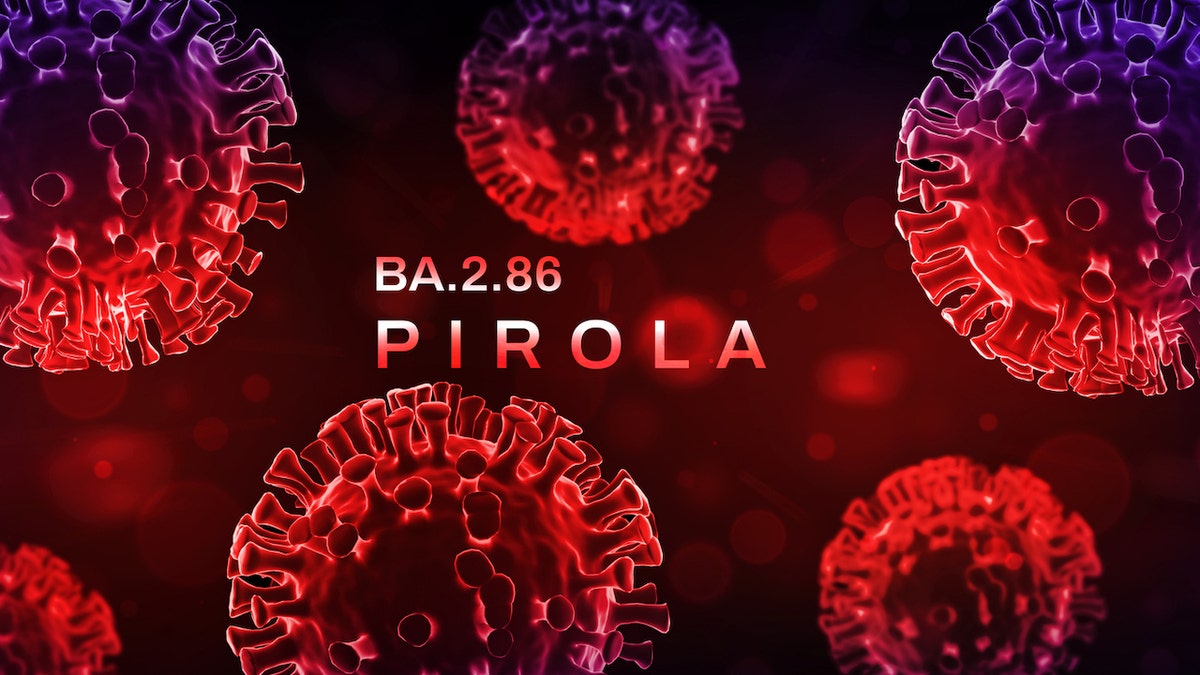 The variant is also expected to respond to the current tests and treatments.
Reithinger noted that while the pandemic is officially over, COVID-19 is not a thing of the past. 
"A concern of the new BA.2.86 variant was that because it has 35 mutations in the spike protein, it would be able to evade the immune response more readily than other variants that emerged in the last couple of months," he told Fox News Digital. 
"Early clinical data does not seem to indicate this being the case."
CLICK HERE TO SIGN UP FOR OUR HEALTH NEWSLETTER
The increase in BA.2.86 cases is due to the U.S. entering the "COVID-19 season" and also a sufficient number of people having developed non-BA.2.86 immunity, according to the doctor.
Outside of vaccines, Reithinger recommends that high-risk groups adopt risk-mitigating behaviors, including wearing masks, frequently washing hands and avoiding crowded environments.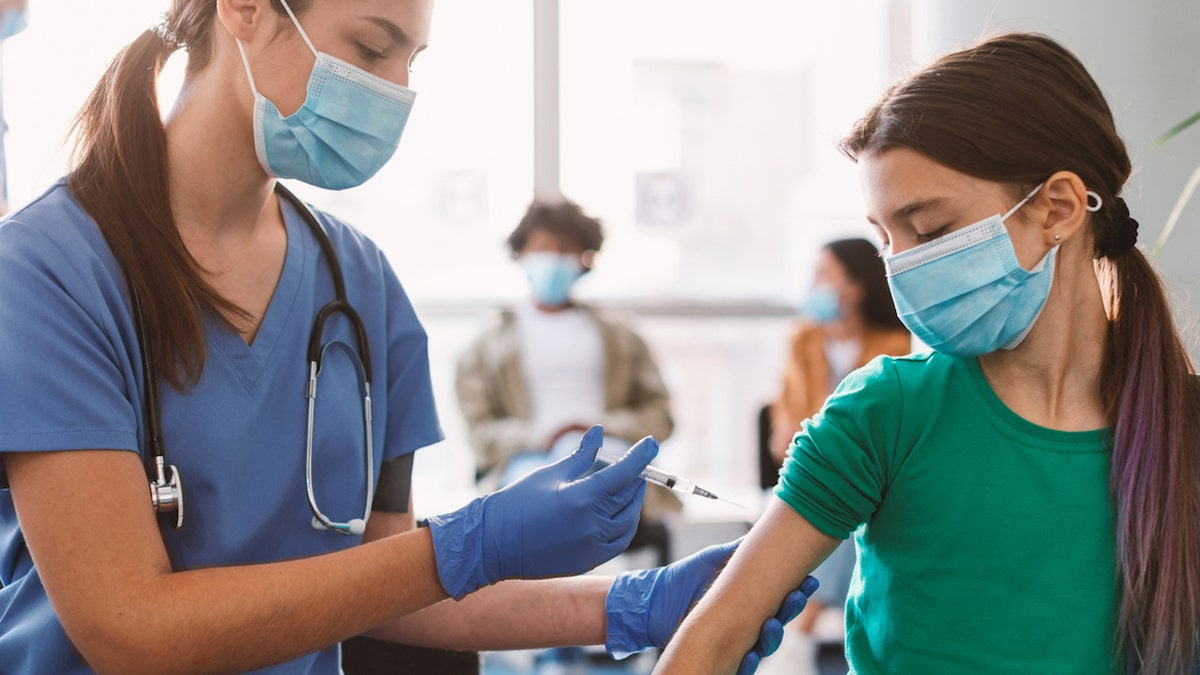 "People — particularly those with greater risk of infection and severe disease — should continue to be sensitized and vigilant about COVID-19 and the disease it may cause," he told Fox News Digital.
"People who are at greater risk of infection and severe disease should consult with their physicians about whether they should be administered one of the currently available boosters," he added.
Those at highest risk include people older than 60 years, the immunocompromised, those with comorbidities such as asthma and diabetes, and people working in high-risk-of-exposure employment, such as the service industry, Reithinger noted.
For more Health articles, visit www.foxnews/health.
Friends run for a cure for lupus, completing NYC Marathon in honor of longtime pal and lupus sufferer
All marathoners have their own particular motivations for running a 26.2-mile race — and for Molly Anderson, Sarah Edwards and Laura Haley, it was to honor Rosie De Queljoe Herzog, their longtime friend who is living with lupus.
As a 30th birthday surprise, the three runners flew De Queljoe Herzog from her home in Los Angeles to the Big Apple, where she was able to cheer them on as they ran the New York City Marathon on Nov. 5.
Anderson, Edwards and Haley were part of Team Life Without Lupus, the official competitive team of the Lupus Research Alliance, the largest private funder of lupus research in the world.
FOR AUTOIMMUNE DISEASE SUFFERERS, GINGER MAY 'PLAY A CRITICAL ROLE' IN CONTROLLING INFLAMMATION, STUDY FINDS
The four friends shared with Fox News Digital what the experience meant to them — and how its impact is lasting well beyond that one day.
'Something larger'
It was in 2021 when De Queljoe Herzog, a public relations professional, first started noticing symptoms, including rapid hair loss, joint pain, fatigue, swelling of her face and hands — and a malar rash (butterfly rash) on her face.
"In the early days, I attributed the hair loss to a stressful 2020 and stressful work schedule, but it turned out to be something larger," she told Fox News Digital. 
In early 2022, De Queljoe Herzog was officially diagnosed with systemic lupus erythematosus, an inflammatory disease that occurs when the immune system attacks its own tissues.
She was hospitalized due to a lupus flare-up shortly after that. 
AUTOIMMUNE DISEASE: A BODY AT WAR WITH ITSELF
"I was put on a number of drugs to help quell the flare," she said. 
"I've been able to taper off some of the drugs since then, but am still on a few to help keep future flares at bay. I am no longer in a flare and am back to feeling healthy and 'normal.'"
Over a decade of friendship
The four friends, all 30 years old, attended college together at the University of Arizona, where they competed on the triathlon team and developed an "inseparable bond," said De Queljoe Herzog.
Their friendships continued to thrive after graduation. They were in each other's weddings and took trips together.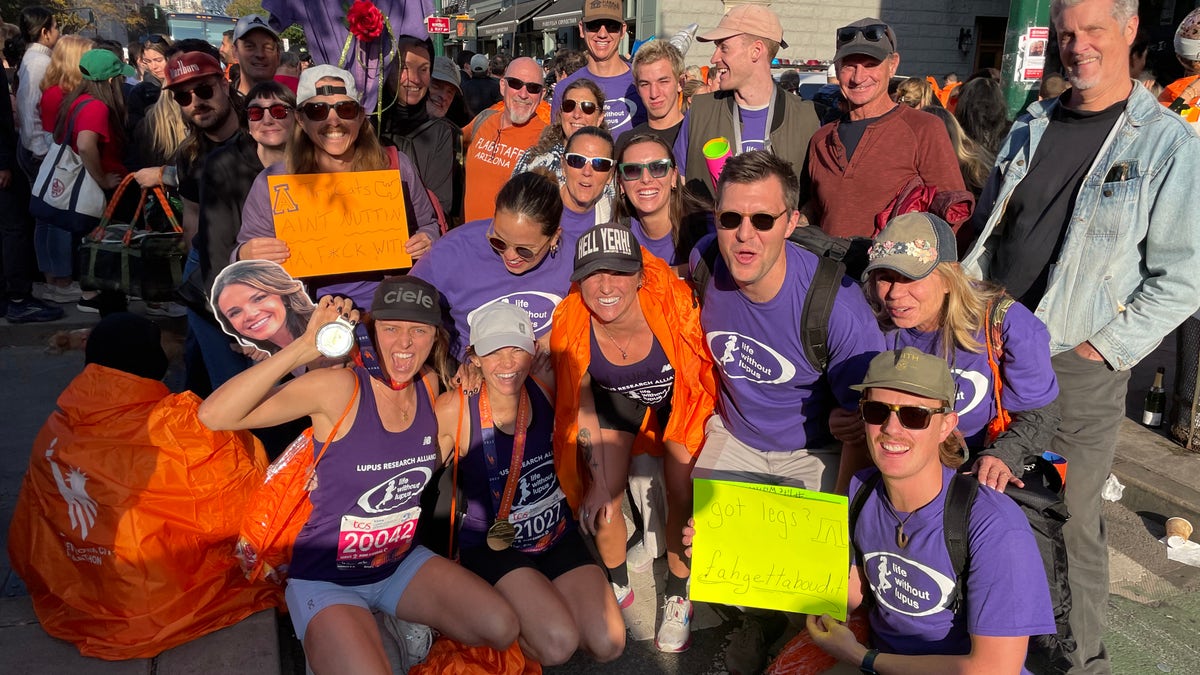 "We're all so uniquely different, but have such an incredible time when we're all together," De Queljoe Herzog told Fox News Digital.
She was "floored" when her friends said they would be running the NYC Marathon on her behalf to support the Lupus Research Alliance. 
RUNNING COULD EASE DEPRESSION AS MUCH AS MEDICATION, STUDY FINDS: 'EXTEND THE TREATMENT ARSENAL'
"It was such a selfless act of friendship and love," she told Fox News Digital. "They know how much lupus has impacted my overall health, and to see them rally around me and around lupus research was astonishing."
De Queljoe Herzog and her husband traveled to New York City to watch the race.
"It was such a fun weekend and race day — we were able to catch them at three different points during the race to cheer them on," she said. "It was an emotional day that I'll remember for the rest of my life." 
"They know how much lupus has impacted my overall health, and to see them rally around me and around lupus research was astonishing."
For those who are just starting their lupus journeys, De Queljoe Herzog stressed the importance of finding a support system to lean on.
"It can be a lonely road, but friends and family make it so much more manageable — especially friends who provide an endless supply of belly laughs."
A race to remember
For the three runners, the race represented a way to support their friend while also marking a significant accomplishment.
"As much as I would do anything to take Rosie's symptoms and flares away, I can't," said Anderson, who lives in Spain and works as a sports psychologist.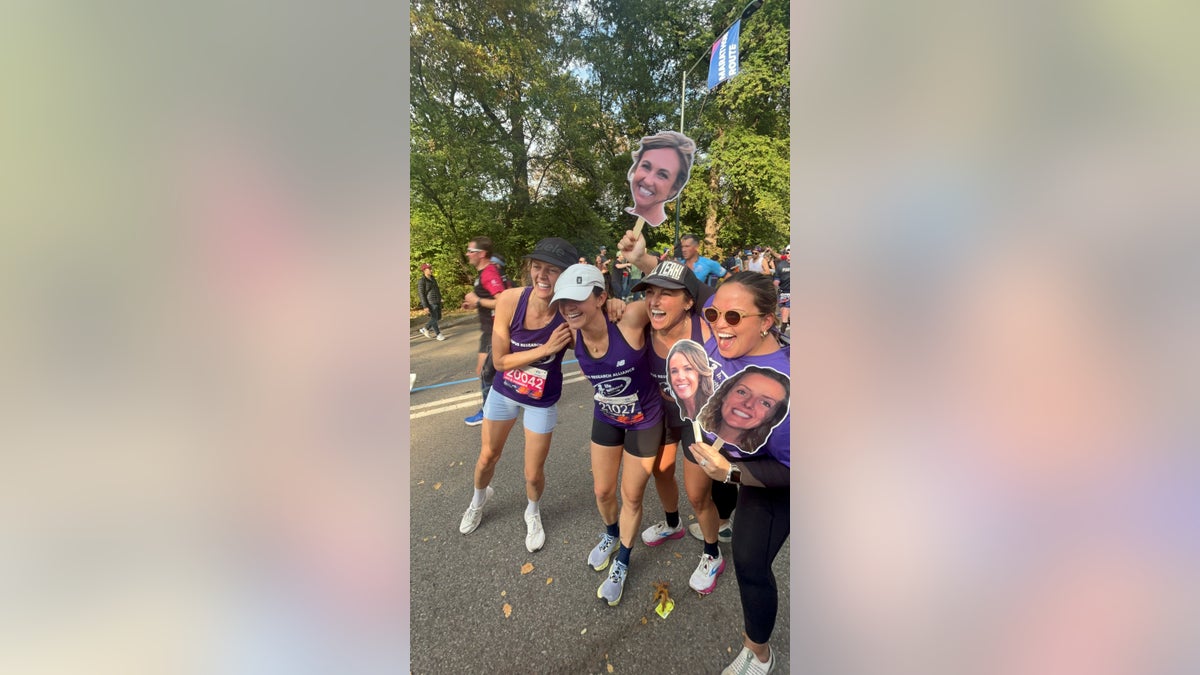 "It's difficult living so far away, but after her diagnosis, I began to brainstorm ways to support her in my own way," she went on. "That was when I had the idea to fund-raise for lupus research and encourage her to come to support the race."
The other two runners, Edwards and Haley, were on board right away.
"We have always been motivated by physical and athletic challenges, so this seemed like the perfect combination of a challenge for us and raising money for an amazing cause," said Edwards, who lives in Bend, Oregon, and works as an outreach coordinator for environmental organizations.
FRIENDS SHORTEN KIDNEY PATIENTS' LONG WAITS FOR TRANSPLANTS TO MERE MONTHS BY DONATING ORGANS
"I've always dreamed of experiencing the magic of New York City and the energy I had always heard about in the marathon setting," she went on.
Race day exceeded the team's expectations, the women agreed.
"Being able to run with two of my best friends for such a great purpose was incredibly gratifying and emotional," said Anderson.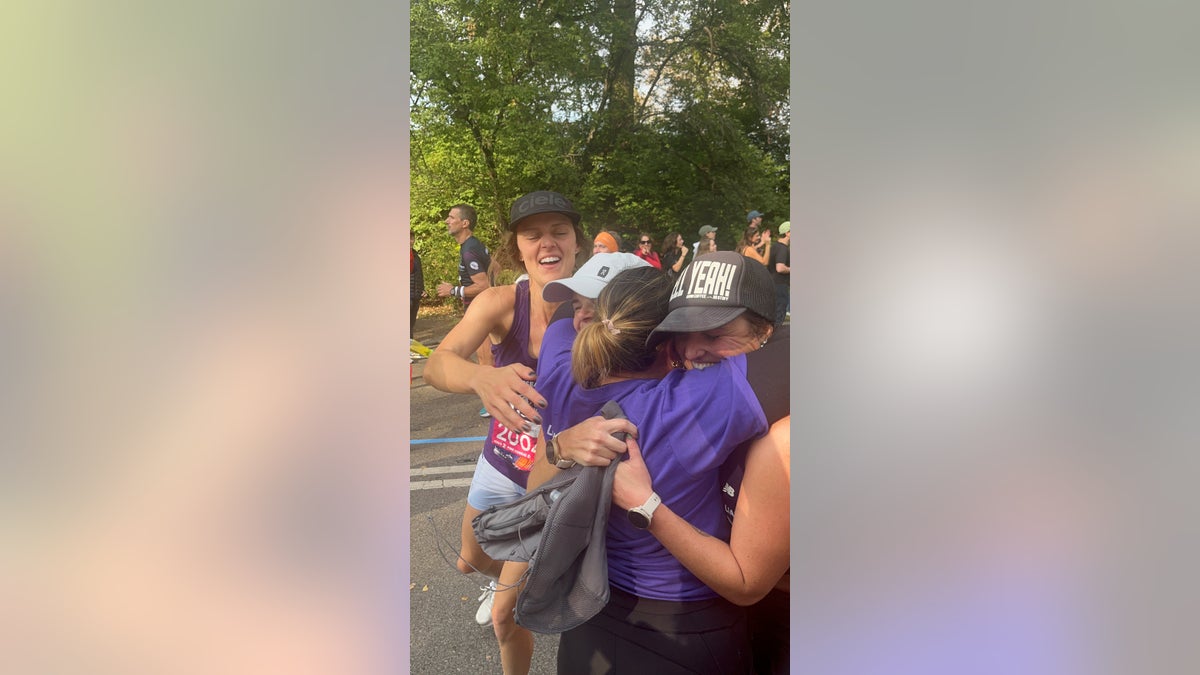 Edwards described the race as "pure magic from start to finish."
"It was like running on cloud nine — it felt like a dream," she said. "The energy and spectators, especially all our friends and family who came out to watch, were absolutely electric."
She added, "My most sore muscles after the race were my cheeks from smiling the whole time."
"Seeing Rosie at mile 18 made me remember why I was doing this, made me cry and helped me get to the finish line."
Haley, who lives in Tucson, Arizona, and works as a physical therapist, said the best part of the race was taking the ferry to Staten Island and watching the sunrise over Manhattan with her best friends, as well as running through Brooklyn and the Bronx.
"The people were so fun and full of life, energy and support," she said.
Haley said she struggled at around mile 16, and found herself wishing she had trained more.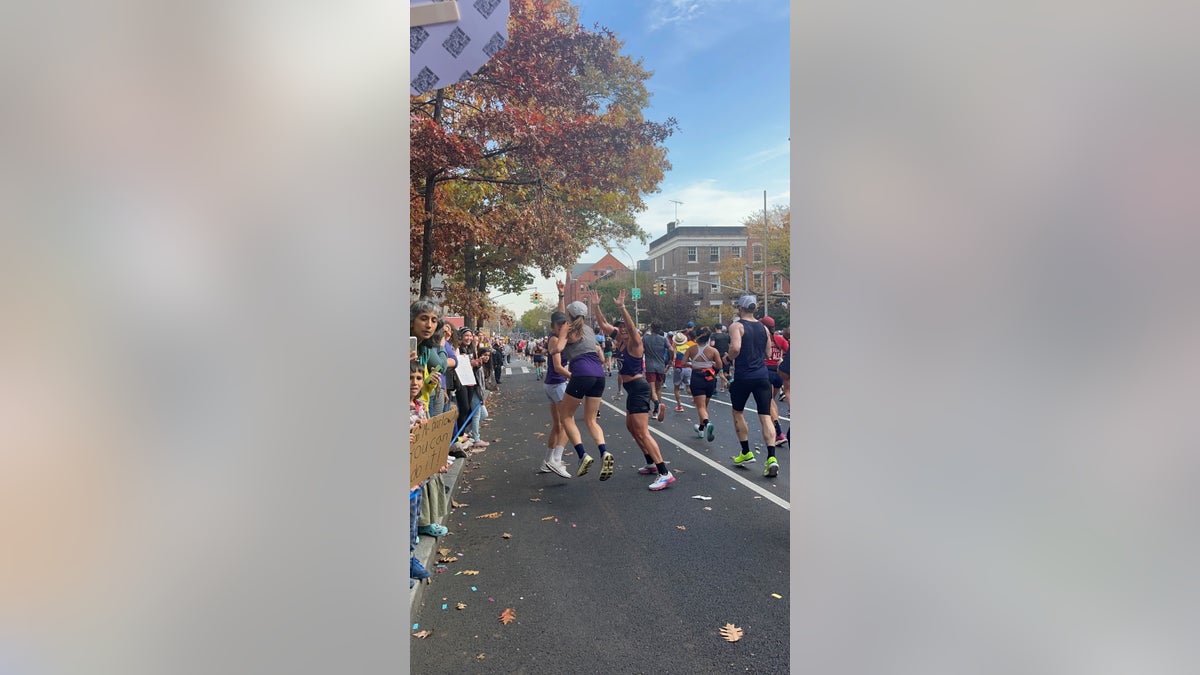 "Oftentimes, while training or running the marathon, I would want to stop or ask myself, 'Why am I doing this? This is miserable,'" she recalled. 
"And those moments are when I would remember Rosie's challenges. It would make me grateful for my healthy body and carry me through those rough times."
Haley added, "Seeing Rosie at mile 18 made me remember why I was doing this, made me cry and helped me get to the finish line."
ARIZONA GRANDMA AND MAN SHE MISTAKENLY TEXTED IN 2016 HOST 8TH THANKSGIVING WITH NEW STRANGER
Running the marathon was "a huge joy" for all of them, said Edwards.
"And what has been even better is raising so much awareness among our family and friends through the fundraising process," she said. "The more people know about lupus, the more support we can raise to find a cure one day."
"Every time I got tired or frustrated during training for this race, I would think of how much frustration Rosie has been through with lupus."
While De Queljoe Herzog is grateful for her friends' support, they all agree that she is a huge source of motivation for them.
"Before her diagnosis, Rosie was always the most positive person I knew," said Anderson. "She is an incredible listener and has an incredible ability to process information in a way that is productive. After her diagnosis, she was able to channel these parts of herself to listen to her body and manage her symptoms."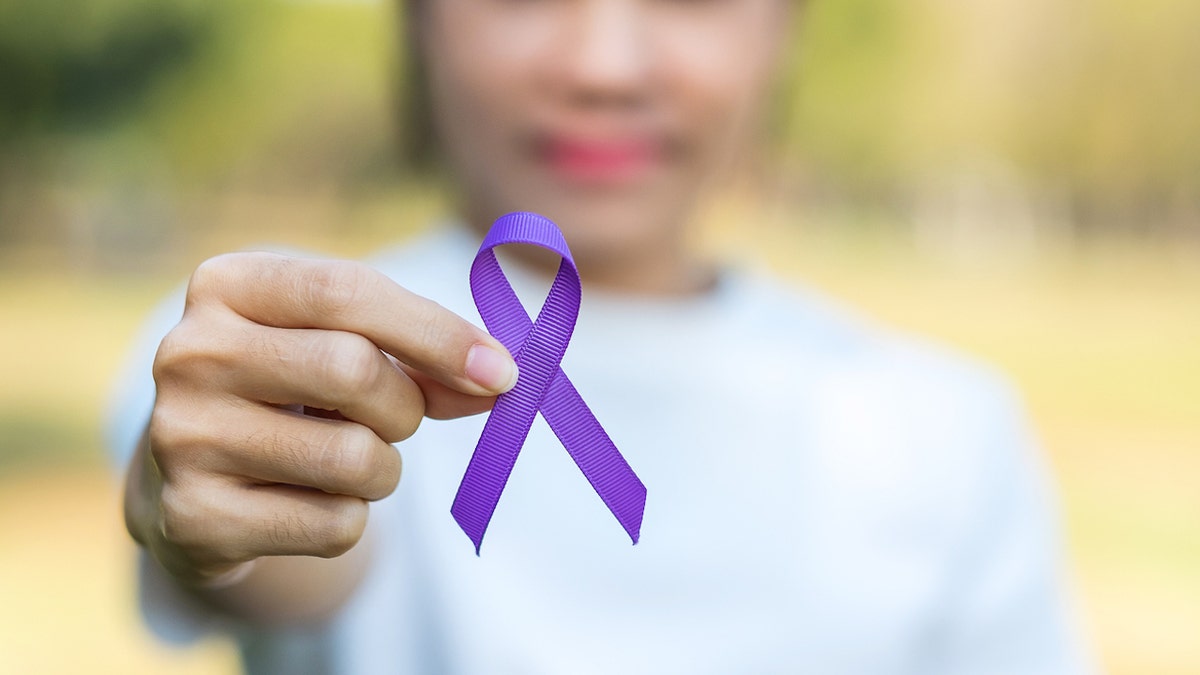 Edwards said thoughts of her friend's challenges helped get her through the race preparations.
"Every time I got tired or frustrated during training for this race, I would think of how much frustration Rosie has been through with lupus," she told Fox News Digital.
"She is incredibly thoughtful and the kindest person I know. She motivates me to be a better person every day."
CLICK HERE TO SIGN UP FOR OUR HEALTH NEWSLETTER
Albert Roy, president and CEO of Lupus Research Alliance, noted the significant impact that all of the teams make toward advancing research.
"We so appreciate how these young women and all the members of our Team Life Without Lupus ran the world's largest marathon to raise both awareness and funds for lupus research," he commented to Fox News Digital.
Women make up about 9 out of 10 adults with the disease. 
"By pushing themselves to reach the finish line, they challenge us to keep striving to reach our goal — more treatments and ultimately a cure."
Lupus is one of the most complex autoimmune diseases an individual can have, the organization notes. "It affects each person differently, with symptoms that are sometimes hard to detect and differ from patient to patient," the group says on its website (lupusresearch.org).
While anyone can get lupus, the disease most often affects women, who make up about 9 out of 10 adults with the disease, the group also notes. 
The chronic autoimmune disease affects millions of people worldwide. Doctors don't know exactly what causes lupus, but they believe that something, or a combination of things, triggers the immune system to attack the body, WebMD indicates.
For more Health articles, visit www.foxnews/health.
Could flu vaccination reduce the risk of heart attacks and cardiovascular deaths?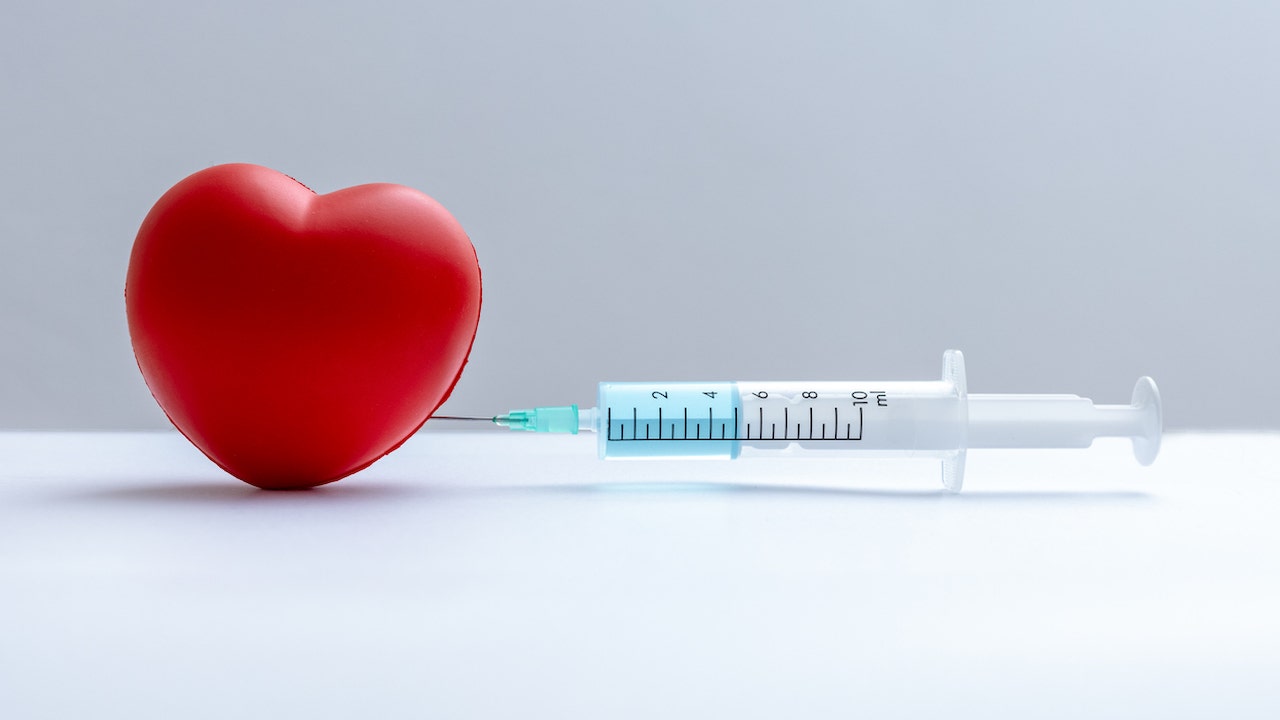 People who get the flu vaccine may have improved heart health, according to a recent study published in Scientific Reports.
Researchers from the Shahid Beheshti University of Medical Sciences in Tehran, Iran, concluded that patients who received flu vaccinations had a 26% reduced risk of having a heart attack and were 33% less likely to die from cardiovascular disease.
This finding is based on a review of five randomized controlled trials that focused on myocardial disease and influenza vaccines.
CHILDHOOD PNEUMONIA SURGE REPORTED IN NETHERLANDS AMID OUTBREAK IN CHINA
The patients who participated in the studies had all been diagnosed with cardiovascular disease previously and were 61 years old, on average.
Out of the total of 9,059 patients, 4,529 of them received the flu vaccine, while 4,530 received a placebo shot.
After a nine-month period, 621 of the people who received the placebo shot experienced "major cardiovascular events," compared to 517 of the patients who received the flu vaccine.
Those outcomes included myocardial infarction, cardiovascular death and stroke.
WHEN MEASURING HEART ATTACK RISK, ONE IMPORTANT RED FLAG IS OFTEN OVERLOOKED, DOCTORS SAY
"Revealing a compelling insight into the potential benefits of influenza vaccination, our comprehensive meta-analysis, based on the latest randomized controlled trial data, demonstrates a significant interaction between influenza vaccination and the reduction of major cardiovascular events," wrote the researchers of the study. 
"Notably, patients who received the influenza vaccine experienced a remarkable risk reduction of over 20% in cardiovascular death."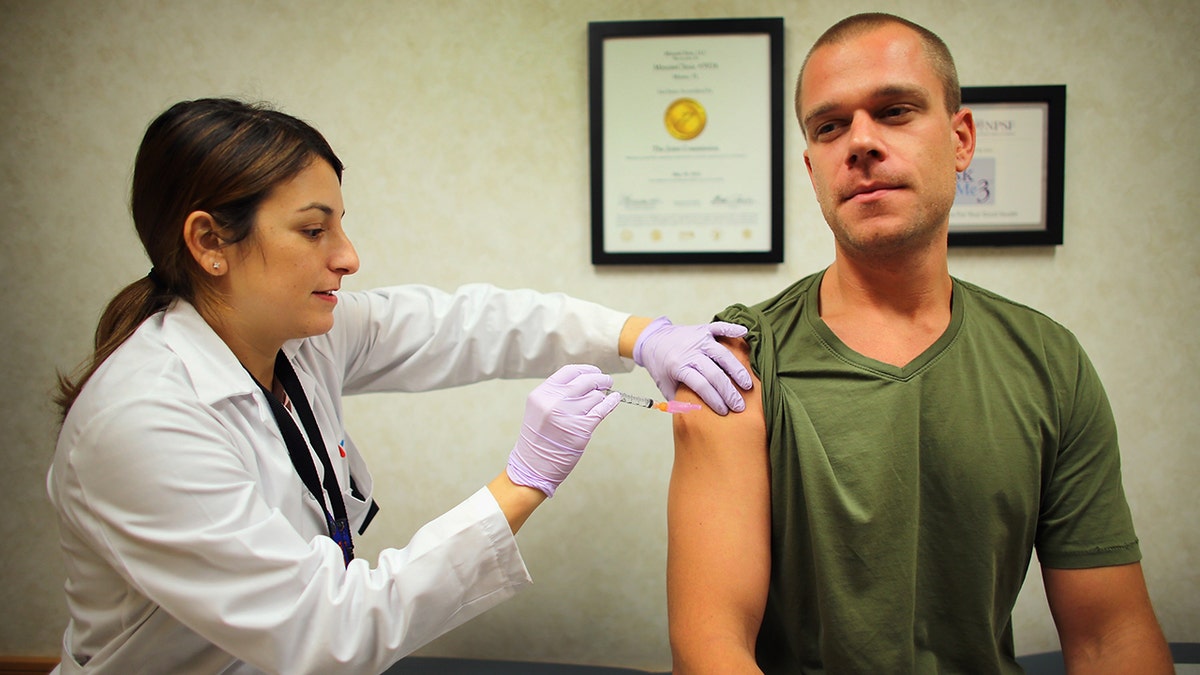 As for why influenza vaccines seem to reduce the risk, the researchers noted that the shot could prevent inflammation and secondary infections, while also stabilizing plaque amounts in the heart.
The vaccine could also help stimulate the immune system, which the study authors noted is essential for cardiovascular health.
SHOULD YOU GET THE COVID AND FLU VACCINES AT THE SAME TIME?
Dr. Marc Siegel, clinical professor of medicine at NYU Langone Medical Center and a Fox News medical contributor, called the study "important" and said it "builds on what we already knew."
He was not involved in the research.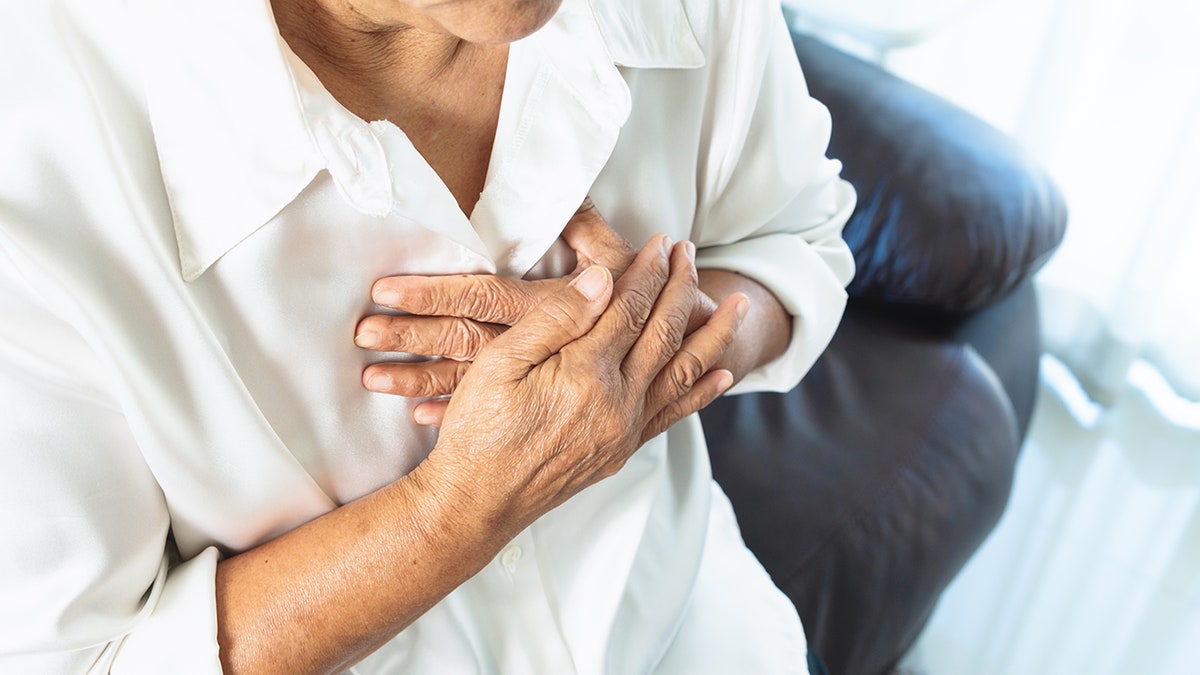 "It is not surprising that flu shots would decrease the risk of heart attacks," Siegel told Fox News Digital.
"The flu is one of the great enablers," he went on. "It adds stress and inflammation to the body and decreases the overall immune response, all of which can lead to acute cardiac events."
The flu "adds stress and inflammation to the body and decreases the overall immune response." 
The researchers called for further research to "elucidate the precise mechanisms driving this association and to explore the long-term impact of influenza vaccination on cardiovascular outcomes."
CLICK HERE TO SIGN UP FOR OUR HEALTH NEWSLETTER
In the meantime, they recommended that "health care providers and policymakers should take heed of these findings and consider prioritizing influenza vaccination for patients with recent cardiovascular disease as a feasible and potentially life-saving preventive measure."
Fox News Digital reached out to the study authors for additional comment.
Heart disease is the primary cause of death among U.S. adults, killing one person every 33 seconds, according to the Centers for Disease Control and Prevention (CDC).
For more Health articles, visit www.foxnews.com/health.