Andrew Walker Is Hallmark Royalty: 23 of His Best Movies, Ranked
There aren't many Hallmark actors who can say they've acted in over 20 films and shows on the channel, but not many actors are the handsome and talented Andrew Walker. The 44-year-old Canadian hunk has been stealing hearts since 2012 when he first starred in A Bride for Christmas alongside Arielle Kebbel. Fans love him for his laugh-out-loud charm in classics like Three Wise Men and a Baby with Tyler Hynes and Paul Campbell, and his most recent role in A Safari Romance stole hearts as per usual. Here, take a look at the Andrew Walker movies we love most and his early days as an actor!
(Click through to see Andrew in this list of 11 of our favorite Hallmark hunks!)
How Andrew Walker got his start
Before Andrew Walker lit up our screens in our favorite Hallmark romances, he was a Montreal-born football star, receiving a full scholarship to play at Boston College. Despite an career-ending injury, Walker went on to make a name for himself in another playing field: acting.
Walker's earliest roles were in Student Bodies, Back to Sherwood and Radio Active. He has guest starred in a number of popular television series since he made his move to Hollywood, including Sabrina, the Teenage Witch,  ER, CSI: Miami, CSI: NY, Without a Trace, Reba and The Big Bang Theory. In 2012, when he made his first Hallmark appearance in A Bride for Christmas, he had no idea Andrew Walker movies would become such a fixture in the years to come.
"Hallmark treats their crews, their actors, everybody with such class, and there's a no a—hole policy, too," Walker told Fansided. "You're not working with people that you don't want to be around."
Who is Andrew Walker married to?
Andrew Walker married Cassandra Troy in 2004, who happens to be his Hallmark co-star Tyler Hynes' cousin. The couple have two children together, West and Wolf, and also run a cold-pressed juice company called Little West.
Our favorite Andrew Walker movies, ranked
If you're looking for your Andrew Walker fix, luckily, you have plenty of movies to choose from. Here is a look at our ranking of some of his favorite movies over the years.
25. Wedding March 4: Something Old, Something New (2018)
Olivia and Mick navigate their hectic lives and love for one another in the midst of planning a wedding, an engagement party and dealing with an inn full of guests, starring Jack Wagner, Andrew Walker and Josie Bissett.
24. Love on Ice (2017)
Emily James (Julie Berman) is a 27-year-old figure skating champ whose glory days have ended. That is until a young coach, played by Walker, sees enough potential in her to give her another shot.
23. My Christmas Family Tree (2021)
Vanessa's (Aimee Teegarden) family tree DNA test reveals a family she didn't know existed who she travels to meet during the holidays.
22. Merry & Bright (2019)
Cate (Jodie Sweetin) is the CEO of a candy cane company and Gabe (Walker) works for the company that's been hired to increase her profit.
21. Wedding Planner Mystery (2014)
When a wedding planner (Erica Durance) is framed for a crime, she must do what she can to clear her name.
20. Date With Love (2016)
Shenae Grimes stars in this Hallmark romance about an A-List celeb with a bad reputation who accepts a teen's promposal for some positive publicity. What she doesn't expect is to fall for the boy's teacher.
19. A Dream of Christmas (2016)
A married woman (Nikki DeLoach) wishes to be single again, only for her wish to come true. Realizing things weren't how she thought they'd be, she must go on a journey to win back her husband.
18. Christmas Tree Lane (2020)
Music store owner Meg (Alicia Witt) is trying to save her street from demolition, only to discover the man she's falling for actually works for the company responsible.
17. Love Struck Cafe (2017)
Megan Quinn (Sarah Jane Morris) is an aspiring architect who is dealing with the millions of tasks that life is throwing at her, one of them being the return of her childhood sweetheart who broke her heart.
16. Curious Caterer: Dying for Chocolate (2022)
Caterer Goldy Berry (Nikki DeLoach) teams up with detective Tom Schultz (Walker) to get to the bottom of the death of her friend.
15. A Maple Valley Christmas (2022)
Erica's (Peyton List) life working her family's farm is disrupted with the arrival of Aaron (Walker), making her question what she thought she knew.
14. Curious Caterer: Grilling Season (2023)
Goldy Berry is back to solve the murder of her friend Susie who was killed when her grill exploded, after Goldy was the last to use the grill. In an effort to clear her name, she teams up with Tom Schultz once again.
13. A Safari Romance (2023)
A wildlife biologist who seeks to protect African wildlife and theme park designer looking to create a safari attraction team up together in this unexpected romance starring Brittany Bristow and Andrew Walker.
12. Appetite for Love (2016)
Mina (Taylor Cole) must return to her Tennessee hometown to convince a restaurant owner to sell, only to learn that the person she must persuade is her ex-boyfriend.
11. Love In Design (2018)
Host of a home-makeover TV show, Hannah (Danica McKellar) is sent to renovate a historic manor in her hometown. However, the person assigned to make sure she preserves the building's history is one of her old flames.
10. Debbie Macomber's Dashing Through the Snow (2015)
Ashley (Meghan Ory) is unable to fly home to Seattle during the holidays and finds herself sharing the last rental car at the lot with Dash, who's also making his way to Seattle. What Ashley doesn't realize is her airline ticket mishap is due to her being on the FBI no-fly-list and mysterious stranger Dash is the agent who's trailing her.
9. Bridal Wave (2015)
Georgie Dwyer (Arielle Kebbel) begins to doubt her plans to marry a well-off doctor as their wedding approaches and she feels a spark is missing. On the picturesque island in which their nuptials are to take place, continuous encounters with a down-to-earth local leave Georgie wondering who she's really meant to be with.
8. A Bride for Christmas (2012)
Jessie (Arielle Kebbel) is devoted to finding "the one" after her third failed engagement and Aiden (Walker) is a chronically single bachelor who has bet his friends that he can find someone to marry him by Christmas, just a few short weeks away.
7. My Secret Valentine (2018)
A woman (Lacey Chabert) takes advice from the chalkboard notes left by her tenant when she is approached to sell her family's winery.
6. Bottled with Love (2019)
Bethany Joy Lenz stars as Abbey, a woman who writes an intimate letter, puts it in a bottle, and throws it to sea, only for a fisherman to discover it months later. (Click through to read more about Bethany Joy Lenz Movies and TV Shows + Her Best Hallmark Romances, Ranked)
5. The 27-Hour Day (2021)
Running a wellness empire is tough work — What happens when the entrepreneur running it (Autumn Reeser) takes a much needed break at a relaxing retreat?
4. Christmas On My Mind (2019)
Temporary amnesia leaves Lucy (Ashley Greene) searching for the truth behind her breakup, all while re-discovering herself and what matters most.
3. The Perfect Catch (2017)
Jessica Parker (Nikki DeLoach) finds the inspiration to reinvent her struggling diner when her star baseball player ex-boyfriend returns to town.
2. Sweet Autumn (2020)
Maggie (Nikki DeLoach) and maple farmer Dex (Walker) try to get to the bottom of why Maggie's Aunt Dee split her candy shop between the two of them.
1. Three Wise Men and a Baby (2022)
Our winner that tops our list of Andrew Walker movies is about three brothers must come together to care for a baby who comes to be in their care,  starring Paul Campbell, Tyler Hynes and Andrew Walker.
---
For more stories on your favorite Hallmark stars, click through below!
Hallmark Countdown to Christmas 2023: The Full Lineup, Who's Starring & When to Watch
Peter Mooney: The Handsome New Hallmark Star You Don't Want to Miss!
Swoon Alert! The Top 14 Ryan Paevey Hallmark Movies You *Must* See
From Hallmark Sweetheart to Special Ops — Get To Know Jill Wagner
Pascale Hutton: Get To Know the Hallmark Sweetheart Lighting Up Our Screens
BOGO Never Felt So Good
Whether you're looking to sleep better, have less anxiety, get pain relief or simply unwind the mind, these award-winning CBD Gummies from Sky Wellness do just the trick! Available in a variety of flavors, don't miss this special BOGO offer. Learn more at SkyWellness.com.

Friends run for a cure for lupus, completing NYC Marathon in honor of longtime pal and lupus sufferer
All marathoners have their own particular motivations for running a 26.2-mile race — and for Molly Anderson, Sarah Edwards and Laura Haley, it was to honor Rosie De Queljoe Herzog, their longtime friend who is living with lupus.
As a 30th birthday surprise, the three runners flew De Queljoe Herzog from her home in Los Angeles to the Big Apple, where she was able to cheer them on as they ran the New York City Marathon on Nov. 5.
Anderson, Edwards and Haley were part of Team Life Without Lupus, the official competitive team of the Lupus Research Alliance, the largest private funder of lupus research in the world.
FOR AUTOIMMUNE DISEASE SUFFERERS, GINGER MAY 'PLAY A CRITICAL ROLE' IN CONTROLLING INFLAMMATION, STUDY FINDS
The four friends shared with Fox News Digital what the experience meant to them — and how its impact is lasting well beyond that one day.
'Something larger'
It was in 2021 when De Queljoe Herzog, a public relations professional, first started noticing symptoms, including rapid hair loss, joint pain, fatigue, swelling of her face and hands — and a malar rash (butterfly rash) on her face.
"In the early days, I attributed the hair loss to a stressful 2020 and stressful work schedule, but it turned out to be something larger," she told Fox News Digital. 
In early 2022, De Queljoe Herzog was officially diagnosed with systemic lupus erythematosus, an inflammatory disease that occurs when the immune system attacks its own tissues.
She was hospitalized due to a lupus flare-up shortly after that. 
AUTOIMMUNE DISEASE: A BODY AT WAR WITH ITSELF
"I was put on a number of drugs to help quell the flare," she said. 
"I've been able to taper off some of the drugs since then, but am still on a few to help keep future flares at bay. I am no longer in a flare and am back to feeling healthy and 'normal.'"
Over a decade of friendship
The four friends, all 30 years old, attended college together at the University of Arizona, where they competed on the triathlon team and developed an "inseparable bond," said De Queljoe Herzog.
Their friendships continued to thrive after graduation. They were in each other's weddings and took trips together.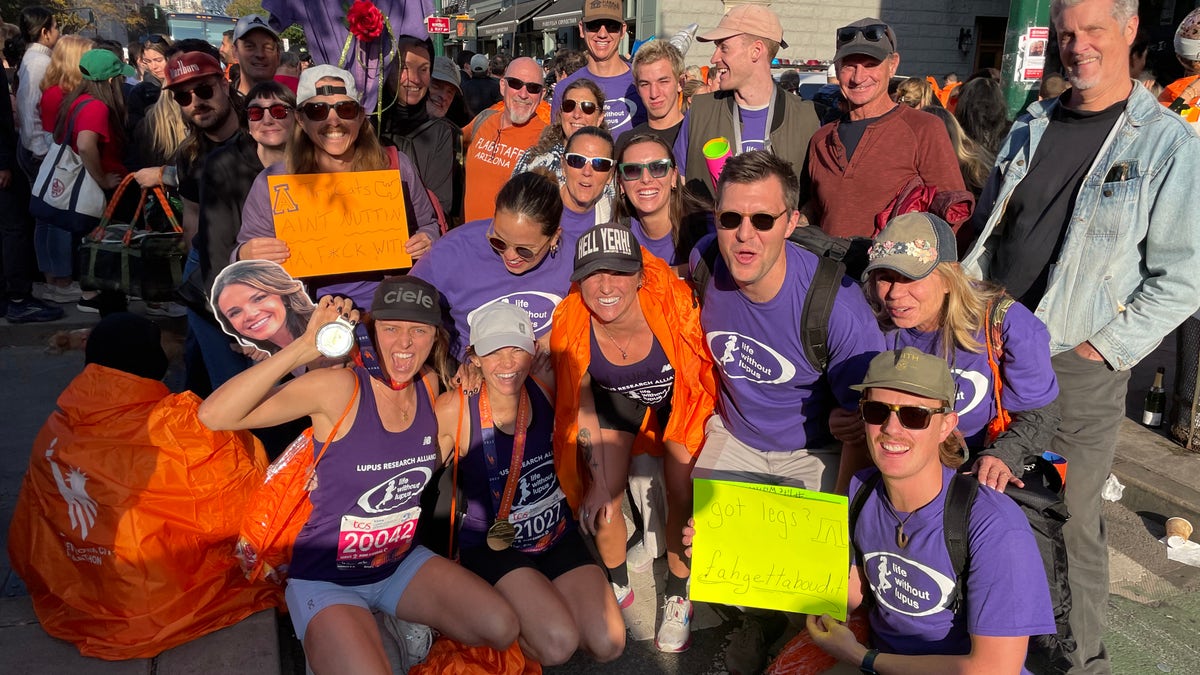 "We're all so uniquely different, but have such an incredible time when we're all together," De Queljoe Herzog told Fox News Digital.
She was "floored" when her friends said they would be running the NYC Marathon on her behalf to support the Lupus Research Alliance. 
RUNNING COULD EASE DEPRESSION AS MUCH AS MEDICATION, STUDY FINDS: 'EXTEND THE TREATMENT ARSENAL'
"It was such a selfless act of friendship and love," she told Fox News Digital. "They know how much lupus has impacted my overall health, and to see them rally around me and around lupus research was astonishing."
De Queljoe Herzog and her husband traveled to New York City to watch the race.
"It was such a fun weekend and race day — we were able to catch them at three different points during the race to cheer them on," she said. "It was an emotional day that I'll remember for the rest of my life." 
"They know how much lupus has impacted my overall health, and to see them rally around me and around lupus research was astonishing."
For those who are just starting their lupus journeys, De Queljoe Herzog stressed the importance of finding a support system to lean on.
"It can be a lonely road, but friends and family make it so much more manageable — especially friends who provide an endless supply of belly laughs."
A race to remember
For the three runners, the race represented a way to support their friend while also marking a significant accomplishment.
"As much as I would do anything to take Rosie's symptoms and flares away, I can't," said Anderson, who lives in Spain and works as a sports psychologist.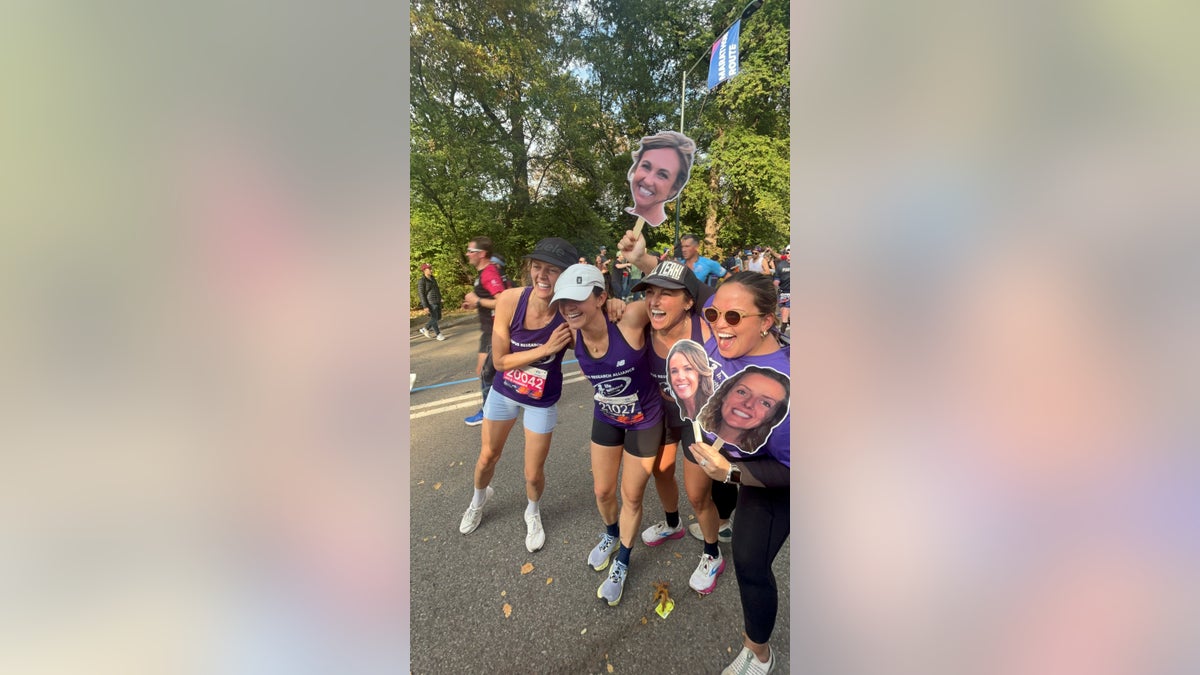 "It's difficult living so far away, but after her diagnosis, I began to brainstorm ways to support her in my own way," she went on. "That was when I had the idea to fund-raise for lupus research and encourage her to come to support the race."
The other two runners, Edwards and Haley, were on board right away.
"We have always been motivated by physical and athletic challenges, so this seemed like the perfect combination of a challenge for us and raising money for an amazing cause," said Edwards, who lives in Bend, Oregon, and works as an outreach coordinator for environmental organizations.
FRIENDS SHORTEN KIDNEY PATIENTS' LONG WAITS FOR TRANSPLANTS TO MERE MONTHS BY DONATING ORGANS
"I've always dreamed of experiencing the magic of New York City and the energy I had always heard about in the marathon setting," she went on.
Race day exceeded the team's expectations, the women agreed.
"Being able to run with two of my best friends for such a great purpose was incredibly gratifying and emotional," said Anderson.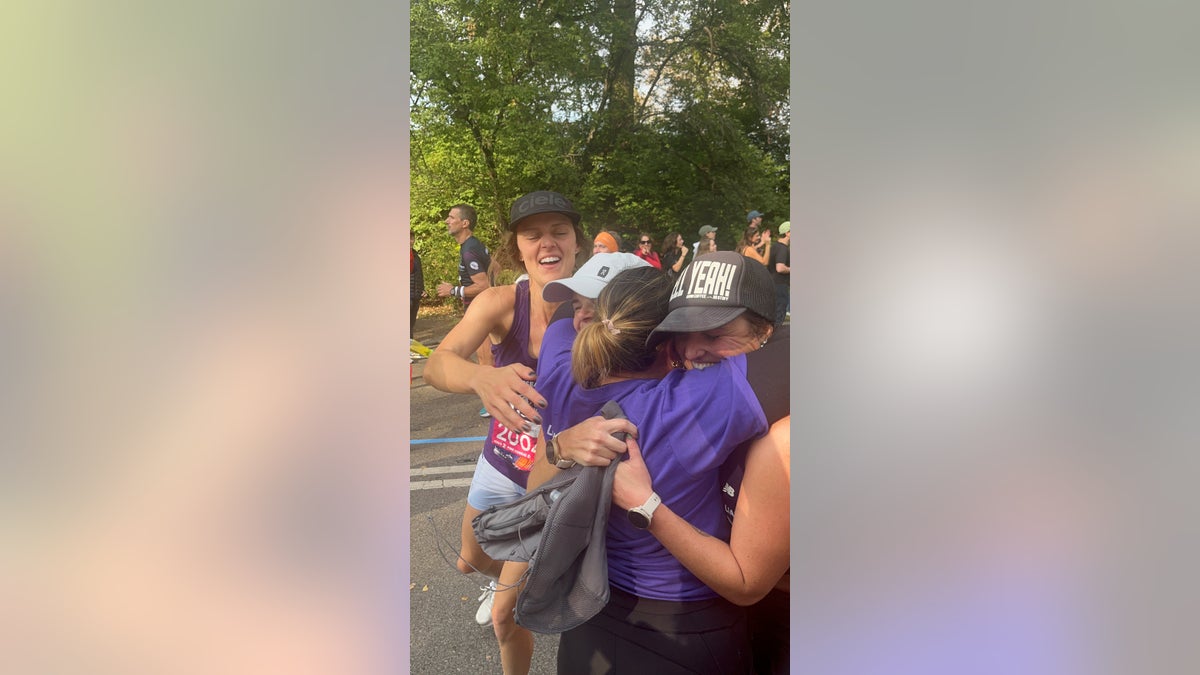 Edwards described the race as "pure magic from start to finish."
"It was like running on cloud nine — it felt like a dream," she said. "The energy and spectators, especially all our friends and family who came out to watch, were absolutely electric."
She added, "My most sore muscles after the race were my cheeks from smiling the whole time."
"Seeing Rosie at mile 18 made me remember why I was doing this, made me cry and helped me get to the finish line."
Haley, who lives in Tucson, Arizona, and works as a physical therapist, said the best part of the race was taking the ferry to Staten Island and watching the sunrise over Manhattan with her best friends, as well as running through Brooklyn and the Bronx.
"The people were so fun and full of life, energy and support," she said.
Haley said she struggled at around mile 16, and found herself wishing she had trained more.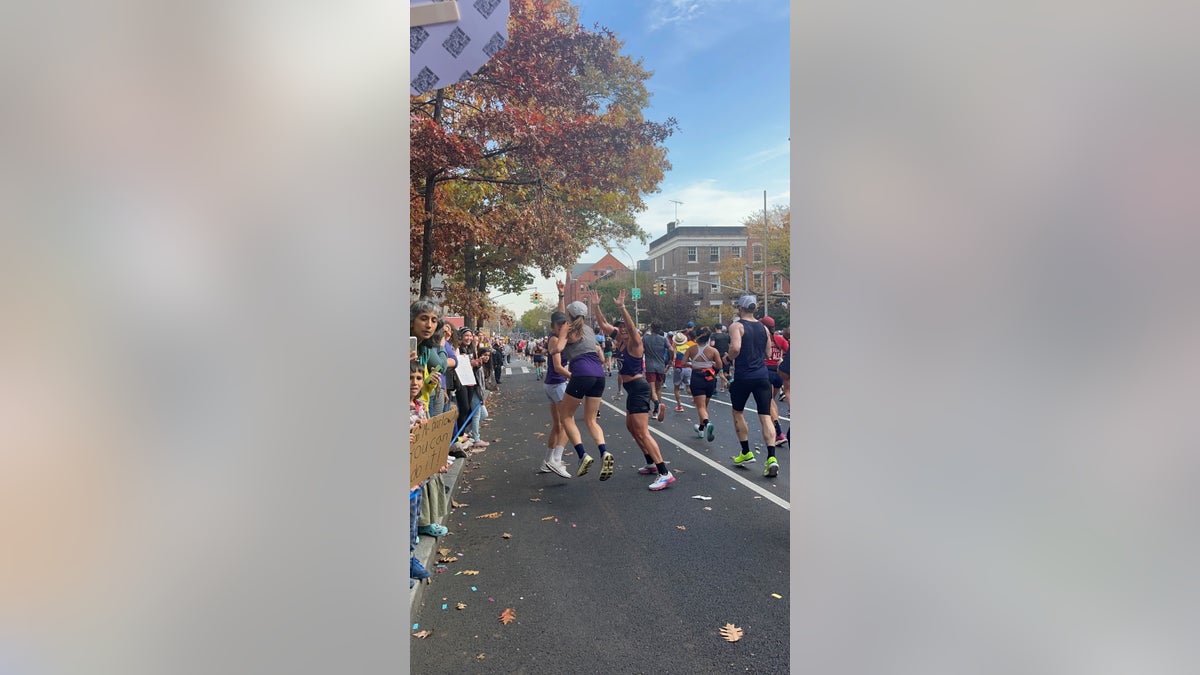 "Oftentimes, while training or running the marathon, I would want to stop or ask myself, 'Why am I doing this? This is miserable,'" she recalled. 
"And those moments are when I would remember Rosie's challenges. It would make me grateful for my healthy body and carry me through those rough times."
Haley added, "Seeing Rosie at mile 18 made me remember why I was doing this, made me cry and helped me get to the finish line."
ARIZONA GRANDMA AND MAN SHE MISTAKENLY TEXTED IN 2016 HOST 8TH THANKSGIVING WITH NEW STRANGER
Running the marathon was "a huge joy" for all of them, said Edwards.
"And what has been even better is raising so much awareness among our family and friends through the fundraising process," she said. "The more people know about lupus, the more support we can raise to find a cure one day."
"Every time I got tired or frustrated during training for this race, I would think of how much frustration Rosie has been through with lupus."
While De Queljoe Herzog is grateful for her friends' support, they all agree that she is a huge source of motivation for them.
"Before her diagnosis, Rosie was always the most positive person I knew," said Anderson. "She is an incredible listener and has an incredible ability to process information in a way that is productive. After her diagnosis, she was able to channel these parts of herself to listen to her body and manage her symptoms."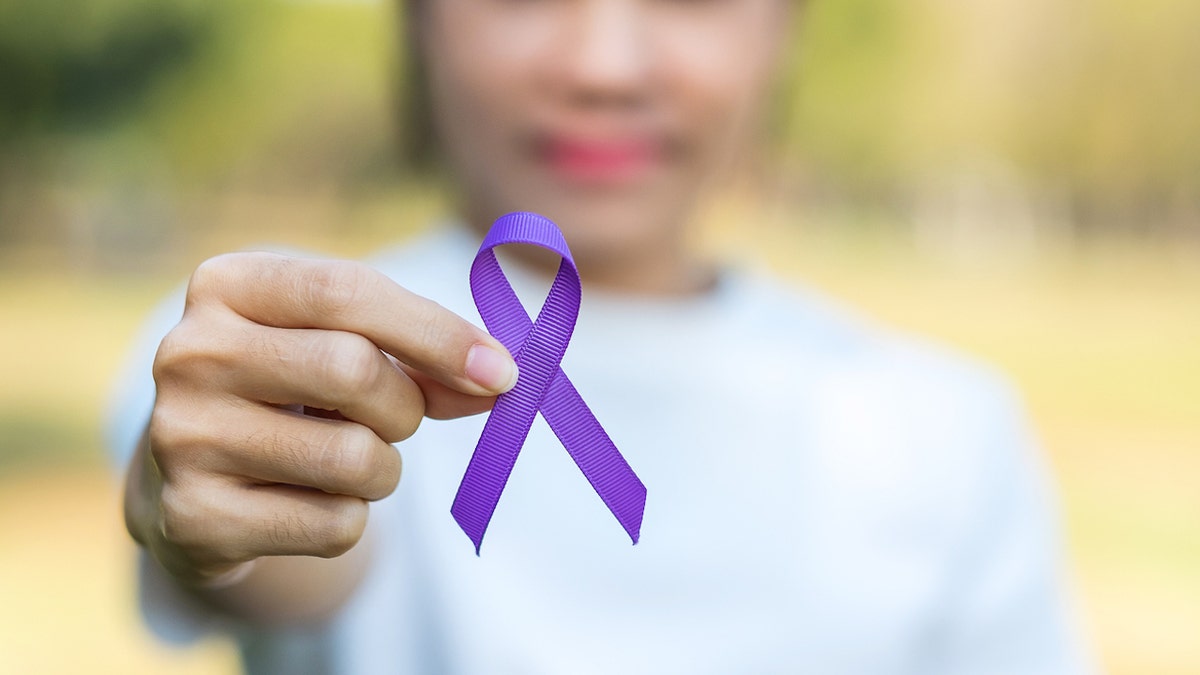 Edwards said thoughts of her friend's challenges helped get her through the race preparations.
"Every time I got tired or frustrated during training for this race, I would think of how much frustration Rosie has been through with lupus," she told Fox News Digital.
"She is incredibly thoughtful and the kindest person I know. She motivates me to be a better person every day."
CLICK HERE TO SIGN UP FOR OUR HEALTH NEWSLETTER
Albert Roy, president and CEO of Lupus Research Alliance, noted the significant impact that all of the teams make toward advancing research.
"We so appreciate how these young women and all the members of our Team Life Without Lupus ran the world's largest marathon to raise both awareness and funds for lupus research," he commented to Fox News Digital.
Women make up about 9 out of 10 adults with the disease. 
"By pushing themselves to reach the finish line, they challenge us to keep striving to reach our goal — more treatments and ultimately a cure."
Lupus is one of the most complex autoimmune diseases an individual can have, the organization notes. "It affects each person differently, with symptoms that are sometimes hard to detect and differ from patient to patient," the group says on its website (lupusresearch.org).
While anyone can get lupus, the disease most often affects women, who make up about 9 out of 10 adults with the disease, the group also notes. 
The chronic autoimmune disease affects millions of people worldwide. Doctors don't know exactly what causes lupus, but they believe that something, or a combination of things, triggers the immune system to attack the body, WebMD indicates.
For more Health articles, visit www.foxnews/health.
Could flu vaccination reduce the risk of heart attacks and cardiovascular deaths?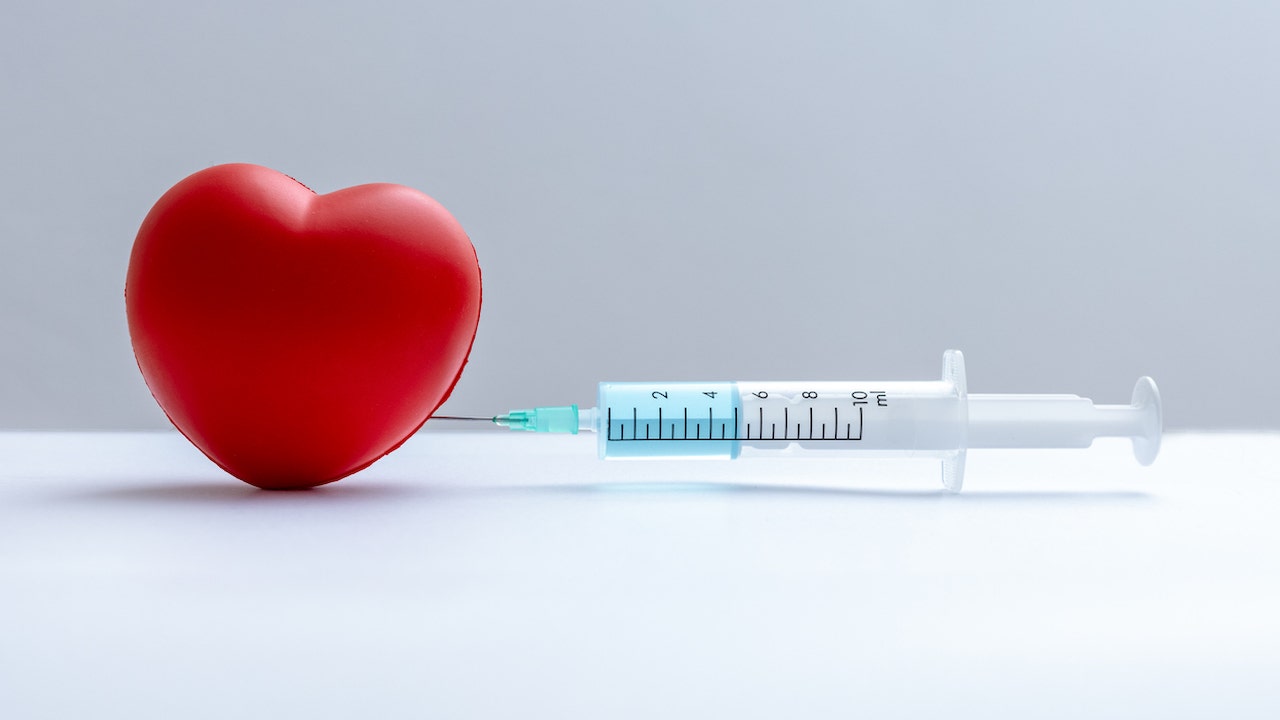 People who get the flu vaccine may have improved heart health, according to a recent study published in Scientific Reports.
Researchers from the Shahid Beheshti University of Medical Sciences in Tehran, Iran, concluded that patients who received flu vaccinations had a 26% reduced risk of having a heart attack and were 33% less likely to die from cardiovascular disease.
This finding is based on a review of five randomized controlled trials that focused on myocardial disease and influenza vaccines.
CHILDHOOD PNEUMONIA SURGE REPORTED IN NETHERLANDS AMID OUTBREAK IN CHINA
The patients who participated in the studies had all been diagnosed with cardiovascular disease previously and were 61 years old, on average.
Out of the total of 9,059 patients, 4,529 of them received the flu vaccine, while 4,530 received a placebo shot.
After a nine-month period, 621 of the people who received the placebo shot experienced "major cardiovascular events," compared to 517 of the patients who received the flu vaccine.
Those outcomes included myocardial infarction, cardiovascular death and stroke.
WHEN MEASURING HEART ATTACK RISK, ONE IMPORTANT RED FLAG IS OFTEN OVERLOOKED, DOCTORS SAY
"Revealing a compelling insight into the potential benefits of influenza vaccination, our comprehensive meta-analysis, based on the latest randomized controlled trial data, demonstrates a significant interaction between influenza vaccination and the reduction of major cardiovascular events," wrote the researchers of the study. 
"Notably, patients who received the influenza vaccine experienced a remarkable risk reduction of over 20% in cardiovascular death."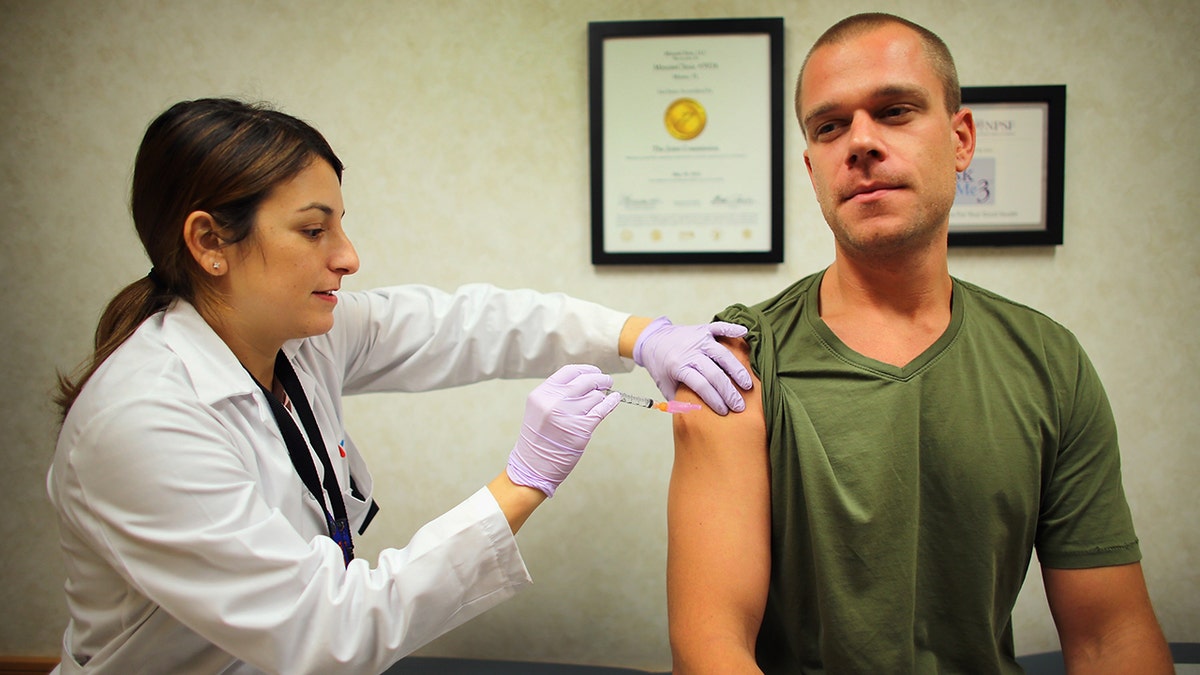 As for why influenza vaccines seem to reduce the risk, the researchers noted that the shot could prevent inflammation and secondary infections, while also stabilizing plaque amounts in the heart.
The vaccine could also help stimulate the immune system, which the study authors noted is essential for cardiovascular health.
SHOULD YOU GET THE COVID AND FLU VACCINES AT THE SAME TIME?
Dr. Marc Siegel, clinical professor of medicine at NYU Langone Medical Center and a Fox News medical contributor, called the study "important" and said it "builds on what we already knew."
He was not involved in the research.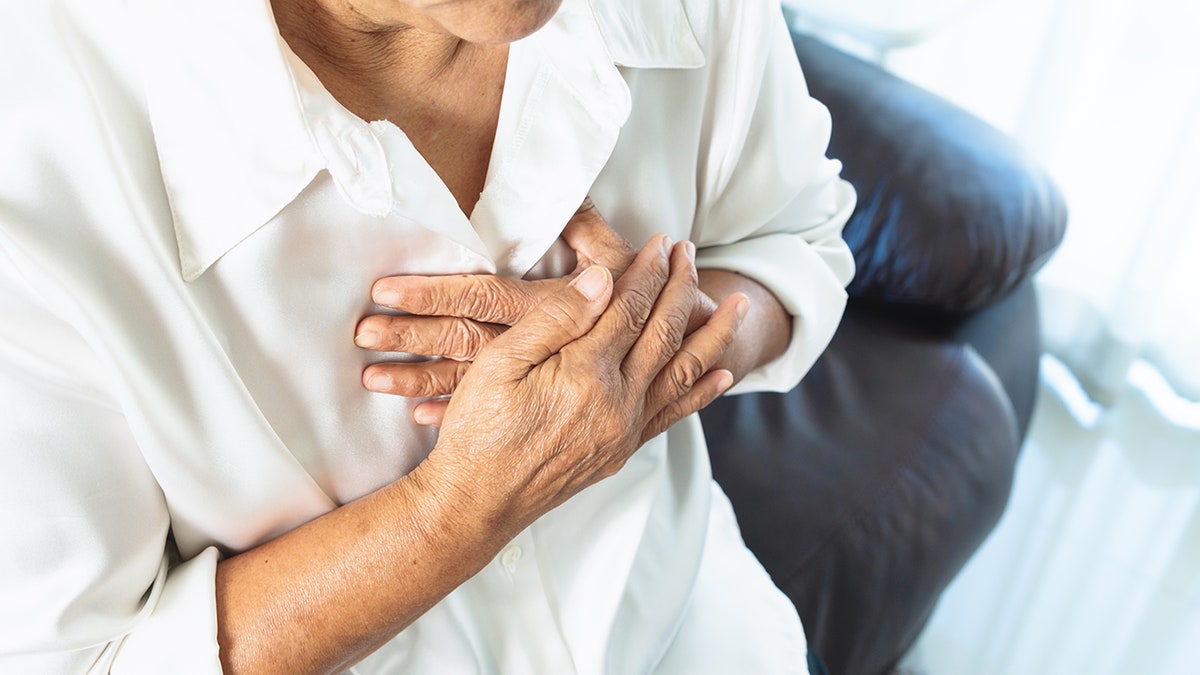 "It is not surprising that flu shots would decrease the risk of heart attacks," Siegel told Fox News Digital.
"The flu is one of the great enablers," he went on. "It adds stress and inflammation to the body and decreases the overall immune response, all of which can lead to acute cardiac events."
The flu "adds stress and inflammation to the body and decreases the overall immune response." 
The researchers called for further research to "elucidate the precise mechanisms driving this association and to explore the long-term impact of influenza vaccination on cardiovascular outcomes."
CLICK HERE TO SIGN UP FOR OUR HEALTH NEWSLETTER
In the meantime, they recommended that "health care providers and policymakers should take heed of these findings and consider prioritizing influenza vaccination for patients with recent cardiovascular disease as a feasible and potentially life-saving preventive measure."
Fox News Digital reached out to the study authors for additional comment.
Heart disease is the primary cause of death among U.S. adults, killing one person every 33 seconds, according to the Centers for Disease Control and Prevention (CDC).
For more Health articles, visit www.foxnews.com/health.
Turmeric Milk for Weight Loss: How to Reap the Benefits of This Delicious Fat-Burner
Sign Up
Already have an account? Login
Forgot your password?
Get back to the Sign In

Use left and right arrow keys to navigate between menu items.

Use escape to exit the menu.