Zara Hatke Zara Bachke movie review: Vicky Kaushal-Sara Ali Khan's love saga meanders between funny and boring
We enter the world of Chawlas and Dubeys thinking it's going to be a laughter riot with some fresh humour, edgy characters and a storyline that doesn't rely on usual, tried and tested tropes that Bollywood films are used to. And Zara Hatke Zara Bachke makes us believe as it takes off that everything is quite normal and relatable. But, it all soon turns into a loud cringefest with actors overacting beyond our imagination, dramatic dialogues being said one after the other, a joint middle-class Pandit family living in a small house and Punjabi stereotypes served to us on a platter because there is a 'chant' bahu who they believe has lured their son and accidentally made them all have a cake that contained 'egg'. Also read: Sara Ali Khan and Vicky Kaushal reach Lucknow for Zara Hatke Zara Bachke promotions, offer prayers in temple
I never could wrap my head around movie trailers that give out the entire plot. Makers of Zara Hatke Zara Bachke made it worse with two trailers that revealed more than they should have and left very little for us to watch and find out on our own. Directed by Laxman Utekar, the romantic comedy has a lot going on at the same time and it does leave you with many questions at many places.
Zara Hatke Zara Bachke's premise
Set in a small town of Indore, we are introduced to college sweethearts Kapil Dubey (Vicky Kaushal) and Somya Chawla (Sara Ali Khan), who are happily married and living in a small house alongwith Kapil's vegetarian and religious family – his parents, maternal uncle and aunt and their young son. While Kapil is a yoga instructor, kanjoos and with a middle-class mentality, Somya comes from a modern Punjabi family, is quite outgoing, makes more money giving coaching classes and dreams big in life. The two are the happiest with each other but Somya does feel the pinch of not having any privacy in the house and is desperate to get her own dream house soon.
Since they can't afford heavy EMIs, they fall for a government scheme and end up faking a divorce to be eligible for a lottery allotment. Pretending to hate each other, they separate and start to live separately. How far this drama goes and what's the fate it eventually meets forms the plot.
What works, what doesn't
At 132 minutes, the film doesn't look dragged or needlessly stretched, but definitely has its high and low moments. While the high never gets to a point that it makes you go wow, the lows are definitely loaded with flaws and loopholes.
The story that Utekar has co-written with Maitrey Bajpai and Ramiz Ilham Khan, starts of on a very funny note and keeps the momentum going with harmless jokes, natural light-hearted humour and some comic punches. But post interval, it just meanders without any direction and goes off track.
At this stage, I really wish it stuck to being a romantic comedy and not get so melodramatic at places it didn't require to. The script has nothing that you haven't already seen or something that will leave you in splits. If anything, it only gets a bit predictable in the second half and comedy of errors is only left with errors. The flaws in writing and direction are tough to overlook.
Performances somewhat try to salvage the situation but not for too long! Sara shows some restraint in her acting and it's visible in her actions or reactions. There are some scenes where she goes overboard but never to the extent that it annoys you. Vicky showcases a myriad of emotions and like a smitten lover, he keeps that romance quotient alive onscreen. He portrays the small-town guy pretty convincingly and does keep that raw demeanour intact. I quite liked Vicky and Sara's onscreen chemistry. I won't say it's extraordinary but definitely better than what we've seen in frivolous guy-meets-girl kind of rom-coms.
Supporting cast impresses
Among supporting cast, Rakesh Bedi and Sushmita Mukherjee as Somya's parents are funny and true to their characters. There's a sequence between Kapil and Somya's father having drinks in the car where the father is trying to figure the reason behind their divorce. It's not only well-written but also well performed without looking awkward.
At some point, a nosy colony guard Daroga (Sharib Hashmi) is also thrown in to make things look funnier. While the actor doesn't disappoint with this performance and screen presence, I have a bone to pick with makers here for wasting an artiste of his calibre and reduce it to a cameo. You wish his role was more fleshed out.
In fact, the man who plays Kapil's lawyer friend helping him in the divorce case is a masterclass in overacting and didn't really merit the screen time he has been given. Amid all this, the crooked and dubious agent Baghwandas (Inaamulhaq) delivers his part pretty well and brings a comic relief in the whole story.
Zara Hatke Zara Bachke's music
What truly stands out in Zara Hatke Zara Bachke is the music. After a very long time, I've thoroughly enjoyed all the songs in a film. Sachin-Jigar's music and Amitabh Bhattacharya's lyrics create a whole vibe. Tere Vaaste plays in your mind for long and Phir Aur Kya Chahiye has already topped the charts while Sanjha touches you emotionally. Baby Tujhe Paap Lagega isn't there in the film but it's already a peppy party number.
Zara Hatke Zara Bachke is an easy-going family entertainer that won't bore you. But, it won't leave a lasting impact either. A few laughs here and there and some loud characters make it watchable, however the story needed way more depth and definitely a better screenplay would have helped.
Film: Zara Hatke Zara Bachke
Cast: Vicky Kaushal, Sara Ali Khan, Inaamulhaq, Sushmita Mukherjee, Neeraj Sood, Rakesh Bedi, Sharib Hashmi
Director: Laxman Utekar

Movie Review: Pedda Kapu -1 – Gulte
2
/5
2 Hr 29 Mins   |   Action Rural   |   29-09-2023
---
Cast – Virat Karrna, Pragathi Shrivatsav, Rao Ramesh, Naga Babu, Anasuya
Director – Srikanth Addala
Producer – Miryala Ravinder Reddy
Banner – Dwaraka Creations
Music – Mickey J Meyer
Post Brahmotsavam debacle, director Srikanth Addala shifts to bold and rustic content. His previous one was Narappa (Asuran remake) with Venkatesh. Now, he comes up with Pedda Kapu that marks the launch of Virat Karrna as the male lead. Will Srikanth score success and cement his position?
Plot
Set in 1980s in a fictional village near Rajahmundry where caste politics and family feuds rule, Peddha Kapu (Virat Karrna) fights against oppression in the village by two power centres – Satya Rangayya (Rao Ramesh) and Bhaiyanna (Aadukalam Naren). How things drastically changed after NT Ramarao starts political party in 1982. How Peddha Kapu settles all the scores by taking on mighty Satya Rangayya and Bhaiyanna is the story. Who is Akkamma (Anasuya) and how is she involved?
Performances
Debutante Virat Karna has made a decent performance. He scored points in action scenes, while he underscored in emotional scenes. Rao Ramesh is best-suited for the role of a crooked villain and selfish politician set in rural milieu. His mannerisms and behaviour create an aura. Pragati Srivastava plays a rural belle and she pulls it off well. She was abandoned by her parents which gives emotional depth. But she is jovial and extroverted. Her character has a twist to the story. Barring this, she doesn't have much scope to perform. Tanikella Bharani is seen as a drunkard who is vexed with caste and opportunistic politics. He is presented as a person who cares for society and the village. Naga Babu is seen as party incharge. His character is largely involved in bringing Satya Rangayya and Bhaiyyana together to create peace in the village. Anasuya as Akkamma has got a meaty role. There was a lot of hype around her role. But it didn't translate as expected. Her character couldn't leave the desired impact. As a villain, Srikanth Addala leaves half-impact. Rajeev Kanakala and Easwari play the parents of Pedda Kapu. They have nothing much to add value to the story. Overall, some performances are over-played and some are too subtle. This uneven in the cast's performances confuses the viewers.
Technicalities
Pedda Kapu sounds and looks quite ambitious, thanks to visuals, production design and the scale of the film involving large canvas and huge crowd in camera frames. But this suffers with its writing. Director banks on cinematography, background music technically. Songs have failed miserably. Mickey J Meyer couldn't do the magic. After listening to songs, Mickey was the wrong choice for this genre. The slow-paced narration is yet another shortcoming.
Highlights
Visuals
Rural Set-Up & BGM
Drawbacks
Brutal Violence
Stretched Out Drama
Disconnecting Emotion
Slow & Predictable Narration
Songs
Analysis
Rangasthalam, a film set in rural backdrop involving caste politics, turned the Tollywood's landscape. Allu Arjun's Pushpa is also the rise of a common man against all the odds in rural setting. The blockbuster result of these films gave huge breather to big-budget rural backdrop movies. Nani travelled the same path with Dasara (again village domination politics and rustic backdrop) and yet again scored success. Even films like Palsa and Uppena has lower-caste and oppression as the core-elements in their plots. And Telugu Cinema has quite familiar with this lower-caste and self-respect theme. Director Srikanth Addala is a late entrant who catches the trend a bit late. After remaking Narappa, Srikanth seems to have believed there is still room to explore this genre.
With Pedda Kapu, Srikanth largely banks upon bold content. He chose raw and rustic content. There was no supporting base (story) to add weight to the raw, rustic content. On top of it, director has gone overboard. The violence is what drives Pedda Kapu with scenes of head-chopping. Blood and gory was all over. All this indicate Pedda Kapu is intentionally a bold attempt. The film has got large canvas, big scale with prominent cast, technicians. But it couldn't work.
'Meeku Ante Vunte, Maaku Entha Vandali', this dialogue sums up the Peddha Kapu's plight. The first half is decent and promises to be somewhat intense. The interval scene was spine-chilling and gives some high. But the second-half of the film nosedives, leaving audience disappointed. There is a twist as well involving Akkamma (Anasuya). But this twist and following consequences didn't pan out as it was intended. After Akkamma, the film turns out to be predictable. The climax portions are not engaging. The whole story is narrated in confusing way. The drama has been stretched out without the engaging scenes and without depth. It is only build-up and elevation with BGM. There was no supporting base. Pedda Kapu might be ambitious and intended to become a big film, but it falters marginally in terms of narration. For debutante Virat Karna it is not the end of the world and it is a decent start, for Srikanth Addala, Pedda Kapu is certainly a blow.
Verdict: Addala's 'Mass'ter Stroke!
Rating: 2/5
Tags Pedda Kapu
Peddha Kapu 1 Review, USA Premiere Report
Final Report:
Peddha Kapu offers solid technical values and supporting cast, but the core story, emotions, and drama are lost in the confusing narration. Director Srikanth Addala's comeback is a mixed bag.
First Half Report:
Despite superb visuals and a solid score, Peddha Kapu feels a bit all over the place in the first half but still maintains intrigue. Hopefully, the second half will provide less confusion and more clarity on character arcs and the core plot.
— Peddha Kapu show started with an intense, chaotic action sequence in a village, setting up the perfect beginning for the drama. Stay tuned for the first half report.
Stay tuned for Peddha Kapu 1 Movie Review, USA Premiere Report.
Peddha Kapu 1 is directed by Srikanth Addala, marking his return after a long hiatus since "Brahmotsavam" in 2016. The film features Virat Karrna, Pragati Srivastava, Rao Ramesh, and Tanikella Bharani in lead roles. Srikanth Addala, known for his soft genre films, is making a comeback with this intense film, and the trailer has raised expectations for the movie.
Cast and crew : Virat karrna, Pragati srivasthava, Rao Ramesh, Naga Babu, Tanikella Bharani, Brigada saga, Rajeev kanakala, Anusuya, Eeshwari Rao, Naren
Producer : Miryala ravinder reddy
Director: Srikanth Addala
Dop : Chota K Naidu
Music : Mickey J meyer
Fights : Peter Hein
Editor : Marthand K Venkatesh
Art : GM Sekhar
Dance Master : Raju sundaram
This Week Releases on OTT – Check 'Rating' Filter
Believer, The | Reelviews Movie Reviews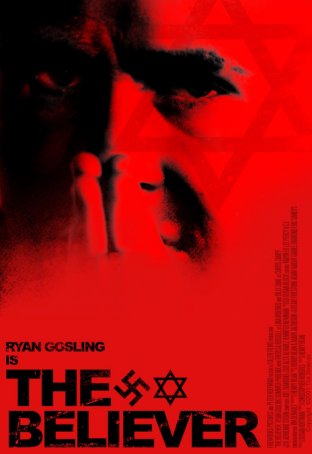 When one speaks of cultural relevance, some movies capture
it in the moment (oftentimes dating the production in the process). Others
grasp it as if looking in a rearview mirror. But there's a small group, either
through clairvoyance or happenstance, that achieve it years or decades ahead of
time. The Believer is one such film; its themes seem more relevant two
decades after its release than they did when it reached theaters in 2001.
The directorial debut of Henry Bean (who wrote the
screenplays for both Internal Affairs – the good – and Basic Instinct 2 – the bad) offers numerous challenging ideas but falls short when it
comes to character development and motivation. The narrative is scattershot –
events happen too quickly, transitions are frequently missing or truncated, and
certain aspects aren't believable. Although the movie uses flashbacks to
explore why the main character, Danny Balint (Ryan Gosling), has adopted the
philosophies he espouses, there's still something missing.
Danny grew up Jewish but, as a child, he pushed back against
orthodox interpretations of the Torah. As an adult, he has repudiated Judaism
altogether, opting to become a neo-Nazi and partnering with 21st
century fascists Curtis Zampf (Billy Zane) and Lina Moebius (Theresa Russell).
Although Curtis and Lina disagree with Danny's virulent antisemitism (they
perceive fascism as an economic and political philosophy not necessarily tied
to race), they are impressed by his passion and oratorical skills and believe
he can be an asset to the movement. After beginning a relationship with Lina's
daughter, Carla (Summer Phoenix), who is also sleeping with Curtis, Danny exhibits
conflicted emotions regarding Jewish iconography. Although he violently attacks
a Jew in the streets and attempts to shoot another, he shows a fascination for
the Torah and, at her request, begins to teach Carla Hebrew. Danny's evolving
conflict is evident in a bizarre scene where he combines a Nazi salute with a
Hagabah.
Although The Believer does an adequate job
postulating how a disaffected Jewish youth might not only repudiate his
heritage but become hostile toward it, the film does not effectively flesh out
Danny as a fully formed individual. Oftentimes, he appears more like a writer's
construct. The situation is exacerbated with Carla – a lifelong fascist, her
sudden fascination with Judaism is inexplicable and unexplained. Her character
represents one of The Believer's biggest problems because everything
about her is forced and artificial. Her motivations are as obtuse as her
feelings about Danny and Curtis. When asked by Danny why she is with him while
also sleeping with Curtis, she responds that the sex is better with Danny.
I was not as impressed with Ryan Gosling's performance as were
many of the contemporaneous critics who reviewed the film, although I agree
that there are several scenes in which his intensity is frighteningly effective,
the most notable being during a confrontation with journalist Guy Danielsen
(A.D. Miles), when Danny brandishes a gun. Overall, however, I found Gosling's
acting to be uneven, but I acknowledge that this could be more the fault of the
screenplay than the performer.