'The Flash' Reviews Are In And It Looks Like A Surprisingly Fun Time
Despite all the legal trouble surrounding The Flash star Ezra Miller, Warner Bros. Discovery has held strong on delivering the superhero blockbuster to theaters after the film reportedly wowed audiences in test screening. (It probably didn't hurt that Michael Keaton's Batman is along for the ride.)
With the film's release just a little over a week away, critics have finally had a chance to see The Flash and the big question is whether it lives up to the hype that's been building over the past few months. The answer… kinda.
While most of the reviews are positive, The Flash appears to fall victim to the same problem as virtually every single superhero movie these days: A convoluted, CGI mess of a final act. There are also mixed reactions as to how well The Flash basically offers up DC's version of Spider-Man: No Way Home and whether audiences really need another multiverse film.
You can see what the critics are saying below:
Mike Ryan, Uproxx:
What makes Andy Muschietti's The Flash a great movie (written by Christina Hodson, who also wrote Bumblebee, and has a knack for turning big-budget summer movies into stories with heart) is it's not about saving the universe. Well, it sort of is, but that's kind of secondary to Barry just trying to save his mom. Personally, I can't really relate to saving a universe. It's such a big thing, it doesn't really matter. But as the movie gets deeper into Barry's love for his mother, this is something, as humans, we can relate with and turns The Flash into a surprisingly heartfelt and emotional movie.
David Rooney, The Hollywood Reporter:
Director Muschietti handles the action with confidence. But like the conflict between Barry's superhero exploits and his soulful attempt to mend the broken heart that has suspended him in arrested adolescence, the film often feels torn in two opposing directions. It's strongest when its focus remains personal, an aspect embedded in Miller's deftly layered performance and reflected in the corresponding sadness of Keaton's Bruce Wayne/Batman. The early word on The Flash calling it one of the greatest superhero movies ever made was pure hyperbole. But in the bumpy recent history of the DC Extended Universe, it's certainly an above-average entry.
Owen Gleiberman, Variety:
Ezra Miller has never gone full Ezra Miller the way they do in "The Flash." With sculpted dark brows, almond eyes, and insinuating lips, the actor is a mesmerizing camera subject, like the young Jimmy Fallon crossed with the young Bob Dylan. But it's the voice that gets you. In "The Flash," Miller is insouciant, irritated, irascible and irresistible, like Andy Cohen on a bender of high anxiety. Just watching Barry order an elaborate peanut butter sandwich in the opening scene, with his hungry jitters and nervous speed-demon élan, is mesmerizing. With the possible exception of Deadpool, no straight-as-an-arrow DC or Marvel superhero has exhibited this level of psycho flippancy, this antic dissociation from his own heroism.
Pete Hammond, Deadline:
Let's give credit to director Andy Muschietti and screenwriter Christina Hodson for making what was becoming a worn out movie genre a brand new life with a smart, funny, thrilling, emotional, and altogether swell take on a character that has been around 80+ years, but until now never got the showcase he deserves. And bringing him vividly alive in a rich and dazzlingly dual performance in which he brilliantly plays opposite himself is Ezra Miller, and simply put, better casting you could not imagine. Whatever the well-publicized previous troubles the actor had in his own life simply do not matter here, he is the real deal and a superhero superstar is born.
Christian Holub, Entertainment Weekly:
Viewers who enjoy Miller's take on the character are thus welcome to a double serving (several scenes in the film consist of this one actor talking to themselves), while those who get easily annoyed by performative eccentricities might find it a lot to take. The upside is that, in the alternate reality created by Barry's time travel, Michael Keaton is still Batman.
Rachel Leishman, The Mary Sue:
There are simply too many multiverse stories out there, and The Flash falls victim to being the lesser of the Flashpoint stories. A movie that thrives on the nostalgia bait laid out with Michael Keaton's return as Bruce Wayne, it's frankly a mid-level watch after seeing something like Spider-Man: Across the Spider-Verse. And maybe the near-hysteric level of unnecessary hype ruined my viewing experience of it, so temper your expectations and you might have more fun. The Flash is far from the "best superhero movie" title that had been thrown around by audiences and critics after CinemaCon. It is, in a way, fine—not "bad" fine, not "great" fine. Just fine.
William Bibbiani, The Wrap:
Andy Muschietti ("It") directs clean, bright, mostly satisfying action sequences, at least up until the film's epic finale, which takes place entirely against a backdrop of a beige desert. One can't help but look at this action sequence, which might as well be set in limbo half the time, and remember the immortal words of John Ford at the end of "The Fabelmans," as yelled by David Lynch: "When the horizon's in the middle, it's boring as sh*t."
Joshua Yehl, IGN:
Fresh, funny, and fast – The Flash is a good time at the movies. Director Andy Muschetti's clear love of the character anchors the many refreshingly unique action scenes and twisty time-travel plot, never losing sight of Barry Allen's powerful emotional journey. Though the story doesn't necessarily justify its excessive fan service and the third act is a bit unwieldy, that doesn't stop The Flash from being an earnest and entertaining superhero film – and one of the better efforts from DC in recent memory.
The Flash races into theaters on June 16.

Peddha Kapu 1 Review, USA Premiere Report
Final Report:
Peddha Kapu offers solid technical values and supporting cast, but the core story, emotions, and drama are lost in the confusing narration. Director Srikanth Addala's comeback is a mixed bag.
First Half Report:
Despite superb visuals and a solid score, Peddha Kapu feels a bit all over the place in the first half but still maintains intrigue. Hopefully, the second half will provide less confusion and more clarity on character arcs and the core plot.
— Peddha Kapu show started with an intense, chaotic action sequence in a village, setting up the perfect beginning for the drama. Stay tuned for the first half report.
Stay tuned for Peddha Kapu 1 Movie Review, USA Premiere Report.
Peddha Kapu 1 is directed by Srikanth Addala, marking his return after a long hiatus since "Brahmotsavam" in 2016. The film features Virat Karrna, Pragati Srivastava, Rao Ramesh, and Tanikella Bharani in lead roles. Srikanth Addala, known for his soft genre films, is making a comeback with this intense film, and the trailer has raised expectations for the movie.
Cast and crew : Virat karrna, Pragati srivasthava, Rao Ramesh, Naga Babu, Tanikella Bharani, Brigada saga, Rajeev kanakala, Anusuya, Eeshwari Rao, Naren
Producer : Miryala ravinder reddy
Director: Srikanth Addala
Dop : Chota K Naidu
Music : Mickey J meyer
Fights : Peter Hein
Editor : Marthand K Venkatesh
Art : GM Sekhar
Dance Master : Raju sundaram
This Week Releases on OTT – Check 'Rating' Filter
Believer, The | Reelviews Movie Reviews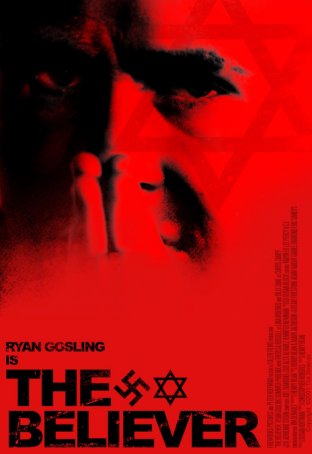 When one speaks of cultural relevance, some movies capture
it in the moment (oftentimes dating the production in the process). Others
grasp it as if looking in a rearview mirror. But there's a small group, either
through clairvoyance or happenstance, that achieve it years or decades ahead of
time. The Believer is one such film; its themes seem more relevant two
decades after its release than they did when it reached theaters in 2001.
The directorial debut of Henry Bean (who wrote the
screenplays for both Internal Affairs – the good – and Basic Instinct 2 – the bad) offers numerous challenging ideas but falls short when it
comes to character development and motivation. The narrative is scattershot –
events happen too quickly, transitions are frequently missing or truncated, and
certain aspects aren't believable. Although the movie uses flashbacks to
explore why the main character, Danny Balint (Ryan Gosling), has adopted the
philosophies he espouses, there's still something missing.
Danny grew up Jewish but, as a child, he pushed back against
orthodox interpretations of the Torah. As an adult, he has repudiated Judaism
altogether, opting to become a neo-Nazi and partnering with 21st
century fascists Curtis Zampf (Billy Zane) and Lina Moebius (Theresa Russell).
Although Curtis and Lina disagree with Danny's virulent antisemitism (they
perceive fascism as an economic and political philosophy not necessarily tied
to race), they are impressed by his passion and oratorical skills and believe
he can be an asset to the movement. After beginning a relationship with Lina's
daughter, Carla (Summer Phoenix), who is also sleeping with Curtis, Danny exhibits
conflicted emotions regarding Jewish iconography. Although he violently attacks
a Jew in the streets and attempts to shoot another, he shows a fascination for
the Torah and, at her request, begins to teach Carla Hebrew. Danny's evolving
conflict is evident in a bizarre scene where he combines a Nazi salute with a
Hagabah.
Although The Believer does an adequate job
postulating how a disaffected Jewish youth might not only repudiate his
heritage but become hostile toward it, the film does not effectively flesh out
Danny as a fully formed individual. Oftentimes, he appears more like a writer's
construct. The situation is exacerbated with Carla – a lifelong fascist, her
sudden fascination with Judaism is inexplicable and unexplained. Her character
represents one of The Believer's biggest problems because everything
about her is forced and artificial. Her motivations are as obtuse as her
feelings about Danny and Curtis. When asked by Danny why she is with him while
also sleeping with Curtis, she responds that the sex is better with Danny.
I was not as impressed with Ryan Gosling's performance as were
many of the contemporaneous critics who reviewed the film, although I agree
that there are several scenes in which his intensity is frighteningly effective,
the most notable being during a confrontation with journalist Guy Danielsen
(A.D. Miles), when Danny brandishes a gun. Overall, however, I found Gosling's
acting to be uneven, but I acknowledge that this could be more the fault of the
screenplay than the performer.