Spark Movie Review: Sluggish, Amateurish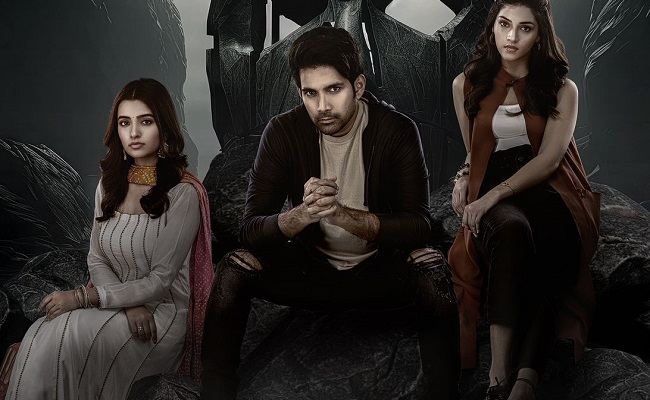 Movie: Spark L.I.F.E
Rating: 2/5
Banner: Deaf Frog Productions
Cast: Vikranth, Mehreen Pirzada, Rukshar Dhillon, Guru Somasundaram, Nasser, Vennela Kishore and others
Story and Screenplay: Vikranth
Dialogues: Umarji Anuradha, Vikranth Reddy, Mahesh, Thottempudi Swamy
Music: Hesham Abdul Wahab
DOP: A R Ashok Kumar
Editor: Prawin Pudi
Art Director: S Ram Prasad
Action: Jaguvar Krishnan
Producer: Leela Reddy
Directed by: Vikranth
Release Date: Nov 17, 2023
A new actor named Vikranth written and directed "Spark". He invested big money in his maiden attempt. He also roped in well-known faces in the main roles.
Let's find out whether the newcomer's confidence in his talent paid off.
Story:
The story progresses in conjunction with events in Vizag and Hyderabad. Lekha (Mehreen) in Hyderabad is madly in love with the man who appears in her dreams. One day, her dream man, Arya (Vikranth), moves into the house directly across the street from hers.
On the other side, weird deaths begin to occur in Hyderabad, including Lekha's friend (Lahari). She cuts her throat herself before murdering her parents.
Jay (Vikranth) in Vizag is in love with doctor Ananya (Rukshar), but she, too, gets killed herself. Jay and Arya are eventually found to be the same person.
Why are these killings taking place, and how will Arya/Jay solve the mystery?
Artistes' Performances:
Vikranth appears to be okay while he maintains a serious expression during the inexplicable fatalities. However, he possesses a limited set of expressions.
Rukshar portrays a medico and is given the better role of the two female leads. Mehreen plays the stereotypical female lead.
Guru Somasundaram, a Tamil actor, is a good fit for the part of a turncoat scientist.
Vennela Kishore and Satya are present, although they don't get much opportunity to do comedy. Nasser and Suhasini are also present just for the sake of the 'top' cast.
Technical Excellence:
A lot of money appears to have been spent to get the rich look and frames. Hesham Abdul has given two good romantic songs. The songs are also lavishly picturised.
The dialogue writing, screenplay, and editing are all poor.
Highlights:
The 'spark – army' episode
Lavish production values
Drawback:
Amateurish direction
Boring narration
Editing
Analysis
Murugadoss made "7th Sense" with Suriya a decade ago. The film has an interesting plot in which a Chinese guy with hypnotic powers begins a government-planned biological war on India, and the hero battles against him to defeat him. Despite having some nice parts, the film flopped. 
The primary premise of "Spark The Life" is that a military doctor/scientist invents a means to manipulate the brain and sensory powers of an enemy state's troops. "SPARK" is the project's name. But you don't remember what "SPARK" stands for because you were probably sleeping from boredom when this concept was unveiled in the film.
Vikranth, a newcomer, wrote and directed the film in addition to playing the lead role. However, he is unable to articulate this "concept" and discloses it in the penultimate sequences. Until then, the film is presented as a standard murder mystery.
The film drags on and on with no compelling moments or entertaining episodes. The narrator merely adds to the dullness by flip flipping between Vizag and Hyderabad events, romance moments between Vikranth and Mehreen, and Vikranth and Rukhsar.
The main issue with this problem is the actor-director not knowing how to package a concept. The basics of scene construction are also poor.
Having said that, the makers have tried to present the film in a rich manner, which is evident on screen. The music is another better part.
Overall, "Spark The Life" doesn't have spark, nor lively moments. It is only dull and mostly boring.
Bottom line: Spark Is Missing

CHICKEN RUN: DAWN OF THE NUGGET Review
Dear readers, Please don't scroll past this message!
More than ever we're bombarded by darkness in media, movies, and TV. Movieguide® has fought back for almost 40 years, working within Hollywood to propel uplifting and positive content.
We're grateful to say we've collaborated with some of the top industry players to influence and redeem entertainment for Jesus. Still, the most influential person in Hollywood is YOU. The viewer.
Movieguide® wants to give you the resources to empower the good and the beautiful. But we can't do it alone. We need your support. You can make a difference with as little as $7. It takes only a moment. If you can, consider supporting our ministry with a monthly tax-deductible gift. Thank you!
-Taylor from Movieguide®

YES, I WANT TO SUPPORT MOVIEGUIDE®!
Stream It Or Skip It: 'The Super Mario Bros. Movie' on Netflix, a Perfectly Fine Family Movie Further Proving That IP is King
It's-a here: The Super Mario Bros. Movie is watchable at home (now streaming on Netflix, in addition to streaming on VOD services like Amazon Prime Video), officially and legally now, after it leaked on Twitter during the spring of 2023. Whoops? Either way, it didn't eat too much into the film's box office take, which currently stands at $1.3 billion-with-a-B internationally, a number that implies many things, including but not limited to, the following: 1. STUDIOS NEED TO RELEASE MORE FAMILY-ORIENTED FILMS THEATRICALLY, all caps necessary, because TSMBM's popularity not only reflects the power of Mario IP, but a pent-up audience that didn't have a reason to go to the movies for what felt like eons (the previous kid-friendly release was Puss in Boots: The Last Wish, which debuted more than four months prior). 2. Wow, 1993's live-action Super Mario Bros. looks extra-terrible now. And 3. Nothing's official yet, but in the wake of such major international success, I'd wager my life savings that Universal already has greenlit 2 Mario 2 Bros., King Boo: Electric Boogaloo, Donkey Kong Hits the Bong (with Seth Rogen reprising the voice role, and writing and directing of course), Yoshi's Revenge, Princess Peach and the Legend of Curly's Gold, The Mario Kart Movie, Mario Kart 2: Cruise Control, Mario Kart Meets Paul Blart, Mario Kart: Dark Land Drift, The Super Smash Bros. Movie, Super Smash Bros.: The Quest for Peace and The Amityville ? Block, just for starters. But let's not get too far ahead of ourselves, and stick to reviewing a completely unreviewable movie.   
The Gist: We get the ball rolling in another world or dimension or something, where we meet Bowser (Jack Black), a very large imperialist turtle who enslaves a race of small penguins and conquers/destroys their icy lands. And then he finds a ? box and smashes it and takes control of the super star inside of it, which is this movie's MacGuffin. CUT TO: Modern-day Brooklyn, where plumber brothers Mario (Chris Pratt) and Luigi (Charlie Day) have just launched their own business with a TV commercial that makes the Ghostbusters' ad look like La Dolce Vita. But it works, because they get their first call and rush out to fix the leak, their side-scrolling journey accompanied by Slayer guitarist Kerry King's shredding guest solo on the Beastie Boys' "No Sleep Till Brooklyn," proof that what was edgy and cool several decades ago will eventually be tamed by the pop-cultural blandification machine and assimilated into the deathless nostalgia borg (and pad the musical artists' bank accounts with "passive income"). Not only do our guys wrestle with persnickety pipes, but they have an encounter with an aggressive dog, a sequence that has nothing to do with anything whatsoever, but hey, at least we have something amusing to look at, with the bright colors and goofy characters and zany action, right? 
Then Mario and Luigi go home. They're two adult men still living with their parents, and everyone doubts their ability to maintain reasonable self-employment. Here, we learn that Mario thinks mushrooms are yucky, and won't eat them, which is what you call an inside joke. Suddenly, an opportunity for our boys to prove themselves pops up when a Brooklyn water main breaks and they rush off to help – but they end up being sucked into a magic pipe and deposited into a strange world chock-full of spinoff-able intellectual property. Luigi finds himself in the Dark Land, where Bowser's minions scoop him up and imprison him. Mario drops into the Mushroom Kingdom, where he meets a little weird guy named Toad (Keegan-Michael Key), who takes him to his leader, Princess Peach (Anya Taylor-Joy), who's shocked to see another human in… what exactly is this place called, anyway? Mario World? It can't be, not yet, because I've just realized this movie is, insert deep sigh here, an Origin Story.
I digress. Mario wants to find Luigi, which dovetails with Peach's desire to vanquish Bowser before he lays waste to the peaceful and benign Mushroom Kingdom. But first, she has to train Mario in the art of platform gaming, which involves leaping on little blocks and ducking under things that wallop you and busting ? blocks that give you extra powers, and all that. She zooms through the training course – in heels, even! – lickety-split, while Mario trial-and-errors his way through it, failing and starting over and failing and starting over and failing and starting over like he's in a… a… what do you call it… time loop? Is that right? Maybe not. Anyway, before they face Bowser, Peach determines that they need to get help from the Kongs, a conglomeration of apes who include Cranky (Fred Armisen), Donkey (Seth Rogen) and Diddy, although the latter only makes a brief cameo and is probably being saved for the sequel. And then comes the Super Smash Bros. part, and then the Mario Kart part, and then the big boss battle, which occurs during Bowser's attempt to force Peach into marrying him. Meanwhile, where the hell is Yoshi? I could answer that but, you know, NO SPOILERS.
What Movies Will It Remind You Of?: Is it sacrilege to say Wreck-It Ralph? Kind of. It's definitely sacrilege to say Wreck-It Ralph is the better movie, but the truth cares not for context. 
Performance Worth Watching Hearing: Let's just say Jack Black is the only feasible casting choice when the character is a version of Bowser who likes to sit at the piano and channel his inner Elton (or Kate Bush?).  
Memorable Dialogue: Praising the Mario Bros.' TV ad, Luigi makes a probably unintentional thou-dost-protest-too-much meta-joke about the movie itself: "That is not a commercial. That. Is. Cinema!"
Sex and Skin: None.
Our Take: Allow me to push past the Mario Movie's obvious crowd-pleasing nature and cheery escapism for some typical film-critic pedantry: This thing feels like it was written by a calculator. It's less a screenplay and more of a loose outline, a list of inter-franchise references strung together by the flimsiest of plots and hits-of-the-'80s needle drops: There's a nod to an old TV cartoon, there's a recognizable character making a cameo, there's 'Holding Out for a Hero,' there's some action inspired by one of the video games, and hey is that Seth Rogen's voice I hear? It dashes along lickety-split and only slows down for a brief intermission in which Black-as-Bowser-but-mostly-as-Black croons a torch song for Princess Peach, which is one of the movie's rare moments of inspired comedy. It's all so transparently mechanical in its structure. And that's the issue with longstanding franchises-slash-intellectual property – it once was the product of inspiration, now it's just a product. 
But it's easy to be of two minds about the movie, because it's lively, expertly animated, energetic, lightly amusing and modestly ambitious. If there's anything resembling a message here, maybe it's the portrait of Mario as a man of perseverance (although you've already learned that lesson if you've been tempted to wing your $80 joy-con through the window after being killed by Bouldergeist for the 116th time in a row.) Nobody's trying to change the world here, or invoke the tragedy of the human condition. It's not Pixar, it's the company behind Minions delivering a bullseye for eight-year-olds who will giggle and whoop for 92 minutes, then go home, snug their plush Shy Guy in the crick of their arm, pick up the Nintendo controller and launch a campaign to spend $60 of their parents' money for a new game. It's perfectly fine with adhering to the relentless-joke-factory-with-celeb-voices formula, and executing it for maximum appeal. As for the "controversy" over Pratt voicing Mario – did you really want to hear an obnoxious faux-Italian stereotype voice IT'S-A-ME!-ing in your face for 92 minutes? That was the smartest calculation of all.
Our Call: STREAM IT. The Super Mario Bros. Movie is entirely acceptable family entertainment. It also leaves plenty of room for improvement when the inevitable sequels, spinoffs and series are launched in a quest for the next billion dollars.
John Serba is a freelance writer and film critic based in Grand Rapids, Michigan. 
A selection of Christmas movies – Catholic Review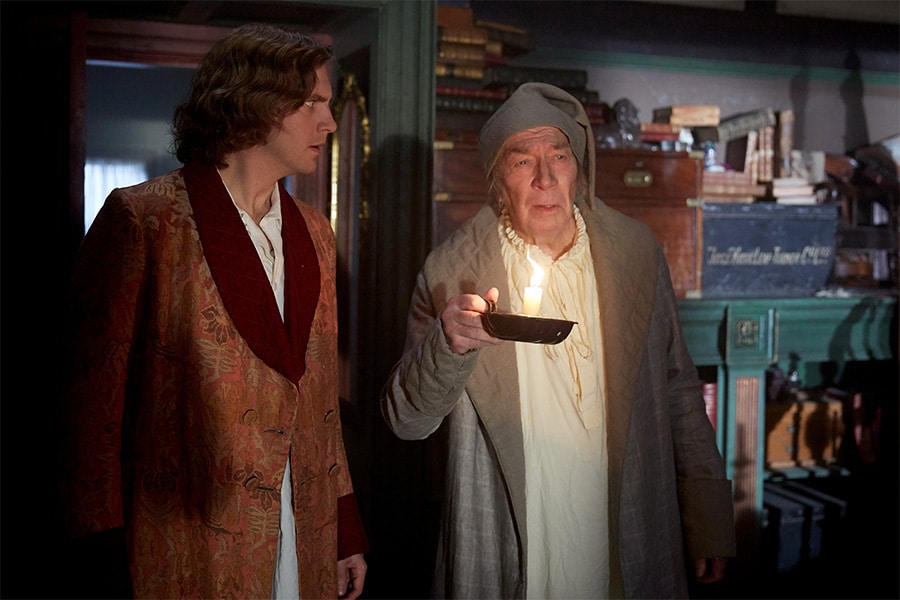 One promising way to get in the holiday mood is to watch a Christmas-themed movie. And, since yuletide films naturally tend to qualify as family-friendly, they can also provide an opportunity to gather the clan, make some popcorn and relax together.
Following, in alphabetical order, are capsule reviews of eight such pictures with their OSV News classifications and, where applicable, their Motion Picture Association ratings. Please note that movies dating from before 1968 were not rated by the MPA upon their initial release.
"The Bishop's Wife" (1947)
A debonair, smartly tailored angel (Cary Grant) uses his heavenly powers to help the neglected wife (Loretta Young) of a busy Episcopalian bishop (David Niven) renew her husband's ministry to those in need rather than raise the money for a new cathedral. Director Henry Koster's sentimental Christmas fable has the virtue of a good script, sincere performances and some amusing moments with Grant's angelic powers and Monty Wooley as a softhearted old cynic. Most of the family will find it charming entertainment. The OSV News classification is A-II — adults and adolescents.
"A Christmas Carol" (1951)
This British version of the Dickens classic has worn well over the years principally because of Alistair Sim's zestful performance as Scrooge, the old humbug whose transformation into a loving human being is a pleasure to behold. Director Brian Desmond Hurst's period piece does well with its 19th-century London setting, and the ghostly visitations are done simply but with considerable flair. The result is dandy family viewing. The OSV News classification is A-I — general patronage.
"A Christmas Story" (1983)
Adapted from Jean Shepherd's nostalgic piece of whimsy, "In God We Trust, All Others Pay Cash," the movie re-creates what it was like to be a boy (Peter Billingsley) yearning for a genuine Red Ryder air rifle for Christmas in the Midwest of the 1940s. Director Bob Clark gets some good performances from Darren McGavin and Melinda Dillon as the understanding parents, and the period atmosphere is nicely conveyed with what is essentially a warm celebration of a more innocent, less sophisticated America. Fleeting vulgar mutterings. (A-II) The Motion Picture Association rating is PG — parental guidance suggested. Some material may not be suitable for children.
"Elf" (2003)
Warmhearted yuletide comedy about a foundling (Will Ferrell) raised by elves in Santa's workshop who travels from the North Pole to New York City in order to reconnect with his long-lost father (James Caan), a workaholic scrooge bereft of Christmas cheer. Full of goofy candy-cane humor, director Jon Favreau's holiday film imparts a strong family-friendly message, but uses a secular sieve to filter out any religious references to the true meaning of Christmas. Minimal mildly crude language and humor. (A-II) (PG)
"It's a Wonderful Life" (1946)
Seasonal favorite about the joys and trials of a good man (James Stewart) who, facing financial ruin on the eve of Christmas, contemplates suicide until his guardian angel (Henry Travers) shows him how meaningful his life has been to those around him. Director Frank Capra's unabashedly sentimental picture of mainstream American life is bolstered by a superb cast (including Lionel Barrymore as a conniving banker) and a wealth of good feelings about such commonplace virtues as hard work and helping one's neighbor. Young children may find the story's dark moments unsettling. (A-II)
"The Man Who Invented Christmas" (2017)
This charming fact-based historical drama tells the origin story of Victorian author Charles Dickens' (Dan Stevens) beloved novella, "A Christmas Carol." With his last three titles having failed to sell, Dickens fears falling into debt if his next production is equally unpopular. As he struggles with writer's block and the endless distractions of his burgeoning family's domestic life — a visit from his feckless father (Jonathan Pryce), whom Dickens blames for the sufferings of his childhood, is a particular source of worry and conflict — the writer fancifully summons up and interacts with his own characters, most prominently dour miser Ebenezer Scrooge (Christopher Plummer). His patient wife (Morfydd Clark) and unpaid literary agent (Justin Edwards) offer him encouragement, and the conversion story he eventually pens finds a real-life counterpart in the amendment of Dickens' own behavior. Director Bharat Nalluri's adaptation of Les Standiford's 2008 book is family-friendly in most respects and will likely prove a winner with a broad range of age groups. A very vague sexual joke, a single mild oath. (A-II) (PG)
"Miracle on 34th Street" (1947)
Familiar seasonal favorite follows a department store Santa (Edmund Gwenn) as he strives to convince a lonely little girl (Natalie Wood) that he's the genuine article, despite the objections of her rigidly pragmatic mother (Maureen O'Hara) and a court trial that hinges on the U.S. Post Office. Director George Seaton's amusing romantic fantasy has its sentimental moments while spreading a reasonable amount of holiday cheer, largely due to Gwenn's charming performance as Kris Kringle. Problems of single parenthood. (A-II)
"The Nativity Story" (2006)
Dramatization of the New Testament birth narratives from the Annunciation to the birth of Jesus, focusing on the relationship between Mary (Keisha Castle-Hughes) and Joseph (Oscar Isaac) and their arduous trek from Nazareth to Bethlehem, with subplots tracking the journey of the three Magi and the efforts of King Herod (Ciarán Hinds) to prevent the prophecy of a messiah from coming to pass. A composite of the Gospels of Matthew and Luke, embroidered with apocryphal traditions and the imagination of the filmmaker, the Bible story gets the prestige treatment in director Catherine Hardwicke's artful, reverent and affecting retelling, with soulful performances from an excellent international cast — including Shohreh Aghdashloo as Elizabeth — and impressive production design. Mike Rich's screenplay manages to flesh out Mary and Joseph while remaining faithful to Scripture, poignantly suggesting the humanity beneath the halos. Some violent images. (A-I) (PG)
Read More Movie & TV Reviews
Copyright © 2023 OSV News
 Print