Review: 'You Hurt My Feelings'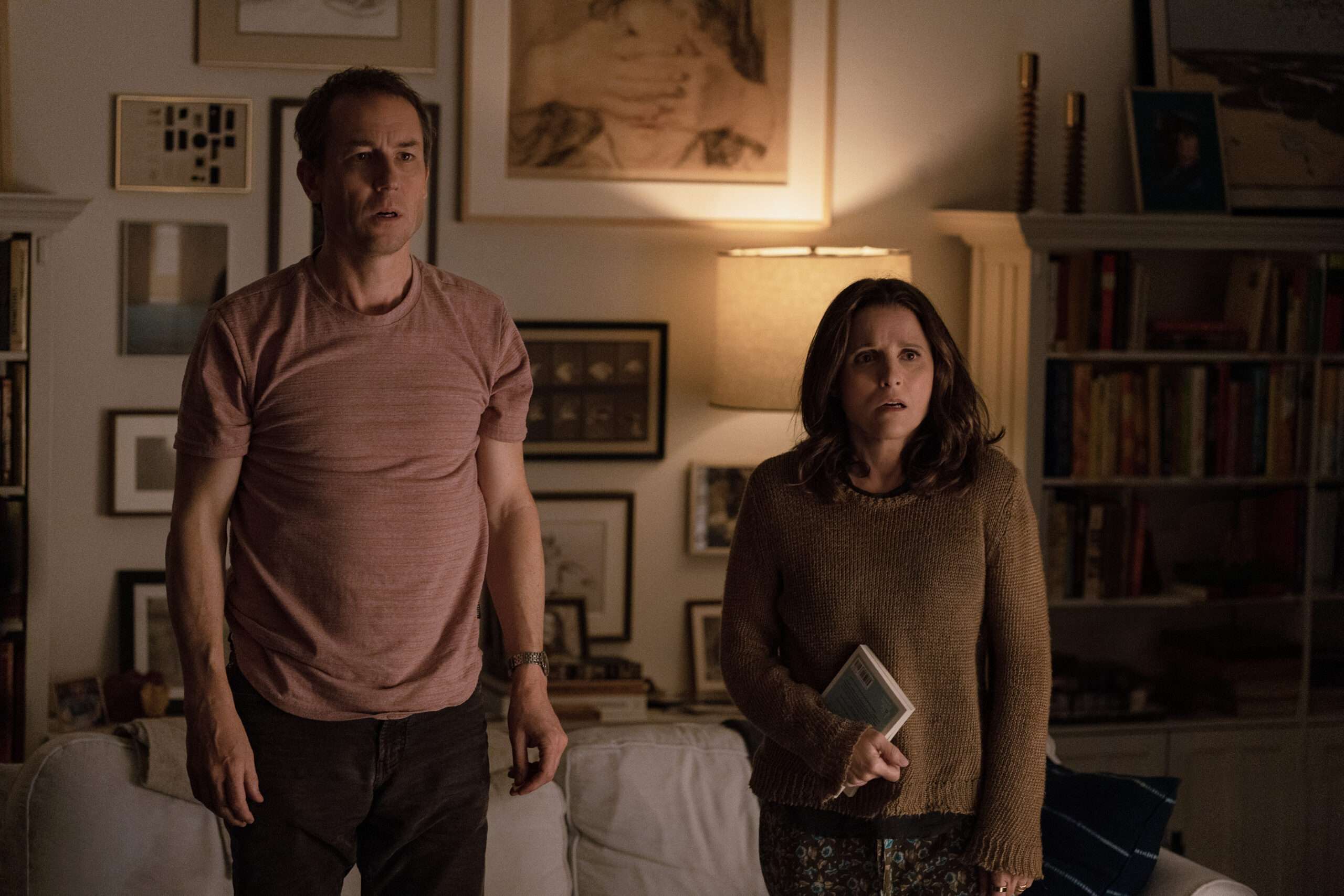 Lies of the little white variety are one of life's most useful social lubricants. Let's say your loved one asks you how they look, or how you like this gift they've brought, or this steaming slice of broccoli pie they just set before you. Are you really going to feel a need to muster honest answers to such questions? To volunteer that the loved one looks a little drawn, to be honest; that the unsolicited gift will immediately disappear into some seldom-visited drawer; that broccoli is the devil's vegetable? No, you're not going to say any of those things. You're going to lie.
Is there any good reason not to? That's the question writer-director Nicole Holofcener contemplates in her new movie, You Hurt My Feelings. It's a small question, and the picture is appropriately small-scale. But the issue it deals with is real, which is what keeps you tuned in to its modestly funny, low-key story. 
It takes place in the Woody Allen world of prosperous Manhattan professionals, chief among them a writer named Beth (Julia Louis-Dreyfus, also the star of Holofcener's 2013 film Enough Said). Beth has published one book—a memoir that was received fairly well some years back—and for the last two years she's been working on a novel, encouraged through periods of self-doubt by her loving husband Don (Tobias Menzies), who's a psychotherapist. Don has read every successive draft of Beth's new book and has always told her he loves them. Her support circle also includes her sister Sarah (Michaela Watkins), who's an interior decorator, and Sarah's husband Mark (Arian Moayed), an actor. Beth herself always endeavors to provide encouragement for her son Eliot (Owen Teague), who's an aspiring playwright 
In a clothes store one day, Beth comes upon Don and Mark standing in an aisle, engrossed in conversation. She stops nearby to listen and hears Don telling Mark about Beth's book—and how much he dislikes it. Beth is crushed, and at home Don is puzzled when she starts freezing him out.
As it happens, Don is having troubles of his own in his therapy practice. None of his patients seem to be making headway under his professional ministrations, and they barely disguise their resentment. ("God, he's an idiot," one man mutters on his way out of the office.) Then there's a couple (played by real-life spouses David Cross and Amber Tamblyn) who use their therapy sessions as an arena in which to continue the bitter squabbling that has drawn them to seek Don's help in the first place. 
These two, we clearly see, could use an introductory course in little-white-lying. On the other hand, even the most well-intended fibs can misfire, too. Eliot recalls his mom encouraging him to pursue a childhood dream of becoming a competitive swimmer—a pursuit for which he had no gift. "She was just being supportive," Don tells his son. But Eliot isn't buying that. "You set me up to fail," he says, still hurt and angry. 

Ahimsa Review – Himsa For Audience
BOTTOM LINE
Himsa For Audience
OUR RATING
1.75/5
CENSOR
U/A, 2h 42m
---
What Is the Film About?
Raghu (Daggubati Abhiram) is a kind-hearted and ordinary guy whose love of life is Ahalya. She is fierce and advocates violence, whereas Raghu is the exact opposite.
What happens when Raghu faces is pushed to the extreme by the system after a tragic incident shatters his life is the movie's plot. Did it change his basic nature is the undercurrent theme.
Performances
Abhiram Daggubati makes his acting debut with Ahimsa. He is moulded as a typical Teja hero in the movie. The character, too, deals with similar emotions. From a soft-spoken guy to a fierce personality, the change forms the arc given to him.
Abhiram has surface-level looks to fit the 'typical' director Teja hero personality. There is a fear plastered on his face, and it is exploited to the maximum by Teja. Abhiram is seen mostly with the expression, and then there are additional fear and aggression when necessary. The problem is that other expressions are dominated by the pertinent one. For a debutant, he is okay, but Teja has managed to extract better in the past with his heroes, debut or otherwise.
Geethika, the heroine, tries hard but fails. Her tole is more expressive than the hero, and she goes way overboard with it. The characterisation, particularly the dialogues and actions, don't help her cause. In the emotional scenes, she is fine, but again they are overdone. In the end, it turns out to be a forgettable fare.
---
Analysis
Teja, the veteran director of blockbusters like Nuvvu Nenu and Jayam, directs Ahimsa. At a basic characterisation level, Ahimsa is similar to his past flicks, but here the core theme is related to violence and non-violence, and it is dealt with through the backdrop of a relatable topic and victimhood.
The movie opens with intrigue, but it soon digresses into mundaneness with the romantic track. It wouldn't be a problem normally, but the over-the-top execution, the acting and the dialogues make one cringe in discomfort. It instantly takes us back to the Nijam days from Teja. Who can forget the 'Eenadu' and 'Andhra Jyothi' comedy track? Well, we have a companion here.
It would still have been fine if the cringe and over-the-topness were restricted to comedy or romance, but that is not the case here. Every new character that arrives behaves in the same way with loud and over-dramatised action.
Amidst all the verbal mayhem torturing the senses, there is a core courtroom drama surrounding an issue. The content is contemporary, and we have seen it getting execution in a far gripping way in grounded settings and performances. Here everything is overblown and excessively done. The direction also screams outdatedness. Still, Ahimsa manages to hold the attention briefly.
By the time the courtroom drama ends, the engaging part of the movie also ends. The next direction the narrative takes is where Ahimsa loses the whole plot.
For starters, the time taken to reach the interval portions itself is overstretched. By the time the interval arrives, one gets a feeling of watching an entire movie. But the real 'himsa' is only beginning at the time.
The second half offers nothing novel. It is all about the hero and heroine escaping from three different sets of gangs who are after their lives. The 'Lomdi' gang among the three are the definition of excess in a script that leads to assault on the senses.
Just when one thinks the movie might end, there is another half an hour with a song in the mix. The final stretch towards the completion is sheer drivel with so much unnecessary violence. Even until the last minute, the director doesn't waste time in inducing the pain.
Overall, Ahimsa has two key issues which would have made for an outdated but engaging narrative. However, the outdated and over-the-top execution and mind-numbing second half kill any chances. If you are a fan of the director, skip the movie and save yourself from the pain.
---
Performances by Others Actors
The movie is filled with actors. Everyone goes overboard in their performance, starting from Sadha. She is still fine, considering the impact of the role in the narrative. But, others like Rajat Bedi are highly irritating. Manoj Tiger playing the scheming, devious lawyer is fun, but in a bad way. The rest of the actors, like Ravi Kale, Devi Prasad, Kamal Kamaraju etc., fail to register.
---
Music and Other Departments?
RP Patnaik works as music director for Teja after a long gap. However, the combo fails to deliver any worthwhile song, although a couple does sound nice on the ear. The background score is effective, even though loud. Sameer Reddy's cinematography is okay, capturing the rustic and raw settings of the village and forest. The editing is okay. The writing comes with a generous mix of double entendre. A couple of lines register, but overall it's nothing more than ordinary.
---
Highlights?
Basic Theme (Violence Vs Non-Violence)
Brief courtroom Drama Stretch
BGM
Drawbacks?
Weak Story
Second Half
Outdated OTT Execution
---
Did I Enjoy It?
No
Will You Recommend It?
No
Ahimsa Movie Review by Mirchi9
Hiring: Political English writer. Email:
[email protected]
(must submit a sample article)
This Week Releases on OTT – Check 'Rating' Filter
Zara Hatke Zara Bachke movie review: Vicky Kaushal-Sara Ali Khan's love saga meanders between funny and boring
We enter the world of Chawlas and Dubeys thinking it's going to be a laughter riot with some fresh humour, edgy characters and a storyline that doesn't rely on usual, tried and tested tropes that Bollywood films are used to. And Zara Hatke Zara Bachke makes us believe as it takes off that everything is quite normal and relatable. But, it all soon turns into a loud cringefest with actors overacting beyond our imagination, dramatic dialogues being said one after the other, a joint middle-class Pandit family living in a small house and Punjabi stereotypes served to us on a platter because there is a 'chant' bahu who they believe has lured their son and accidentally made them all have a cake that contained 'egg'. Also read: Sara Ali Khan and Vicky Kaushal reach Lucknow for Zara Hatke Zara Bachke promotions, offer prayers in temple
I never could wrap my head around movie trailers that give out the entire plot. Makers of Zara Hatke Zara Bachke made it worse with two trailers that revealed more than they should have and left very little for us to watch and find out on our own. Directed by Laxman Utekar, the romantic comedy has a lot going on at the same time and it does leave you with many questions at many places.
Zara Hatke Zara Bachke's premise
Set in a small town of Indore, we are introduced to college sweethearts Kapil Dubey (Vicky Kaushal) and Somya Chawla (Sara Ali Khan), who are happily married and living in a small house alongwith Kapil's vegetarian and religious family – his parents, maternal uncle and aunt and their young son. While Kapil is a yoga instructor, kanjoos and with a middle-class mentality, Somya comes from a modern Punjabi family, is quite outgoing, makes more money giving coaching classes and dreams big in life. The two are the happiest with each other but Somya does feel the pinch of not having any privacy in the house and is desperate to get her own dream house soon.
Since they can't afford heavy EMIs, they fall for a government scheme and end up faking a divorce to be eligible for a lottery allotment. Pretending to hate each other, they separate and start to live separately. How far this drama goes and what's the fate it eventually meets forms the plot.
What works, what doesn't
At 132 minutes, the film doesn't look dragged or needlessly stretched, but definitely has its high and low moments. While the high never gets to a point that it makes you go wow, the lows are definitely loaded with flaws and loopholes.
The story that Utekar has co-written with Maitrey Bajpai and Ramiz Ilham Khan, starts of on a very funny note and keeps the momentum going with harmless jokes, natural light-hearted humour and some comic punches. But post interval, it just meanders without any direction and goes off track.
At this stage, I really wish it stuck to being a romantic comedy and not get so melodramatic at places it didn't require to. The script has nothing that you haven't already seen or something that will leave you in splits. If anything, it only gets a bit predictable in the second half and comedy of errors is only left with errors. The flaws in writing and direction are tough to overlook.
Performances somewhat try to salvage the situation but not for too long! Sara shows some restraint in her acting and it's visible in her actions or reactions. There are some scenes where she goes overboard but never to the extent that it annoys you. Vicky showcases a myriad of emotions and like a smitten lover, he keeps that romance quotient alive onscreen. He portrays the small-town guy pretty convincingly and does keep that raw demeanour intact. I quite liked Vicky and Sara's onscreen chemistry. I won't say it's extraordinary but definitely better than what we've seen in frivolous guy-meets-girl kind of rom-coms.
Supporting cast impresses
Among supporting cast, Rakesh Bedi and Sushmita Mukherjee as Somya's parents are funny and true to their characters. There's a sequence between Kapil and Somya's father having drinks in the car where the father is trying to figure the reason behind their divorce. It's not only well-written but also well performed without looking awkward.
At some point, a nosy colony guard Daroga (Sharib Hashmi) is also thrown in to make things look funnier. While the actor doesn't disappoint with this performance and screen presence, I have a bone to pick with makers here for wasting an artiste of his calibre and reduce it to a cameo. You wish his role was more fleshed out.
In fact, the man who plays Kapil's lawyer friend helping him in the divorce case is a masterclass in overacting and didn't really merit the screen time he has been given. Amid all this, the crooked and dubious agent Baghwandas (Inaamulhaq) delivers his part pretty well and brings a comic relief in the whole story.
Zara Hatke Zara Bachke's music
What truly stands out in Zara Hatke Zara Bachke is the music. After a very long time, I've thoroughly enjoyed all the songs in a film. Sachin-Jigar's music and Amitabh Bhattacharya's lyrics create a whole vibe. Tere Vaaste plays in your mind for long and Phir Aur Kya Chahiye has already topped the charts while Sanjha touches you emotionally. Baby Tujhe Paap Lagega isn't there in the film but it's already a peppy party number.
Zara Hatke Zara Bachke is an easy-going family entertainer that won't bore you. But, it won't leave a lasting impact either. A few laughs here and there and some loud characters make it watchable, however the story needed way more depth and definitely a better screenplay would have helped.
Film: Zara Hatke Zara Bachke
Cast: Vicky Kaushal, Sara Ali Khan, Inaamulhaq, Sushmita Mukherjee, Neeraj Sood, Rakesh Bedi, Sharib Hashmi
Director: Laxman Utekar
Zara Hatke Zara Bachke movie review and release LIVE Updates: Vicky Kaushal, Sara Ali Khan show off their romantic chemistry at the special screening of Zara Hatke Zara Bachke – The Times of India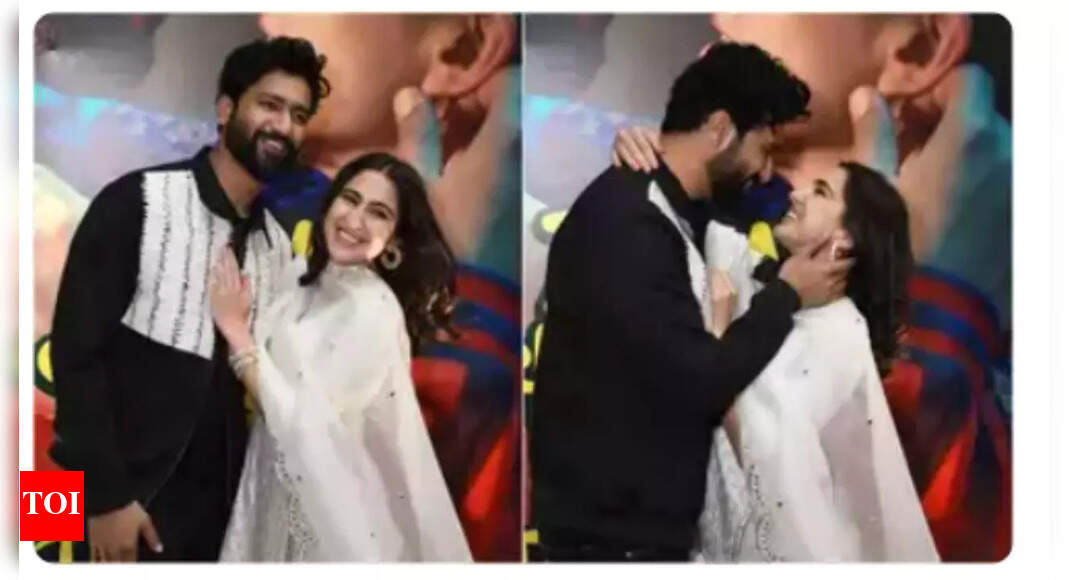 THE TIMES OF INDIA | Jun 02, 2023, 07:51:33 IST
Laxman Utekar's romcom Zara Hatke Zara Bachke, starring Vicky Kaushal and Sara Ali Khan in lead roles releases today. The movie, that has been creating quite a lot of buzz is the story of a middle class couple in a small town, who fall passionately in love and get married, but are soon considering divorce, much to the shock of their respective families. Helmed as a family comedy, the lead stars of the movie have left no stone unturned to promote the project. Whether it was Rajasthan, Lucknow or Indore, lead pair Sara Ali Khan and Vicky Kaushal have been travelling extensively for promoting their movie and interacting with fans. The on-screen couple was also seen at the IPL final match between Chennai Super Kings and Gujarat Titans recently. ETimes brings you all the buzz, reviews and more of Zara Hatke Zara Bachke. Stay updated with all the latest news right here!Read Less