'Napoleon' movie review: Joaquin Phoenix leads the charge in Ridley Scott's erratic epic
'Napoleon': Joaquin Phoenix stars in Ridley Scott's historical epic
Joaquin Phoenix stars as French military leader/emperor Napoleon Bonaparte and Vanessa Kirby is wife Josephine in director Ridley Scott's "Napoleon."
The life and times of Napoleon Bonaparte do not seem like a laughing matter. Watching director Ridley Scott's new historical epic about the infamous Frenchman, though, frequent snickering or the occasional chortle is not only allowed but actively encouraged.
Satirical comedy, battlefield brutality and personal tragedy mix yet never completely gel in "Napoleon" (★★½ out of four; rated R; in theaters Wednesday), a biopic starring Joaquin Phoenix as the mercurial title character. From watching Marie Antoinette's head fall off to finding himself exiled after a bitter defeat, the film chronicles Bonaparte's political and military victories at the same time as his volatile and somewhat toxic relationship with his wife Josephine (Vanessa Kirby).
Plenty sprawling and often funny (purposely or not), "Napoleon" labors through the big moments though pops occasionally thanks to its standout leads and a feisty supporting turn from Rupert Everett as British naval commander the Duke of Wellington.
15 must-see holiday movies: From 'Napoleon' to 'Wish'
In 1789, Napoleon is introduced as a gunnery officer in the midst of a revolution. An ambitious sort, he wants to be seen as more than a Corsican "brute" and his status rises exponentially when he hatches a bold gambit at the 1793 Siege of Toulon, which deals a heavy blow to the hated British. At a party, he stares at and then meets Josephine, a former aristocrat and widowed mother recently freed from prison after the Reign of Terror. 
These two survivors form a relationship that grows as Napoleon's star rises to military commander and ultimately emperor. But the king is also a jealous man-child when it comes to his bride: Napoleon writes Josephine love letters that at first go unanswered – turns out, she's taken a lover. When Napoleon's army is on the march in Egypt, he hears that Josephine is cheating on him and decides to go back home, deserting his troops. His petulant response to the poor sap having to deliver the bad news: "No dessert for you." 
'Napoleon' first look: Joaquin Phoenix plays a 'mercurial' military genius
At 85, Scott can still craft a brutally hellacious battle with the best of them. In the Battle of Austerlitz, Napoleon traps his Austrian and Russian foes and sends them to their deaths in a cold-blooded scene of cannonballs, corpses and massive bloodshed careening into icy waters. There's gamesmanship, too, like with the later Battle of Waterloo, which (208-year-old spoiler alert) doesn't go nearly as well for Napoleon and allows Wellington to giddily outmaneuver his audacious enemy.
However, the war scenes aren't as intriguing – or as bitterly nasty – as the intimately testy fights between Napoleon and Josephine. At dinner, she calls him "fat" and he coolly parries with "I enjoy my meals. Destiny has brought me this lamb chop." When confronting Josephine about her adulterous actions, Napoleon orders her to say, "I am nothing without you," before Josephine turns it around and makes him do the same. 
'This character came from my guts': Joaquin Phoenix talks 'Beau is Afraid'
While not a transformative or innovative role for Phoenix, he's able to nimbly move from a puffed-up public figure to a vulnerable husband and back and nails the clumsier elements of Napoleon. There is hardly much grace in anything he does, unconfidently charging into a violent tussle, scampering wildly to escape capture, or even trying to make a baby with Josephine. Kirby is excellent early on as Josephine matches wits with her husband, but her real skill is seen as the co-dependent couple's love story turns sad, with Josephine unable to give the country an heir to the throne and being left behind in the aftermath.
"Napoleon" is certainly better than other depictions of the famed personality. (If you'll recall, the one in "Bill and Ted's Excellent Adventure" preferred ice cream rather than lamb chops.) It's a movie that could have put a sharper focus on the core characters' fascinatingly tumultuous home life, or a historical character study that went all in on a darkly comic edge a la "The Favorite."
Instead, Scott's saga takes after its namesake and opts for something inconsistent and idiosyncratic.

Pankaj Tripathi & Sanjana Sanghi's Kadak Singh Movie Review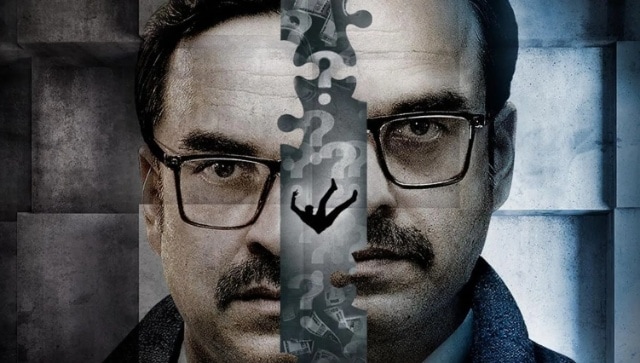 Director: Aniruddha Roy Chowdhury
 Cast: Pankaj Tripathi, Sanjana Sanghi, Parvathy Thiruvothu, Jaya Ahsan, Paresh Pahuja
Language: Hindi
Related Articles
From Netflix's 'The Archies' to 'Kadak Singh' on Zee5, here's what to watch on OTT this weekend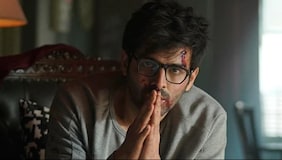 1 Year of Freddy: Here's looking at what made Kartik Aaryan's performance in a grey shade, so unforgettable!
The story of Kadak Singh is about one of the sharpest and finest officers of the Department of Financial Crimes (DFC), A.K. Srivastava (Pankaj Tripathi).  Kadak Singh is a workaholic who does his job with honesty, but somewhere down the line he neglects his family. After a suicide attempt he gets admitted in the hospital for retrograde amnesia. He doesn't completely forget everything, but the saddest part is he forgets his own daughter (Sanjana Sanghi). Her daughter is completely wiped out from his memory.
It is his daughter, who realises that Kadak Singh was so Kadak (strict) and most importantly strong that could never commit suicide. It is she who takes upon the job of narrating his life to Singh (Pankaj Tripathi) to understand what went wrong in their relationship and how he lands up in the hospital. There are people who are trying to help Singh come out of the mess that he is in, while some of his colleagues in the office try to play nasty. But from the very beginning, it is very obvious who the criminals are. Yet there is something that is very gripping about the story. But what it lacked was a tighter screen play.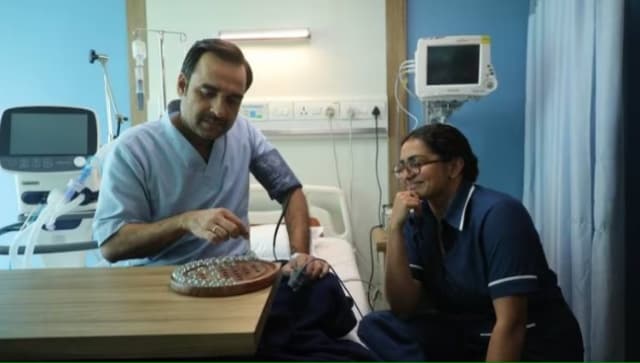 We are all aware of the brilliant performer Pankaj Tripathi is and how effortlessly he fits into any role, but it is also a pleasure to see the way Sanjana Sanghi has worked on herself. The actress has truly come a long way since the first time she was seen in Dil Bechara opposite Sushant Singh Rajput. But sometimes or rather most of the times, I felt that Pankaj Tripathi's character wasn't explored well. He is one of the brightest craftsmen in the entertainment industry, but most of the time he was just trying to be witty. And when we have all noticed over the years that doing serious roles with a comical twist is Tripathi's forte, he could have done it a little better. I guess it was the director's job to make the look of the movie better, which he clearly didn't put much thought into. By the look of the movie, I mean the visuals. Kolkata has so much to offer in terms of visuals, but sadly that wasn't utilised.
The story of Kadak Singh was engaging no doubt, but it is predictable. Considering it is a film based in Kolkata, he could have romanticised the place a little bit if not much. The movie lacked visuals.
One of the best performances was delivered by Parvathy Thiruvothu who played the role of a nurse who was patient, humane and took good care of Kadak Singh and was always ready to listen to his stories, his confusion and grievances. Singh's relationship with the nurse has been beautifully explored and it really touched my heart, rather than the one shared by Jaya Ashan and Pankaj Tripathi. The relationship hardly made any sense, in fact, they were more like sex buddies and there was absolutely no depth in their relationship.
Jaya Ashan who plays the role of Tripathi's girlfriend hardly spoke and when she spoke it appeared like Greek to me. Her Hindi was as disastrous as her Bengali and here she plays the role of a literature teacher. Good Lord, I must say, a literature teacher needs to be articulate and here she is struggling to express herself. Jaya Ashan seriously needs to go through acting workshops and diction coaches before taking up a role. Her eyes were equally expressionless. This export from Bangladesh just didn't work at least for this film.
Kadak Singh could have been handled in a mature way and it could have been more impactful too, but I believe it was a failure on the part of the director. It had everything, starting from the leading good cast to a decent story. But, it appeared like filmmaker, Aniruddha Roy Chowdhury was in a hurry to catch a bus to Goa to do the screening at IFFI.
Rating: 2.5 out of 5
Kadak Singh is streaming on Zee 5
Read all the Latest News, Trending News, Cricket News, Bollywood News,
India News and Entertainment News here. Follow us on Facebook, Twitter and Instagram.
Kastoori Movie Review: A heartbreaking story of social change and escape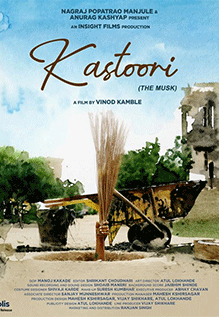 Story:
Gopi, a 13-year-old boy exuding wisdom beyond his years and his best friend Adim, find escape in attar (aromatic essential oils) that offers them momentary escape from their poverty-ridden grim world plagued by death and dirt. After watching his dreams being crushed by everyone around him, it dawns upon Gopi that his real escape is not the fragrance of Kastoori (musk) but his right to education and a better life.
Review: Nadine Labaki's poignant Lebanese drama 'Capernaum' sees a young boy suing his abusive parents for giving him a life riddled with misery and despair. Even if one overlooks the lack of basic needs, care, and respect, why would adults bring children into the world if they can't even make them smile or allow them a moment of peace? Co-written by Shivaji Karde, director Vinod Kamble's heartbreaking yet uplifting film on the intricacies of class and caste disparity treads a similar path. He reminds you that you don't have to be a slave to your surroundings or situation.
Gopi is a Dalit and belongs to a family of sweepers and manual scavengers. The sight of his drunk father burying rotten unclaimed bodies, performing PM (post-mortem) as directed by a local doctor or mother cleaning drained toilets makes his stomach churn. The privilege of choice is not for the needy. Adim is the son of a butcher. Rotten flesh, blood and waste is all the two friends are subjected to. They find solace in the fragrance of an attar, that transports them to a happy place, away from the suffocating stench that engulfs and erodes their existence and dreams.
Despite being one of the brightest talents in his class, Gopi's mother reminds him that books don't satiate hunger and like his family, he too needs to follow the role assigned to him by society.
The topic is not for the faint-hearted and can be triggering if you too went through a similar trauma. Despite the suffering you witness, what stays with you is Gopi's resilience, optimism and heartening friendship with Adil. Kamble keeps the hope alive and reminds you that you are the captain of your ship, you define your destiny. Change is possible. The two children brave the physical and mental hardships to keep going. Sometimes deciding to live is an act of courage. Kastoori salutes this human spirit.
Lead performances by Samarth Sonawane (as Gopi) and Shravan Upalkar (as Adim) are powerful and heart wrenching. They give the film everything it needs – innocence, little joys and hope for a better tomorrow. Kastoori is great filmmaking that demands social change without begging for it.
Movie Review: Poor Things
Self-actualization is a complicated, chaotic, exhilarating thing. We all stumble along, feeling our way through the vast expanse of the world as we grow up, making messes but learning all the while, too. None of us ask to be born, but we all are tasked with making sense of it and making ourselves, even if it takes our whole lives. Therein lies the thrill of life: We must lean into it all, the pleasures and the pain, to be human. So goes the story of Bella Baxter (Stone), the heart and soul of Poor Things, the latest film from director Yorgos Lanthimos.
Based on the novel of the same name by Alasdair Gray, Poor Things is a period Frankenstein piece that is also a story for our times. It's a journey toward self-actualization and autonomy that relishes in the tactile pleasures of life without shying away from the contradictory, messy parts.
Bella is the reanimated creation of Dr. Godwin Baxter (Dafoe, surprisingly moving and funny), an unorthodox scientist marked and maimed by his father's experiments. He is protective of Bella, hiding her away from the world even though she yearns for more. When a dedicated student, Max McCandles (Youssef), begins studying and then becoming enamored with Bella, she begins to slowly learn about the world and her hunger for adventure grows. As Bella becomes increasingly aware of the outside world and of her own body and its capacity for pleasure, she decides to escape to travel the world with sleazy lawyer Duncan Wedderburn (Ruffalo). Her travels with and without him are transformative, letting Bella come into her own, with all the complications that come with it.
A constant complication that Bella faces is the discomfort of the men around her as she comes into her own. Even the well-meaning, caring men in her life, like the good doctor and McCandles, want to rein her in and exert control over her. It's a struggle every woman can understand: men being intimidated and confused by a woman who knows exactly what she wants and runs after it. It also speaks to the complications Bella runs into with sex, which serves as her great awakening to the world and her own bodily autonomy. Later in the film, she works at a brothel, learns about all the different desires men have, and is confused by the idea that some men want to have sex with women even if the women don't. In these ways, this movie is incisive about patriarchy and the insidious ways it seeps into life through not only obviously nefarious men but well-meaning ones, too.
Poor Things balances sincerity with a delicious unpredictability. Bella is a woman who has the most thrilling opportunity – coming into her own sexually and intellectually with no shame. She carries none of the societal pressures of being a woman, freeing her and the movie to follow her whims. We often can't track where Bella's desires will take her, meaning the film's plot unfolds in gloriously chaotic fashion. It's a thrill to surrender to a movie and let it lead you through all its discoveries and revelations – even if you don't know where it's going.
Not only is it perfectly paced and sequenced, Poor Things looks beautiful, too. Cinematographer Robbie Ryan captures Bella's lush, surreal world beautifully – first in stark black-and-white and then in storybook-perfect colors. The ensemble cast is delightful, with Ruffalo's Wedderburn a great pathetic, comedic foil to Stone's determined, headstrong Bella.
Poor Things is a revelation, a potent story about self-creation that's worth seeking out, and that's worth getting lost in.