Kesha drops Diddy's name from 'Tik Tok' after he and Cassie settle abuse lawsuit
Kesha now wakes up in the morning feeling like herself.
In a recent performance at the Hollywood Palladium, the singer changed up the lyrics to her 2009 mega-hit "Tik Tok" to omit the name of Sean "Diddy" Combs.
As seen in a social media video, Kesha at Saturday's show changed the opening lyrics of the track from "Wake up in the mornin' feelin' like P Diddy" to "Wake up in the mornin' feelin' just like me."
The omission of Diddy's name came after the music mogul was accused last week of rape, sexual assault and sex trafficking by singer Cassie, his former partner, whose legal name is Casandra Ventura. Combs denied the allegations through his attorney. The day after the lawsuit was filed, the two reached a settlement. No details of the agreement were disclosed.
Representatives for Kesha did not immediately respond to The Times' request for comment as to why she changed her lyrics.
"I have decided to resolve this matter amicably on terms that I have some level of control," Ventura said of the settlement in a statement issued through her legal team. "I want to thank my family, fans and lawyers for their unwavering support."
Combs issued a similar statement, saying, "We have decided to resolve this matter amicably. I wish Cassie and her family all the best. Love."
Combs' attorney Ben Brafman added, "A decision to settle a lawsuit, especially in 2023, is in no way an admission of wrongdoing. Mr. Combs' decision to settle the lawsuit does not in any way undermine his flat-out denial of the claims. He is happy they got to a mutual settlement and wishes Ms. Ventura the best."
Ventura's attorney, Douglas Wigdor, said he was "very proud of Ms. Ventura for having the strength to go public with her lawsuit. She ought to be commended for doing so."
Ventura dated the famed hip-hop producer for about 11 years before they split in 2018. She filed her sex trafficking and sexual assault civil suit against him in the U.S. District Court for the Southern District of New York just days before the expiration of a "look-back window" that allowed adults who alleged they were sexually abused to sue despite the statute of limitations having run out.
In the lawsuit, Ventura, 37, accused Combs, 54, of raping her in her home after she tried to leave him; physically attacking and injuring her; forcing her to engage in sex acts with male sex workers while filming the encounters; running around with a firearm; introducing her to "a lifestyle of excessive alcohol and substance abuse"; and requiring her "to procure illicit prescriptions to satisfy his own addictions."
Times staff writers Nardine Saad and Emily St. Martin contributed to this report.

Anavarana Movie Review: Sickly love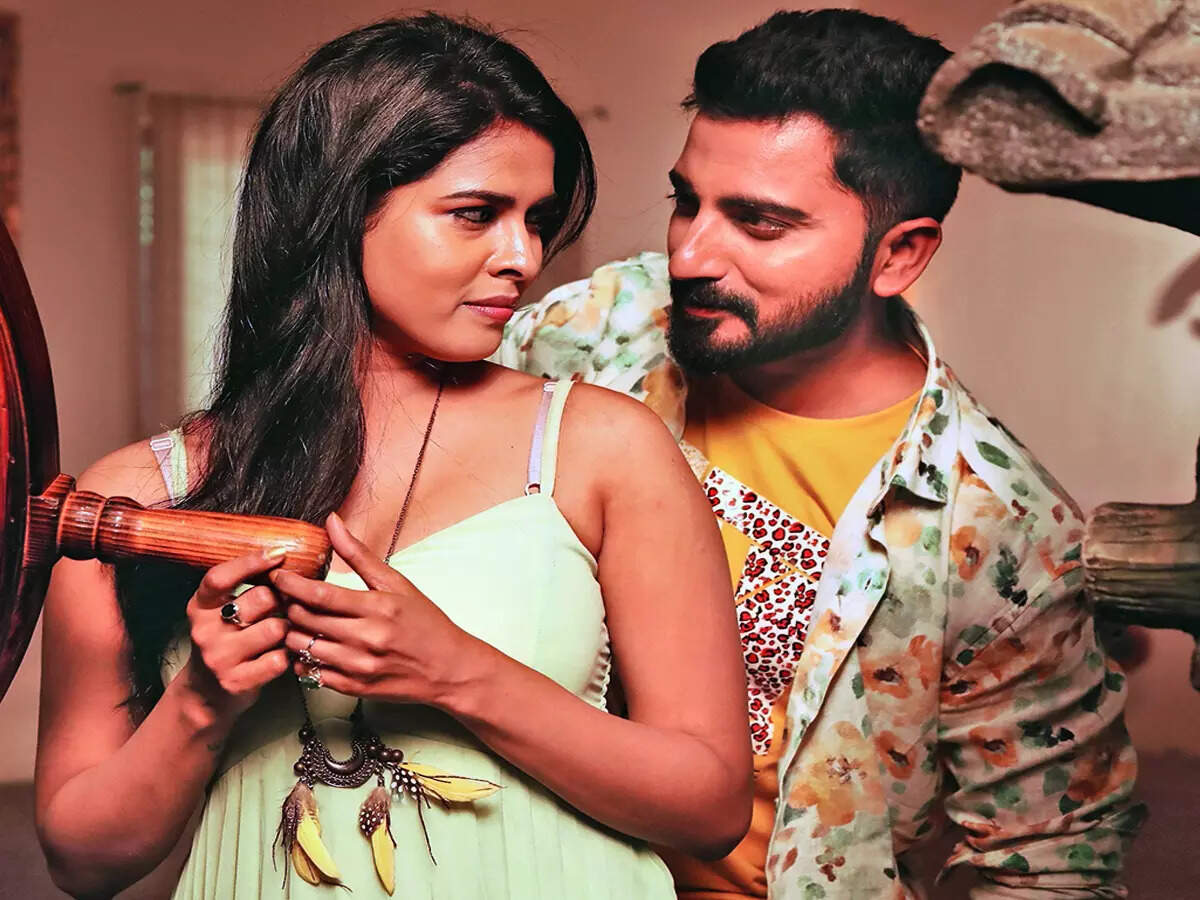 Anavarana
, helmed by two directors, is about how people with obsessive love disorder (OLD) trouble others. But some sequences, make it clear that there was no coordination between the two directors.
The movie begins with a boy finding a woman's dead body at an isolated place. Police Inspector Rakshan Appachira (Nandagopal) visits the spot. The police suspect the deceased is Nyja (Sarika Rao), the wife of Nishanth (Arjun Yogi) who works as an architect at a private company.
While the police inspector is busy with the investigation of Nyja's murder, one more murder takes place. The police inspector successfully nabs Bhimesh, a newspaper boy who is addicted to cricket betting, for the murder of that woman, who used to live alone. Later, the police inspector meets Nishanth as part of the investigation of Nyja's murder. Nishanth claims that his wife Nyja is alive. What happens to Nishanth, who the deceased is and who is the killer is what Anavarana is all about.
The main drawback of the movie is poor cinematography. Comedy scenes do not serve any purpose as they fail to tickle the funny bones. The directors could even have cut out some unnecessary characters, like that of a police constable and his wife. Action scenes are too over the top too.
As far as the performance go, Arjun Yogi has acted well. His acting, as a good human being and concerned husband, is good. Sarika Rao, who plays a double role – as Nyja and Maya, looks beautiful. Gaurish Akki is convincing as a villain. Honnavalli Krishna and Aravind provide good support.
If crime dramas are your thing, go for it!.
Julianna Margulies and Susan Sarandon walk back explosive comments on Israel-Hamas war
Susan Sarandon, left, and Julianna Margulies both apologized for incendiary comments regarding the Israeli-Hamas war that many considered offensive. (Mike Coppola/Getty Images // Jay L. Clendenin/Los Angeles Times)
Actors Susan Sarandon and Julianna Margulies are both backpedaling on incendiary statements they made about the Israel-Hamas war.
Margulies, star of "The Good Wife" and "The Morning Show," appeared on the Nov. 20 episode of the "Back Room With Andy Ostroy" podcast. In the interview, she called pro-Palestinian protesters "kids who are spewing this antisemitic hate that have no idea if they stepped foot in an Islamic country — these people who want us to call them they/them, or whatever they want us to call them … It's those people that will be the first people beheaded, and their heads played with [like] a soccer ball."
"I wanna say to them, 'You f- idiots. You don't exist. Like, you're even lower than the Jews — (A) you're Black, and (B) you're gay, and you're turning your back against the people who support you?'" she continued. "The fact that the entire Black community isn't standing with us to me says either they just don't know, or they've been brainwashed to hate Jews."
In a statement first reported by Deadline on Friday, Margulies did not disavow her comments, but said, "I am horrified by the fact that statements I made on a recent podcast offended the Black and LGBTQIA+ communities, communities I truly love and respect."
"I want to be 100% clear," she continued. "Racism, homophobia, sexism, or any prejudice against anyone's personal beliefs or identity are abhorrent to me, full stop. Throughout my career I have worked tirelessly to combat hate of all kind, end antisemitism, speak out against terrorist groups like Hamas and forge a united front against discrimination. I did not intend for my words to sow further division, for which I am sincerely apologetic."
Meanwhile, Sarandon walked back explosive statements aimed at American Jews fearing violence in the wake of the conflict.
In November, she spoke at a pro-Palestinian rally in New York, saying that American Jews who were frightened by antisemitic violence were "getting a taste of what it feels like to be a Muslim in this country, so often subjected to violence."
After those remarks, the actor was dropped by her talent agency UTA, who had represented her since 2014.
In a statement posted to Instagram on Friday, Sarandon said that "This phrasing was a terrible mistake, as it implies that until recently Jews have been strangers to persecution, when the opposite is true."
"As we all know, from centuries of oppression and genocide in Europe, to the Tree of Life shooting in Pittsburgh, PA, Jews have long been familiar with discrimination and religious violence which continues to this day," Sarandon added. "I deeply regret diminishing this reality and hurting people with this comment. It was my intent to show solidarity in the struggle against bigotry of all kinds, and I am sorry I failed to do so."
'Renaissance' reviews are officially in: Here's what fans think about the concert film
In less than a week since its debut in AMC theaters, "Renaissance: A Film by Beyoncé" has garnered great reviews from audiences worldwide.
On Dec. 1, Beyoncé released her film which gives fans an intimate look at her life as a global icon on her "Renaissance" tour. Not only did viewers get to see Beyoncé's incredible work ethic behind the scenes, but they also learned how Blue Ivy became a part of the tour and started dancing with her mom on stage.
If anything, "Renaissance: A Film by Beyoncé," which according to Variety earned $5.1 million in previews on Nov. 30, truly showed all the hard work that Beyoncé puts into her shows — and to no surprise her efforts didn't go unnoticed.
On X, formerly known as Twitter, one fan said they couldn't believe how amazing the film was.
"Just finished the Renaissance film. I seriously do not understand anybody who questions Beyoncé's talent or work ethic. Anyone who says she's "over rated"…She is unmatched. Just when I thought she couldn't top herself, I watch this s— & am in awe like I JUST discovered her," they said.
Another fan, who shared videos from Nigeria and South Africa, gave Beyonce her flowers, saying the "Break My Soul" singer "did what needed to be done with the RENAISSANCE movie."
This fan wasn't the only one who shared video reactions about the concert film. Some took to the theaters to capture the exhilarating moment, with some of them posting videos of themselves dancing and singing along to the movie with other people in the theater.
In a clip shared on X, fans are seen standing up from their seats and clapping along to the music in the film.
In another video shared on X, theater attendees are seen dancing and singing along to the concert film. "Babyeeee RENAISSANCE: A FILM BY BEYONCÉ was a whole experience. This was definitely the best cinema experience ever! They even gave us glow sticks," the user captioned the video.
Kelly Rowland, Beyoncé's former Destiny's Child bandmate, also raved about the film when she went to the Nov. 30 London premiere of her friend's long-awaited project.
On Instagram, Rowland said, "The Renaissance film is NOT TO BE MISSED PERIOD! Truly inspired! #I'm so proud of you BB!"
Other stars who attended the premiere were Beyoncé's husband, Jay-Z, Taylor Swift, Blake Lively, Michelle Williams, Chloe and Halle Bailey, Issa Rae and more.
In fact, when Rae talked about her experience at the premiere during a recent appearance on TODAY With Hoda & Jenna,
Rae said that the dress code for the evening was "cozy opulence" and that's why she didn't go above and beyond with her outfit. For the evening, Rae decided to wear a shimmery black dress with matching heels.
"Everyone was opulent. I was in the middle," she said. "I was like, I really just want to see this movie and eat popcorn. Let me just take something out of my closet. And people said that about me. They were like, she looked like she just showed up to watch the movie, and I did!"
This article was originally published on TODAY.com