One of America's reddest states wants 100% green energy — if dams count as green
Deep in the bowels of Idaho's Brownlee Dam, Neal Lincoln is ready to offer a demonstration.
Almost 40 feet below the surface of the Snake River — whose waters originate in Yellowstone National Park, then cascade down the Rocky Mountains and course across Idaho — Lincoln makes a call to the power plant control room. The narrow hallway where we stand waiting is chilly, the air dank and the floor covered with leakage from the river.
A siren goes off. A minute later there's a long whooshing sound from behind an imposing metal hatch, as the control room fires up the hydroelectric turbine on the other side — the largest hydro turbine operated by Idaho's largest power company.
I grab hold of a handle on the hatch, my fingers brushing a "DANGER" warning sticker, and feel a powerful vibration as water rushes through the turbine. As the blades turn, they spin a generator up above, sending electricity onto the power grid. Below, the water exits through a large tube, emerging from the bottom of the dam and into the river more than 50 feet beneath us.
Here in the narrow hallway, it's getting louder and louder, the walls rattling and rumbling. There are no fossil fuels being burned, no coal or oil or natural gas heating the planet and filling the air with pollution. Just hydropower, which forms the backbone of the Gem State's electric grid and has allowed Idaho Power to pledge 100% clean energy by 2045.
It's an unprecedented green ambition in a deep-red state — or a greenwashing sham, depending on whom you ask.
Energy reporter Sammy Roth and a team of visual journalists spent a week in Idaho trying to find out: Are hydropower dams a valuable source of climate-friendly energy? Or a fish-killing monstrosity that should be torn down? (Video by Jessica Q. Chen and Maggie Beidelman / Los Angeles Times)
Brownlee is one of 17 hydroelectric dams owned by Idaho Power on the Snake River and its tributaries. These artificial river-stoppers, and others operated by the federal government, have devastated salmon and steelhead trout populations, blocking many of their historical spawning grounds and depriving Indigenous tribes of fish central to their nourishment and cultures.
Those harms, and others, aren't unique to Idaho.
Across the American West, dams have reshaped ecosystems for the worse, raising water temperatures, diminishing downstream flows and driving fish species toward extinction. From Grand Coulee Dam on the Columbia River to Hoover Dam on the Colorado, reservoirs have fueled toxic algae blooms, increased evaporation and flooded land that was home to Native Americans for millennia.
As far as some tribal and environmental activists are concerned, many of those dams never should have been built.
Maybe they should even be dismantled.
Nobody has proposed tearing down Idaho Power's hydroelectric plants — at least not yet. But one of the nation's highest-profile battles over dam removal is playing out downstream in Washington, near the Snake River's confluence with the Columbia.
It's a battle that has scrambled traditional political alliances, with U.S. Rep. Mike Simpson, an Idaho Republican, leading the push to remove four dams on the Lower Snake, and prominent Democrats, including Washington Gov. Jay Inslee, urging caution.
"Idaho salmon runs are going extinct," Simpson said at a conference in Boise this year. "We can't let that happen."
Almost everybody wants to protect salmon. Here's the challenge.
Even if every Western dam stays in place, we'll need to build a mind-boggling number of solar fields, wind turbines, lithium-ion batteries and long-distance electric lines to break our fossil fuel addiction — and fast. That's going to be tough, even after the landmark climate bill signed by President Biden last year. Already, opposition to renewable power infrastructure is bubbling up from rural communities, conservationists and tribes as ever-larger stretches of land are eyed by energy developers.
Start tearing down dams, and the energy transformation gets even harder. In a typical year, hydropower plants generate around 6% or 7% of U.S. electricity. The lower that number gets, the more sprawling solar and wind farms we'll need to build.
And as much damage as dams cause, other types of climate-friendly power generation aren't totally clean either.
Solar fields can chew up desert wildlife habitat. Wind turbine blades can kill endangered birds. Mines to supply lithium for electric car batteries and energy storage devices can decimate ecosystems and raze landscapes held sacred by Native Americans.
There are no perfect climate change solutions. But the increasingly deadly heat waves, hurricanes, wildfires and droughts caused by fossil fuel combustion don't care about that. They'll only get worse if we make the perfect the enemy of the good.
All of which brings us back to Brownlee Dam.
Another siren goes off, and the hallway quiets down as water stops flowing. We walk upstairs to see the hydroelectric generator, which was added to the dam's four original generators in 1978 and can produce as much as 265 megawatts — enough to supply roughly 200,000 homes at full blast. Lincoln estimates his brief demonstration produced about 10 megawatts.
That power is a lot better than coal and oil and gas. But is it worth sacrificing a healthy river to help preserve a safe planet?
A team of Los Angeles Times journalists spent a week in Idaho trying to answer that question. We sat down with Idaho Power's president, walked along the Snake with an agent of local tribes and watched the sun rise over a spectacular river canyon with environmental activists. We also explored alternatives to hydropower, including a controversial plan for the Gem State's biggest wind farm.
Are hydroelectric dams good or bad for the planet and the people living on it?
Here's what we saw, and what it means for the West.
Up against the wall
Brownlee Reservoir is low this spring morning. A boat dock is totally dry, its end not quite reaching the water. A thin bathtub ring lines the bottom of the hills on the far side, as Idaho Power leaves room for mountain snowmelt after a wet winter.
Scott Hauser's wife likes to water ski with friends on Brownlee over the summer. But Hauser can't bring himself to join them. After a decade-plus working for the Upper Snake River Tribes Foundation, he sees this artificial lake as "the death knell for tribes."
"I didn't even want to come here today," he says, his voice cracking with emotion as we stand by the reservoir's edge.
Hauser isn't Native American. But as the foundation's executive director, and its environmental program director before that, he's gotten so invested in the struggle for justice that it's hard for him to visit this wildly altered stretch of the Snake River.
The Snake is one of many tributaries of the Columbia River, which collectively drain a quarter-million square miles — an area larger than France. The watershed covers most of Idaho, much of Oregon and Washington and parts of Nevada, Utah, Wyoming and British Columbia. It connects Missoula, Mont., with Portland, Ore., funneling their rain and snow to the Pacific Ocean.
For millions of years, salmon and steelhead built their lives around that water, being swept out to the ocean as youngsters and then, a few years later, swimming back upstream to their home streams to spawn. Indigenous tribes such as the Nez Perce and the Shoshone-Bannock subsisted on those fish, with salmon in particular taking on great spiritual significance.
Then white settlers arrived, re-engineering the Columbia and its tributaries to suit their own needs. They built dozens of dams that remain in place today, generating electricity, storing irrigation water for farms and protecting cities from floods.
On the Snake, none of those dams is taller than Brownlee, part of a three-dam complex with Oxbow and Hells Canyon.
As many as 1.7 million chinook salmon and steelhead once returned from the Pacific each year to spawn upstream of where Hells Canyon now interrupts the Snake. Idaho Power says that number had dropped to 25,000 by the time its dams were built.
Whatever your starting point, today a concrete wall serves as an insurmountable barrier.
"This was the most productive fall chinook spawning area in the world," Hauser says. "And now we've gone to zero fish."
Pre-Western colonization, he tells me, the tribes he works for ate as much as two pounds of salmon per person per day. Today members of the Shoshone-Bannock Tribes of the Fort Hall Reservation eat just half a pound of salmon per person — per year.
"There's thousands of salmon just slamming their heads against the downstream side of Hells Canyon Dam," Hauser says.
In addition to blocking the Snake, the three dams trap irrigation from farms and dairies, leading to fertilizer chemical buildups that can cause low oxygen levels, harmful algae blooms and dangerous amounts of mercury, a neurotoxin. Health officials warn against eating too many fish from Brownlee Reservoir and have occasionally urged people not to touch the water at all.
High temperatures are another issue. Water stored in reservoirs absorbs sunlight, resulting in warmer flows downstream that make it even harder for fish to survive. Climate change adds to the overall ecosystem stress, heating the river and fueling longer dry spells and more intense wet spells.
And even as hydropower turbines help fight the climate crisis by generating pollution-free electricity — especially when they start up after sundown, limiting the need for gas-fired power plants — the reservoirs behind them can release substantial amounts of methane, a powerful heat-trapping gas, as plants and other organic materials buried beneath the water decompose.
Hydroelectric dams are, on the whole, still a lot better for the atmosphere than fossil fuels. But they're no saint.
"The concept that hydropower is clean power is really a fallacy," Hauser says.
For many environmentalists, the question is which dams should come down, and which ones we still need.
In the Columbia River Basin, much of the attention has focused on four dams downstream of Hells Canyon, on a 100-mile stretch of the Lower Snake running across southern Washington. Operated by the U.S. Army Corps of Engineers, these dams are the ones that Simpson, the Republican member of Congress, wants so badly to tear down, as do the Nez Perce and other tribes.
The battle has dragged on for years, with most Republican officials looking to protect the dams and leading Democrats arguing they should come down only after the benefits they provide — including energy, irrigation and transportation for wheat grown by Washington farmers — are replaced. Simpson has proposed a $33.5-billion plan to breach and replace the dams.
Aggressive and impactful reporting on climate change, the environment, health and science.
The debate frustrates Hauser, who says there's never been serious talk about dismantling the Hells Canyon dams so harmful to the tribes he represents. But he's been hesitant to push for them to come down, worried that doing so could prompt a backlash that jeopardizes support for removing the four dams on the Lower Snake.
Although politicians and conservationists tend to think about the two sets of dams separately, Hauser's employers have taught him they're connected. Tribes, he said, "don't think about these little boxes. They think about the whole ecosystem."
Breach the Lower Snake dams, he asks, and what happens to all the fish that will just end up blocked by Hells Canyon?
That's a question for Idaho Power.
The clean and the dirty
Idaho is one of the nation's most conservative states. Nearly two-thirds of voters chose Donald Trump for president in 2020.
So it was startling when Idaho's largest utility announced in 2019, halfway through the Trump administration, that it would target 100% clean energy. Deep-blue California had adopted such a mandate just six months earlier, and there was no movement in the Idaho Legislature to do the same. Yet Idaho Power was one of the first U.S. utilities to commit to zero carbon pollution.
What prompted that decision?
Lisa Grow, the company's chief executive, has a simple answer: People were asking for it.
In Boise, city officials were gearing up to announce a 100% clean energy goal. Companies such as Facebook and semiconductor maker Micron Technology were looking for renewable energy to power their data centers and factories.
An Idaho Power survey found that 90% of its customers would support 100% clean energy, so long as their bills didn't go up.
"We're not doing it because we want to be like California," Grow tells me. "We think it's the right thing for Idaho."
She and her team decided they could get to 100%. But not without hydro.
Even with rivers choked by drought last year, Idaho Power's dams supplied nearly one-third of its electricity. Add in wind, solar and other zero-carbon resources, and in a wet year the company's supplies can be 70% climate-friendly.
So how is the utility dealing with the destruction wrought by its dams?
That's my main question the next day, when we set out before sunrise from a tiny company town nestled along the Snake, where the river separates Idaho from Oregon. We're joined by Brett Dumas, Idaho Power's director of environmental affairs.
He's wearing a Patagonia jacket — ironic, he acknowledges, given the retailer's opposition to dams.
His boss Grow "always gives you kind of the stink eye when you wear Patagonia," Dumas says.
We park atop Hells Canyon Dam. Dark clouds loom overhead, the water below glistening in the early-morning light as it carves a path between the brown rocks of Oregon's Wallowa Mountains and Idaho's Seven Devils Mountains. Two of the dam's hydropower turbines are running; workers are preparing to replace the third later this afternoon, nearly 60 years after it first started up.
Few of the local fish protected under the Endangered Species Act, which include several species of salmon and steelhead, make it as far upstream as Hells Canyon to spawn, considering the many federal dams between here and the Pacific Ocean.
But all of those downstream dams have "fish ladders" that make it possible for at least some returning fish to swim past them.
So why don't Hells Canyon, Brownlee and Oxbow?
Decades ago, Idaho Power spent a few years trapping salmon and hauling them upstream past Brownlee, which was built before Hells Canyon. That worked just fine. The problem came when the company tried to help young salmon go the other way, setting up a net to catch them behind Brownlee and move them to the downstream side, so they could swim to the Pacific. The juveniles had trouble reaching the net, getting lost in the reservoir's slack waters without a strong current to pull them.
So Idaho Power gave up on that program, with federal officials instead ordering the utility to build a series of hatcheries.
"Today we produce just under 7 million juvenile steelhead and salmon each year," Dumas says.
We tour a hatchery later that day. It's run by Idaho Department of Fish and Game staff, who take steelhead captured behind Hells Canyon Dam and combine their eggs and sperm. Employees have produced about 1 million eggs over the last few weeks.
We head to the incubation building, where a staffer pulls out a shallow tray full of eggs. I lean in for a closer look at hundreds of tiny red spheres that remind me of "Finding Nemo." Nearly all of them have faint gray dots: embryonic fish eyes.
But as valuable as the hatcheries are, they don't make up for all the harm done by Idaho Power's dams. Far from it.
Under long-standing requirements, the fish produced at these hatcheries are sent to Idaho, Oregon and the Nez Perce Tribe, with none set aside specifically for the Upper Snake River tribes that Hauser represents. What's more, hatchery fish are genetically less resilient than wild fish — in a world where resilience is increasingly important, with climate change heating rivers and oceans.
Add in water pollution from farms and other human intrusions, and it's no wonder salmon continue to struggle.
"It's not the same as a natural river," Dumas says. "We all know that."
Idaho Power has taken other steps to improve conditions on the Snake, funding mercury research at Brownlee and launching a pilot program that pays farmers to convert from flood irrigation to sprinklers, reducing polluted runoff. As part of a long-running federal relicensing process for the Hells Canyon dam complex, which appears to be nearing its conclusion, the utility has agreed to spend $1 billion on environmental measures over the next 50 years, including efforts to reduce river temperatures.
At the behest of Oregon regulators, Idaho Power also plans to reintroduce salmon and steelhead in Oregon's Pine Creek, which flows into the Snake near Oxbow. Federal regulators have suggested they could go further, by ordering the company to truck fish around Hells Canyon and reintroduce them in Idaho waterways, despite a state law designed to block such a move.
None of those steps will return the river to what it once was.
But in a warming world, neither would tearing down the dams.
Nothing is easy
Two hundred miles southeast of Hells Canyon, cows are mooing and birds are chirping as the sun rises over the Snake River Plain. A power line cuts across fields of sagebrush and invasive plants, the snow-capped Sawtooth Range rising to the north.
Luke Papez and his employer hope to build hundreds of wind turbines across this vast stretch of mostly public lands.
But they're facing opposition from an unlikely source: Friends of Minidoka, a nonprofit dedicated to preserving the memory of the Japanese American prison camp operated by the federal government a few miles from here during World War II.
The group says Idaho's largest wind farm would be a blight on the landscape, with massive turbines cluttering the desolate views and making it hard to imagine the feelings of isolation experienced by more than 13,000 people incarcerated at Minidoka.
"I'm going to have an opinion," Papez says. "But it's not going to be the same as your opinion, and it's not going to be the same as a Japanese American's opinion…. There's some amount of science to it, and there's some amount of subjectivity to it."
This dispute is just one of many involving renewable energy projects across the West.
But it's a valuable case study for why tearing down dams would make stopping climate change even harder.
LS Power, Papez's employer, started looking for windy spots in Idaho several years ago. The New York company thought it had found a good place for a wind farm, but government officials encouraged it to look elsewhere, saying the desired site was valuable habitat for greater sage grouse — a troubled bird species known for its elaborate mating dance.
The developer later set aside a second site for the same reason.
"At that point we crumpled up the wind map and threw it out the window," Papez says.
That's how the company ended up in a farming and ranching area on the Snake River Plain. It's seeking a federal permit for its Lava Ridge wind farm, with the Bureau of Land Management publishing a draft environmental analysis in January.
We hike up a rocky hill, the loud winds making conversation tough. Papez manages to point out a few landmarks, including a spot where LS Power was forced to propose a three-mile buffer around an unexpectedly active sage grouse breeding ground.
I ask Papez if he ever gets frustrated. Doesn't he wish he could just get permission to start building wind turbines?
"That would be easy," he says. "But I think the things that are worth doing in life often aren't that easy to do."
Sometimes for good reason.
After bidding adieu to Papez, we head to Minidoka National Historic Site. It's not hard to grasp the trauma experienced here.
"This land has a lot to tell," says Robyn Achilles, Friends of Minidoka's executive director.
As we walk across the quiet grounds — past historic barracks, a restored baseball field and an "honor roll" listing more than 800 incarcerees who went on to serve in the U.S. military, many voluntarily — Achilles and her colleagues have stories to share. About families torn from their homes and livelihoods, often never to return. About communal showers and toilets that eliminated any sense of privacy. About parents who refused for decades to talk with their children about their suffering.
I'm deeply moved by the stories. Still, I can't help but wonder: Would wind turbines on the horizon really diminish this place? Visual simulations prepared as part of the federal review process suggest the machines wouldn't fundamentally change the viewshed.
Achilles has given this a lot of thought. For Japanese Americans, she says, Minidoka is "hallowed ground." When descendants of former incarcerees visit, she tells me, many break out in tears as they see what life was like for their parents or grandparents.
Part of what they learn is just how remote the prison was. Even if incarcerated people made it past the barbed-wire fences, "the prison was the landscape, because there was no place for them to go," Achilles says.
"Would you put wind turbines over the memorial for Flight 93? Or over the Washington Monument?" she asks.
LS Power says it's willing to build a smaller wind farm, farther from Minidoka.
The company's initial plan included turbines as close as two miles to the historic site. But Papez and his team are open to other configurations. Under one of the "preferred alternatives" studied by the Biden administration, federal officials could require LS Power to build turbines no closer than 8.5 miles to Minidoka, shrinking the project from 400 turbines to 269.
Would that be good enough?
Definitely not, Achilles says. The landscape is so flat, she tells me, that turbines could be seen dozens of miles away.
"If the project is built, it would absolutely change people's experience at the site," she says.
Whatever your own view might be, keep this in mind: Every renewable energy project faces some form of local opposition. If we want to avoid the worst consequences of the climate crisis, many of those facilities will need to get built regardless.
And the more that get blocked? Then the more hydropower we'll need.
Getting to yes
We stand transfixed on the rim of a verdant canyon, the Snake River meandering past 400 feet below as the sun comes up over Dedication Point. The low-lying clouds and distant horizon cycle through a series of rich blues and soft yellows, the changing light bathing the canyon walls in magnificent golden hues. Prairie falcons that nest in those walls soar through the air.
Down by the water's shimmering edge, we spot a group of campers.
"The West may seem wide open. But when you get down to it, every single patch of ground has a stakeholder that's very invested in it," says John Robison, a staffer at the Idaho Conservation League. "There are no more real empty spaces in the West."
This canyon is a prime example.
A few years back, federal officials were considering letting Idaho Power and another utility build a power line near Dedication Point, which is part of the Morley Nelson Snake River Birds of Prey National Conservation Area, a raptor sanctuary. But after seeking input from the Idaho Conservation League and others, who worried the line would disrupt some of the area's best remaining sage grouse habitat, land managers and the utilities agreed on a compromise route that avoids the worst environmental damage.
"Everybody had to come to the table," Robison says. "It took several years to work it out."
That kind of compromise is crucial to building the huge amounts of infrastructure we'll need to avoid climate catastrophe.
So what can clean energy developers and government agencies do to address the concerns so often raised by conservationists, rural towns and Native American tribes? How can we make sure we have enough solar and wind farms — and, yes, hydropower dams — churning out carbon-free electricity to avoid a future where we'll all wish we had made different choices?
Justin Hayes doesn't have all the answers. But he has some ideas.
As executive director of the Idaho Conservation League, Hayes has spent a lot of time trying to "get to yes" on badly needed clean energy projects, to use his words. That's meant pressing LS Power, for instance, to do more to limit potential harm to sage grouse and migrating pronghorn at Lava Ridge — a wind farm that Hayes doesn't yet support but hopes to eventually.
"We need to figure out a way to get projects like that on the ground," he says.
To Hayes, that will require federal land managers giving the public more ways to weigh in on clean energy projects without outright objecting to their approval. It will also require ensuring that communities on the front lines of the energy transition, including rural towns and Indigenous tribes, receive tangible benefits when projects are built in their backyards.
"People want to be heard," Hayes says. "We have to listen and try."
As we leave Dedication Point and drive down into the canyon, we get a look at Swan Falls Dam, site of the first hydroelectric plant built on the Snake in 1901. An American flag flutters over the small power plant, 200 miles upstream of Hells Canyon.
We park on a dirt road that runs alongside the river. Robison pulls out his binoculars and looks for birds while Hayes and I evaluate the pros and cons of hydropower. Dams have long been a major force driving salmon species toward extinction — but now they can help salmon too, by producing carbon-free electricity that limits the effects of climate change.
Hydropower from the Pacific Northwest has been especially valuable for California, helping the state keep the lights on after dark. At the same time, global warming is making dams a less reliable energy source by sapping the flow of Western rivers.
Some conservationists have advocated for tearing down the worst dams while adding hydroelectric capacity at others. Groups including American Rivers, the Nature Conservancy and the World Wildlife Fund have spent several years working toward that end, partnering with the National Hydropower Assn. to seek tens of billions of dollars in federal funding.
Hayes has a similar view. He agrees with Simpson, Idaho's Republican member of Congress, that the best way to help salmon and steelhead would be to tear down the four dams on the Lower Snake. Not much electric capacity would be lost, in Hayes' view, and fish would have easier access to the Salmon River, a free-flowing Snake River tributary and a great place to spawn.
"Those dams are not clean energy if they are resulting in the extinction of species and cultures," Hayes says.
And what about Idaho Power's Hells Canyon dams? Should those come down too?
"I don't think the region is ready to go there," Hayes says. "I don't think we are able to go there as a society at this point."
Because of climate change?
"Because of climate change," he says. "Because of our needs. Because of the way that the system is built."
I've spent the week asking questions about Idaho. But the answers are relevant to the broader American West. We're all part of the same electric grid, the same century-old machine with dozens of interlocking pieces that will either lift each other up or drag each other down as society moves on from fossil fuels. The more climate-friendly power on the Western grid, the easier it will be for all of us — red state or blue — to keep our air conditioners running without fossil fuels during the next heat wave.
And the more fish sentenced to death to make that possible?
You won't find a simple answer along the banks of the Snake River. Only gently flowing water, meted out by a dam.
Support our journalism
Your support helps us deliver the news that matters most. Subscribe to the Los Angeles Times.

Video: Harris Not Worried About Biden Trailing Trump in Key Polls
1 00:00:00,000 —> 00:00:05,030 "Former President Trump, not only on a national level, 2 00:00:05,030 —> 00:00:09,710 appears to be beating the Biden-Harris ticket, 3 00:00:09,710 —> 00:00:14,780 but uniquely in those five of the six key swing states, 4 00:00:14,780 —> 00:00:16,450 that seems to be the case. 5 00:00:16,450 —> 00:00:18,980 What do you think when you see the polls?" 6 00:00:18,980 —> 00:00:20,493 "Listen, if I listened to polls 7 00:00:20,493 —> 00:00:22,160 I would have never run for my first office 8 00:00:22,160 —> 00:00:23,040 or my second one. 9 00:00:23,040 —> 00:00:24,570 And here I am as vice president. 10 00:00:24,570 —> 00:00:27,260 There are fundamental freedoms that are at stake 11 00:00:27,260 —> 00:00:29,730 right now, and the American people do understand that. 12 00:00:29,730 —> 00:00:33,080 And again, I will point to the midterms and the most 13 00:00:33,080 —> 00:00:36,980 recent elections — when freedom was on the ballot, 14 00:00:36,980 —> 00:00:40,580 be it from Kansas to California, Ohio to Virginia." 15 00:00:40,580 —> 00:00:41,410 "Do you think the polls —" 16 00:00:41,410 —> 00:00:42,240 "The American people voted in favor. 17 00:00:42,240 —> 00:00:44,270 "Do you think the polls are just wrong? 18 00:00:44,270 —> 00:00:46,490 "That's a little too simplistic, 19 00:00:46,490 —> 00:00:48,470 with all due respect. 20 00:00:48,470 —> 00:00:51,020 I don't think that we should use 21 00:00:51,020 —> 00:00:56,150 polling as our only measure of who we are as Americans, 22 00:00:56,150 —> 00:00:59,240 and our values and our principles 23 00:00:59,240 —> 00:01:00,740 and our priorities." 24 00:01:00,740 —> 00:01:06,480 "Your ratings, 38.5 percent, Biden's, 40.4 percent 25 00:01:06,480 —> 00:01:09,030 and Trump is higher. 26 00:01:09,030 —> 00:01:13,800 Ron Klain says this, and and you've seen press about 27 00:01:13,800 —> 00:01:15,160 yourself over the years. 28 00:01:15,160 —> 00:01:18,090 He says that he believes that your popularity 29 00:01:18,090 —> 00:01:22,080 or unpopularity or whatever rating you want to put it as 30 00:01:22,080 —> 00:01:25,312 is a function of sexism and racism. 31 00:01:25,312 —> 00:01:26,770 He says that's part of the problem. 32 00:01:26,770 —> 00:01:28,990 He says she doesn't get the credit for all that 33 00:01:28,990 —> 00:01:29,830 she's done. 34 00:01:29,830 —> 00:01:31,880 Do you think that's true?" 35 00:01:31,880 —> 00:01:34,635 "Well, are we talking about the media or people? 36 00:01:34,635 —> 00:01:35,760 As it relates to the media, 37 00:01:35,760 —> 00:01:38,410 I'm sure some of that is true."
Column: This lawsuit has the NCAA staring down extinction. Is that a bad thing?
There can be few American public institutions more widely destested than the National Collegiate Athletic Assn.
The NCAA spent decades promoting the ideal of the amateur "student-athlete," barring football and basketball players from compensation while their coaches and university athletic directors collected millions of dollars a year. Its disciplinary system, rife with favoritism and inconsistencies, is honored by member universities more in the breach than the observance.
And when it doesn't get its way, it hasn't been shy about bullying — not that it always works, as when it threatened in 2019 to ban California universities from championship games if the Legislature voted to allow payments to those student-athletes.
Nowhere else in America can businesses get away with agreeing not to pay their workers a fair market rate on the theory that their product is defined by not paying their workers a fair market rate.
— Supreme Court Justice Brett Kavanaugh
(The measure in question passed anyway and was signed into law by Gov. Gavin Newsom.)
As it happens, the very issue covered by that legislation — compensation for the use of college players' "names, images and likenesses," or NIL for short — is at the center of what the NCAA implies could be an extinction event for the collegiate sports system as we know it today, if not for the NCAA itself.
The NCAA's hand-wringing has come about because federal Judge Claudia Wilken of Oakland has certified an antitrust lawsuit naming the association and its five most important regional sports conferences, the so-called Power Five, as a class action.
Wilken designated three classes of plaintiffs: current and former men's football and basketball players in the Power Five conferences, current and former women's basketball players in those conferences, and all other current and former athletes who competed on Division I teams prior to July 1, 2021, and have received NIL payments from third parties under the NCAA's temporary suspension of NIL payment restrictions.
The athletes who brought the case have asked for $1.4 billion in damages, which under antitrust law would be trebled if they win, for a total of $4.2 billion.
A judgment of that magnitude, the NCAA says in an appeal brief, "would necessitate curtailing college sports programs across the country." It says it would face "intense pressure to settle," presumably on highly disadvantaged terms — at least for the association, the athletic conferences and the administrators who have been running university programs on a business model dependent on paying athletes virtually nothing.
This problem is the product of the transformation of college football and basketball into big businesses so rich and powerful that they often overwhelm the academic goals of their universities.
Who's responsible? The NCAA and the universities with big-money programs themselves. They built these enormous financial edifices on a business model based on the players' free labor.
"The hard work of college athletes," the plaintiffs observed in their lawsuit, "has translated into billion-dollar television deals, multi-million dollar coaching salaries, extravagant facilities, and lucrative commercial licensing and sponsorship agreements" for the NCAA, its conferences and their executives.
Now that the financial ground is shifting under the feet of the NCAA and the richest athletic programs, they're feeling the pain from the collapse of their franchise.
The numbers tell the story.
In recent years the Big Ten, Southeastern and Big 12 conferences signed multiyear television deals for football worth a total of more than $12 billion. In 2016, the NCAA renewed its contract with Turner Sports and CBS for broadcast rights to its men's basketball tournament for $8.8 billion over eight years.
The lawsuit plaintiffs assert that more than 150 football and basketball coaches in the NCAA's elite Division I earn more than $1 million a year; the best-paid 25 football coaches collect an average of $5.2 million and the top 25 basketball coaches an average of $3.2 million. In fiscal 2021-22, NCAA President Mark Emmert earned nearly $3.3 million, according to NCAA disclosures. Emmert retired earlier this year, but it's a fair bet that the compensation of his successor, former Massachusetts Gov. Charlie Baker, will be in the same neighborhood.
That should provide context to the NCAA's long drive to keep student players on a short financial leash, in order to preserve the impression that the players are merely amateurs, playing sports out of love for the game.
The opening of the NIL spigot has provided a bounty for star college football and basketball athletes.
Seven-figure NIL endorsement deals have been signed by marquee players, topped by USC basketball player Bronny James, the son of Lakers star LeBron James, for $5.9 million from Nike and Apple's Beats by Dre, among other brands; University of Colorado quarterback Shedeur Sanders, the son of former NFL star and current Colorado coach Deion Sanders, for $4.5 million from brands including Adidas and Gatorade; and University of Texas quarterback Arch Manning, the nephew of retired NFL quarterbacks Payton and Eli Manning and grandson of NFL quarterback Archie Manning, for deals totaling an estimated $2.8 million.
Other top players without gilded parentages are also receiving eye-popping deals.
The NCAA's position that amateurism is crucial to maintaining fans' enthusiasm for college football and basketball has been under attack for the better part of a decade. In 2014, Wilken chipped away at the NCAA's ban on NIL compensation, in a landmark case launched in 2009 with former UCLA basketball star Ed O'Bannon as lead plaintiff.
Wilken recognized big-college sports as a business, not amateur competition. But her solution was to allow NCAA schools to set up trust funds of several thousand dollars per player per year to hold their shares of the licensing revenue they had earned until graduation. She rejected the plaintiffs' proposal to allow student-athletes to make commercial endorsements, because she accepts that the NCAA and its member schools should protect the students from "commercial exploitation."
The NCAA had already sustained two blows in 2021. In June, the Supreme Court ruled narrowly, but unanimously, that the NCAA was subject to antitrust laws and that its restrictions on certain education-related benefits for athletes breached the laws. In a concurring opinion, Justice Brett Kavanaugh ridiculed the NCAA's argument that fans would abandon big-time football and basketball if they knew the players were getting paid.
"Nowhere else in America can businesses get away with agreeing not to pay their workers a fair market rate on the theory that their product is defined by not paying their workers a fair market rate," Kavanaugh wrote.
In the wake of the Supreme Court ruling the NCAA, perhaps detecting the writing on the wall, temporarily suspended its ban on NIL compensation while working out a system of new rules.
The following September, National Labor Relations Board General Counsel Jennifer A. Abruzzo issued a memo defining scholarship athletes at academic institutions as employees. Calling them "student-athletes" is legally a misclassification, Abruzzo said; in fact, she explicitly refused to accept the term in her memo, on the grounds that it had been coined chiefly "to avoid paying workers' compensation claims to injured athletes."
Abruzzo drew from the Supreme Court ruling as well as a sea change in the law and what she called "the societal landscape," which she said "demonstrate that traditional notions that all Players at Academic Institutions are amateurs have changed." Her memo opened the door to fairer compensation for athletes and even to giving them the right to unionize.
This May, the NLRB's Los Angeles office followed Abruzzo's lead by filing a complaint against USC, the Pac-12 Conference and the NCAA, alleging that they broke the law by misclassifying college athletes in men's and women's basketball and football as student-athletes rather than employees. The case is pending.
"The conduct of USC, the Pac-12 Conference and the NCAA, as joint employers, deprives their players of their statutory right to organize and to join together to improve their working and playing conditions if they wish to do so," Abruzzo said at the time.
The truth is that amateurism in college sports — indeed, the very concept of the student-athlete — has always been clothed in the rosy glow of myth. The meet generally regarded as the first intercollegiate athletic contest, the 1852 Harvard-Yale boat race on Lake Winnipesaukee in New Hampshire, was openly a profit-making event, sponsored by a railroad magnate conniving to gin up tourist interest in the lake and its environs.
In that era, collegiate football was a commercial enterprise employing athletes for pay — "'tramp athletes' who 'roamed the country making cameo athletic appearances' for pay," as Justice Neil M. Gorsuch wrote in the 2021 Supreme Court opinion. That system prevailed until 1905, when 18 fatalities on the college gridiron provoked President Theodore Roosevelt to force Harvard, Yale and Princeton to codify rules aimed at protecting players from injury.
Roosevelt's initiative gave birth to the NCAA. As one of its first acts, the NCAA outlawed payments, direct or indirect, to players, thereby defining players as amateurs. The NCAA rode that concept hard for more than a century. Its lawyers coined the term "student-athlete" in the 1950s, but since under-the-table payments still existed it was offered with a cynical wink.
The NCAA is trying to hold back the tide on two fronts. In its appeal of Wilken's latest ruling, it is arguing that the judge was wrong to certify the three classes of plaintiffs. College players don't have the common characteristics needed for a class action, the NCAA asserts; nor would it be fair to apportion, say, revenues from a TV deal evenly among all players on a team.
"The value of NIL is inherently tied to each athlete's unique status and characteristics," it told the appeals court. "A star quarterback can plainly command more money for the use of his image on the cover of a video game than an unheard-of, backup offensive lineman."
The NCAA's second front is on Capitol Hill. The association has been trying to persuade Congress to step in. In an appearance Oct. 17 before the Senate Judiciary Committee, the NCAA's Baker asked the lawmakers to overrule state laws in 30 states governing NIL payment rights by enacting a federal law.
More tellingly, Baker asked the senators to enact a law affirming that "student-athletes … are not employees of an institution" — in other words, to overturn the NLRB's doctrine in a way that would stifle the earning rights of most players and eliminate such threats as unionization.
"College sports are a uniquely powerful and beloved institution," Baker said.
How often have we heard this before? It's a rare industry that doesn't come to Capitol Hill pleading that it's so special that it deserves a tailor-made system of laws and regulations. Baker may claim that his industry is unique, but he sounds exactly like every other business leader looking for a legal bailout.
The NCAA is trapped in a morass of its own making. Its century-old business model has come face to face with 21st century realities, and it needs to deal with the world as it is, instead of trying to keep living in a world of its own.
Column: The crypto scam is on life support. Why are some lawmakers trying to give it CPR?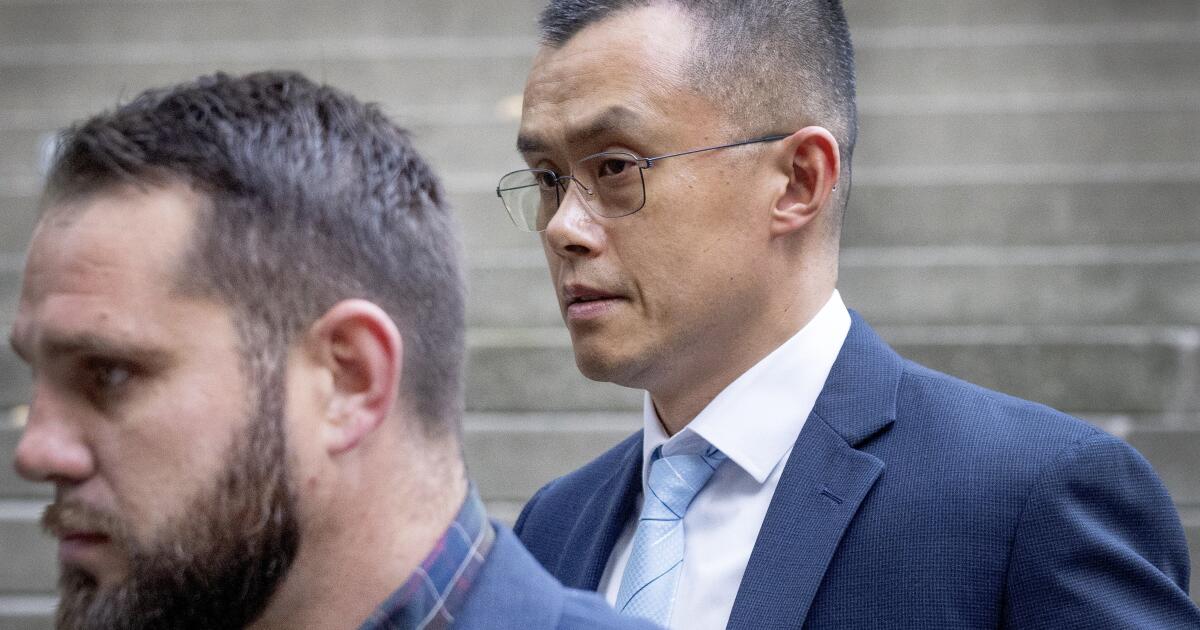 The criminal convictions of Sam Bankman-Fried and the Binance gang just mark the beginning of the U.S. government's drive to expose crypto as a tool for fraud and money-laundering. Yet some politicians are still trying to polish its reputation.