Looming government shutdown worries business owners near Yosemite, other national parks
Sundays at the Yosemite Bug Rustic Mountain Resort, 35 miles southwest of Yosemite National Park's Arch Rock entrance, are usually buzzing.
The 45-bedroom facility in the Sierra Nevada foothill hamlet of Midpines was near its 120-person capacity during the summer months, said co-owner Douglas Shaw. That wasn't counting non-guests patronizing the resort's cafe and health spa, fueling up or powering down before and after long hikes.
This Sunday, one of the last in what Shaw describes as his busy season, will be starkly different.
Shaw estimates he'll have only two front-office employees working that day out of 30 resort staffers. A few will be on an indefinite vacation, but most are being laid off.
The reason: the all-but-certain federal government shutdown that will stop salary payments to workers at Yosemite and other national parks, shutting down the recreation areas that draw millions of visitors and tourist dollars each year.
The task of the two workers at the resort will be to inform guests that it is closed because of the government shutdown.
"Look, realistically, all of our hotel guests are visitors, 95% of our restaurant guests and 50% of the spa-goers are all tourists, so there's no reason to stay open," Shaw said. "The federal government is shutting down and they're taking a bunch of us with them; it's absolutely devastating."
The pain will be felt especially at communities surrounding California's nine national parks, including Yosemite.
Funding for the federal government ends Sunday at 12:01 a.m. Unless Republican holdouts in the House relent and agree to a spending bill, millions of federal employees will stop being paid. There was some hope from businesses that parks would stay open, as was the case during the last shutdown that ended in January 2019.
However, the U.S. Department of Interior released a statement Friday afternoon saying that "National Park Service (NPS) sites will be closed."
The statement added: "This means that the majority of national parks will be closed completely to public access. Areas that, by their nature, are physically accessible to the public will face significantly reduced visitor services."
Governors from Arizona and Utah have vowed to use state funding to keep open parks such as the Grand Canyon and Zion.
California Gov. Gavin Newsom's staff, however, has said the state will not pick up the tab for closed parks.
National park patronage rose 5% last year from 2021 to 312 million recreational visits, generating $23.9 billion for local communities, according to a 2022 report on the effects of tourism by the National Park Service. Those figures translated into 378,400 jobs. Hotels and restaurants were the two biggest beneficiaries of park visits, according to the report.
Hotels and motels received about $9 billion in economic output tied to the parks, while restaurants were the beneficiary of $4.6 billion, the report said.
Tony McDaniel, a spokesperson for the Yosemite Mariposa County Tourism Bureau, said his county of 18,000 residents is dependent on the park.
"Roughly 52% of people employed in this county have a job in tourism," he said. "If the park shuts down, it's a disaster for so many people here struggling to put food on their tables."
McDaniel said ripple effects would be felt by nearly all businesses.
"When tourism staff have their hours cut or are laid off, guess what?" McDaniel said. "They're suddenly spending less at the grocery store and at restaurants for locals.
"Basically, everyone loses," he said.
McDaniel said he is working with leaders from the four rural counties that border Yosemite to coordinate cross-promotion, "something we never normally do."
"I've been telling the tourism board in Madera County that I'll spread the word about Bass Lake if they'll talk up Mariposa," he said. "We're doing everything we can to tell the story about small-town culture."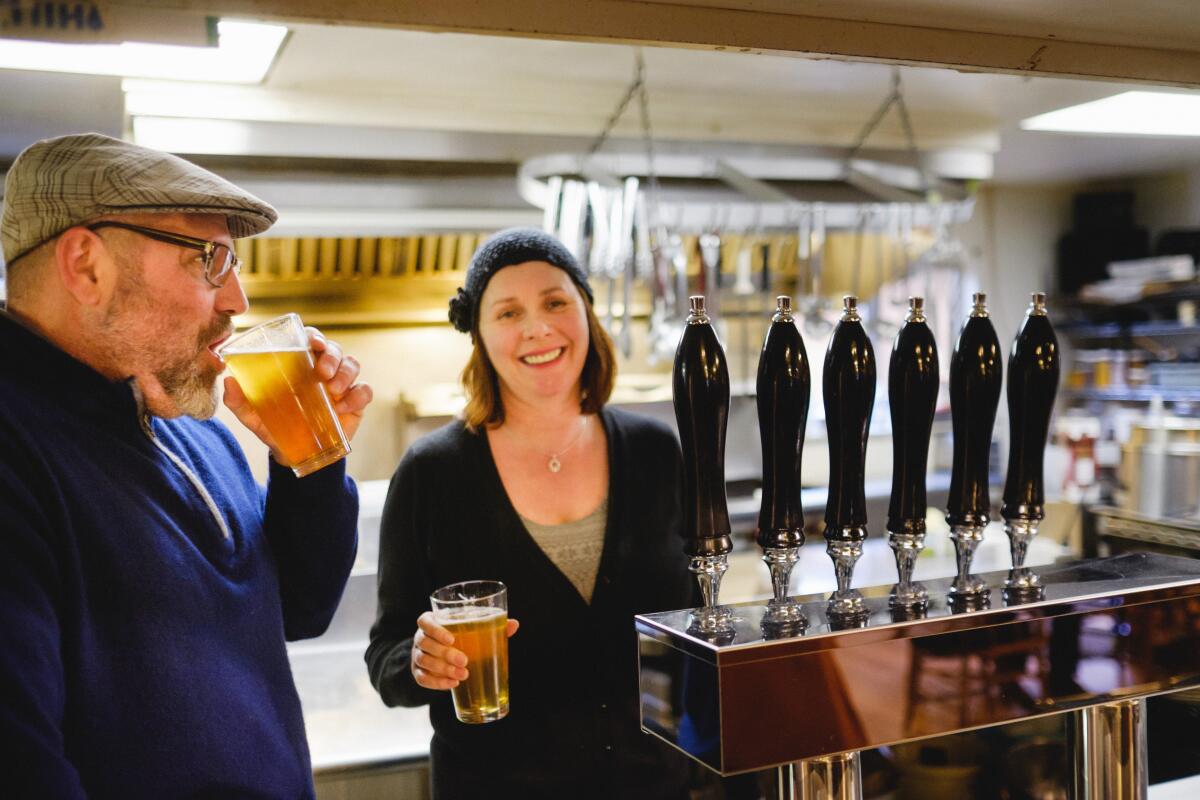 For Shaw, the resort owner, the government shutdown is the latest in a series of "devastating setbacks" over the last three-plus years.
Shaw took out a $450,000 loan to cover debt accumulated during the pandemic shutdowns and restrictions. The money was also needed to pay staff when wildfires and storms chased away tourists.
He carried $200,000 of that debt into the summer and was poised to pay that off. However, that money will be redirected if the shutdown lasts for more than a few days, he said.
Shaw estimated an approximately $175,000 loss in revenue if he has to close for October.
"I just wish the politicians could realize how damaging this is and all the people they're hurting," he said.
Travis Medlock, co-owner of a ramen house and wine shop in Mariposa, anticipates cuts in hours but no layoffs among his 12 workers.
"Our usual hours for the ramen shop are 4 p.m. to 9, but if it starts to wrap up earlier we'll just close," Medlock said. "We're going to wait and see."
A national park shutdown could be painful, but Medlock and his financial partner, Melissa Takahashi, are "pandemic-hardened" after opening the ramen shop in February 2020, he said.
Medlock said a shutdown would have been much worse had it happened a few months earlier.
He noted that during the summer, shop sales are about 80% from tourists and 20% from locals. During the so-called shoulder season, which he says is now, that percentage changes to 65% to 35%, while in the offseason months of January and February it flips to 60% locals and 40% tourists.
"For us, the key has been diversifying and trying to tap into this little but important market," he said.
Other businesses throughout the state are also preparing for the pinch.
Ventura resident Cherryl Connally heads the family-owned Island Packers Cruises.
Her fleet of three catamarans and 60 employees shuttle up to 400 tourists a day to Channel Islands National Park, which includes five of the six islands.
Connally is expecting a huge blow to the 55-year-old business.
"Really, about 65% of our business is taking people to the national park, so it's a big loss in revenue," she said.
But the company has a contingency plan, emblazoned on its website.
Connally plans on conducting 3½- and 5-hour wildlife tours around the Santa Barbara Channel, landing on only parts of the islands that are run by the environmental nonprofit Nature Conservancy.
Connally is also considering expanding Island Packers' whale-watching options.
The 2019 government shutdown lasted 35 days. During that period, Connally tried to minimize layoffs by reassigning employees to positions outside their normal duties.
"We created a maintenance plan for all of our staff to work during that time," she said. "We had boats to take care of, so we did a lot of renovation on our vessels and a lot of office paperwork."
Connally says she's sad to dust off that policy again.
"We're going to do our best not to lose anyone," she said. "Now we wait."

Column: This lawsuit has the NCAA staring down extinction. Is that a bad thing?
There can be few American public institutions more widely destested than the National Collegiate Athletic Assn.
The NCAA spent decades promoting the ideal of the amateur "student-athlete," barring football and basketball players from compensation while their coaches and university athletic directors collected millions of dollars a year. Its disciplinary system, rife with favoritism and inconsistencies, is honored by member universities more in the breach than the observance.
And when it doesn't get its way, it hasn't been shy about bullying — not that it always works, as when it threatened in 2019 to ban California universities from championship games if the Legislature voted to allow payments to those student-athletes.
Nowhere else in America can businesses get away with agreeing not to pay their workers a fair market rate on the theory that their product is defined by not paying their workers a fair market rate.
— Supreme Court Justice Brett Kavanaugh
(The measure in question passed anyway and was signed into law by Gov. Gavin Newsom.)
As it happens, the very issue covered by that legislation — compensation for the use of college players' "names, images and likenesses," or NIL for short — is at the center of what the NCAA implies could be an extinction event for the collegiate sports system as we know it today, if not for the NCAA itself.
The NCAA's hand-wringing has come about because federal Judge Claudia Wilken of Oakland has certified an antitrust lawsuit naming the association and its five most important regional sports conferences, the so-called Power Five, as a class action.
Wilken designated three classes of plaintiffs: current and former men's football and basketball players in the Power Five conferences, current and former women's basketball players in those conferences, and all other current and former athletes who competed on Division I teams prior to July 1, 2021, and have received NIL payments from third parties under the NCAA's temporary suspension of NIL payment restrictions.
The athletes who brought the case have asked for $1.4 billion in damages, which under antitrust law would be trebled if they win, for a total of $4.2 billion.
A judgment of that magnitude, the NCAA says in an appeal brief, "would necessitate curtailing college sports programs across the country." It says it would face "intense pressure to settle," presumably on highly disadvantaged terms — at least for the association, the athletic conferences and the administrators who have been running university programs on a business model dependent on paying athletes virtually nothing.
This problem is the product of the transformation of college football and basketball into big businesses so rich and powerful that they often overwhelm the academic goals of their universities.
Who's responsible? The NCAA and the universities with big-money programs themselves. They built these enormous financial edifices on a business model based on the players' free labor.
"The hard work of college athletes," the plaintiffs observed in their lawsuit, "has translated into billion-dollar television deals, multi-million dollar coaching salaries, extravagant facilities, and lucrative commercial licensing and sponsorship agreements" for the NCAA, its conferences and their executives.
Now that the financial ground is shifting under the feet of the NCAA and the richest athletic programs, they're feeling the pain from the collapse of their franchise.
The numbers tell the story.
In recent years the Big Ten, Southeastern and Big 12 conferences signed multiyear television deals for football worth a total of more than $12 billion. In 2016, the NCAA renewed its contract with Turner Sports and CBS for broadcast rights to its men's basketball tournament for $8.8 billion over eight years.
The lawsuit plaintiffs assert that more than 150 football and basketball coaches in the NCAA's elite Division I earn more than $1 million a year; the best-paid 25 football coaches collect an average of $5.2 million and the top 25 basketball coaches an average of $3.2 million. In fiscal 2021-22, NCAA President Mark Emmert earned nearly $3.3 million, according to NCAA disclosures. Emmert retired earlier this year, but it's a fair bet that the compensation of his successor, former Massachusetts Gov. Charlie Baker, will be in the same neighborhood.
That should provide context to the NCAA's long drive to keep student players on a short financial leash, in order to preserve the impression that the players are merely amateurs, playing sports out of love for the game.
The opening of the NIL spigot has provided a bounty for star college football and basketball athletes.
Seven-figure NIL endorsement deals have been signed by marquee players, topped by USC basketball player Bronny James, the son of Lakers star LeBron James, for $5.9 million from Nike and Apple's Beats by Dre, among other brands; University of Colorado quarterback Shedeur Sanders, the son of former NFL star and current Colorado coach Deion Sanders, for $4.5 million from brands including Adidas and Gatorade; and University of Texas quarterback Arch Manning, the nephew of retired NFL quarterbacks Payton and Eli Manning and grandson of NFL quarterback Archie Manning, for deals totaling an estimated $2.8 million.
Other top players without gilded parentages are also receiving eye-popping deals.
The NCAA's position that amateurism is crucial to maintaining fans' enthusiasm for college football and basketball has been under attack for the better part of a decade. In 2014, Wilken chipped away at the NCAA's ban on NIL compensation, in a landmark case launched in 2009 with former UCLA basketball star Ed O'Bannon as lead plaintiff.
Wilken recognized big-college sports as a business, not amateur competition. But her solution was to allow NCAA schools to set up trust funds of several thousand dollars per player per year to hold their shares of the licensing revenue they had earned until graduation. She rejected the plaintiffs' proposal to allow student-athletes to make commercial endorsements, because she accepts that the NCAA and its member schools should protect the students from "commercial exploitation."
The NCAA had already sustained two blows in 2021. In June, the Supreme Court ruled narrowly, but unanimously, that the NCAA was subject to antitrust laws and that its restrictions on certain education-related benefits for athletes breached the laws. In a concurring opinion, Justice Brett Kavanaugh ridiculed the NCAA's argument that fans would abandon big-time football and basketball if they knew the players were getting paid.
"Nowhere else in America can businesses get away with agreeing not to pay their workers a fair market rate on the theory that their product is defined by not paying their workers a fair market rate," Kavanaugh wrote.
In the wake of the Supreme Court ruling the NCAA, perhaps detecting the writing on the wall, temporarily suspended its ban on NIL compensation while working out a system of new rules.
The following September, National Labor Relations Board General Counsel Jennifer A. Abruzzo issued a memo defining scholarship athletes at academic institutions as employees. Calling them "student-athletes" is legally a misclassification, Abruzzo said; in fact, she explicitly refused to accept the term in her memo, on the grounds that it had been coined chiefly "to avoid paying workers' compensation claims to injured athletes."
Abruzzo drew from the Supreme Court ruling as well as a sea change in the law and what she called "the societal landscape," which she said "demonstrate that traditional notions that all Players at Academic Institutions are amateurs have changed." Her memo opened the door to fairer compensation for athletes and even to giving them the right to unionize.
This May, the NLRB's Los Angeles office followed Abruzzo's lead by filing a complaint against USC, the Pac-12 Conference and the NCAA, alleging that they broke the law by misclassifying college athletes in men's and women's basketball and football as student-athletes rather than employees. The case is pending.
"The conduct of USC, the Pac-12 Conference and the NCAA, as joint employers, deprives their players of their statutory right to organize and to join together to improve their working and playing conditions if they wish to do so," Abruzzo said at the time.
The truth is that amateurism in college sports — indeed, the very concept of the student-athlete — has always been clothed in the rosy glow of myth. The meet generally regarded as the first intercollegiate athletic contest, the 1852 Harvard-Yale boat race on Lake Winnipesaukee in New Hampshire, was openly a profit-making event, sponsored by a railroad magnate conniving to gin up tourist interest in the lake and its environs.
In that era, collegiate football was a commercial enterprise employing athletes for pay — "'tramp athletes' who 'roamed the country making cameo athletic appearances' for pay," as Justice Neil M. Gorsuch wrote in the 2021 Supreme Court opinion. That system prevailed until 1905, when 18 fatalities on the college gridiron provoked President Theodore Roosevelt to force Harvard, Yale and Princeton to codify rules aimed at protecting players from injury.
Roosevelt's initiative gave birth to the NCAA. As one of its first acts, the NCAA outlawed payments, direct or indirect, to players, thereby defining players as amateurs. The NCAA rode that concept hard for more than a century. Its lawyers coined the term "student-athlete" in the 1950s, but since under-the-table payments still existed it was offered with a cynical wink.
The NCAA is trying to hold back the tide on two fronts. In its appeal of Wilken's latest ruling, it is arguing that the judge was wrong to certify the three classes of plaintiffs. College players don't have the common characteristics needed for a class action, the NCAA asserts; nor would it be fair to apportion, say, revenues from a TV deal evenly among all players on a team.
"The value of NIL is inherently tied to each athlete's unique status and characteristics," it told the appeals court. "A star quarterback can plainly command more money for the use of his image on the cover of a video game than an unheard-of, backup offensive lineman."
The NCAA's second front is on Capitol Hill. The association has been trying to persuade Congress to step in. In an appearance Oct. 17 before the Senate Judiciary Committee, the NCAA's Baker asked the lawmakers to overrule state laws in 30 states governing NIL payment rights by enacting a federal law.
More tellingly, Baker asked the senators to enact a law affirming that "student-athletes … are not employees of an institution" — in other words, to overturn the NLRB's doctrine in a way that would stifle the earning rights of most players and eliminate such threats as unionization.
"College sports are a uniquely powerful and beloved institution," Baker said.
How often have we heard this before? It's a rare industry that doesn't come to Capitol Hill pleading that it's so special that it deserves a tailor-made system of laws and regulations. Baker may claim that his industry is unique, but he sounds exactly like every other business leader looking for a legal bailout.
The NCAA is trapped in a morass of its own making. Its century-old business model has come face to face with 21st century realities, and it needs to deal with the world as it is, instead of trying to keep living in a world of its own.
Column: The crypto scam is on life support. Why are some lawmakers trying to give it CPR?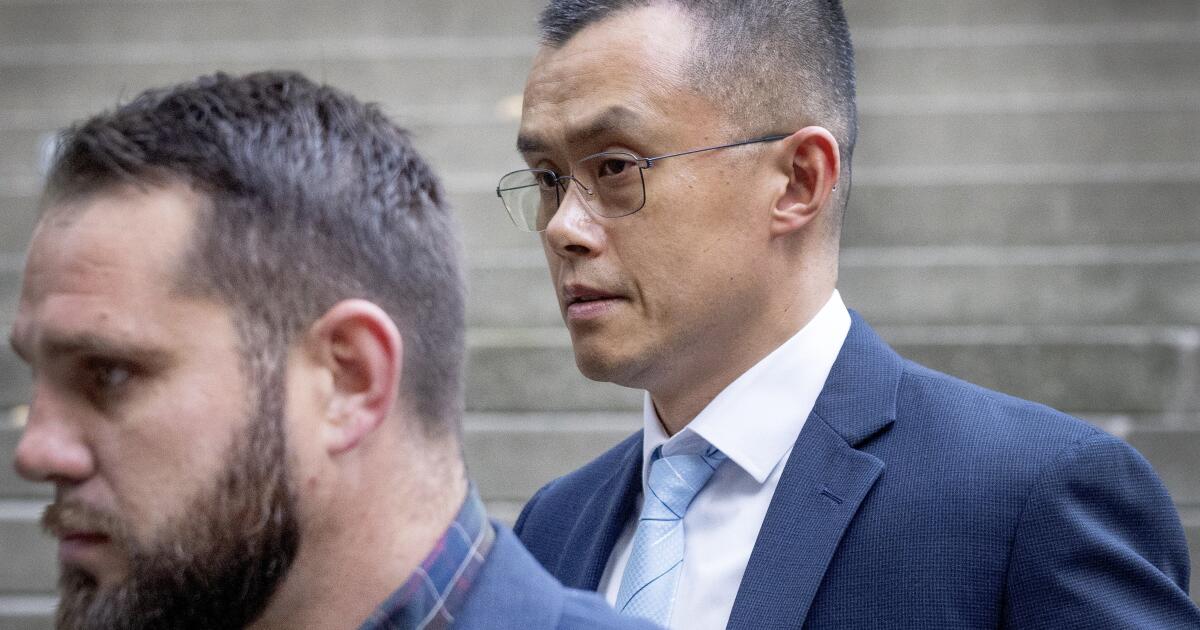 The criminal convictions of Sam Bankman-Fried and the Binance gang just mark the beginning of the U.S. government's drive to expose crypto as a tool for fraud and money-laundering. Yet some politicians are still trying to polish its reputation.
Charles Munger, who helped build one of the greatest fortunes in U.S. history, has died
Charles Munger helped build one of the greatest fortunes in U.S. history, but he often explained his success in terms that sounded deceptively uncomplicated.
"Take a simple idea and take it seriously."
"Load up on the very few insights you have instead of pretending to know everything about everything at all times."
And above all, he stressed the need for patience and a long-term investment view — an approach that has vanished from much of Wall Street in recent decades.
In his trademark curmudgeonly style, Munger advised investors to take stakes in a relative handful of great companies and then "just sit on your ass."
Munger, the longtime investment partner of billionaire Warren E. Buffett, died Tuesday at a California hospital, according to Berkshire Hathaway, where he was vice chairman. He was 99.
"Berkshire Hathaway could not have been built to its present status without Charlie's inspiration, wisdom and participation," Buffett said in a news release.
Though born in Omaha, like Buffett, Munger lived in Los Angeles most of his life. And for the most part, he shunned the media spotlight that Buffett often relished.
However, with a net worth that Forbes estimated at $2.6 billion upon his death, he was able to make a big impact with his philanthropy both locally and elsewhere.
He was a longtime benefactor and board chairman of Good Samaritan Hospital in Los Angeles. He also funded a science center at Harvard-Westlake School in L.A. and a research center at the Huntington Library.
In higher education, Munger said he wanted to foster more dialogue and mixing of ideas on campus. In 2013 Munger donated $110 million in stock for a graduate residence at the University of Michigan. He gave $43.5 million in 2004 for a graduate residence adjacent to Stanford Law School.
But it was a 2016 donation that led to perhaps the biggest controversy of his career. He pledged $200 million to build new dorms at UC Santa Barbara, which had a severe shortage of student housing.
He pushed for the construction of an 11-story warehouse-size building that would feature 4,500 beds in small rooms — similar to but larger than the Michigan dorm. Unveiled in 2021, the massive UCSB structure was dubbed "Dormzilla" by its critics, and the university is reportedly considering alternatives.
Munger sometimes was described as Buffett's "sidekick," but that grossly understated his influence on Buffett, who is six years his junior.
Berkshire, with more than $1 trillion in assets, owns such well-known brands as insurance company Geico, the BNSF railroad, See's Candies, Fruit of the Loom and Dairy Queen.
After meeting Munger at a dinner party in Omaha in 1959, Buffett — then an ambitious but novice investor — said he quickly realized that there was "only one partner who fit my bill of particulars in every way: Charlie."
Buffett's wife, the late Susie Buffett, once wrote of the two men that "both thought the other was the smartest guy they ever met."
In the last few decades Munger's name has become better known, at least among serious investors, as he shared the spotlight with Buffett at Berkshire's annual shareholder meeting. The two became a nightclub act of sorts, peppering sage investment advice with one-liners that kept the crowd of thousands enraptured.
One of Munger's most famous zingers encapsulated his frequently acerbic wit: "I'm right, and you're smart, and sooner or later you'll see I'm right."
Charles Thomas Munger was born on Jan. 1, 1924, in Omaha to Al and Florence Munger. His father was a lawyer, and his grandfather had been a federal judge.
As described by Michael Broggie in the 2005 book "Poor Charlie's Almanack: The Wit and Wisdom of Charles T. Munger," Munger's family fared comparatively well during the Great Depression.
Still, young Charlie was expected to work. One of his first jobs was clerking — for $2 per 12-hour shift — at Buffett & Son, an upscale Omaha grocery run by Warren Buffett's grandfather. But Munger never met the younger Buffett during their youth.
A voracious reader whose hero was Benjamin Franklin, Munger showed an aptitude for business early on when he began to raise hamsters to trade with other kids.
"Even at an early age, Charlie showed sagacious negotiating ability, and usually gained a bigger specimen or one with unusual coloring," Broggie wrote.
After high school, Munger enrolled at the University of Michigan as a math major, but he left in 1943 to join the war effort. He enlisted in the Army Air Forces and was trained in meteorology at Caltech in Pasadena.
Though he lacked a bachelor's degree, Munger in 1946 decided to apply to Harvard Law School. He was accepted after a family friend intervened.
Munger excelled at Harvard, graduating magna cum laude. His first law job was at Wright & Garrett in Los Angeles.
But in his personal life, Munger struggled. At age 21 he had married Nancy Huggins, a family friend. They divorced in 1953, when Munger was 29.
Shortly afterward the oldest of their three children, Teddy, was diagnosed with leukemia. He died at age 9.
In 1956 Munger married Nancy Barry Borthwick, a Stanford University economics graduate. They had met through Munger's friend Roy Tolles. Borthwick had two sons from her first marriage. She and Munger had four more children together.
The size of the family was key to Munger's fateful decision to shift career tracks from law to investing.
"Nancy and I supported eight children," Munger said in 1996. "And I didn't realize that the law was going to get as prosperous as it suddenly got."
He put it another way to Janet Lowe, who wrote the biography "Damn Right! Behind the Scenes With Berkshire Hathaway Billionaire Charlie Munger" in 2000.
"Like Warren, I had a considerable passion to get rich," Munger told Lowe. "Not because I wanted Ferraris — I wanted the independence. I desperately wanted it."
In 1962 Munger co-founded the L.A. law firm Munger Tolles & Hills (today known as Munger Tolles & Olson). But by then his investing pursuits were already taking up much of his time.
Though he began trading investment ideas with Buffett in 1959, from 1962 to 1975 Munger was mostly focused on building his own stock investment fund, Wheeler, Munger & Co., according to biographer Broggie.
Munger racked up strong returns in the fund, but, like most investors, he was hit hard in the deep bear market of 1973-74, amid the first Arab oil embargo.
After the market rebounded in 1975, Munger decided to stop directly managing money for others. Instead, he joined with Buffett in investing via the "holding company" concept: The two would buy businesses and make stock investments through a publicly traded company. They would control the firm by virtue of their large stake in it, but other investors could buy the company's shares if they wanted to join in as essentially silent partners.
Their primary vehicle was Buffett's Berkshire Hathaway. Munger became vice chairman of the firm in 1978.
Munger also ran a smaller holding company, Pasadena-based Wesco Financial, which was majority-owned by Berkshire. It was merged into Berkshire in 2011. Separately, Munger headed Daily Journal Corp., an L.A.-based publisher of legal newspapers, including the L.A. Daily Journal.
But Berkshire's success is what made Munger's name synonymous with brilliant investing.
Buffett credited Munger with refining the former's basic "value" approach to investing. Buffett was a devotee of Ben Graham, the father of the value school, which preached the discipline of buying shares only in companies that met rigid financial criteria.
Munger, however, convinced Buffett that a long-term investor could prosper by focusing on the very best companies — even if they didn't meet all of Graham's value requirements.
Munger's approach was crystallized in his most famous investing maxim: "A great business at a fair price is superior to a fair business at a great price."
Munger "expanded my horizons," Buffett has said.
That, in turn, led to Berkshire's purchases of huge stakes over the years in such blue-chip companies as Coca-Cola, American Express, IBM and Wells Fargo, in addition to the dozens of companies Berkshire owns outright.
Munger owned only a small fraction of Berkshire stock, but the success of Berkshire Hathaway made him a billionaire anyway.
Later in life, Munger at times became almost apologetic for his financial success. In a 1998 speech he bemoaned the allure of Wall Street for talented young people, "as distinguished from work providing much more value to others."
"Early Charlie Munger is a horrible career model for the young, because not enough was delivered to civilization for what was wrested from capitalism," he said.
He was an outspoken critic of excessive executive pay. He and Buffett drew annual salaries of $100,000 at Berkshire, a pittance compared with what most top Fortune 500 executives are paid.
Though a self-described conservative Republican (in contrast to Buffett, a Democrat), on some issues Munger defied the conservative stereotype. He was a longtime supporter of Planned Parenthood, for example, and fought in the 1960s to legalize abortion.
"I'm more conservative, but I'm not a typical Colonel Blimp," Munger said in 1996, referring to the jingoistic, reactionary British cartoon character.
Munger's wife, Nancy Barry Munger, died in 2010.
He is survived by eight children and stepchildren, 15 grandchildren and seven great-grandchildren.
Times staff writer Laurence Darmiento contributed to this report. Petruno is a former staff writer.