LaMelo and Lonzo Ball sued for more than $200 million by Big Baller Brand co-founder
Charlotte Hornets star LaMelo Ball and his parents, LaVar and Tina Ball, are being sued for more than $200 million by Big Baller Brand co-founder Alan Foster, who accuses them of trademark infringement, fraud, unfair business practices and more.
In a separate case, Foster is also suing LaMelo Ball's older brother, Chicago Bulls guard Lonzo Ball, for malicious prosecution, intentional interference with contractual relations and unjust enrichment. He is seeking more than $600,000 in legal costs in addition to damages, which could amount to millions more.
The two lawsuits, filed less than two months apart, are unrelated in a legal sense but both reflect the deterioration of a once-close relationship between Foster and the Ball family, which is from Chino Hills.
Last week, Foster filed a federal lawsuit in Los Angeles on Monday that named LaVar, Tina and LaMelo Ball among the co-defendants. The filing describes "a very coordinated effort on behalf of the Defendants to do one thing — prevent Alan from having any interest in the family companies of the Ball Family and the money they generate."
Other co-defendants in that case include the apparel company Puma, which has a shoe deal with LaMelo Ball; LaMelo Ball's MB1 Enterprises LLC; and LaVar Ball's Big Baller Brand Inc. A total of 12 causes of action are being brought against some or all of the defendants.
The lawsuit states Foster likely has suffered damages in excess of $200 million. Foster's attorney, Raymond Brenneman, told The Times on Friday that the dollar figure represented an "estimate of all the merchandise by Puma and Big Baller Brand that utilized trademarks owned by Alan Foster."
Puma told The Times via email it has no comment on the lawsuit. Attempts to reach the other defendants were unsuccessful.
Foster became close with the Ball family — which also includes middle son LiAngelo Ball, who is not named as a co-defendant in either lawsuit — more than a decade ago.
According to Monday's filing, Foster helped LaVar and Tina Ball start several of the family's companies and still owns a 33% interest in all of them, including the assets of the now-dissolved company, Big Baller Brand LLC. Those assets include trademarks involving LaMelo Ball, the Big Baller Brand and Lonzo Ball, the lawsuit states.
LaVar Ball started the separate Big Baller Brand Inc. in 2019, according to the lawsuit, and trademark registrations were later transferred from Big Baller Brand LLC to the new company without Foster's consent.
"The malicious intentions are not here difficult to discern," the lawsuit states, calling the move "an attempt to deprive Alan of his rightful 33% share of these extremely valuable trademarks so that the huge profits could be claimed entirely by the Ball family alone."
The lawsuit includes causes of action for breach of written contract and breach of fiduciary duty against LaVar and Tina Ball, and fraudulent registration of trademark and unfair business practices against LaVar Ball and Big Baller Brand Inc.
Also in the filing, Foster claims he helped a young LaMelo Ball develop his brand, including the creation of the MB1 name and design and the registration of related trademarks for Big Baller Brand LLC. The company launched LaMelo Ball's signature shoe, also called the MB1, in 2017.
LaMelo Ball started MB1 Enterprises in late 2020, the lawsuit states, and later filed for trademark protection for branding that is "confusingly similar" to the earlier branding Foster helped develop and register.
Also confusing to consumers, according to the lawsuit, is the name of Ball's first signature shoe from Puma, the MB.01 — "a name that is, for all intents and purposes, identical to the LaMelo 'MB1' signature shoe that Alan and BBB LLC earlier created, marketed, sold, and protected via the LaMelo Trademarks."
"When pronouncing the name of LaMelo's signature sneaker, the common vernacular dictates that 'MB1' and 'MB.01' are both simply pronounced as 'M-B-1,'" the court documents read. "Nobody casually pronounces 'MB.01' as 'M-B-dot-oh-1'. Thus, the LaMelo signature sneakers marketed and sold by PUMA are commonly referred to in the marketplace as 'MB1's."
Foster's court filing includes images of the Puma shoes being referred to as "MB1" on multiple websites selling the footwear and in an online article.
"LaMelo and MB1 Enterprises, with willful, deliberate, and malicious intent, engaged in the promotion, participation, and advertisement of the Infringing Trademarks to drive sales towards PUMA's footwear and apparel products, with whom LaMelo and MB1 Enterprises had lucrative licensing or endorsement contracts, all for their greedy financial gain," the lawsuit reads. "In carrying out these deliberate acts, LaMelo was fully aware of the existence of the LaMelo Trademarks — he helped design them!"
Foster is suing Ball, MB1 Enterprises and Puma for federal and common law trademark infringement, trademark dilution, unfair business practices, fraud and concealment of facts and conversion (LaVar Ball is also included on the last cause of action). All the defendants are being sued for unjust enrichment and constructive trust.
Much of Foster's lawsuit against Lonzo Ball, filed in Los Angeles County Superior Court on Sept. 11, involves a lawsuit Ball and Big Baller Brand LLC filed against Foster in 2019 for fraud, breach of fiduciary duty, conversion and accounting against. That case is still active.
In his lawsuit against Ball, Foster claims he "suffered financial loss, loss of business relations, loss of reputation, and emotional distress" as a result of false claims the former UCLA star made against him in the previous lawsuit and in the media.
In addition, the lawsuit states, "Lonzo continues to profit from the BSG and BBB brands that Alan helped build, yet Alan has been excluded from the business and deprived of his one-third share of profits and assets.
"As a result of his efforts to secure trademarks, increase social media engagement, develop business partnerships, and establish profitable marketing strategies, Plaintiff enhanced the value of BSG and its related entities in amount to be proved at trial, but estimated to exceed $10,000,000 (ten million dollars)," the lawsuit states. "It would be inequitable for Lonzo to retain those benefits without fairly compensating Alan for the value he provided, given that Lonzo then used his status to damage Alan's interests."
Foster is seeking an undetermined amount in damages in addition to more than $600,000 in legal costs and attorneys' fees from the 2019 lawsuit. Attempts by The Times to reach Foster's attorney for this case, James Koch, as well as Ball and his representatives were unsuccessful.

Sam Altman tells Trevor Noah what he really thinks about his ouster, the dangers of AI and Taylor Swift
When Sam Altman was abruptly fired last month as CEO of artificial intelligence powerhouse OpenAI, the rupture left him with a lot of thinking to do.
But looking back on the experience, Altman told comedian Trevor Noah in a video podcast released Thursday morning, there may have been some upside.
"The empathy I gained out of this whole experience, and my recompilation of values, for sure was a blessing in disguise," Altman told the former "Daily Show" host in one of his first major interviews since triumphantly returning to the tech company. "It was at a painful cost, but I'm happy to have had the experience in that sense."
It was one of several subjects the technologist — whose company is behind major consumer AI products such as ChatGPT and DALL-E, making him the face of the current AI boom in many ways — opened up about on the latest episode of Noah's Spotify podcast "What Now?"
1. Altman was at the Las Vegas Grand Prix when he got fired.
In response to a question from Noah about where he was when he got the news that the OpenAI board had fired him, Altman said he was where a lot of rich, influential Californians were at the time: Las Vegas, for the Formula One Grand Prix.
"I never got to watch any race that whole weekend," he told the host as the two sat around a simple wooden table in what they implied was OpenAI's office. "I was in my hotel room, took this call, had no idea what it was gonna be, and got fired by the board."
His phone started blowing up with messages to the point where iMessage stopped working, Altman added. Employees began quitting; Microsoft, a major investor in OpenAI, was calling people up.
Returning to OpenAI was not yet on his mind, Altman continued, but he knew he wanted to keep working on developing generalized artificial intelligence. He flew back to California and started contemplating his next move.
"It felt like a dream," Altman said of the experience. "I was confused, it was chaotic. It did not feel real."
2. He still has some hard feelings about the whole ordeal.
"This was a very painful thing and felt to me, personally, just as a human, super unfair — the way it was handled," Altman said of his surprise sacking.
It's still unclear why exactly the OpenAI board tried to push Altman out, although speculation has circled around possible disagreements over how quickly the firm should be trying to develop and commercialize advanced AI systems. Because of OpenAI's structure, which holds the firm's for-profit elements subservient to a nonprofit board, the firm does not hold money-making as its core objective. Instead, it aims to develop artificial intelligence for the betterment of all mankind.
The board sought to push out Altman quickly and with the benefit of surprise, subsequent reporting has revealed. But beyond an initial claim that he's been inconsistently candid in his communications with them, the board has been tight-lipped about what motivated its attempted coup.
The Saturday morning after he got fired, Altman told Noah, "a couple of the board members called me and said, 'Would you like to talk about coming back?' "
"I had really complicated feelings about that," he added. "But it was very clarifying at the end of it to be like, 'Yes, I do.' "
3. Altman got a firsthand look at what it's like to lose your job.
In the closing minutes of the interview — which remained amiable for its hour and 15-minute run time — Noah made a friendly but pointed observation that Altman's firing paralleled the job losses a lot of people fear his technology will bring about at a societal scale.
"Continue to remember that feeling you had when you were fired as you're creating a technology that's gonna put many people in a similar position," Noah encouraged the chief executive.
"Y'know what I did Saturday morning — like early Saturday morning, when I couldn't sleep?" responded Altman, seemingly referring to the day after his Friday dismissal. "I wrote down: 'What can I learn about this that will help me be better when other people go through a similar thing and blame me like I'm blaming the board right now.'"
It made him more empathetic, he added.
4. Altman still believes in AI, despite its risks.
For all the boardroom drama of the last month, Altman remains enthusiastic about artificial intelligence — even as he cautions that it will come with downsides.
"This is gonna be a force to combat injustice in the world in a super important way," he told Noah. "These systems will be — they won't have the same deep flaws that all humans do. They will be able to be made to be far less racist, far less sexist, far less biased. They'll be a force for economic justice in the world."
But, his host asked, is it really possible to make AI completely safe? What is Altman's nightmare scenario?
Safety is not a binary but a balance between risks and benefits, Altman said, pointing to society's continued embrace of planes (despite occasional crashes) and pharmaceuticals (which still have side effects).
"But it doesn't mean things aren't gonna go really wrong," he added. "I think things will go really wrong with AI. What we have to prevent" are existential risks, or the threat that AI could wipe out mankind in the same way nuclear arms might.
5. He had some kind words for Taylor Swift.
Altman was just named CEO of the Year by Time Magazine, missing out on the top spot to 2023 Person of the Year Taylor Swift.
But he doesn't envy her for it, he told Noah.
"I have had more attention this year than I would have liked to have in my entire life," he explained, and it has at times been tough on his personal life. He's "happy for Taylor Swift."
Elon Musk's SpaceX reportedly valued at $175 billion or more in tender offer
Elon Musk's SpaceX has initiated discussions about selling insider shares at a price that values the closely held company at $175 billion or more, according to people familiar with the matter.
The most valuable U.S. startup is discussing a tender offer that could range from $500 million to $750 million, said some of the people, who asked not to be identified because the information is confidential. SpaceX is weighing offering shares at about $95 apiece, the people said.
Terms and the size of the tender offer could change depending on interest from both insider sellers and buyers.
A $175-billion valuation is a premium to the $150-billion valuation the company obtained through a tender offer this summer. The increase would make SpaceX one of the world's 75 biggest companies by market capitalization, on par with T-Mobile USA ($179 billion), Nike ($177 billion) and China Mobile ($176 billion), according to data compiled by Bloomberg.
Representatives for SpaceX, formally known as Space Exploration Technologies, didn't immediately respond to a request for comment.
The Hawthorne-based company dominates the market for commercial space launch services with its Falcon rockets. SpaceX also sends payloads to orbit for private-sector customers, as well as for NASA and other government agencies.
SpaceX also operates its internet-from-space Starlink service, anchored by a growing constellation of satellites in low-Earth orbit.
SpaceX is on track to book revenues of about $9 billion this year across its rocket launch and Starlink businesses, Bloomberg News reported last month, with sales projected to rise to around $15 billion in 2024. The company is also discussing an initial public offering for Starlink as soon as late 2024 — a bid to capitalize on robust demand for communications via space.
Black-trimmed homes, tiny libraries and other signs your neighborhood is about to be gentrified
A shift in demographics. Affordable apartments transformed into luxury condos. A coffee shop called something like "Brew Slut."
The signs of gentrification take many forms. A newly opened art gallery can serve both as a communal space and a harbinger of the displacement to come. Remodeled homes might boost a street's curb appeal but then drive up rents in the ensuing months and years.
There are plenty of ways to tell when gentrification is coming to a community; rising home prices and an influx of trendy shops are classic omens. But in the modern market, developers are flipping houses at the highest rate since 2000, and the houses they churn out are often homogeneous: boxy, black and white, minimalist. They're adorned with trendy house number fonts and chic drought-tolerant gardens, and they can be an obvious sign of gentrification on the way.
Take a stroll through your neighborhood and keep an eye out for these trends. If you spot a few, gentrification may be on the way. If you spot a bunch, it might be well underway.
The gentrification font
If Neutraface starts speckling the homes and fences around your neighborhood, your rent might soar soon.
The sleek typeface and its many knock-offs have become so commonplace that they've become a meme, and the Guardian even declared it "the gentrification font." It crowns countless brand-new builds across L.A., and like certain wines and cheeses, it pairs well with cheaply done fixer-uppers or the aforementioned box houses.
"The Shake Shack font has invaded," said Steven Sanders, a Highland Park resident who has lived in the rapidly changing neighborhood since 2015. When Sanders moved there, the median single-family home value was around $463,000, according to Zillow. Today, it's $1.002 million.
There's nothing specifically wrong with the font; it's clean, modern and easy to read. Ironically, it's named after Richard Neutra, an iconic architect who often stressed affordability in his work.
If a for-sale house has a Neutraface house number, the listing price will probably be anything but affordable.
Gentrification bonus point: if the font is also brass or gold.
Black-and-white paint jobs
Gentrification, in terms of housing, has become a monochromatic movement. Gone are the green-colored Craftsmans or the pink-hued bungalows of old; today, newly built homes are overwhelmingly white, black or a brutal combination of the two.
"Taste aside, a black house in an era of climate change is ridiculous," said Adam Greenfield, a transportation and land-use advocate.
Gentrification bonus point: if a black-and-white exterior comes with an accent door — a splash of bright blue, yellow or turquoise to showcase that the property isn't completely devoid of character. Just mostly devoid of character.
Excess security cameras
If you're taking a stroll down your street and feel watched — not by anyone specific, but by a small army of Ring doorbells, Nest cameras and other electronic eyes making sure you don't pick a Meyer lemon or that your dog doesn't defecate on the decomposed granite — brace for a new brand of neighbor.
Surveillance systems and the context behind them, in which owners view their neighbors and passersby as potential package-stealers, are all too common in gentrifying communities. For if it were truly a high-crime place, there would still be chain link and barred windows.
There's plenty of evidence that smart doorbells lead to racial profiling, and while there's nothing inherently wrong with security systems, they generally detract from the community feel instead of adding to it.
"It's the degradation of the social fabric that for so long we all took for granted," Greenfield said. "It's legitimate to walk up to a neighbor's door to ask for or offer something, and security cameras and warning systems discourage that. We can't let fear win in our society."
Gentrification bonus point: if they come with a speaker with a disembodied voice that barks at passersby in a condescending tone: "Hi! You are currently being recorded."
Privacy fences
Sometimes, surveillance systems aren't enough. Many modern homeowners moving into new neighborhoods don't even want to be seen by neighbors, so they install privacy fences or towering hedges to shield themselves from anyone walking by.
Greenfield calls them "f— you fences."
"Many people were raised in the suburban sprawl, where they don't have as much access to other people. Then they move to denser areas and import those suburban norms of separation and privacy," Greenfield said.
Lola Rodriguez, a Lincoln Heights resident who grew up in the area, said if a home in the neighborhood is ever hidden from view, it's usually someone who just moved in.
Gentrification bonus point: if the privacy fence is chic and stylish, like the horizontal trend that has taken over in some areas.
Box houses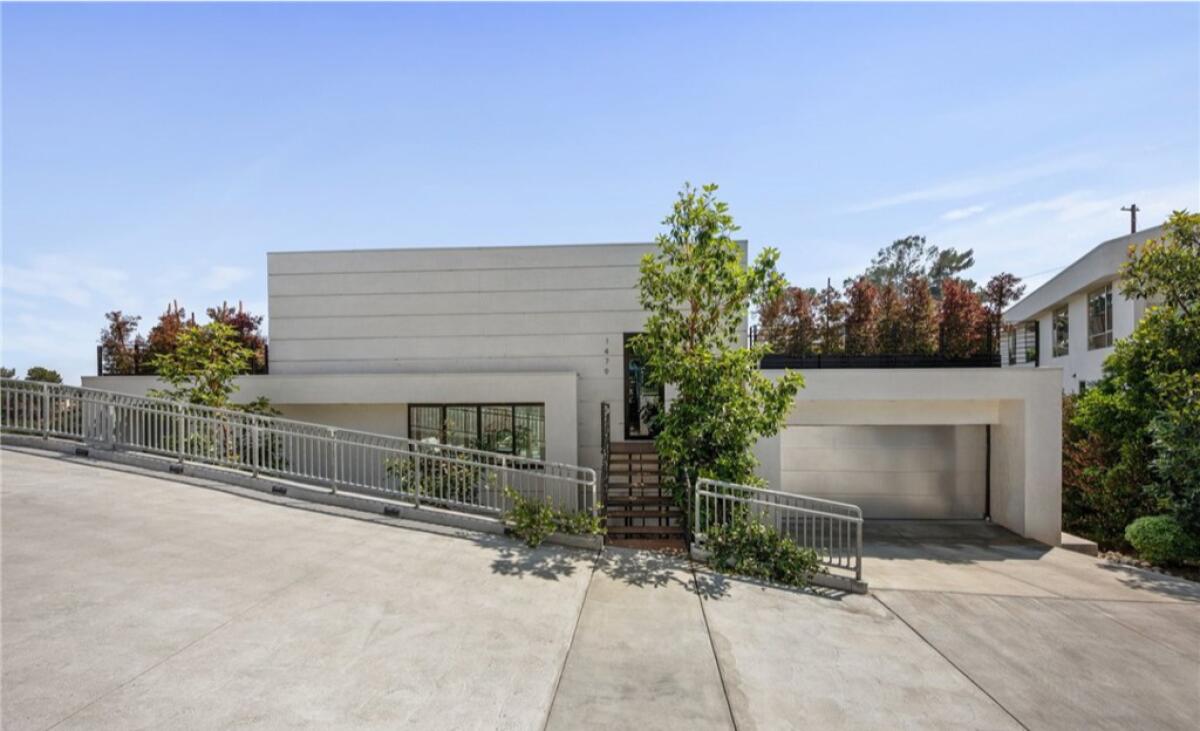 One of the more uninspired architectural trends of the last century, modern box houses forgo attempts at character or ornamentation, instead serving as shrines to simplicity. They worship at the altar of minimalism, squeezing out as much square footage as zoning laws will allow.
They're clean, they're simple, and they're a likely sign that a new demographic is moving into a neighborhood.
"It's jarring seeing a bright white box house jammed between older houses with more character," Rodriguez said. She prefers the neighborhood's stock of century-old bungalows over the new homes being built.
The polarizing style isn't for everyone, but it's a hit for deep-pocketed buyers eyeing extra space. And box houses are quicker and cheaper to build for profit-minded developers, who will keep cranking out supply as long as there's demand.
Gentrification bonus point: if the box house includes a glass garage door.
Drought-tolerant gardens
To be clear, the ecological benefits of drought-tolerant landscaping make it a net positive for Southern California. Limited water usage is absolutely a good thing.
But such gardens aren't always cheap, and if they start popping up in neighborhoods where most residents can't afford to spend thousands of dollars, sometimes tens of thousands, on their yard, it could be a sign of gentrification.
Most carry the same look: a handful of shrubs, succulents and cacti surrounded by gravel or decomposed granite, giving it a sandy, desert-like quality.
Kerry Kimble and Steven Galido, two real estate agents with the Agency, said they've noticed an increase in drought-tolerant gardens in neighborhoods such as Echo Park, Highland Park and Silver Lake, where displacement has already been happening for years.
The majority of Kimble's listings are in northeast L.A., and she said she's noticed a surplus of succulents.
Galido said some developers add drought-tolerant gardens to attract potential buyers.
"Developers remodel homes for the taste of the gentrifier," he said.
The pair are currently listing a 106-year-old duplex in Angelino Heights, a neighborhood protected by a Historic Preservation Overlay Zone, which preserves a community's architectural feel by limiting new building designs and renovations. But not every neighborhood enjoys such protection.
Gentrification bonus point: if the garden is riddled with Firestick plants — the trendy, orange-tipped succulents that seem to anchor every lawn in those "up-and-coming" neighborhoods.
Little Free Libraries
Listen, these are lovely. Unlike surveillance systems and privacy fences, little libraries actually evoke a sense of community, bringing neighbors together over a shared love of literature (even though most generally seem to be stocked exclusively with James Patterson novels and unreadable how-to books).
The charming, birdhouse-like structures certainly don't cause gentrification, despite what a handful of critics have claimed over the years. But they definitely seem to be a product of gentrification, usually popping up in areas where home prices are rising and well-to-do residents are moving in.
Gentrification bonus point: if a smart doorbell camera watches over the library, making sure nobody takes more than their fair share of books.
Pointed listing language
Sometimes, the clearest sign of gentrification is hearing how people are talking about a neighborhood and the homes within it. There's a wealth of such examples posted daily on Zillow, Redfin and other listing sites as real estate agents take on certain tones to market properties to potential buyers.
For example, if a listing brags about the home being some kind of port in a storm, a refuge from the area around it, a ship of gentrifiers might be sailing in. One listing in Boyle Heights is touted as an "urban oasis." Another in South L.A. promises to add "a touch of serenity to urban living."
Also pay attention to whether a listing is marketed as an actual place to live or simply an investment opportunity. This listing near Leimert Park asks potential buyers to "come see your future investment today." An Elysian Heights listing touts its use as an Airbnb.
Gentrification bonus point: if the language sounds like an extra flowery wellness ad, such as this listing in East L.A.: "Imagine stepping into a world where every corner whispers tales of renewal."