Column: Kristen Welker's 'Meet the Press' Trump interview was a gross dereliction of journalistic duty
When Chuck Todd announced in June that he would be retiring as host of "Meet the Press," not a few people who take politics seriously breathed a sigh of relief: No more of Todd's insight-free, planed-down, both-sides-do-it horse race approach to news.
The NBC News publicity machine immediately built up Todd's successor, Kristen Welker, as a tough, whip-smart journalist, "dogged" and a master of "sharp questioning of lawmakers."
That whole PR edifice came crashing down Sunday, when Welker got steamrollered by Donald Trump on national television.
Is there any scenario by which you would seek a third term in office?
— Kristen Welker asks Trump the stupidest question
Welker's interview with the former president, pitched as her inaugural coming-out party as the show's new moderator, served as yet another demonstration of the impossibility — and irresponsibility — of treating Trump as a normal political figure.
Despite ample evidence that dealing with Trump on his own level — through four years of the Trump presidency and as recently as May, when Trump chewed CNN anchor Kaitlan Collins to pieces at a misbegotten town hall — was a no-win situation, NBC News went ahead and subjected its hopelessly unprepared journalist to ritual humiliation. It was a milepost in the deterioration of network news' ability and inclination to hold politicians to account.
What Trump received was a nearly hour-long, essentially unmoderated publicity platform, gratis, an opportunity to once again show that he is a feral exploiter of television's tendency to take everyone at their own level of self-esteem.
Of Welker the sharp questioner of lawmakers, nothing remains. Here's a fair sampling of her presence during the interview (drawn from the full official transcript of the encounter, of which only a portion was shown during the broadcast):
"But Mr. President—"
"Let's stay on track, though, Mr. President."
"Mr. President, we have so many topics to cover."
"You had —"
"You — Mr. President —"
"But, let me, let me, but Mr. President —"
"Mr. President, let me just ask this question, please —"
Etc, etc.
No journalist has been able to overcome Trump's assault on truth one-on-one. The one who came closest to rattling Trump was Jonathan Swan, then of Axios, who interviewed him for an HBO program in 2020.
Swan, an Australian, was plainly raised on the British tradition in which television interviewers grant the politicians they're interrogating all the deference and respect they deserve, which is to say: none. But a fresh look at the interview shows that even Swan was hard-pressed to keep Trump on the hot seat, and mostly failed.
Welker, by contrast, seemed fed on the American tradition of treating every politician, even those complicit in an attempt to overturn the democratic tradition, with the utmost in politesse. Consequently, Trump stomped her flat.
The transcript fails to illustrate how often Welker, bollixed by Trump, ended up stepping on her own questions. Trump delivered the coup de grace late in the program, when he complained to Welker, "You keep interrupting me."
Welker allowed Trump to emit lie after lie in what I've described as his "Gish gallop," a technique named for a notorious creationist who would conduct debates with experts in evolution by "spewing forth torrents of error that the evolutionist hasn't a prayer of refuting in the format of a debate."
Welker tried,here and there, to counter Trump's lies, but on the whole she failed miserably; they just keep coming at too great a pace. But she displayed abject ignorance about too many of the issues she herself raised. NBC News posted a "fact check" online after the broadcast, but at a mere 1,800 words it couldn't possibly correct the record adequately.
Let's take a look at some of Trump's most egregious lies.
On abortion, Trump claimed that Democrats advocate allowing abortions "after five months, six months, seven months, eight months, nine months, and even after birth."
Not only is after-birth abortion a contradiction in terms, but late-term abortions aren't done out of a casual decision not to proceed with birth, but because the fetus is not viable or suffers from extreme deformities, or the pregnancy is a threat to the woman's health.
Welker's response to this was a wan, "Only 1% of late-term abortions happen."
When Welker asked about the consequences of anti-abortion laws in red states — "How is it acceptable in America that women's lives are at risk, doctors are being forced to turn away patients in need, or risk breaking the law?" — Trump simply failed to give an answer, and Welker failed to insist on one.
Trump claimed that abortion is "a 50/50 issue," meaning that the U.S. public is evenly split. That's not true.
According to Gallup, 67% of Americans believe that abortion should be legal in the first three months of pregnancy — the first 90 days. The most stringent anti-abortion laws enacted in red states don't allow abortion at all or restrict it to the first six weeks, a period in which many women don't even know they're pregnant.
Importantly, Gallup finds that 58% consistently oppose the Supreme Court's 2022 ruling overturning Roe vs. Wade, which had guaranteed abortion rights nationwide. Trump has long bragged about having installed the court majority that overturned the 1973 ruling.
Trump defended his efforts to overturn the 2020 election, including his notorious call to Georgia Secretary of State Brad Raffensperger urging him to find enough votes to flip the Georgia results from Joe Biden to himself. He said Raffensperger "again last week said I didn't do anything wrong… Raffensperger said 'it was a negotiation.' "
This is a lie. Raffensperger has not said Trump did not do anything wrong. At a federal court hearing last month on a motion by former Trump chief of staff Mark Meadows to move the trial over his indictment over conspiring to overturn the 2020 election, Raffensperger was asked point-blank by the judge whether the call was a "negotiation." He replied that it was not.
Trump has also been indicted in that case, brought by Fulton County Dist. Atty. Fani Willis.
Turning to economic affairs, Trump claimed that his 2017 tax cuts, which went mostly to corporations and wealthy people, "created tremendous jobs…. More importantly, we had more revenue with lower taxes than we did with higher taxes." These assertions are false or highly misleading.
Job growth under Trump fell short of the mark set by former President Obama. In the first three years of Trump's administration (leaving out 2020, when the pandemic provoked huge job losses), 6.36 million jobs were created, according to the Bureau of Labor Statistics; in the last three years of the Obama administration, 8 million jobs were created.
In the two years following the tax cuts, job growth was meager — 2.3 million new jobs in 2019, and 2 million in 2019. Those were worse than the annual figures for 2013-16. Under Biden, incidentally, nearly 14 million jobs have been created, in part thanks to the post-pandemic recovery.
Higher revenues after enactment of the Tax Cut and Jobs Act? No, not really.
Corporate income tax receipts fell to $224.9 billion in 2018 from $230.34 billion the year before and fell again to $210.45 billion in 2019. Personal income tax receipts held their own in 2018, coming in at $1.615 trillion, up modestly from $1.613 trillion in 2017, then rose to $1.7 trillion in 2020.
But those figures fell significantly below what had been projected by the Congressional Budget Office in 2017 — a shortfall of $275 billion, or 7.6% of pre-tax cut projected revenues, the Brookings Institution calculated.
Put it all together, and Brookings found that despite conservatives' promises, "The TCJA did not pay for itself, nor is it likely to do so in the future."
Welker, of course, was utterly ill-equipped to push back on Trump's job and revenue claims. He simply blamed the pandemic, though the consequences of the tax cuts were felt long before then.
What's most shocking is that almost none of Trump's lies was new — he's been spouting most of them nonstop. So how could Welker be so unprepared to address them head-on?
Given that the quality of Welker's interrogation scraped the bottom of the barrel clean, it's hard to pinpoint the lowest of low notes.
My vote for the single stupidest question she put to Trump is this one, which wasn't heard during Sunday's broadcast but appears in the full transcript: "Is there any scenario by which you would seek a third term in office?"
Leaving aside that Trump has served only a single term, lost his bid for a second term, and is not yet the official GOP candidate for the 2024 campaign, there's this little thing out there known as the 22nd Amendment to the U.S. Constitution.
That amendment states forthrightly, in black and white, "No person shall be elected to the office of the President more than twice."
Perhaps Welker hasn't had a chance to learn about it yet, it's been around only since 1951.
Trump was perhaps too canny to answer her question; he turned it into an attack on Florida Gov. Ron DeSantis, who is challenging him for the nomination.
But one can only ask: What the hell was Welker thinking? Was this her way of asking Trump if he would stage an anti-constitutional coup d'etat? If so, why not ask that outright?
And where the hell was the NBC News staff, who surely were in the room at Trump's New Jersey golf club where the interview took place? Did no one say, "Er, Kristen…."
So that was that. At the end of the interview Welker docilely asked Trump, "If you have time, I think we want to get one little shot of us walking together." Because, of course, what's important to NBC News and its fellow TV enterprises is the optics.
If squeezing information out of an interview subject is what's important to you, however, don't expect it from NBC or "Meet the Press."

Looming government shutdown worries business owners near Yosemite, other national parks
Sundays at the Yosemite Bug Rustic Mountain Resort, 35 miles southwest of Yosemite National Park's Arch Rock entrance, are usually buzzing.
The 45-bedroom facility in the Sierra Nevada foothill hamlet of Midpines was near its 120-person capacity during the summer months, said co-owner Douglas Shaw. That wasn't counting non-guests patronizing the resort's cafe and health spa, fueling up or powering down before and after long hikes.
This Sunday, one of the last in what Shaw describes as his busy season, will be starkly different.
Shaw estimates he'll have only two front-office employees working that day out of 30 resort staffers. A few will be on an indefinite vacation, but most are being laid off.
The reason: the all-but-certain federal government shutdown that will stop salary payments to workers at Yosemite and other national parks, shutting down the recreation areas that draw millions of visitors and tourist dollars each year.
The task of the two workers at the resort will be to inform guests that it is closed because of the government shutdown.
"Look, realistically, all of our hotel guests are visitors, 95% of our restaurant guests and 50% of the spa-goers are all tourists, so there's no reason to stay open," Shaw said. "The federal government is shutting down and they're taking a bunch of us with them; it's absolutely devastating."
The pain will be felt especially at communities surrounding California's nine national parks, including Yosemite.
Funding for the federal government ends Sunday at 12:01 a.m. Unless Republican holdouts in the House relent and agree to a spending bill, millions of federal employees will stop being paid. There was some hope from businesses that parks would stay open, as was the case during the last shutdown that ended in January 2019.
However, the U.S. Department of Interior released a statement Friday afternoon saying that "National Park Service (NPS) sites will be closed."
The statement added: "This means that the majority of national parks will be closed completely to public access. Areas that, by their nature, are physically accessible to the public will face significantly reduced visitor services."
Governors from Arizona and Utah have vowed to use state funding to keep open parks such as the Grand Canyon and Zion.
California Gov. Gavin Newsom's staff, however, has said the state will not pick up the tab for closed parks.
National park patronage rose 5% last year from 2021 to 312 million recreational visits, generating $23.9 billion for local communities, according to a 2022 report on the effects of tourism by the National Park Service. Those figures translated into 378,400 jobs. Hotels and restaurants were the two biggest beneficiaries of park visits, according to the report.
Hotels and motels received about $9 billion in economic output tied to the parks, while restaurants were the beneficiary of $4.6 billion, the report said.
Tony McDaniel, a spokesperson for the Yosemite Mariposa County Tourism Bureau, said his county of 18,000 residents is dependent on the park.
"Roughly 52% of people employed in this county have a job in tourism," he said. "If the park shuts down, it's a disaster for so many people here struggling to put food on their tables."
McDaniel said ripple effects would be felt by nearly all businesses.
"When tourism staff have their hours cut or are laid off, guess what?" McDaniel said. "They're suddenly spending less at the grocery store and at restaurants for locals.
"Basically, everyone loses," he said.
McDaniel said he is working with leaders from the four rural counties that border Yosemite to coordinate cross-promotion, "something we never normally do."
"I've been telling the tourism board in Madera County that I'll spread the word about Bass Lake if they'll talk up Mariposa," he said. "We're doing everything we can to tell the story about small-town culture."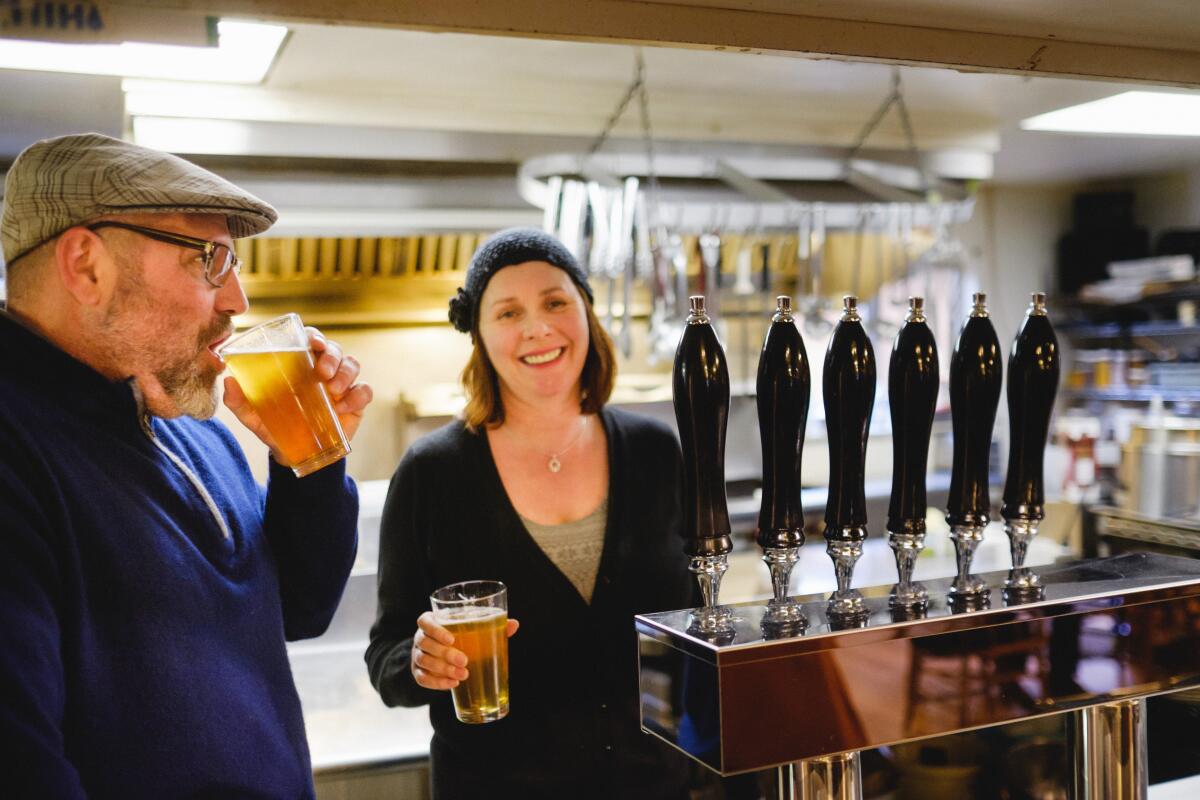 For Shaw, the resort owner, the government shutdown is the latest in a series of "devastating setbacks" over the last three-plus years.
Shaw took out a $450,000 loan to cover debt accumulated during the pandemic shutdowns and restrictions. The money was also needed to pay staff when wildfires and storms chased away tourists.
He carried $200,000 of that debt into the summer and was poised to pay that off. However, that money will be redirected if the shutdown lasts for more than a few days, he said.
Shaw estimated an approximately $175,000 loss in revenue if he has to close for October.
"I just wish the politicians could realize how damaging this is and all the people they're hurting," he said.
Travis Medlock, co-owner of a ramen house and wine shop in Mariposa, anticipates cuts in hours but no layoffs among his 12 workers.
"Our usual hours for the ramen shop are 4 p.m. to 9, but if it starts to wrap up earlier we'll just close," Medlock said. "We're going to wait and see."
A national park shutdown could be painful, but Medlock and his financial partner, Melissa Takahashi, are "pandemic-hardened" after opening the ramen shop in February 2020, he said.
Medlock said a shutdown would have been much worse had it happened a few months earlier.
He noted that during the summer, shop sales are about 80% from tourists and 20% from locals. During the so-called shoulder season, which he says is now, that percentage changes to 65% to 35%, while in the offseason months of January and February it flips to 60% locals and 40% tourists.
"For us, the key has been diversifying and trying to tap into this little but important market," he said.
Other businesses throughout the state are also preparing for the pinch.
Ventura resident Cherryl Connally heads the family-owned Island Packers Cruises.
Her fleet of three catamarans and 60 employees shuttle up to 400 tourists a day to Channel Islands National Park, which includes five of the six islands.
Connally is expecting a huge blow to the 55-year-old business.
"Really, about 65% of our business is taking people to the national park, so it's a big loss in revenue," she said.
But the company has a contingency plan, emblazoned on its website.
Connally plans on conducting 3½- and 5-hour wildlife tours around the Santa Barbara Channel, landing on only parts of the islands that are run by the environmental nonprofit Nature Conservancy.
Connally is also considering expanding Island Packers' whale-watching options.
The 2019 government shutdown lasted 35 days. During that period, Connally tried to minimize layoffs by reassigning employees to positions outside their normal duties.
"We created a maintenance plan for all of our staff to work during that time," she said. "We had boats to take care of, so we did a lot of renovation on our vessels and a lot of office paperwork."
Connally says she's sad to dust off that policy again.
"We're going to do our best not to lose anyone," she said. "Now we wait."
After three months of rolling strikes, second L.A. hotel reaches tentative agreement with union
After nearly three months of sporadic strikes at dozens of hotels in Southern California, the union representing workers at one property — the Biltmore in downtown Los Angeles — announced Friday that it has reached a tentative deal for higher pay and benefits.
The union, Unite Here Local 11, said in a written statement that once the contract is ratified, the 300 workers at the Biltmore will see "unprecedented wage increases that keep pace with the soaring cost of housing."
The agreement also provides improved healthcare, more robust staffing, pension increases, and more inclusive hiring procedures for formerly incarcerated people and unauthorized immigrants, said union spokesperson Maria Hernandez.
"We applaud the Biltmore Los Angeles for putting their workers and our city first," said Kurt Petersen, co-president of Unite Here Local 11 in a Friday news release by the union.
The hotel, in the financial district, is the second Southern California property with which the union has struck a deal. The first was the Westin Bonaventure, which reached a tentative deal just as contracts were set to expire June 30, for more than 15,000 hotel workers at some 60 properties in Los Angeles and Orange counties.
"We are very pleased to have come to an agreement with Unite Here Local 11 on behalf of our loyal and dedicated employees," said Jimmy Wu, general manager of the Biltmore Los Angeles, according to the news release. "We can now focus together on looking after our guests and providing the level of service our guests have come to expect from the Biltmore Los Angeles."
Unite Here Local 11 declined to give specifics about wages and other economic details of the agreements. Unionized workers have not yet held a vote to ratify the Westin Bonaventure contract.
The Westin Bonaventure averted a strike, but at dozens of other properties, hotel workers have been walking off the job intermittently, a few days at a time, ever since the Fourth of July weekend.
The latest burst of strikes kicked off Monday, when workers at five Santa Monica hotels walked off the job. On Thursday, the strike expanded to Beverly Hills properties, including the Waldorf Astoria, the Beverly Hilton and the Fairmont Century Plaza.
How fasting, tai chi and a rooftop garden help this art restorer reach peak concentration
Welcome to My L.A. Workday, a series that takes you inside a day on the job with some of the city's most fascinating people. Interviews are edited for length and clarity.
Forget elaborate coffee orders; when art restorer Henri Laborde needs to wake up in the morning, he'll take a bracing bodysurf in the churning, ice-cold waves of the Pacific Ocean.
"You get out of [the ocean] and you feel like someone took one of those pressure washers, and just kind of washed you inside. You feel cleansed, you feel energetic," he says.
He'll use that energy to sit, sometimes for hours, painstakingly repairing cracked ceramic and shattered porcelain.
BUSINESS
What do you do for work?
That's the question My L.A. Workday answers. The series takes you inside a day on the job with some of the city's most fascinating people. Interviews are edited for length and clarity.
Since he landed in Los Angeles in the '90s from his native France, Laborde has taken repair commissions from art museums, auction houses Christie's and Sotheby's and wealthy private clients. He has restored a diverse assortment of pieces, from one of Jeff Koons' balloon dogs to a dog made of painted and folded cardboard; from three Fabergé eggs worth $100,000 apiece to a towering 9-foot-tall Batman figure for Warner Studios.
On a recent summer Friday in his downtown studio, Fine Art Restoration, he worked on a more humble request: six small Santa Claus figurines, many missing portions of their mittens, from a paint-your-own-pottery studio. Each was marked with a handscrawled "Sharon 1970" on the bottom, and together they represented the only part of the client's mother's estate she received following a contentious dispute.
He mixed a special concoction of acrylic, plaster and paint to form a paste that will dry softer than the original ceramic. This allows him to sand and mold the missing pieces to the proper form, without damaging the figurines. Avoiding further harm is of the utmost importance when taking on a project — even when it's a beloved family tchotchke.
Laborde, 48, has made it his mission to restore ceramic and porcelain pieces of both monetary and sentimental value.
He says he treats each object with the same amount of care, regardless of the price point. But "I do get a bigger kick out of the interactions with [sentimental] people," he admits. "Oftentimes I get a hug too, which doesn't hurt."
When you spend many hours a day intensely focused on the smallest details of an object, the breaks are just as important as the work. Here's how Laborde powers through his workday with body surfing, tai chi and strategic fasting.
7 a.m.: Go for a surf, minus the board.
I get up in the morning, and three to four times a week I go to the gym. Sometimes I body surf. I grew up by the Mediterranean Sea, in the south of France. And the sea is just like oil. There's nothing happening there. It's boring and it's warm.
In Venice the ocean is cold, and it's moving. Once I tried surfing for half an hour. I hated it. I thought maybe I could just kind of swim. I realized that if I put my body like those guys who skydive, I pick up enough momentum.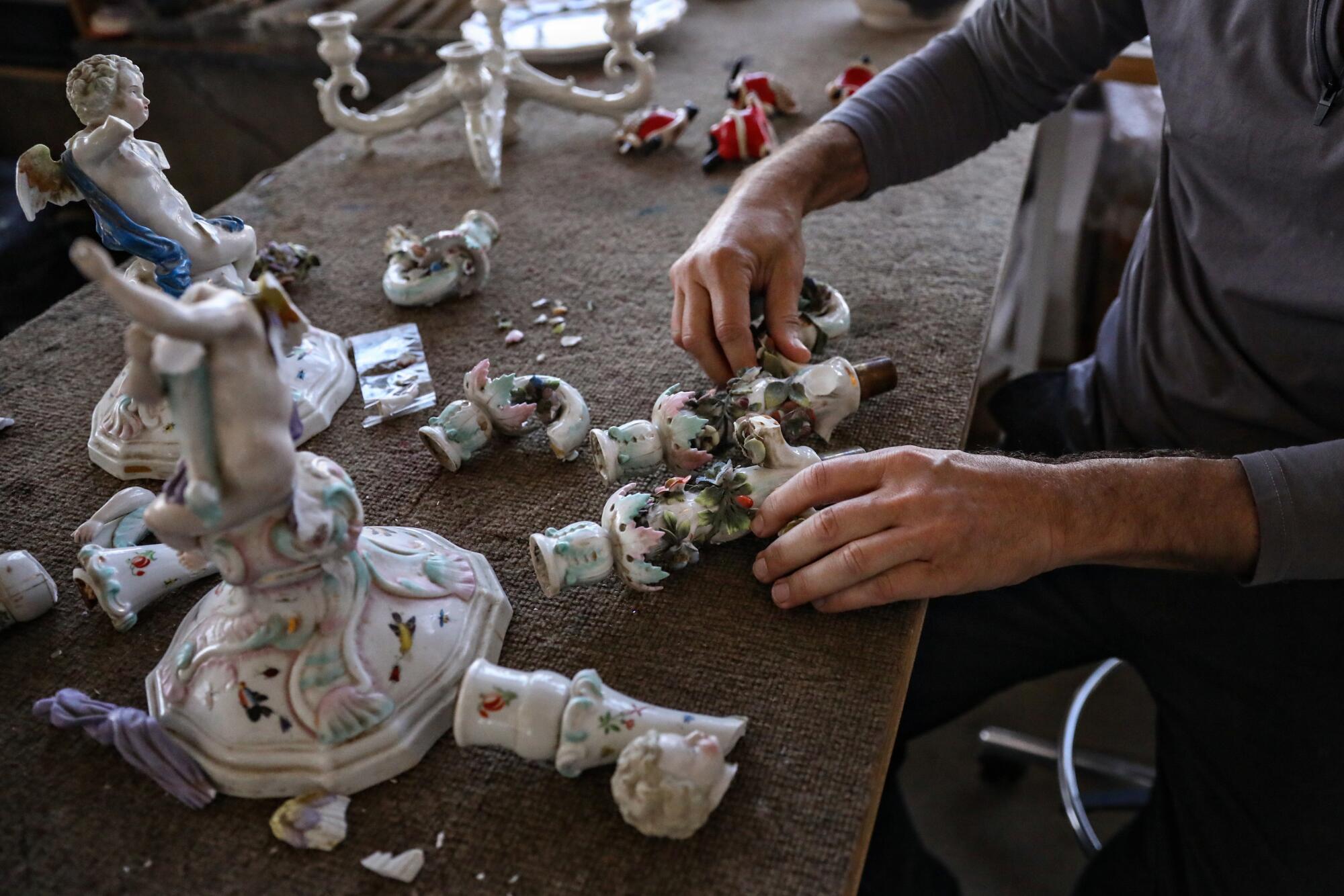 People look at me often and ask 'Where's your board?' and I go, 'It's just my arms. That's it.' Body surfing just feels amazing. It's better than any drug, better than any alcohol.
8:30 a.m.: Make the to-do list.
When I get [to the studio], the first thing I do is I sit down and I start checking emails so I make sure I don't forget anyone. I like to respond to people as quickly as possible because I'm the type of person who doesn't like to wait when I request something. So I treat my customers the same way.
I set up a plan for the day. And I go, 'OK, today, my goal is I have this many hours, my goal is to work on this, I absolutely have to finish this piece, then I have to do resin here, and then I have to get in the booth and spray. If I have enough time, I should start working on this project.' And I try to stick to the plan. It doesn't always go as planned. But most of the time, I'm able to achieve everything.
10 a.m.: Crank up the sound.
I start working. I put some music on, oftentimes I put on some YouTube videos about health, geopolitics, the economy. When I don't feel in a great mood for working, I put a movie on. Since I have speakers all around my shop it's almost like a cathedral. The sound is everywhere. Work almost doesn't feel like work.
I take on everything. I respect people too much to say, 'No, I think this is below me.' (Though someone once brought me a toilet seat, which I refused to touch.) I'm here to help so just bring it on. Oftentimes people are very shy to bring me pieces. I have this unusual ability to fix stuff and I just really want to help everyone who comes through the door.
2 p.m.: Tai chi to get the blood pumping.
[My routine] really varies. That's what I like about what I do. I'm just on my own energy. I have a nice, large space in my studio so I can practice tai chi, which I studied for eight years in a martial arts academy, along with kung fu.
I want the energy to keep flowing. At the same time, I'm trying not to think about the movement. It's like a meditative state. You're engaging your muscles, so you keep the blood pumping at a decent pace. It really gets my rhythm going again.
Breaks are really important because of what I do. You have to be intensely focused on something. So when I take a break, I remove myself from the situation. And when I come back, my eyes are really fresh. All of a sudden I might see that I was [painting] it a little too dark. But, when I was in the zone I just couldn't really see that. So I remove myself and I come back to it and then I'm able to do a better job.
4:30 p.m.: Meditate on the roof.
I like to go up to the rooftop, because the lights are beautiful. There are lots of plants. I'm meditating in my own little garden and I can sit there for 20-25 minutes. I put some music on in my earphones. I just relax up there and it's wonderful. I'm big on nature. That's why it's hard for me to work here. Downtown is the opposite of nature. It's concrete, asphalt and steel.
5 p.m.: Break my fast.
I have a snack when I come back from the rooftop — it's always the same, walnuts and pistachios. I only eat during a four-hour window every day. It's great because it's very healthy, very energizing. It gives me great clarity. At the same time I don't have to worry about food during the day and I don't have to take a break for food.
6:30 p.m.: Suit up and varnish.
I do [varnishing] last because the varnish needs to have very little dust around. So when I'm all done, I make sure to dust myself off. I put my white painter's suit on and I get into my booth and I spray a very strong automotive lacquer on those pieces to mimic the fired glaze, and when I'm done I change to my home clothes. I check to make sure I don't have any responses from clients. Then I close up shop and I scooter back to my car.
8 p.m.: Eat my one meal of the day.

When I get home I cook myself dinner. It's mostly vegetables, like a big salad with lots of stuff. Sauerkraut, kale sprouts, alfalfa sprouts, hard-boiled eggs and balsamic vinaigrette. I have a beautiful balcony loaded with flowers and it's my little sanctuary there. So I just sit there, eat and either read a book or watch a little something or just listen to some music.
11 p.m.: Be grateful.
I take a good 10 minutes right before I go to bed to think of things I'm grateful for. It's usually a long list. It helps me sleep.